This weekend, I heard someone refer to taking a "gap year" for the 2020 holidays. I like this phrasing because it reminds me that this is one single year in the grand scheme of things. However, it doesn't fully erase the homesickness I started feeling in the pit of my stomach back in early November.
Who was going to remind my mom and stepdad it was time to light the menorah on the first night of Hanukkah? What would become of all those Christmas lights I usually help my dad string on the trees in his front yard? And most importantly: How could I ever replace the feeling of being in my home state of Georgia for the holiday season? Enter: Goldbelly, the food delivery service lets you order dishes from your favorite restaurants across the U.S.
I ordered from two of my favorite restaurants in Georgia via the Goldbelly website to see if this brand could deliver the comfort and nostalgia it promises.
What is Goldbelly?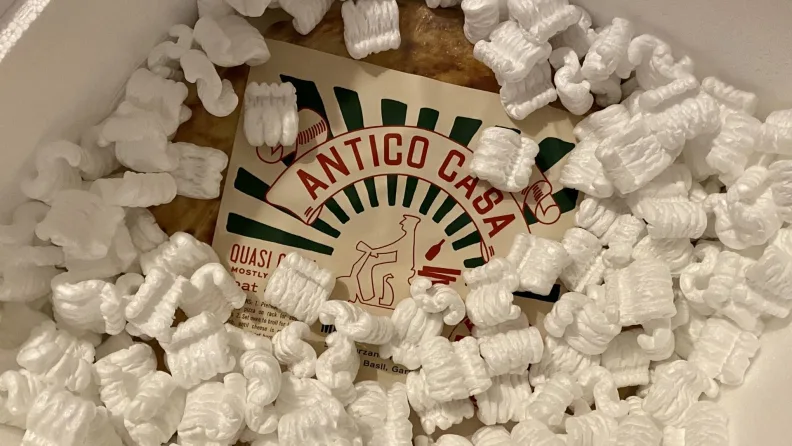 Founded by Joe Ariel in 2013, Goldbelly is a food delivery service connecting consumers to their favorite restaurants across the country. The Goldbelly website, what they call the "online marketplace," features small, artisanal producers alongside larger, sometimes local chains. The Goldbelly staff curates items from bakeries, delis, restaurants, and more, some of which ship ready-to-eat treats while others deliver deconstructed dishes with minimal preparation required.
How does it work?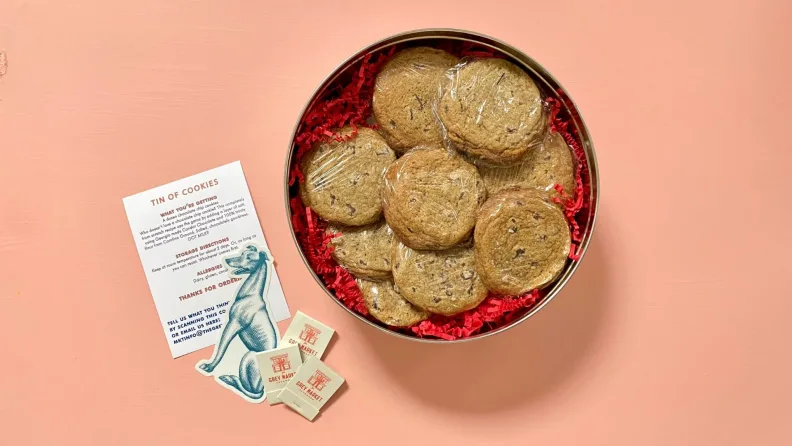 Goldbelly has lots of ways to check out its offerings—browse by restaurant, chef, holiday, region, city, or meal kit (available from select restaurants and chefs). To order, you'll need to create an account on the Goldbelly website and enter your shipping and payment information.
Products on Goldbelly are prepared by and shipped directly from the restaurant, which means if you're lucky you'll get some branded swag from your chosen eatery (think: stickers, matchbooks, and the like). Each restaurant also includes instructions so you'll know exactly how to enjoy your goodies. If the food you order is frozen, your order will be packed with dry ice or ice packs, depending on the vendor.
Unlike other restaurant food delivery services like DoorDash and Uber Eats, Goldbelly is not on-demand. Your items ship within a few days of ordering and you'll receive tracking information via email.
If you're ordering Goldbelly as a gift (the Care Packages make great last minute holiday presents!), simply select your edible items then at checkout you'll enter the recipient's address, an optional gift message, and pick a delivery date. The same details apply if you're ordering for yourself.
What I ordered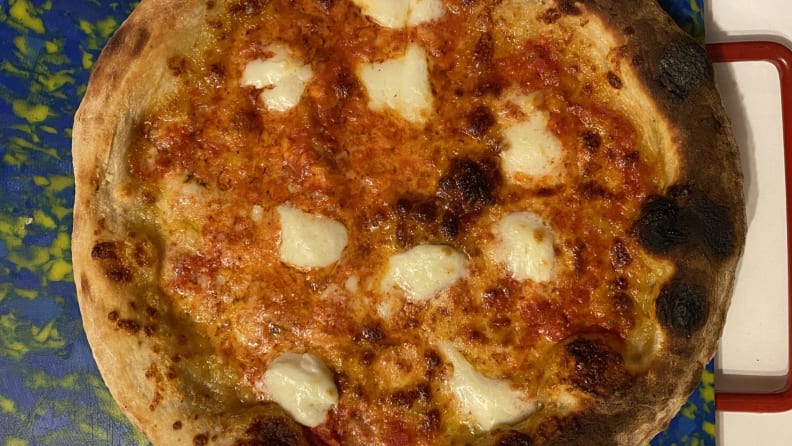 I'm from Atlanta, which means I've also spent a great deal of time vacationing in the coastal Georgia oases of Savannah and Tybee Island. So, when I spotted two of my favorite Georgia restaurants—Antico Pizza Napoletana (Atlanta) and The Grey (Savannah)—on the Goldbelly site, I knew immediately what I was ordering.
The original Antico PIzza is a counter-service, brick-oven pizzeria located in Atlanta's Westside neighborhood, about a 15-minute drive from my mom's house. This restaurant is family-owned and operated, which is reflected in the huge family-style tables that fill the dining room and self-serve containers of hot peppers in oil (a true delicacy, if you've never had them). I ordered the Antico Pizza Napoletano Best Seller – 4 Pack ($119), which includes two of their classic Margherita pizzas topped with San Marzano tomato sauce, buffalo mozzarella, basil, and garlic and two San Gennaro pizza topped with Salsiccia, sweet pepper, and Mozzarella di Bufala.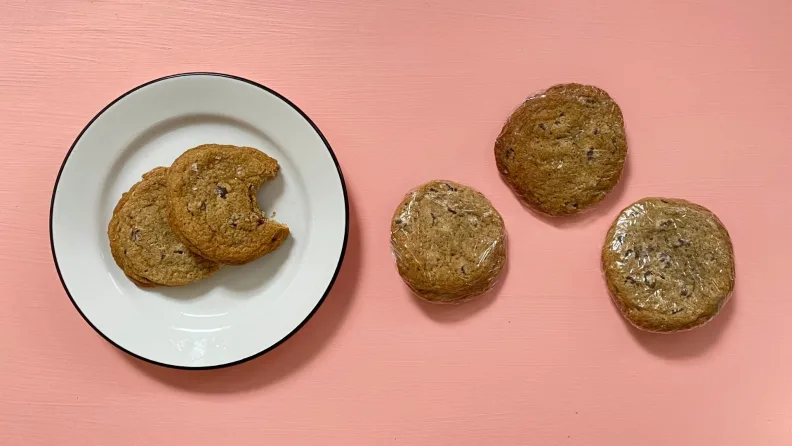 The Grey is hands-down the best and coolest food thing happening in Savannah, Georgia. Award-winning chef Mashama Bailey has made sure to pack their menus with Southern-inspired dishes, heavily influenced by the late Edna Lewis, a renowned American chef and champion of Southern cooking.
Bailey has built an incredible pastry program within The Grey and The Grey Market, a bodega-inspired part deli, part convenience store also located in Savannah. Conveniently, I have a huge sweet tooth, so I ordered The Grey's Tin of Chocolate Cookies ($62).
Is it worth it?
I'm not joking when I say I almost started crying when I bit into the Antico pizza. Childhood memories flooded my brain as I chewed that first slice; standing in the line to order that often overflowed onto the restaurant steps, begging my mom to let me get a San Pelligrino Aranciata, scouring the crowded dining room for an empty spot, stealing glances at the cute guys making the pizzas and blushing when my sister called me out for it, and finally squeezing ourselves between strangers to devour our perfectly crispy-yet-still-doughy pizzas.
Somehow, Goldbelly and Antico managed to deliver frozen pizzas that tasted almost as good coming out of my oven as they do at the restaurant. And the cookies were more of the same—The Grey's chocolate chip cookies had a delightful salt-to-sweet ratio, great chocolate chunks, and tasted like they'd been baked earlier that day.
While food delivery can't replace restaurant dining in the same way that a plate of food can't actually transport me to Atalnta, Goldbelly is a great second best. If you're looking for a way to support restaurants during these trying times, or perhaps searching for a temporary cure for your holiday homesickness, Goldbelly is deifnitely worth a try.
WOOD FIRED PIZZAS BEST SELLER – 4 PACK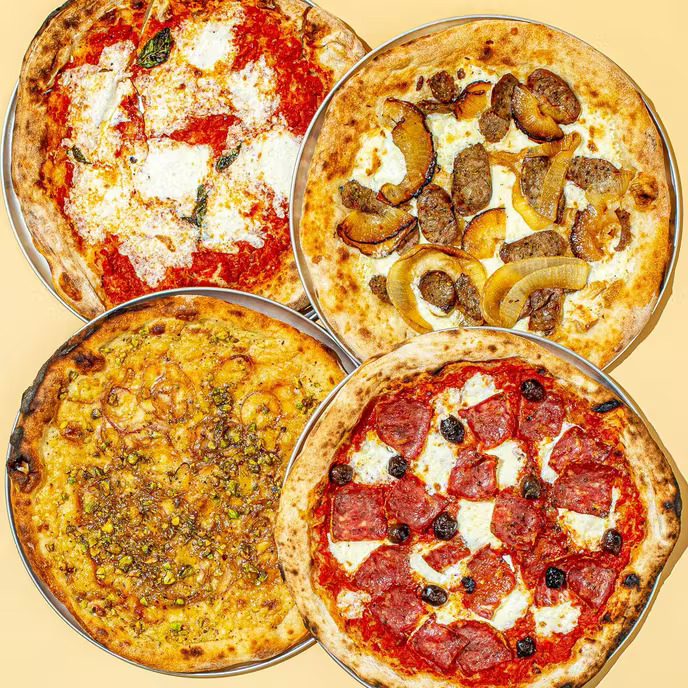 When Chris Bianco started Pizzeria Bianco in the back corner of a Phoenix grocery store in 1988, he had no idea that he would become a driving force in the artisanal pizza movement. But in 2003 Bianco won the James Beard Award for Best Chef Southwest in 2003 —the first pizzaiolo to receive the honor. His food reflects the respect and sincere intention that he brings to each of his recipes, as a result of his relationships with farmers, local producers, customers, and staff.
This Wood FiredPizza Best Seller – 4 Pack features his four best selling pizzas. The Margherita, the quintessential Neapolitan pizza. The Wise Guy, a reimagined sausage pizza featuring smoked mozzarella, onions roasted in the wood-burning oven, and fennel sausage. The Rosa, featuring Arizona pistachios fresh, bright and beautiful married with some Parmigiano-Reggiano, red onion, and rosemary. And the Sonny Boy, named after Chris's dad, this pizza features Bianco DiNapoli tomatoes, homemade mozzarella, soppressata, and Gaeta olives.
You can also add dessert with a one of a kind chocolate collaboration with Noi Cacao, Chef Rene Andrade and Pizzeria Bianco. These unique vegan and gluten free chocolate bars feature Arizona pecans and dates, dark chocolate (54.5%), Chiltepin Peppers from Mexico and sea salt. While sweet, these bars have a mild spicy kick to them.
BLUE RIBBON SPECIAL SUSHI – DIY KIT FOR 2-3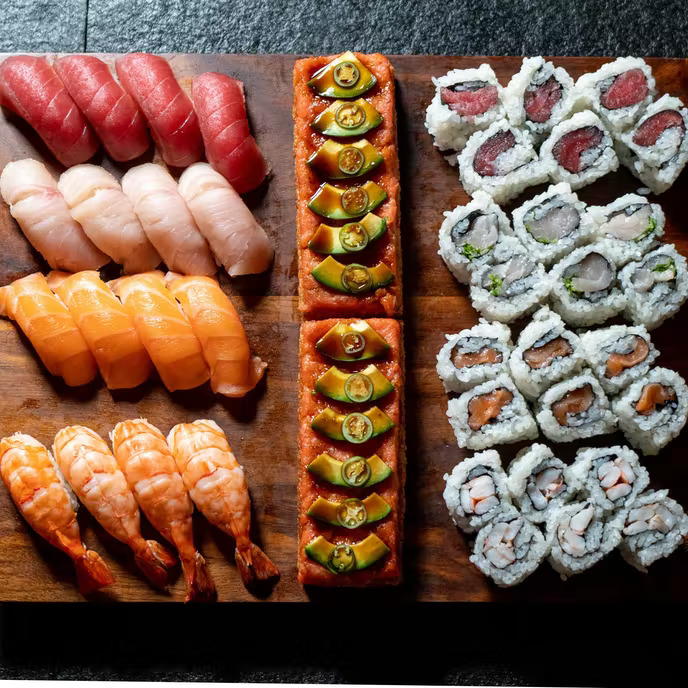 A platter worthy of its name! This is definitely the best of the best and that's what the Blue Ribbon platter has always been. Hand rolls, cut rolls, crispy rice, nigiri sushi, and sashimi are all on the menu when you order this very special sushi kit. Top-quality fish, perfect rice and a plethora of hand-chosen products will make this sushi night at home one to remember!
Few New York restaurateurs are more renowned than Bruce and Eric Bromberg, who opened their first restaurant, SoHo's Blue Ribbon, in 1992. Their Blue Ribbon Sushi has achieved renown as one of New York's best and most iconic sushi restaurants since it opened more than 25 years ago. At Blue Ribbon Sushi, the sushi masters select only the highest quality fish flown in daily and turn them into edible works of art.
MS. CHI POTSTICKERS AND DUMPLINGS – COMBO PACK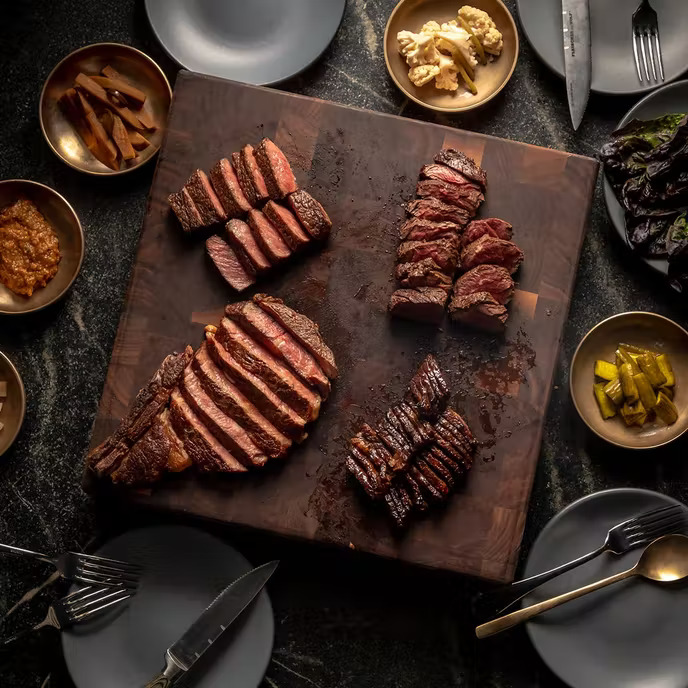 Shirley Chung's Ms. Chi ships its legendary potstickers and dumplings nationwide on Goldbelly! With this best seller pack, you can sample Ms. Chi's chicken jiaozi dumplings and their "Top Chef" winning dish: giant cheese burger potstickers with a tomato bacon jam. The chicken jiaozi dumplings are hand made in Ms. Chi Café's kitchen. Ms. Chi uses all-natural chicken thighs that are ground in house and mixed with Chinese five-spice, minced ginger, and scallions as filling. Wrapped in a yellow wrapper that's colored with turmeric, these dumplings are served with a side Chiangkang black vinegar sauce and chili oil. These juicy and savory little chicken meatballs wrapped in thin, bright yellow dough, are a must try.
These giant cheese burger potstickers are hand made in Ms. Chi Cafe's kitchen. Ms. Chi uses Creek Stone Farm Beef Chuck Roast, ground in house, blended with chunky diced onion and shredded cheddar cheese for the filling, and a cube of cheddar cheese in the middle to give you the ooze-y cheese effect. Wrapped in an orange dough that's colored with paprika, these dumplings are served with a side of smoky-sweet and savory bacon tomato jam. They taste like a juicy drippy cheese burger wrapped in a soft and crispy dumpling dough, with the best applewood smoked bacon and a touch of "ketchup."
Chef Shirley Chung's Ms. Chi showcases her passion for progressive Chinese American cuisine. Every dish at Ms. Chi showcases Chung's unique culinary creations inspired by traditional authentic Northern-style cuisine and made with the highest quality local fresh produce and spices. Everything at the Los Angeles restaurant, which opened in 2018, is house-made including their dumpling wrappers, sauces, and more. Every bite is an exuberant taste of the future of Chinese-American food. Ms. Chi has been featured on the Food Network's "The Big Bucket List" and Chung was the runner up on "Top Chef" Season 14 and has been a featured chef at the James Beard House.
THE ORIGINAL BUTCHER'S FEAST® FOR 4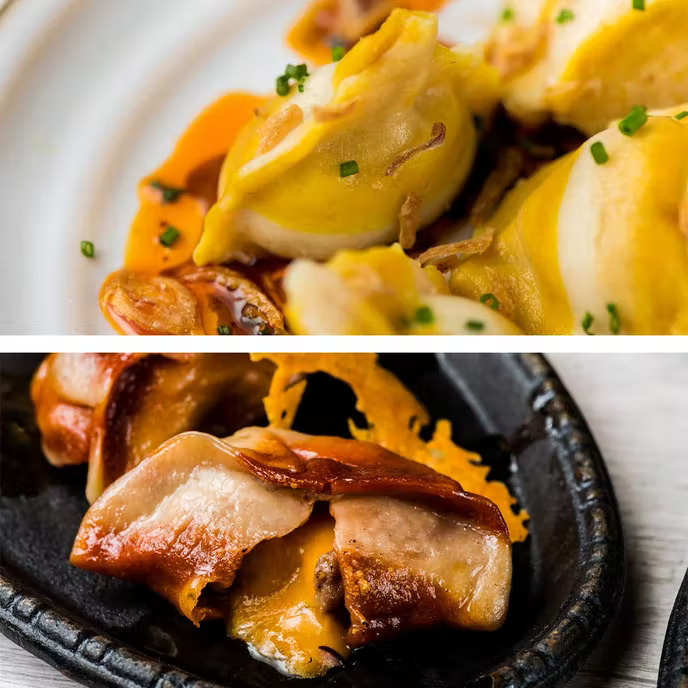 Cote Korean Steakhouse ships its famous steaks nationwide on Goldbelly! Calling all carnivores! With Cote's signature Butcher's Feast®, you'll bring one of New York City's most unique steakhouse experiences straight to your home. Each package comes with a progression of four specialty cuts from Cote Korean Steakhouse's own dry-aging room, which includes the USDA Prime dry-aged ribeye, American Wagyu secret cut "Cote" steak, classic USDA Prime hanger steak, and house marinated USDA Prime short rib galbi.
This is not your traditional steakhouse "meat and potatoes." Dig into a first-of-its-kind modern steakhouse experience with top-secret grilling and pairing tips from Executive Chef David Shim. Grill, slice, and pair each cut with a bountiful spread of fresh pickled vegetables, lettuce, and savory ssamjang sauce. Have fun mixing and matching each cut with accompaniments to find your own perfect bite! Send your lucky friend the perfect gift, treat yourself and bring dinner at home to the next level, or be the ultimate party host! Our butcher's feast is best enjoyed with good friends and family (but we won't judge if you don't share!).
Located in the heart of New York City, Cote Korean Steakhouse is the creative, carnivorous vision of proprietor Simon Kim, marrying the fun and fire of Korean barbeque with the prime cuts of an American steakhouse. This first-of-its-kind experience has earned Cote the world's only Michelin star for Korean tabletop barbecue and a place on best steakhouse—and restaurant—lists from GQ to Thrillist to New York Magazine. Opened in 2017, Cote Steakhouse was a "Best New Restaurant" nominee by the James Beard Foundation.
ZAHAV HUMMUS & SALATIM SPREAD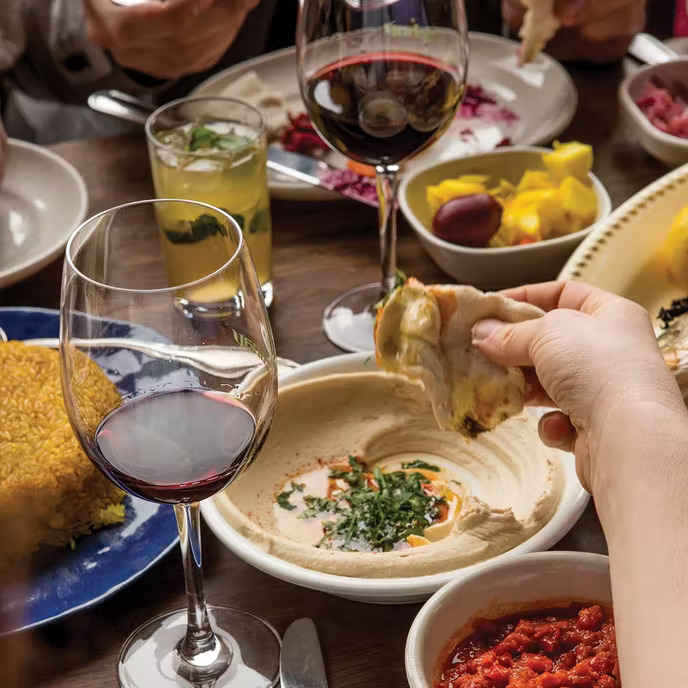 Zahav's famous hummus is now available in your home for the first time! Two pints of hummus arrive with a dozen pita and six 8-ounce portions of classic vegan Zahav Salatim: beets with tehina, Moroccan carrots, twice-cooked eggplant, pickled Napa cabbage, and spicy fennel. The spread also includes 2 ounces each of the restaurant's schug and harissa for those who like it spicy! The spread serves 6-8 as a snack or a complete vegan meal.
Established in 2008, Philadelphia's Zahav (Hebrew for "Gold") is the trailblazing restaurant that helped put the rich melting pot of Israeli cuisine at the forefront of American dining today. Zahav is helmed by Chef Michael Solomonov, the beloved champion of Israel's extraordinarily diverse and vibrant culinary landscape. In 2019, Zahav was named "Outstanding Restaurant" by the James Beard Foundation, and in 2017, Chef Solomonov was named the country's "Outstanding Chef" by the James Beard Foundation.
NANCY SILVERTON'S FAVORITE GELATO GIFT BOX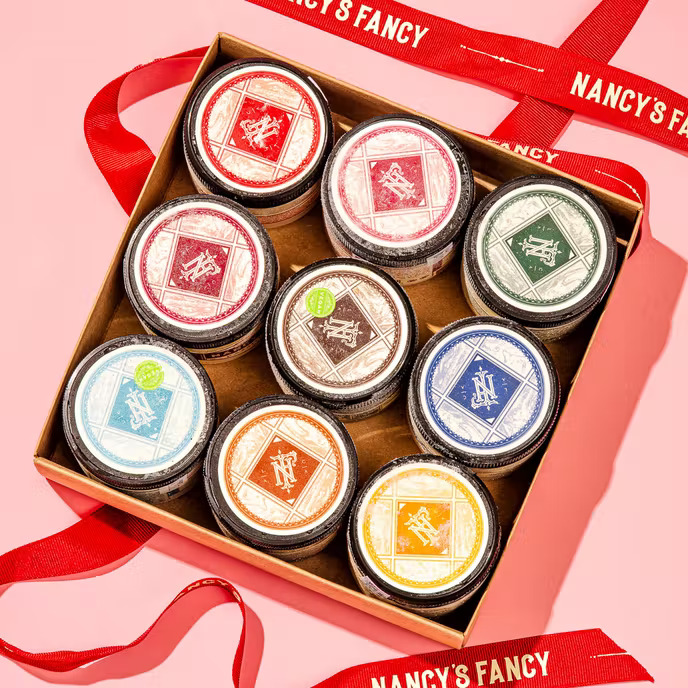 Nancy Silverton's Nancy's Fancy ships its famous gelato nationwide on Goldbelly! This beautifully presented gift box includes nine hand-picked assorted individual servings of Nancy's favorite flavors, including vegan gelato flavors. It's a perfect gift for any occasion, a memorable dessert item for a special event, and a delightful way to sample nearly all of Nancy's Fancy gelato flavors. Each individual gelato flavor is presented in a petite four-ounce replica of Nancy's elegant pints. This beautiful gelato set is packaged in an elegant kraft gift box with a windowed top displaying the nine monogrammed jars and tied with a lovely branded grosgrain ribbon. The attractive presentation is the perfect precursor to the delicious flavor of the artisan gelato and sorbetto inside. It's a truly unique gift sure to make a lasting impression!
After a legendary baking career, chef Nancy Silverton set her sights on gelato, creating Nancy's Fancy in Los Angeles in 2015. Silverton's artisan gelato and sorbetto come in more than a dozen flavors, including Coconut Stracciatella, Italian Custard, Salted Peanut Butter, and Meyer Lemon Torrone. Silverton is a two-time James Beard Award-winning chef and founder of LA's famed La Brea Bakery, and you can taste her passion in every pint!
"OPRAH'S FAVORITE" SIGNATURE CHICKEN PIE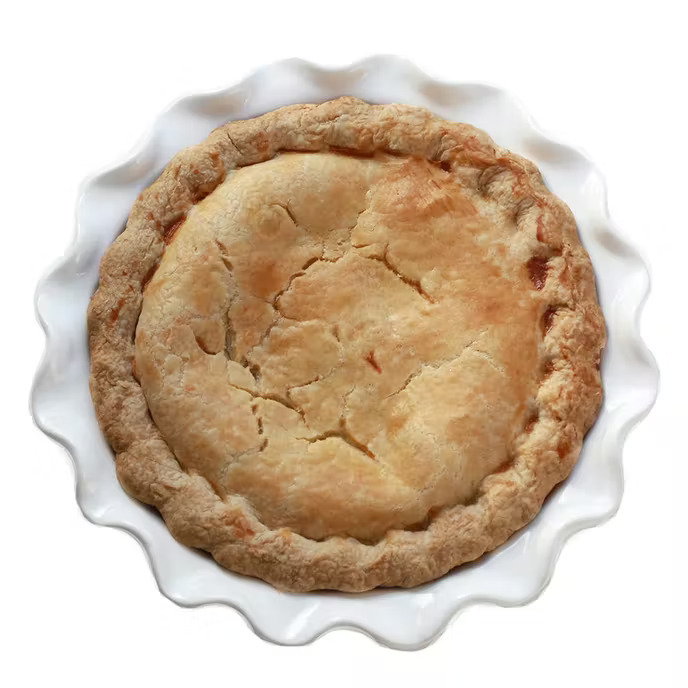 This is THE pie that after only one bite, had Oprah shouting our praises from the top of the world. This is THE pie that was named one of Oprah's "Favorite Things." This is THE Chicken Pie. There can be only one.
Whole chickens are boiled in a flavorful stock and the chicken meat is hand pulled and piled high into their flaky crust. There is gravy added to each pie, seasonings and NO vegetables; just a hearty serving of chicken and gravy! Centerville's crusts are hand crimped, creating a pie that even your grandmother will love!
In 2009, longtime friends Laurie Bowen and Kristin Broadley decided to leave their careers behind as a deputy sheriff and a banker to open a pie shop. But not just any pie shop. The Pie Ladies, as they're now known, are handcrafting what many believe to be the best chicken pie in the nation. At the top of their list of fans is none other than Oprah who discovered Centerville's pies while on the Cape several years back and helped to elevate their pies to celeb status with a feature on her show as one of her favorite things.
Cookie Fries Red Basket Mini Sampler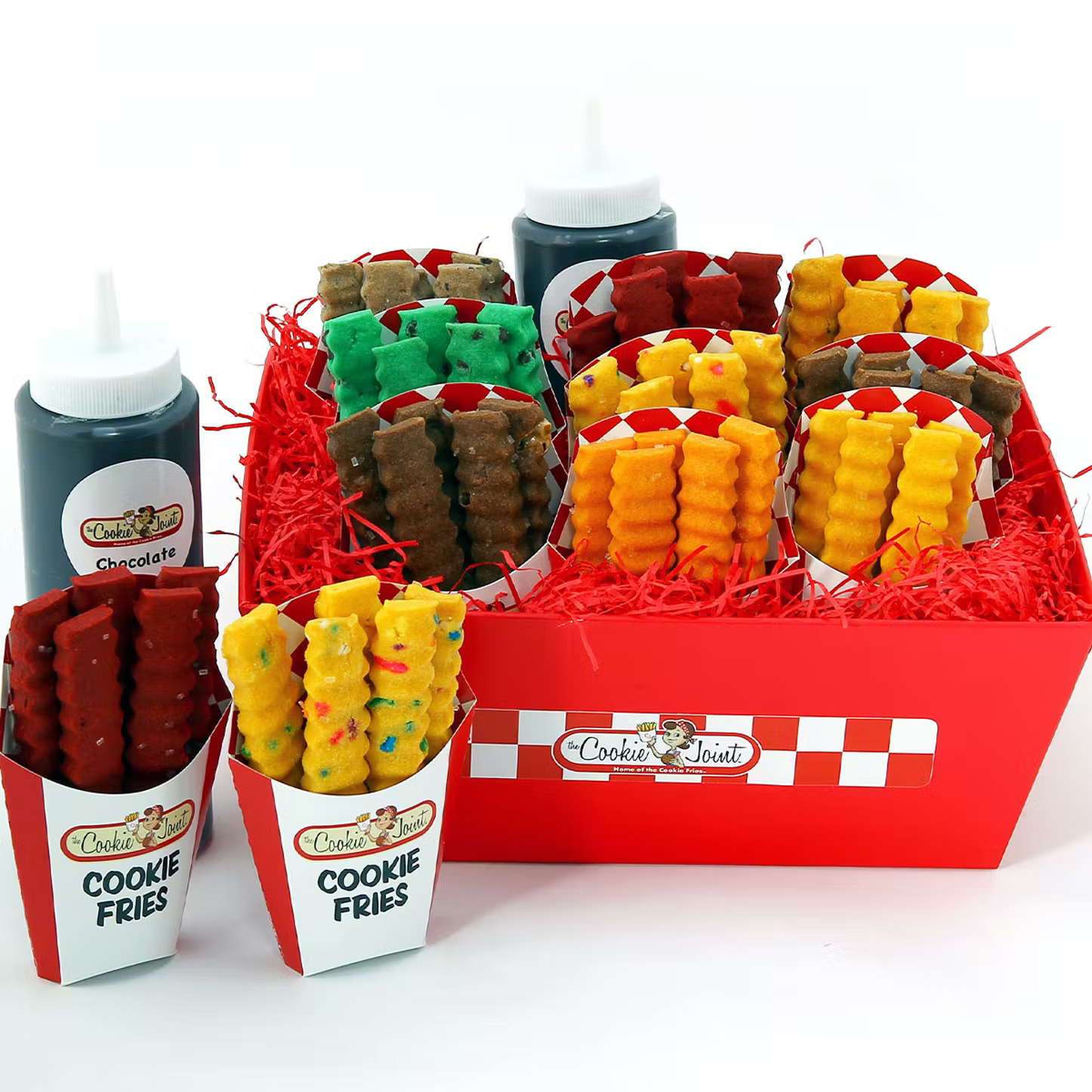 These cookies have an extremely long shelf life, and can be kept in a cool dry place for up to six weeks.
The Cookie Joint ships its innovative Cookie Fries nationwide on Goldbelly! If you don't know what Cookie Fries are then you are missing out on one of the trendiest cookie mashups of all time. The Cookie Joint's signature Cookie Fries takes typical shortbread cookies to a whole new level with its crinkle-cut french fry shape. They are delicious and so much fun to eat!
If you don't know what Cookie Fries are then you are missing out on one of the trendiest cookie mashups of all time. Invented by Jill Balick and Susie Schuster, The Cookie Joint's signature Cookie Fries takes a typical shortbread cookie to a whole new level with its crinkle-cut French fry shape. They are delicious and so much fun to eat!
NEW YORK BAGEL BRUNCH FOR 6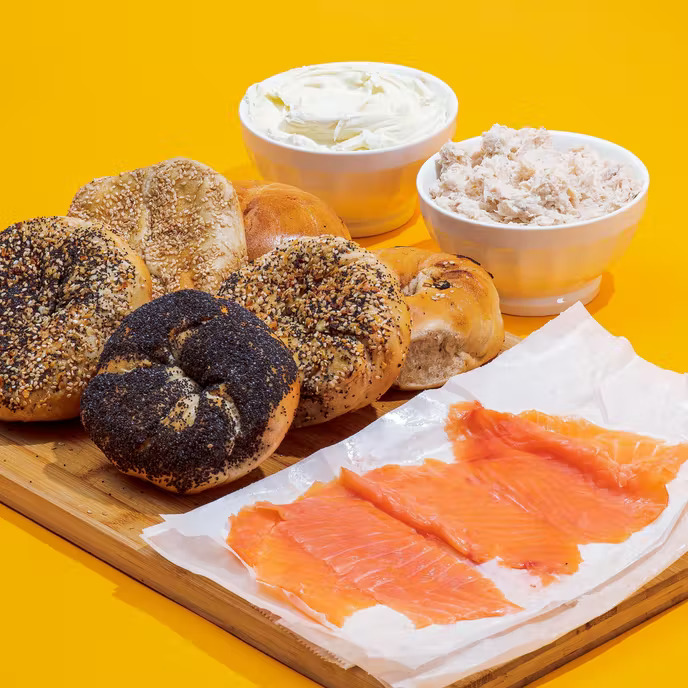 Ess-a-Bagel ships its legendary bagels nationwide on Goldbelly! Ess-a-Bagel's giant bagels are quintessential New York. Cut and rolled by hand, it's Ess-a-Bagel's chewy, crusty bagels that keep regular customers coming back week after week (some since the day they opened). Send a half dozen to a co-worker, friend, or someone you really, really like and remind them of how inferior all other bagels are. Ess-a-Bagel tops this package off with nova lox and cream cheese to make this a true taste of New York!
Ask any New Yorker where to find the best bagel in New York City, and there's a good chance they'll tell you Ess-a-Bagel. Family-owned for more than 35 years, Ess-a is renowned for its big, chewy, crusty hand-rolled and kettle-boiled New York bagels made the old-fashioned way. Whether eaten on their own or with a schmear of cream cheese and a pile of lox, these bagels are a true taste of New York!
Junior's Favorites Mini Cheesecake Sampler – 18 Pack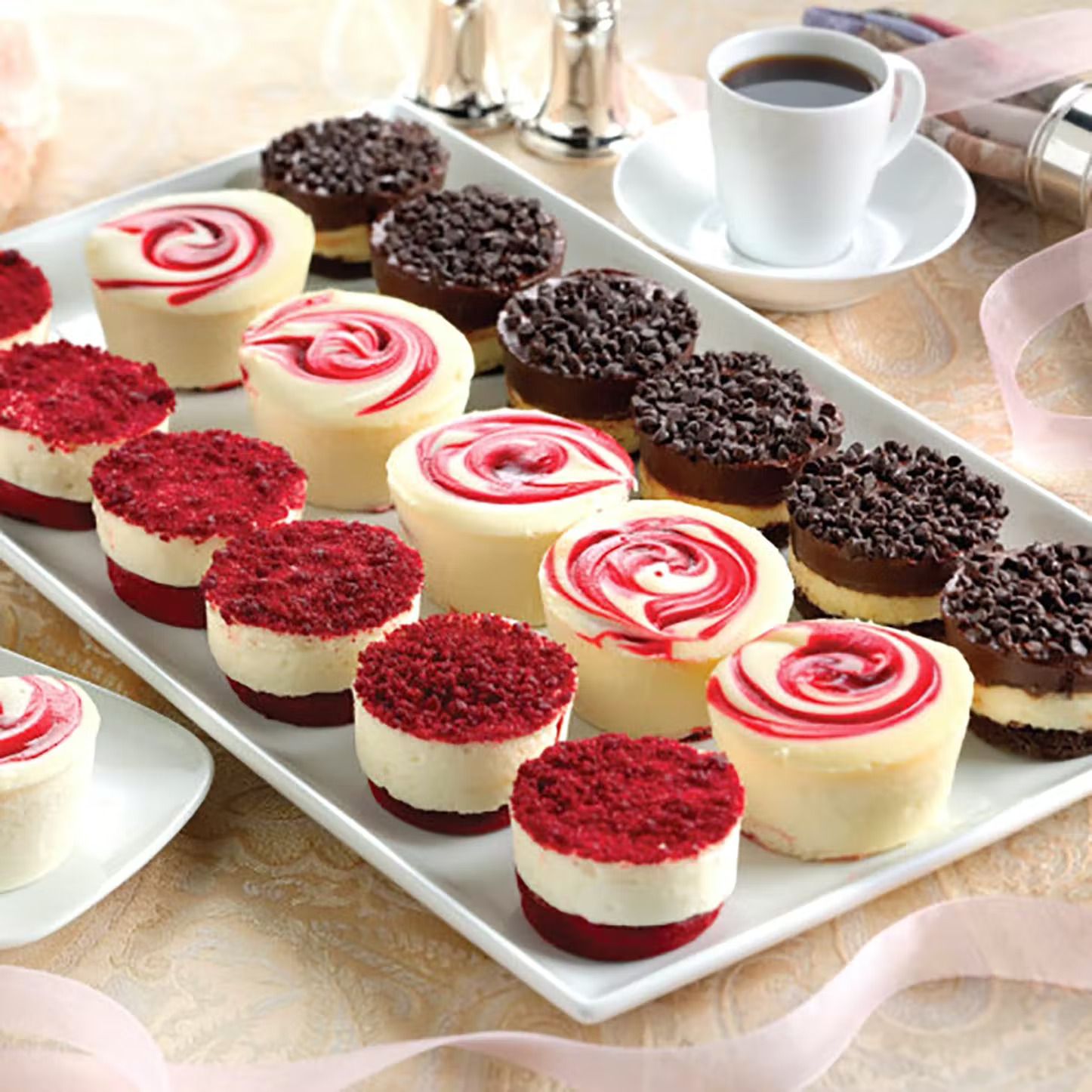 Junior's ships its legendary New York-style cheesecake nationwide on Goldbelly! This sampler features Junior's favorite cheesecakes: Raspberry Swirl, Red Velvet Cheesecake, and Devils Food Cheesecake. 6 of each for a grand total of 18. Perfect for a party or to keep in the freezer for a surprise treat.
Famous since the day it opened in 1950, Junior's is a world-renowned Brooklyn landmark, and it's best known for its light and super-creamy cheesecake. It was founded by Harry Rosen and is still run by his family, and it's been visited by everyone from former presidents to James Beard award-winning chefs.
FAMOUS CRAB BOMBS – 10 OZ. SIZE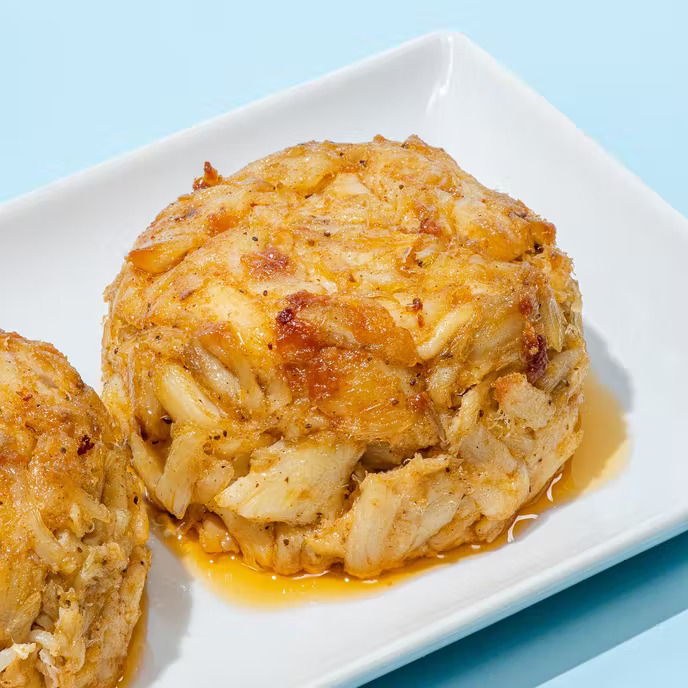 Jerry's Seafood ships their legendary Crab Bombs nationwide on Goldbelly! The Crab Bomb is 10 ounces of fresh, hand-picked, all jumbo lump crab meat, perfectly seasoned with Old Bay and held together with a touch of mayo, with absolutely no filler.
Owned and operated by the Gainey family for nearly 40 years, Jerry's Seafood is a Maryland landmark. It is home of The Crab Bomb™—it's easily one of the best crab cakes in Maryland!
MAINE LOBSTER ROLL KIT – 4 PACK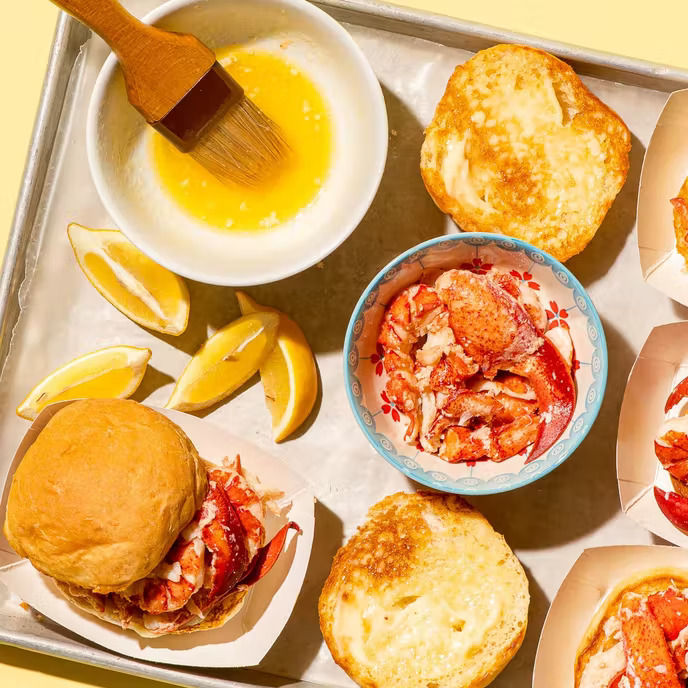 The Clam Shack ships its legendary lobster rolls nationwide on Goldbelly! Ask a local in Kennebunkport where to find the best lobster roll around, and you'll most likely be directed to the adorable Clam Shack, located right in the heart of town. And it's true: lobster rolls don't get much better than this, folks.
The lobsters used in these impressive sandwiches are caught a five-minute drive from the shop, and they're stored for the day in seawater tanks before being boiled, picked and tucked into a toasted custom-made round roll (as opposed to the usual split-top bun) with a smear of mayo and a drizzle of butter. It's a true taste of Maine.
The Clam Shack, perched on a bridge in the heart of Kennebunkport, has been serving up irresistible fried seafood, clam chowder, fried clams, and — most importantly — some of Maine's best lobster rolls since 1968. The little stand draws visitors from around the world who brave long lines (and marauding seagulls) for a quintessential taste of Maine summer.
ICE CREAM – CHOOSE YOUR OWN 6 PINTS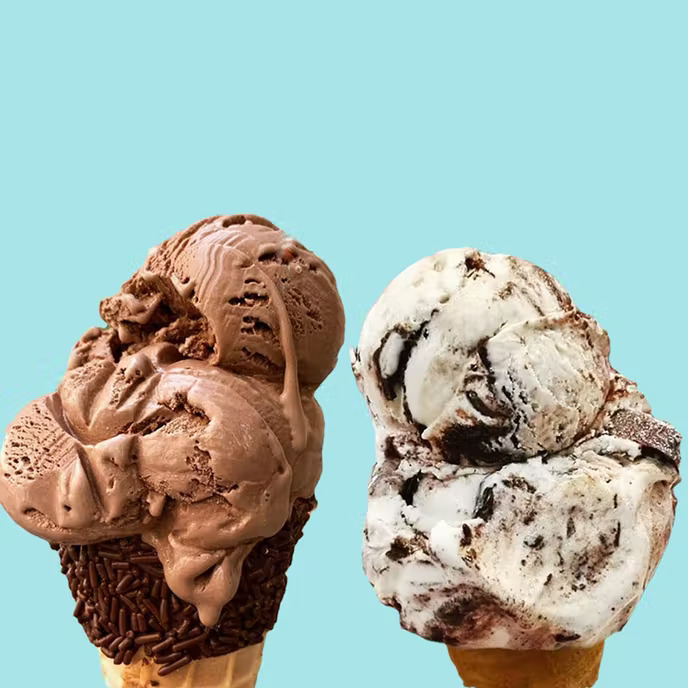 America's oldest ice cream company—established in 1861 by Lewis Dubois Bassett—Bassetts Ice Cream was the first merchant to sign a lease at the famous Reading Terminal Market in Philadelphia and is still owned and operated by the same family today. They use the slogan "Rich in History, Richer in Flavor" not only because of our history, but also because of the quality of our ice cream. Bassetts ice cream is super-premium and contains 16.5% butterfat which gives our ice cream an extremely smooth and creamy texture.
Now you can choose your own sampling of six of Bassetts' irresistible ice cream flavors in this special pack!
ICE CREAM SANDWICHES BEST SELLER – 8 PACK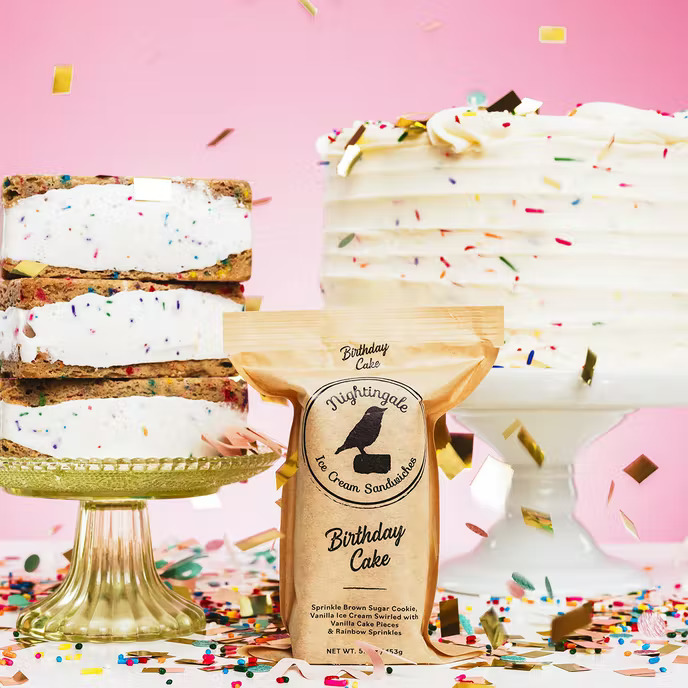 Enjoy eight of Nightingale Ice Cream Sandwiches' best sellers, including Cookie Monster, Classic, Fat Banana, Chocolate Blackout, Strawberry Shortcake, Birthday Cake, Mint Chocolate, and Salted Caramel!
Husband-and-wife Xavier Meers and Hannah Pollack spent years working in fine-dining kitchens before opening Nightingale Ice Cream Sandwiches in Richmond, Virginia, in 2016. These modern ice cream sandwiches are made by hand, from scratch, using only the highest-quality available ingredients. Nightingale's ice cream is super-premium and 14% butterfat, and their cookies contain only real, wholesome ingredients.
WHITE CHOCOLATE COCONUT BUNDT CAKE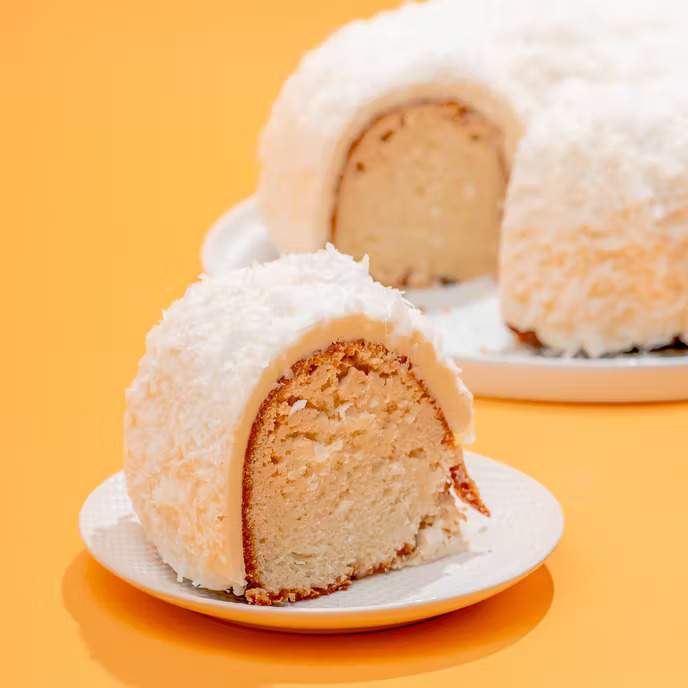 Doan's Bakery ships its legendary white chocolate coconut bundt cake nationwide on Goldbelly! The White Chocolate Coconut Cake is Doan's most famous creation and for good reason. They start with a ring of moist, luxurious coconut bundt cake, mix in chunks of sweet white chocolate, layer on rich cream cheese frosting, and then dust it all over with toasted coconut flakes. The result is a delicious, pillowy cake good enough to derail the strictest Hollywood diets.
Despite its worldwide renown (Doan's Bakery is a favorite among Hollywood's A-listers), this California bakery is still a family-owned and operated business, with a single location in Woodland Hills, California. Founded by Karen Doan in 1984, the bakery to the stars is now run by Karen and her son Eric, who bake all sorts of cakes together, including this beloved signature.