Today, I'm going to introduce you to a versatile online tool that could prove to be your design companion in the long run! It's time for the Placeit.net Review.
I have myself been using this tool for a long time, and it has helped me design intros for my Youtube videos, digital mockups for my apps, attractive graphics, and a lot more.
In this Placeit Review, I am going to demonstrate all the advanced tools that Placeit offers. I personally loved its highly intuitive Mockup Generator!
Along with that, we will also talk about its user interface, licensing terms, pricing, pros and cons, and consider a few alternatives to it.
So, are you ready to discover the dozens of ways Placeit can help you create extraordinary designs? Let's dive right in to find out!
About Placeit
Placeit is a cloud based tool that helps you design a range of marketing and personal assets, including mockups, animated videos, graphics, social media images, logos, and more.
It was established in 2012 by Envato, the largest marketplace for purchasing digital assets.
Placeit has a wide collection of 87k+ templates. Their major goal with developing Placeit was to provide thousands of templates to simplify the designing process and make it more affordable for an average user!
Placeit User Interface
The interface of Placeit looks quite clean and modern, with an attractive design. The top panel features all the tools that you will use for designing assets. Alternatively, you can also use the search bar to search for specific keywords.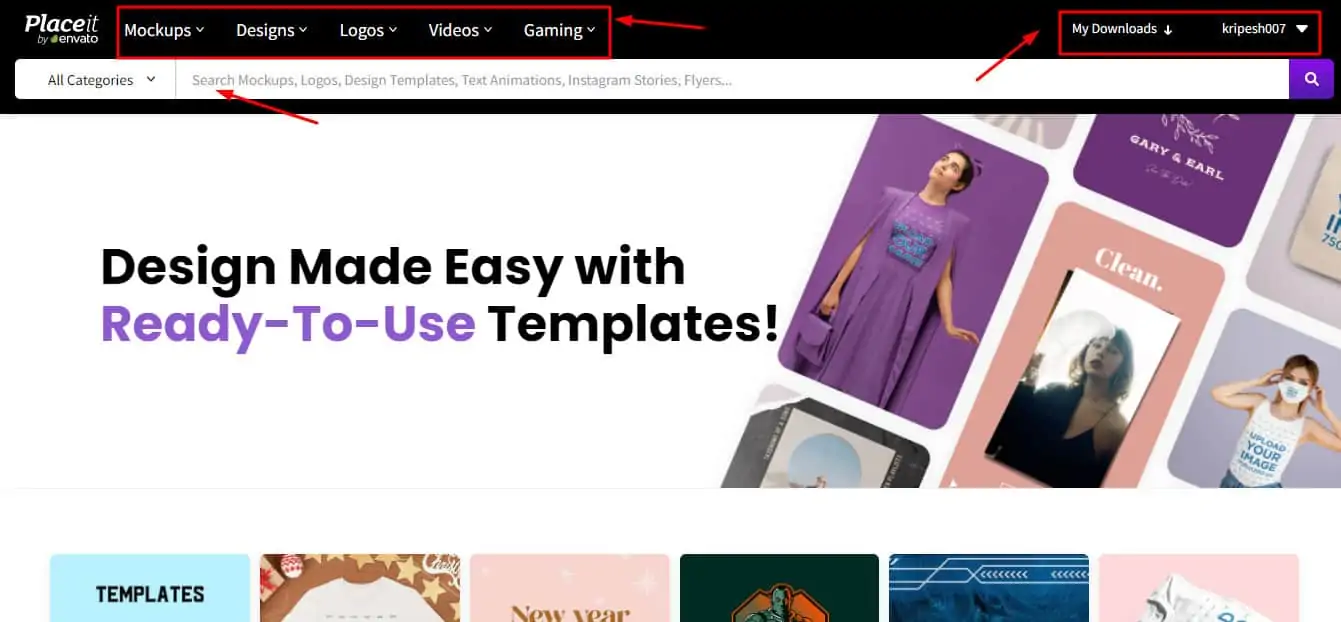 From the top right, you can view your downloaded assets and manage your account. The Placeit tool works smoothly in your mobile browser as well. However, it does not feature any mobile apps.
Overall, I find the interface highly user friendly and convenient for new users.
Placeit Features
Placeit is a platform for creative individuals. Here, you will find a variety of powerful tools, each covering a specific aspect of designing. Let me walk you through each of them.
Placeit Mockups Tool
A mockup is simply a digital model of your product. It helps you visualize how your product will appear when manufactured/printed.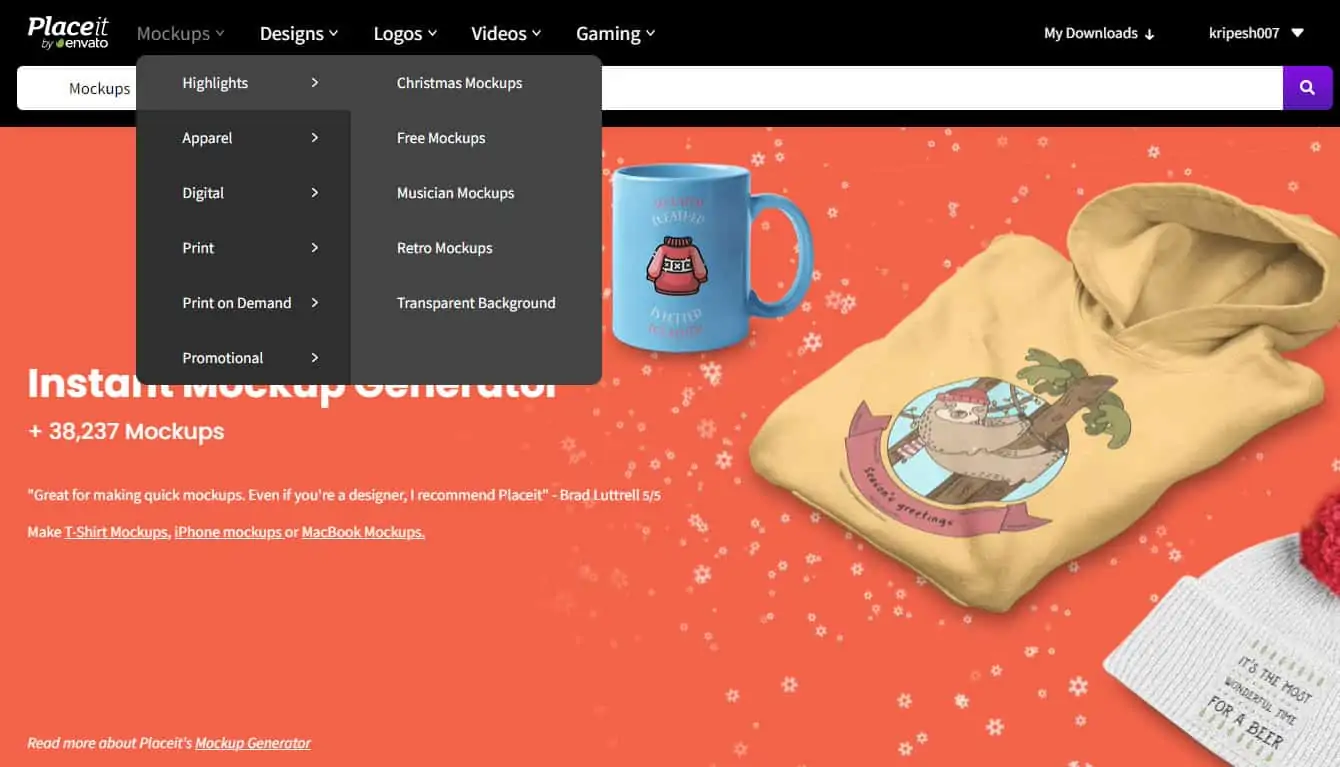 If you are designing a product for your clients, this tool will come in handy. It will not only save up your time but also prevent any chances of errors after manufacturing!
The Placeit Mockup Generator offers an extensive collection of 38k+ mockup templates covering a wide range of categories.
These include:
Apparels like Face Masks, Tshirts, Hoodies, Sportswear, Tank Tops, and more.
Digital devices like Android and iOS mobiles, MacBook, App Mockups, etc.
Print Materials like Books, Magazines, Business Cards, Stationery items, etc.
Print on Demand items like Mugs, Bags, Phone cases, Wall art, etc.
Promotional Materials like Billboards, Facebook Ads, Banners, etc.
Now, let us dive deeper into some important types of mockups.
T-shirt Mockups
If you are into designing and selling customized apparels or merchandise, this tool can help you get an idea of your product's appearance!
First, you need to select the type of t-shirt you want the mockup for. It offers multiple options like Crew neck, Crop Top, V-Neck, etc. Next, you can choose a color for your t-shirt and upload your design as an image.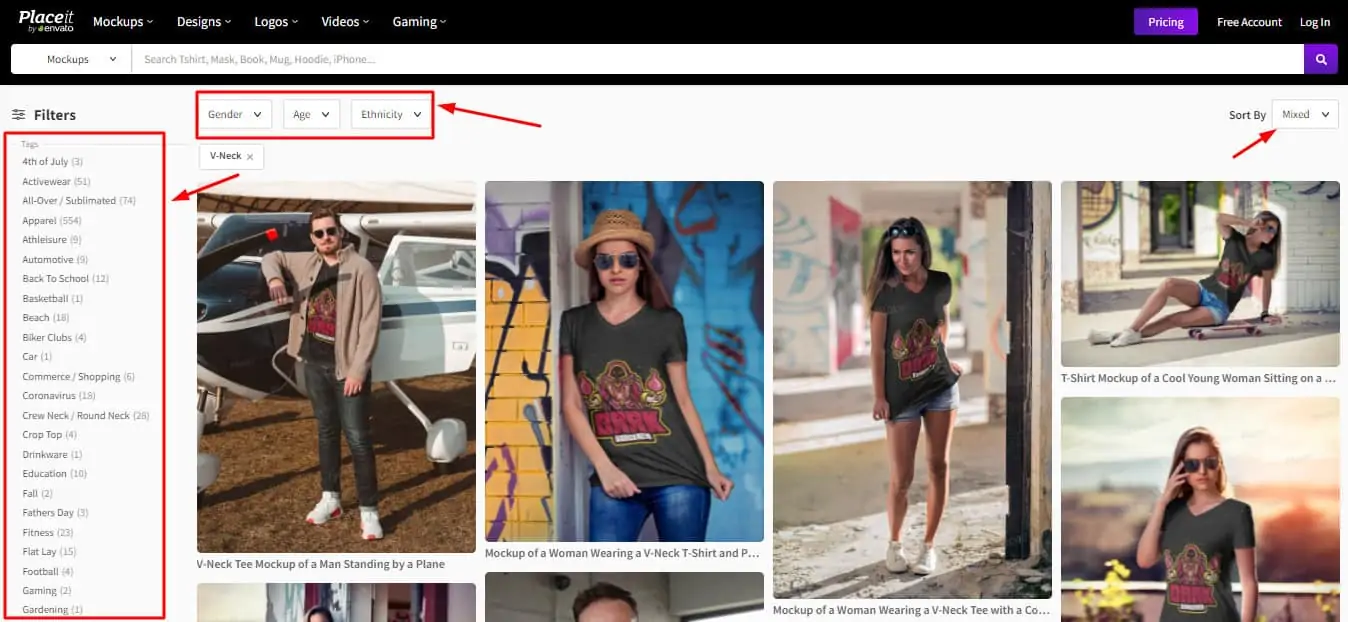 It also lets you select an age, gender, and ethnicity for your models. The results are filtered by your chosen criteria. You also get dozens of filter tags and sorting options, like Bestselling, Newest, Mixed, or Free mockups!
Your chosen design can be saved as a draft or downloaded in the PNG format. Before downloading, you can edit the background and add a background color, gradient, or graphic according to your preference.
Video Mockups
With Video Mockups, you can get an even better idea about how your product will blend in with natural surroundings.
You can choose a product from mugs, hats, t-shirts, jerseys, tank tops, hoodies, tote bags, and more. To demonstrate, I am choosing one from the hats category!
Now, we can edit the hat color, add our logo/design over it, and also include an audio track in the background and hit download!
How cool is that! You can easily market your products within seconds with this tool. In my opinion, this is a great way to promote your products on social media platforms!
App Mockups
App Mockups can help you check out the appearance of your apps and websites on actual devices.
With Placeit, you get mockups for various devices, including Android, iOS, Mac Book, iMac, iPad, etc. You can also create interesting videos through the App Demos tool.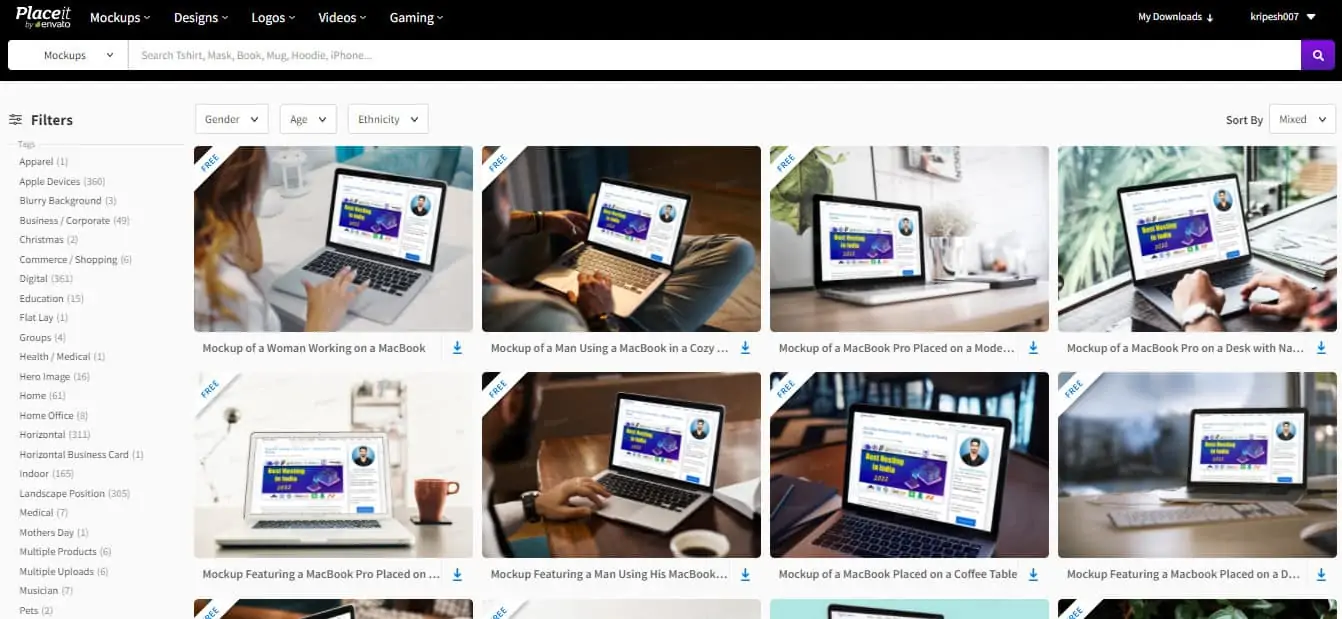 All you need to do is add your image or type in a URL, and select an audio track to go along with it!
Overall, I liked using this tool. If you are into ecommerce, digital tools, or the software industry, App Mockups will help you make your mark!
Print on Demand Products
Print on demand comprises additional creative products like coffee mugs, pillows, phone cases, bags, wall art, etc. In this section, you can really experiment with a lot of different designs and products.
Check out these phone case mockups I created with Placeit.
If you are planning to introduce your brand's merchandise, you'll find some really interesting ideas here.
Placeit Design Tool
Placeit has its own Design tool, similar to online designing tools like Canva and VistaCreate. It offers an elegant collection of 10.3k templates covering a vast range of categories.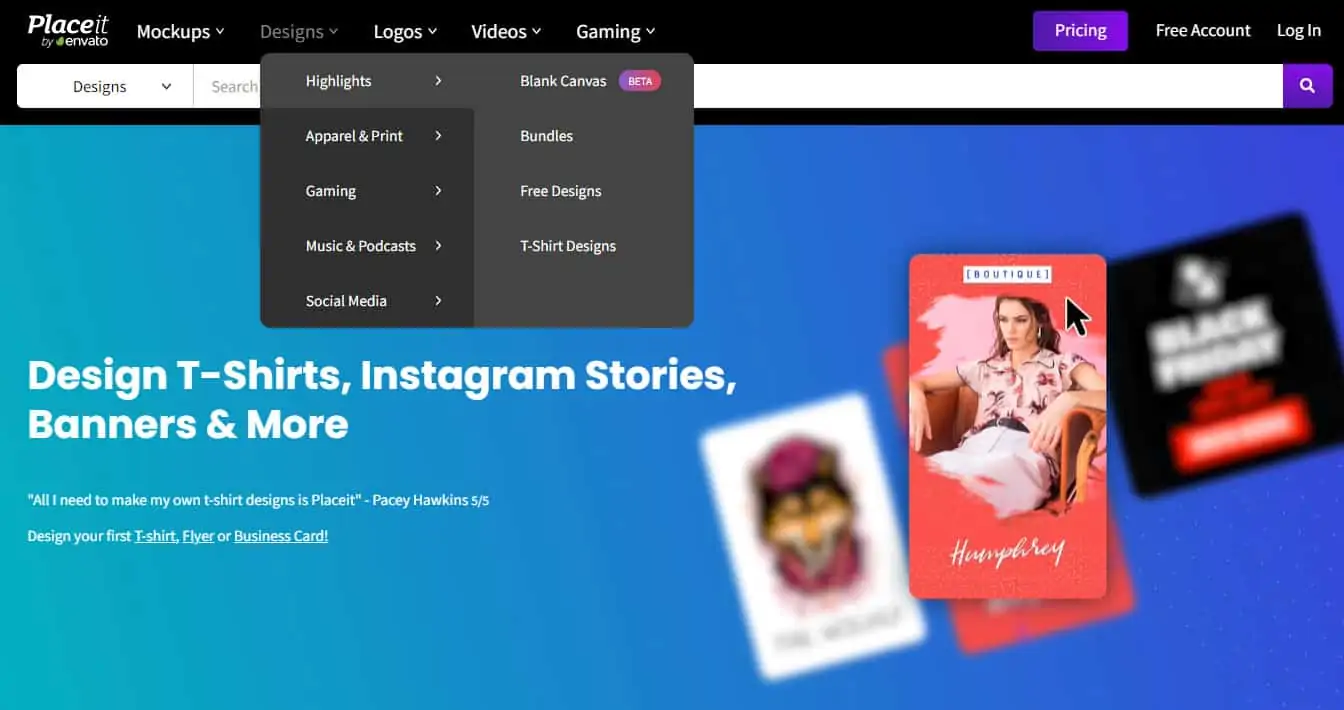 Once you select a template of your choice, you also get a variety of customization options like text editing, changing font type and color, editing background, or selecting frames and patterns to create your perfect design.
Following are the major types of designs that can be created with the Placeit Design tool.
Apparel and Print Templates
These include assets like book covers, flyers, posters, t-shirts, business cards, etc. T-shirt designs are the most popular among these. You will find attractive and trendy t-shirt designs in their templates collection.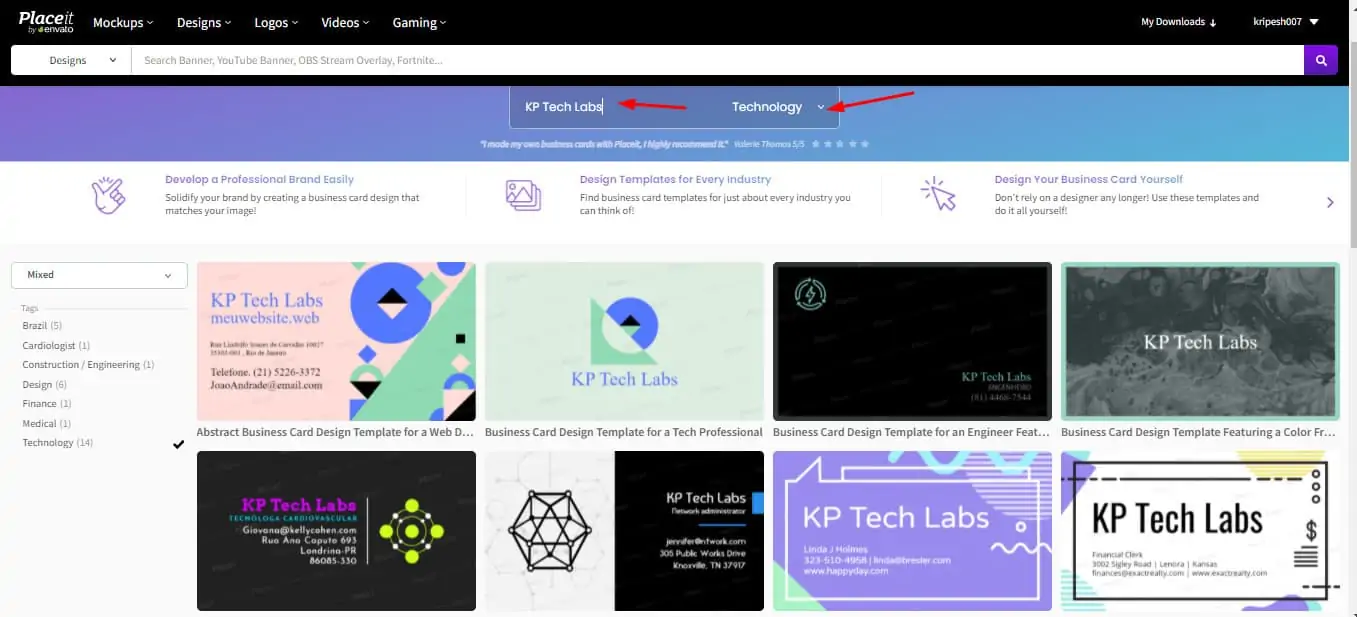 All you need to do is choose a design, make considerable edits to it, and download it in the PNG format. Later, you can also use the same design to create a t-shirt mockup!
Music and Podcast Templates
If you are into the music industry, you can easily promote your latest released podcast, music covers, or albums with Placeit. For example, these were the results when I searched for health podcast covers.
They offer a super vibrant and modern collection of templates, so you will never run out of creative ideas!
Social Media Templates
Designing posts for your social media has never been this easy. You can select fresh and engaging templates for various platforms like Facebook, Twitter, Instagram Fiverr, Pinterest, Patreon, etc.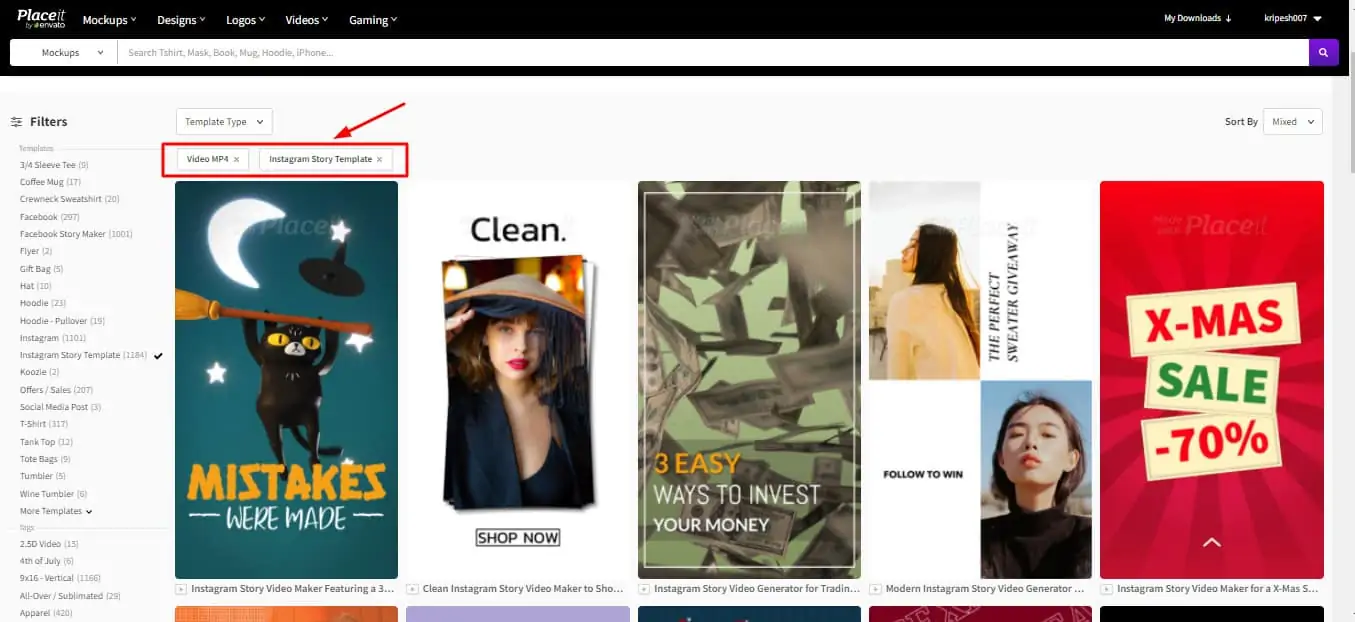 Look at these Instagram story templates in their collection. You can select one of your choice and edit it as you like! Overall, the design tool works well, but I prefer Canva and VistaCreate for designing social media posts.
Placeit Logo Creator
This is one of my favourite tools on Placeit!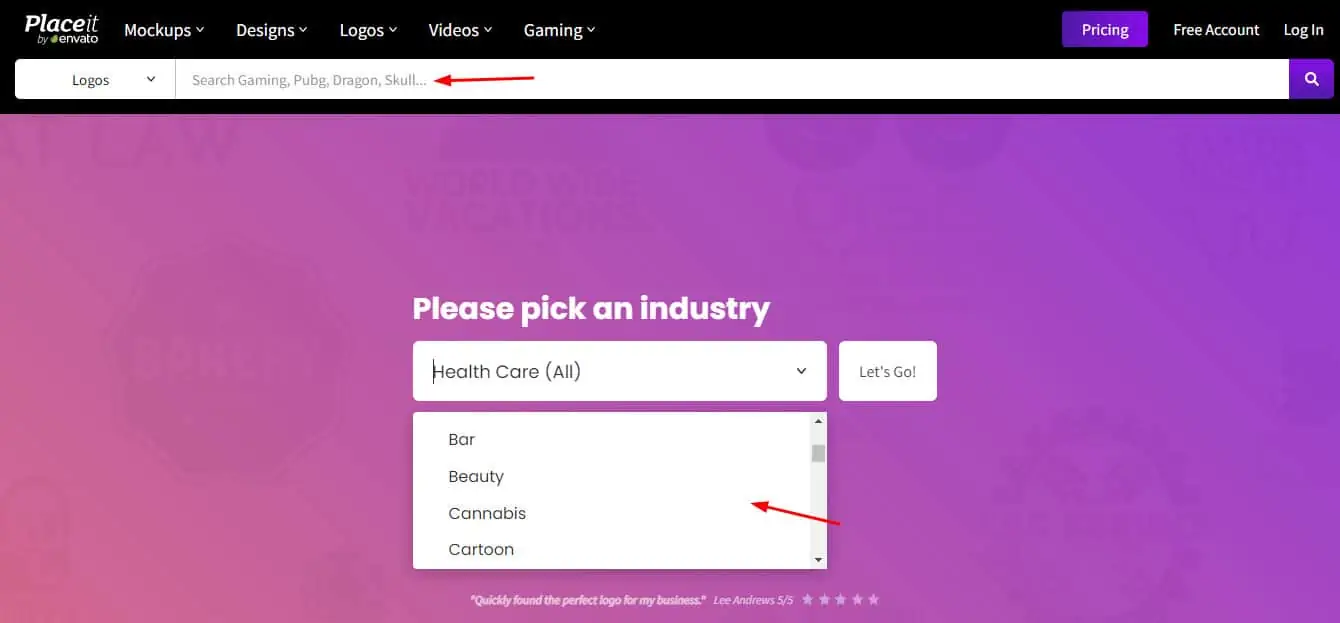 The Logo Creator has a diverse collection of 3k+ logo templates covering 13 categories like architecture, clothing, finance, gaming, food, music, and more!
Let's look at the important logo templates available on Placeit.
Mascot Logos
A mascot is basically a figure, object, animal, or a toy meant to represent a brand or a product. These are mainly designed for gaming, food, and sports brands.
Placeit's collection of mascots is really diverse and you can customize them to a great extent by editing the background, fonts, graphics, etc!
Animated Logos
This is an extended version of the 2D logo designs. Here, you will find an animated collection of your favorite logos that look really classy!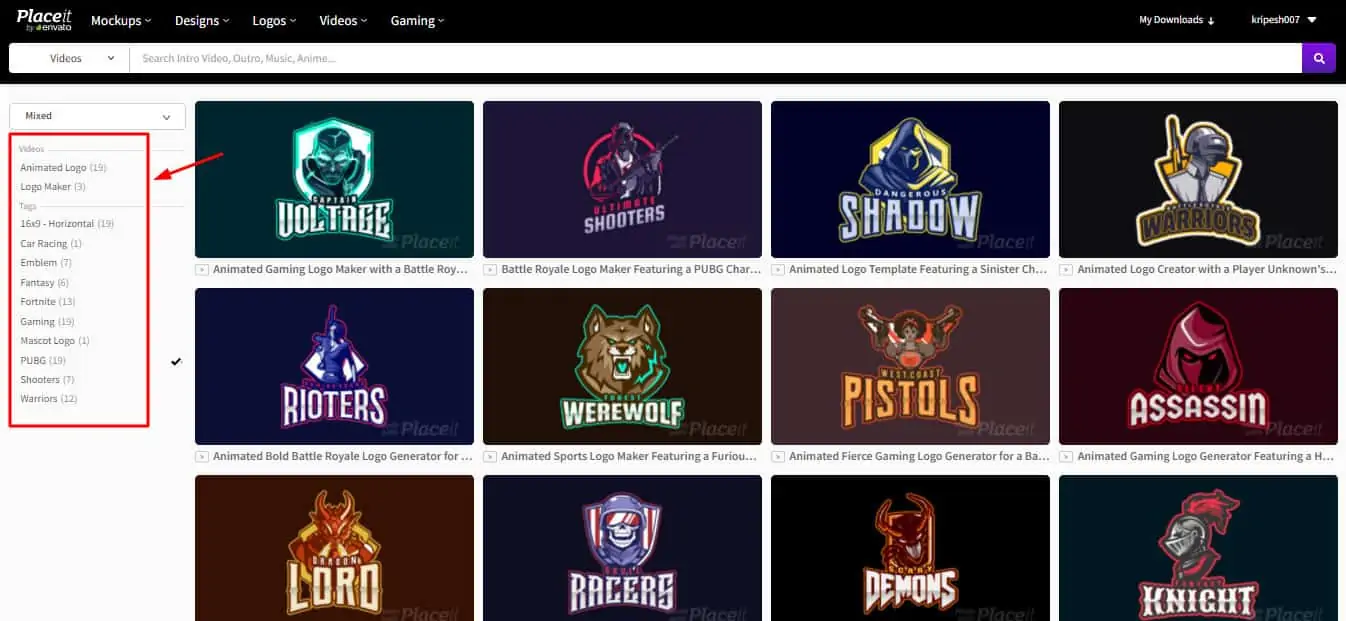 Once you select an animated logo of your choice, you can edit the text, graphics, fonts, replace your mascot with a different character and experiment with a variety of background effects.
You can even add an audio track to set the right mood! Animated logos are perfect for video intros and outros and for social media.
Thus, the Logo Designer is pretty intuitive and easy to use. However, their website takes a lot of time to preview the logo designs. This might spoil the user experience to some extent.
Various Styles of Logos
If you wish to experiment with different styles of logos, Placeit does not disappoint at all!
You can try out 7 different styles of logos, including Monogram, Retro, Typography, Vintage, Illustration, Abstract, and Cartoonish.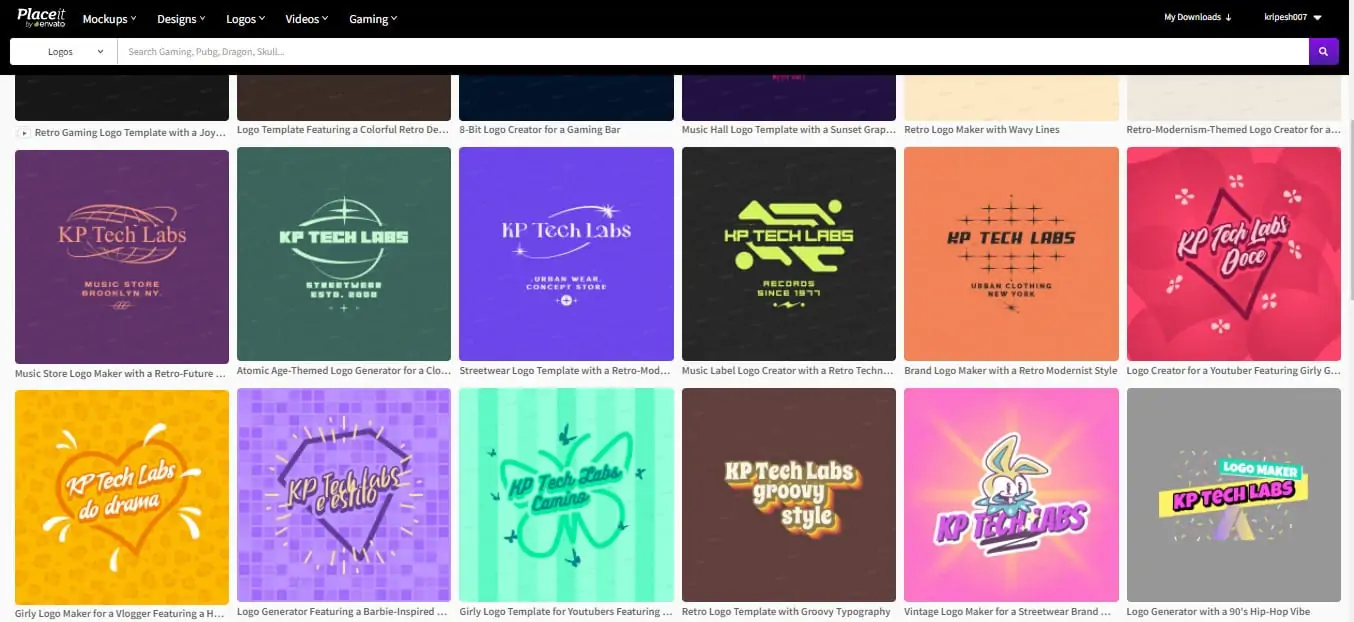 For example, with the Retro style, you can quickly design a professional yet stylish logo for your business and edit it infinitely to suit your brand!
Additionally, you can also create logos for specific industries like clothing, education, sports, shops, architecture, etc. Overall, the Logo Maker won my heart with its beautiful template collection!
Placeit Video Maker
Placeit also has a powerful Video Maker tool that offers 900+ animated templates.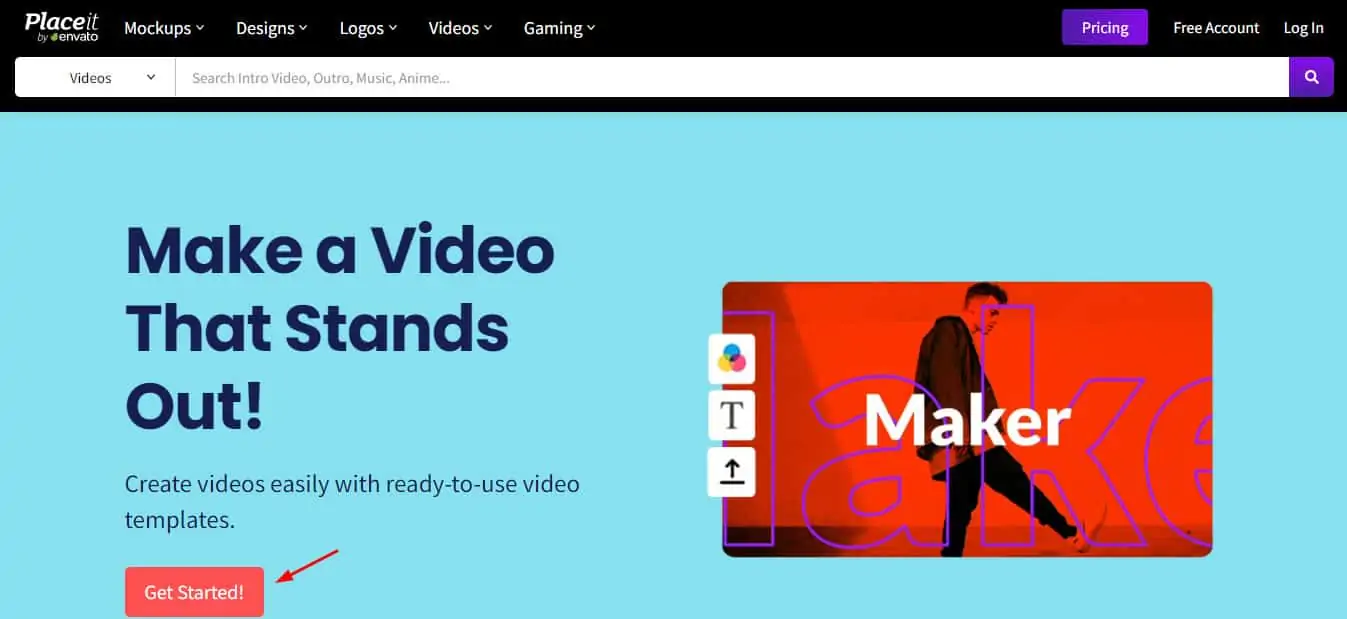 You can design animated gaming videos, social media videos, slideshows, and even intros and outros for your Youtube channel, etc.
Let's discuss the important ones in detail.
Intro/Outro Videos
Content Creators often struggle with designing appealing intros and outros for their videos. This is where Placeit comes to rescue.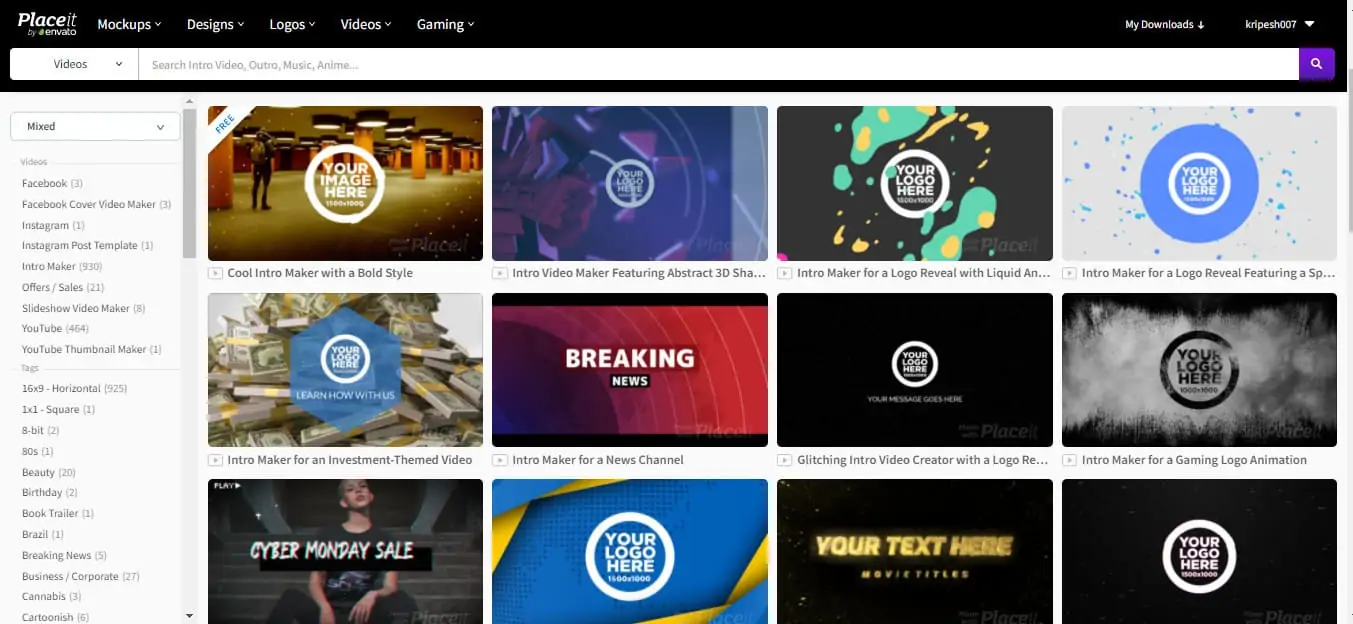 With its video tool, you can choose from hundreds of engaging templates to create your perfect intro and outro. You simply need to hover your mouse pointer over an animated template to see it in action.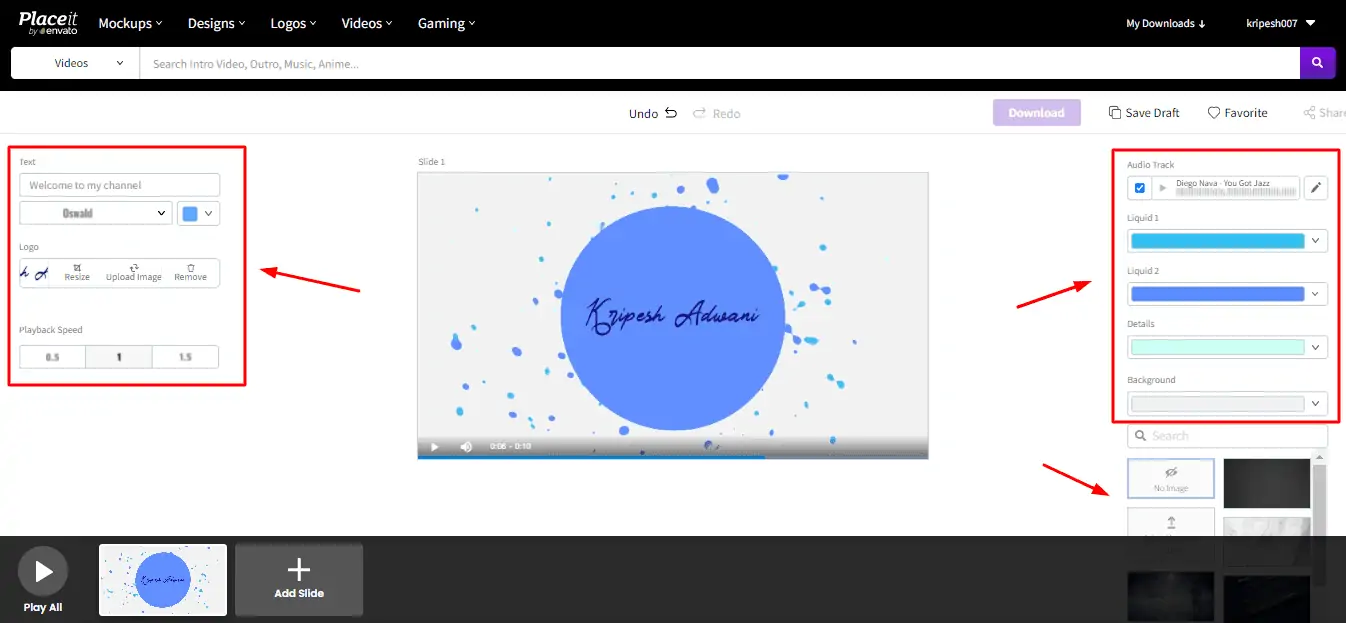 On the editing screen, you can edit the colors of the transitions and the fonts, add text, audio track, and even set a playback speed for your video animation!
Once it's done, you can download it in MP4 format.
Social Media Videos
Videos add life to your posts. If you are an influencer, Placeit can help you quickly create Instagram videos and stories, Facebook cover videos, and promo videos for advertising your brands.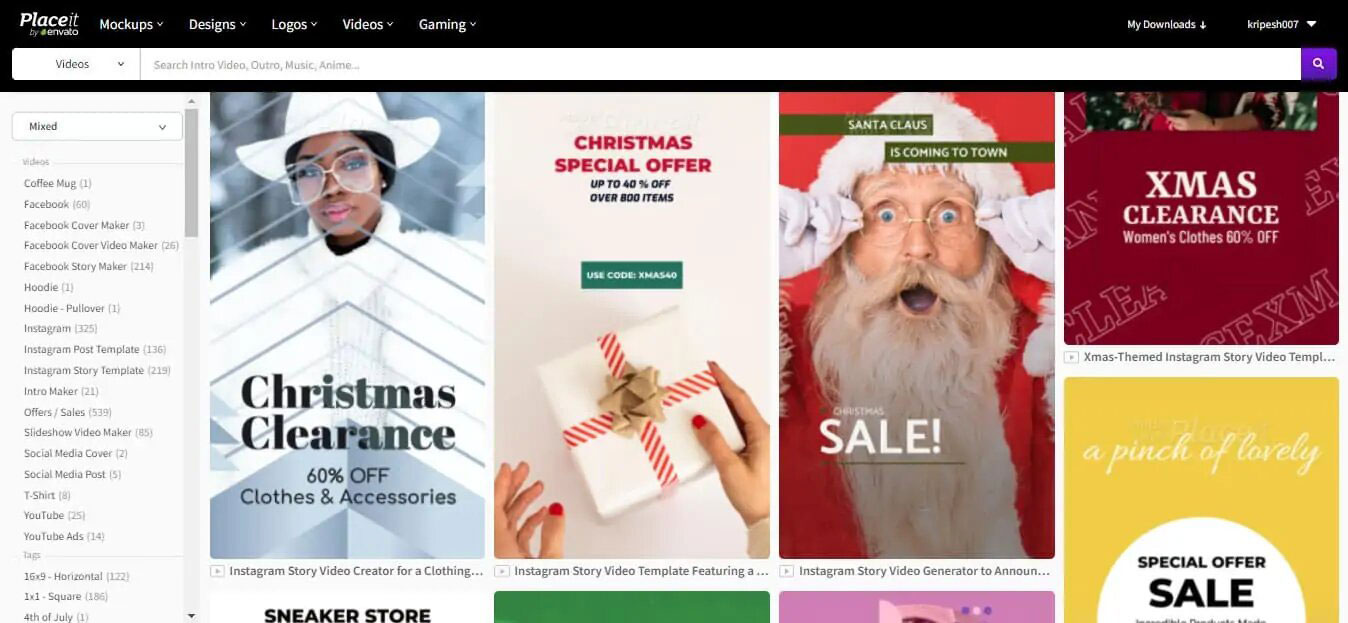 Their template collection is really impressive. You can even customize your video and add multiple slides from their video library.
Placeit Gaming Templates
If you are into the Gaming industry, Placeit has a separate section for designing gaming assets. It offers all the tools to help you brand your YouTube or Twitch channel!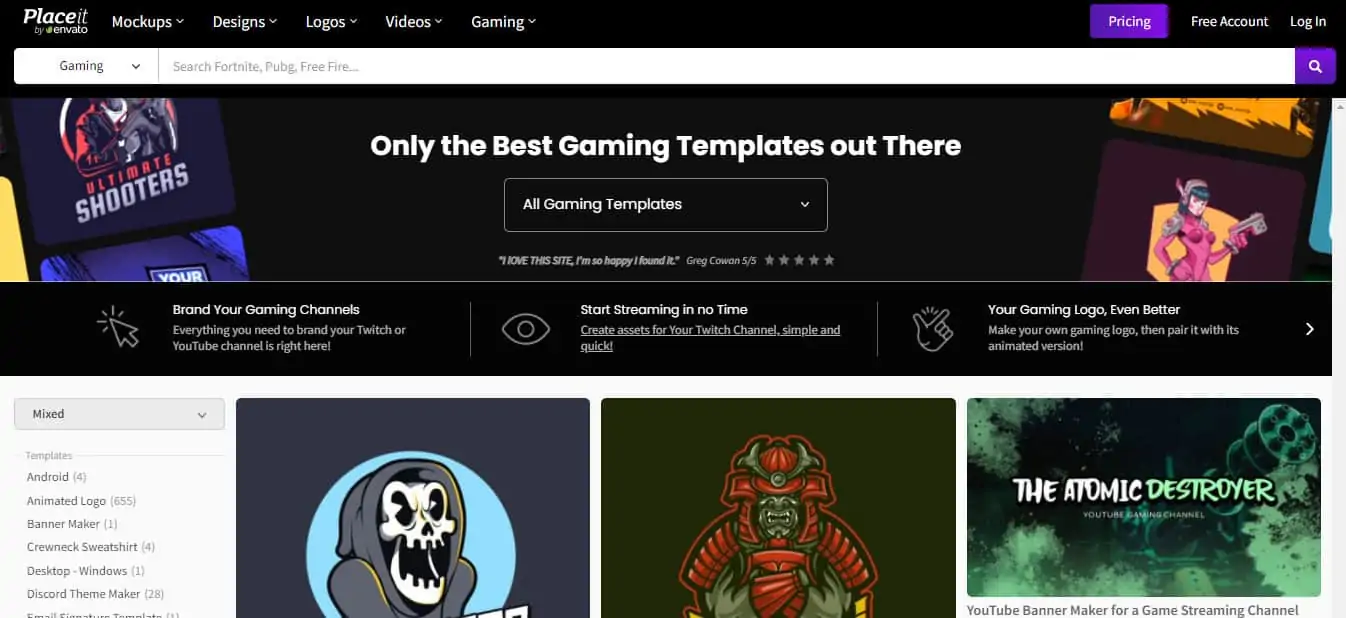 You can generate gaming merchandise, design stream overlays, banners and panels for Twitch, thumbnails, banners, and end cards for Youtube, and more! Let's discuss the major assets that can be created with the gaming templates in Placeit.
Streaming Templates
Gamers frequently conduct live streams over different platforms like YouTube and Instagram. If you use OBS or Twitch for live streaming, you will find a variety of stream overlays and 'Coming Soon' screens on Placeit.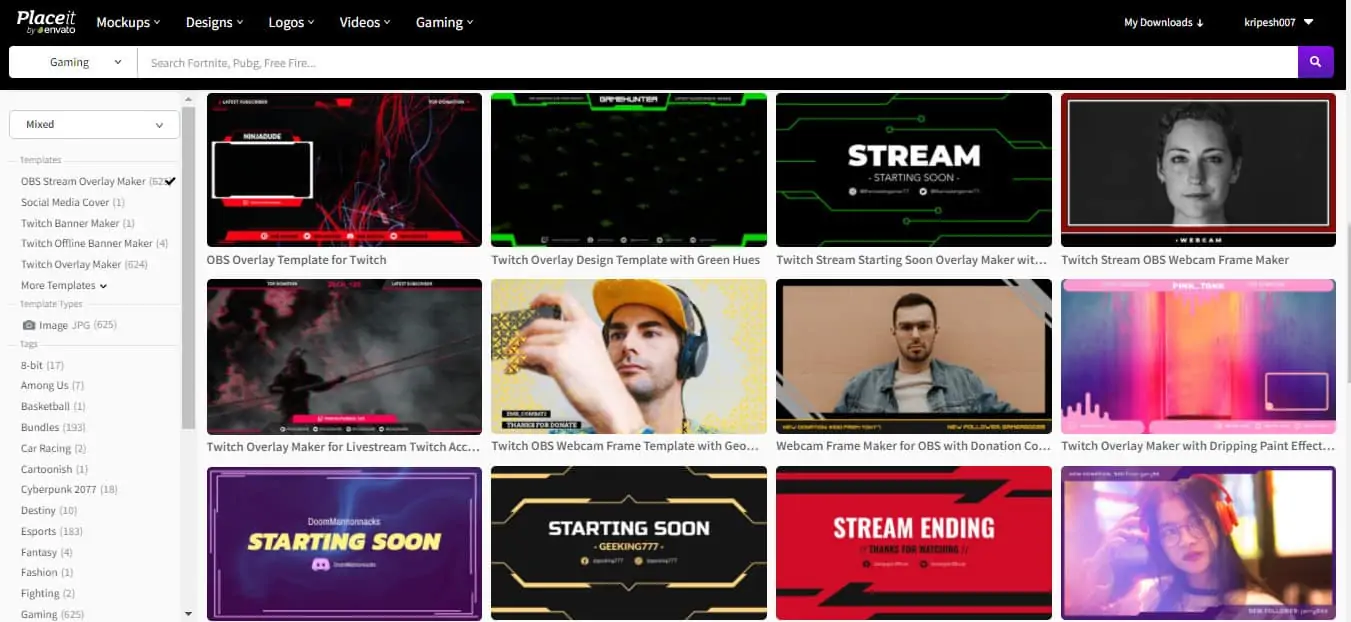 All of them look trendy, attractive, and colorful! Other templates include Twitch banners, panels, Discord Themes, etc.
YouTube Templates
YouTubers can find a good collection of assets to make their channel and videos more engaging and captivating.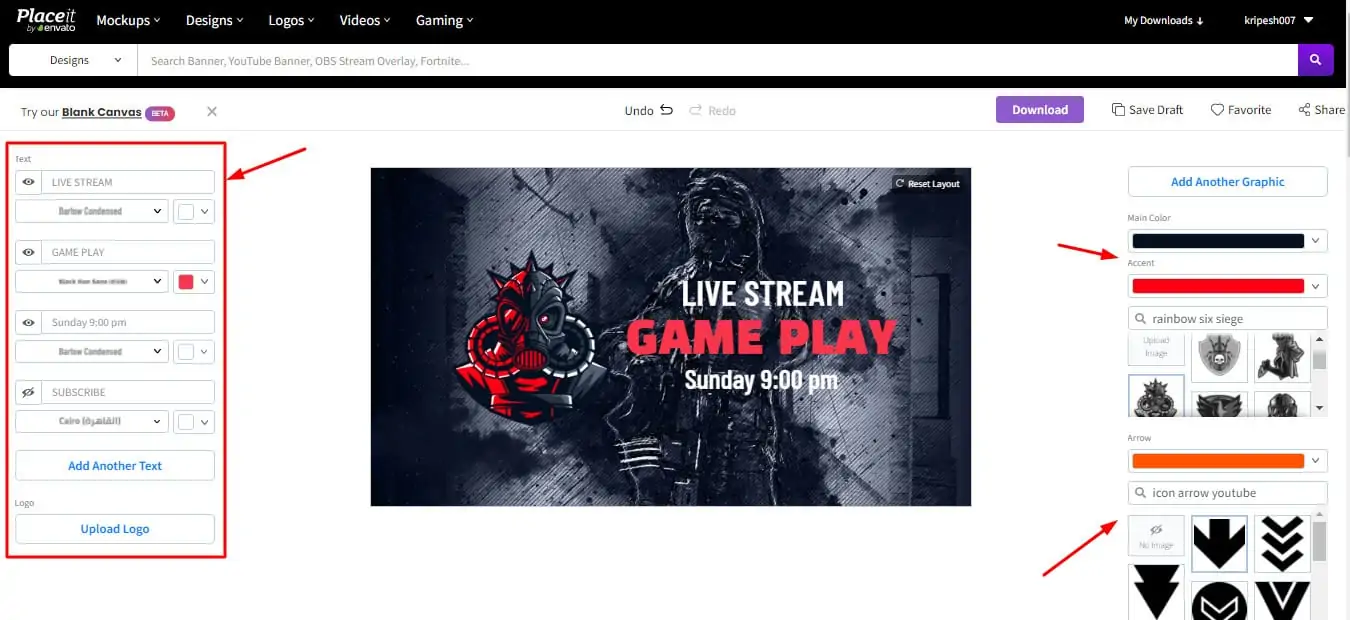 Placeit offers hundreds of banners, end cards, and thumbnail templates for your YouTube channel.You can even design fun and colorful intros and outros with this tool!
Blank Canvas Tool
Along with the pre-made templates, you now get the option to create your designs from scratch with their Blank Canvas tool. It is available in the Beta Mode at the moment.
Here's a demo of what kind of graphics can be designed with this tool.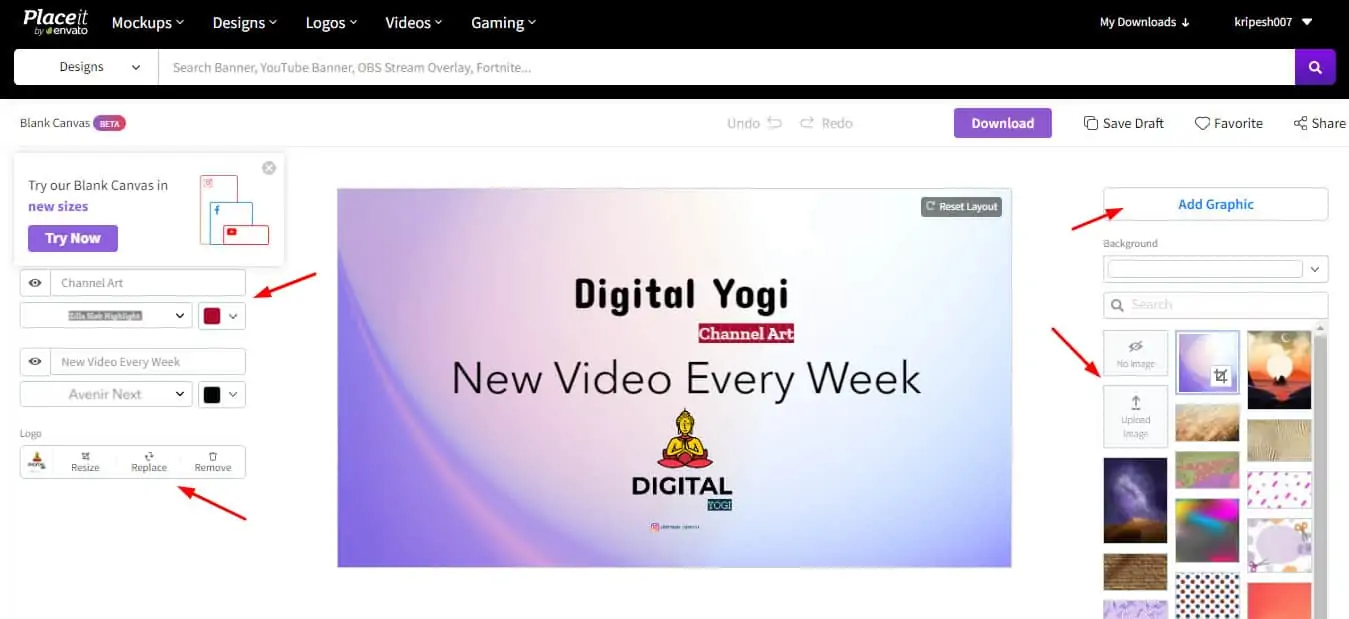 Blank Canvas gives you the freedom to mix and match their collection of backgrounds, graphics, and fonts to create our own customized design.
Additional Placeit Tools
Apart from the above mentioned tools, Placeit also features a few additional tools that will come in handy while designing.
Image Cropper
The Image Cropper tool from Placeit lets you quickly resize your images in 25+ social media formats. All you need to do is upload your PNG or JPG image.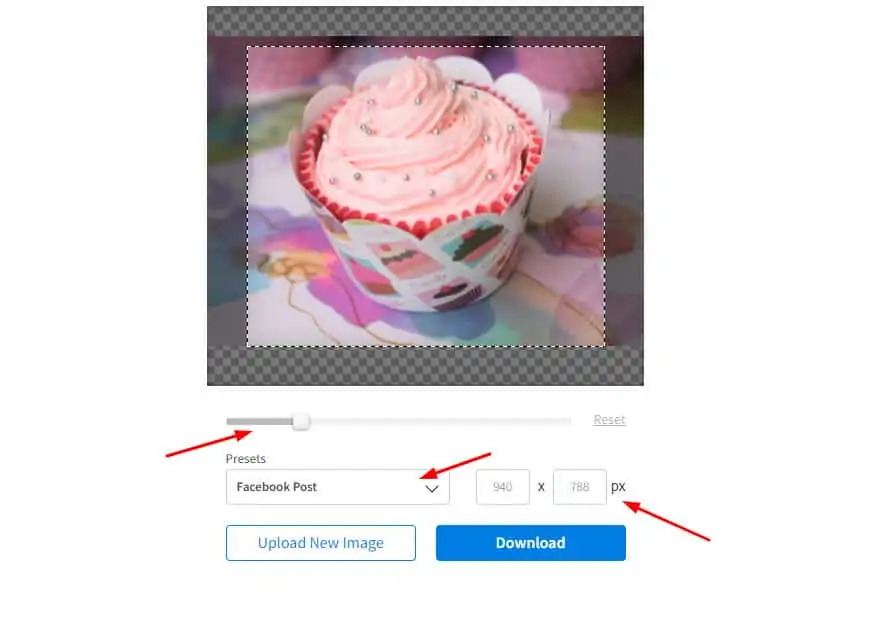 Next, you can either adjust it on a slider bar, choose a particular social media aspect ratio, or just add in custom dimensions and hit download!
Video to GIF Converter
With this tool, you can simply convert your MP4 or MOV videos into GIFs. However, files larger than 100 MB or 40 seconds are not supported.
Online Video Cropper
If you want to resize your video to a specific dimension, you can do so with Placeit's Video Cropper. It lets you upload your video in MP4 or MOV format.
Then you can select dimensions as per a social media platform or enter custom dimensions and download your file.
Placeit Download Options
If you have a Placeit subscription, you can edit and download unlimited assets to use on your designs. However, the designs can only be downloaded in PNG format.
Placeit Licensing Terms
Similar to other design tools like Canva and VistaCreate, the assets available on Placeit also fall under a license. This license determines how you can use their assets.
Here's what you CAN DO with Placeit's resources:
You can modify them to create a final design.
You can use them for personal and commercial purposes like broadcasting, publishing, etc.
You can register the designs and logos created with Placeit as your trademarks.
You can sell your designs to your clients.
And here's what you CANNOT DO with Placeit's resources:
You cannot redistribute them to other platforms.
You cannot create a competitive platform by using Placeit's assets.
You cannot imply endorsement with images of people used in the assets or portray them in a bad light.
The licensing terms of Placeit are quite clean and straightforward. You can even use their assets for commercial purposes and earn money out of them!
Placeit Pricing
Placeit is available as a free plan as well as on a subscription basis. With its free plan, you get to download limited templates that can be used for both personal and commercial purposes. This is sufficient if you are a beginner!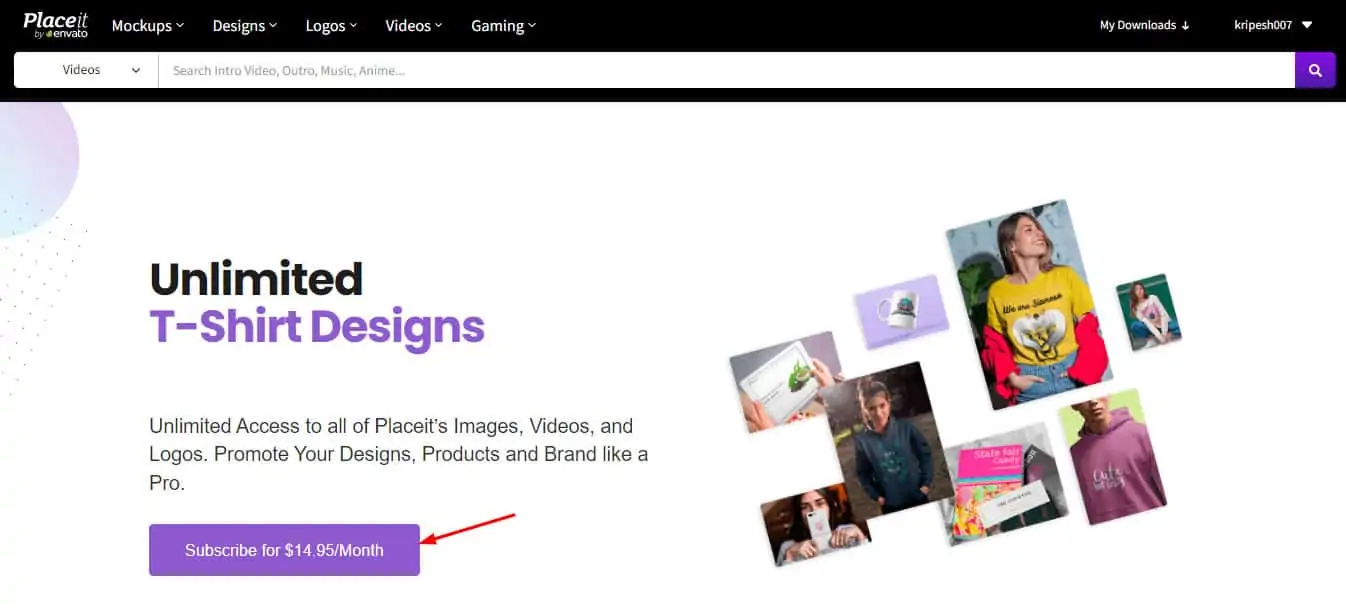 But if you are a freelancer or run a business, its monthly subscription plan for $14.95/month would be a good choice. Right now placeit is offering heavy discounts on their annual plan. You can get a yearly subscription for just $24.
This subscription gives you access to 60k+ templates, including images, videos, logos, mockups, etc on Placeit. There are no limits on downloads either.
How Can You Cancel Your Placeit Subscription?
Users often complain about Placeit not notifying when your subscription needs renewal. They directly deduct your amount for the next year, which is quite troublesome for users not wanting to renew their plan.
According to Placeit's policy, you need to renew your subscription one day prior to the expiry date. However, it's unfair to auto-renew everyone's plan by default. What do you think?
If you wish to get your subscription with Placeit canceled any time before renewal, you can either mail them at [email protected] and request their support team to cancel your subscription, or connect with them over call and request the same.
Placeit Customer Support
Placeit offers customer service through Email tickets and Live Chat. Their Live chat team is not always online though. I received replies to my queries within a few hours, and they were quite knowledgeable as well.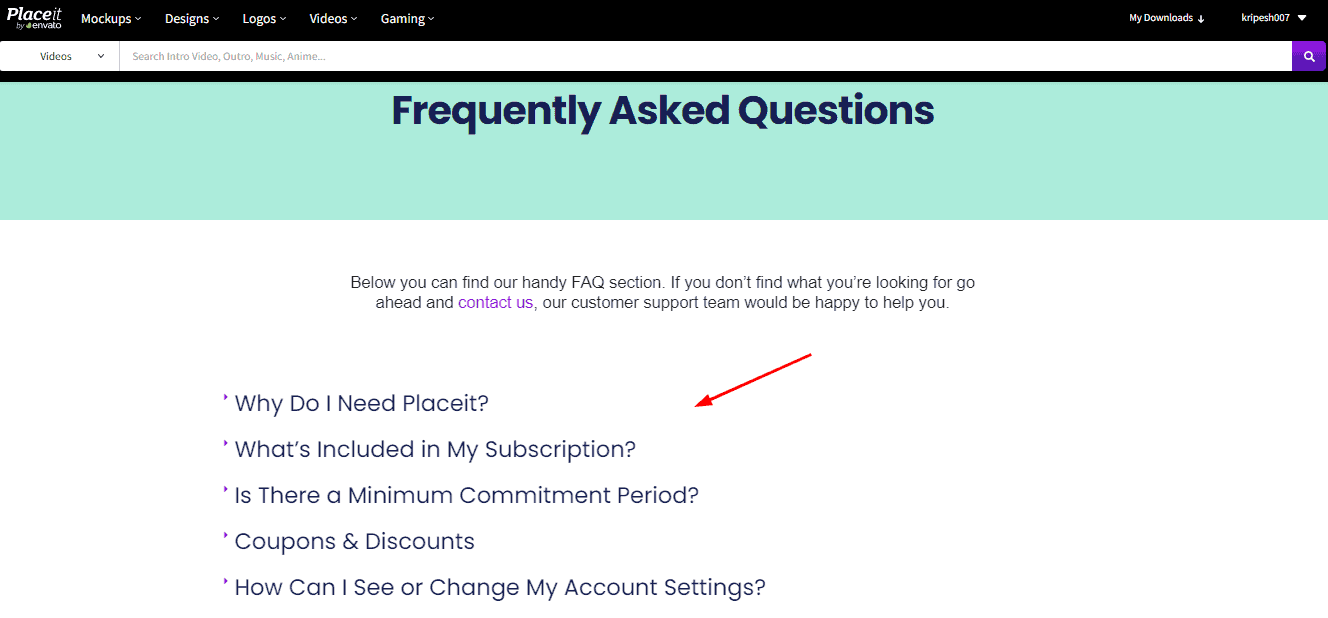 They also have an FAQ page to address common queries. Along with that, you can check out their YouTube channel, Tutorials, and Blog to equip yourself with more educational stuff about design!
Placeit Pros
Enormous Template Collection
Their template collection comprises 19.8k+ mockups, 10k+ design templates, 3k+ logos, and 911 animated video templates. These are enough to inspire your creativity. The mockups collection is exceptionally large and attractive.
Backed By Envato
Envato & Envato Elements is a highly reputed name in the design industry. Because Placeit falls under Envato, it reinforces more trust in the product.
Commercial Usage and Unlimited Downloads
With the Placeit annual subscription, you can download unlimited assets from their platform. You also get a commercial license to use these assets on all your personal and commercial projects. You can even sell it to your clients.
Easy to Use
The best thing about Placeit is that it is extremely easy to use. You don't need any professional design skills in order to use Placeit. Anyone can design creative assets through this simple online tool.
No Software Needed
Placeit is a web-based app, which means you do not need to install any software to access this tool. It can simply be accessed from your mobile or web browser!
Affordable Pricing
Placeit is priced at an affordable pricing of $14.95/month, where you get access to its enormous collection of 33k+ images, logos, and video templates.
No Extra Payment for Logos
Unlike before, now you don't need to pay any additional amounts for downloading logos from Placeit. All of it comes under their annual subscription plan.
Placeit Cons
No Apps
Placeit does not offer any apps for desktop or mobiles. You can use it as a web app, but a dedicated app would've been much better!
Not the Best for Designing
In my opinion, Placeit is not the best tool for designing. Canva seems like a more mature tool for designing social media posts, banners, and other promotional materials.
Limited Download Options
You are only allowed to download your logos in the PNG format. I hope they also introduce downloads in vector format. This would help in editing our designs using other apps.
Slow Video Processing
The Placeit website takes a lot of time to render previews of your videos, which negatively impact the overall user experience.
Problems with Video-Audio Sync
While adding an audio track to your designed videos, it does not intuitively sync the audio beats to the video animations and transitions. This feature needs improvement.
Placeit Alternatives
Canva
Canva is one of the most popular online designing tools in the market. It gives you access to millions of resources, including images, videos, graphics, audios, and backgrounds.
You also get access to advanced tools like Background Remover, Custom Downloads, Version History, and integrations with dozens of other services.
A feature-rich free plan, apps for Android and iOS, and excellent features for collaboration give it an edge over other design tools.
If you wish to design social media posts, Canva is no-doubt your best bet! You can get it for an affordable pricing of ₹499/month for up to 5 users or get started with its free plan.
Envato Elements
Envato Elements is the biggest marketplace for getting digital assets. At the moment, they possess an extensive collection of 53 million+ creative assets.
These include stock images, stock videos, audio tracks, graphics, web templates, fonts, themes, plugins and more!
If you want to purchase digital assets, Envato Elements is your go-to option. Its individual subscription starts from $16.50/month.
FreeLogoCreator.com
Free Logo Creator is a quick and hassle-free online logo maker for small businesses and entrepreneurs who are looking to create a professional logo design without any fuss.
It offers a pretty straightforward procedure. You add your business name, select the relevant industry, and the system displays a range of related logo designs. Choose one, make changes, and download the free logo file. One of the great things about this graphic design tool is the variety of logo styles it offers. You can find everything from vintage logos to contemporary designs. Plus, each file is vector supported, so scalability is taken care of.
If you are looking for graphic design solutions that come at no cost and no compromise, you can end
your search with this logo make program.
VistaCreate
Crello, recently rebranded to VistaCreate, is another powerful design tool gaining popularity in the design industry.
It offers a mind blowing collection of stock assets like photos, videos, and animations.
Along with that, you also get an impressive free plan and smooth functioning apps for mobile devices. If your priority is animated templates, Crello would be a great tool to try out! It is priced at $10/month.
Who Should Use Placeit?
Placeit is an all-in-one tool that fulfills all your designing requirements. I think it would be a highly resourceful platform for freelancers, content creators, YouTubers, advertising teams, musicians, social media marketers, bloggers, and design enthusiasts.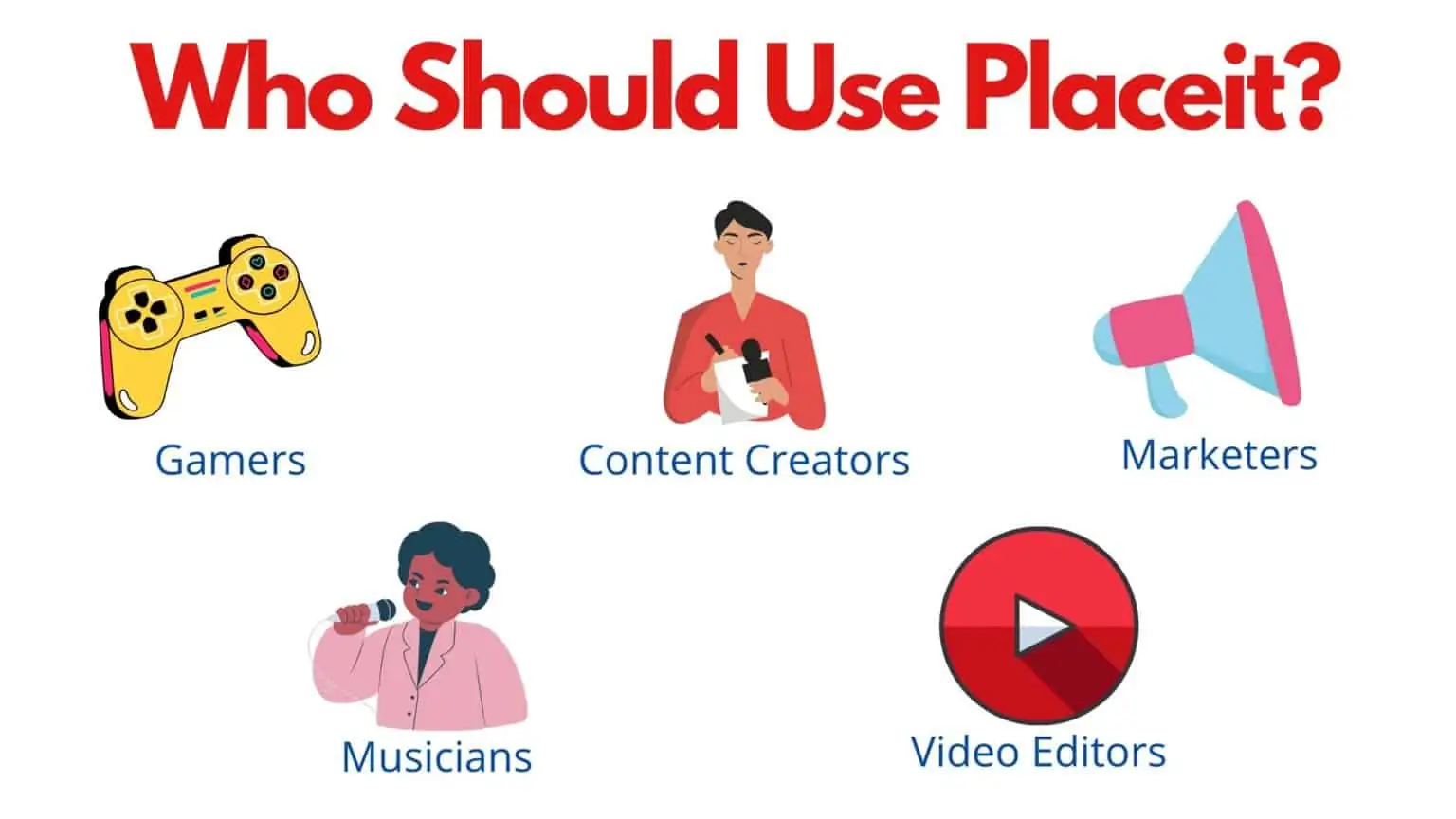 Advertisers and Marketers can use the Mockups Tool to design life-like models of their apps and products and get a better insight for their manufacturing.
Bloggers, Content Creators, and YouTubers can use their Logo Maker to design creative logos, YouTube banners, and thumbnails. Whereas, their design tool can be used to create graphics for various platforms.
Musicians and video editors can use its video maker to create intros, outros, presentations, etc.
And finally, Gamers can use its Gaming tool to create mascots, OBS Streaming overlays, animated logos, etc.
Conclusion
With this, we have reached the end of our Placeit Review. I hope you found this article informative.
In my experience, Placeit is a powerful tool that can help you create attractive designs and assets for your online business and stand out from the crowd!
So, are you going to use Placeit? If you are a beginner, you can simply sign up for its free plan to get an idea of its features and functionality. And if you are a freelancer or budding business person, the annual subscription of Placeit might change the game for you!
Do you use any other tools for designs and mockups? Let me know in the comments section below.
This is Kripesh signing off. You can subscribe to my weekly newsletter to stay updated with my latest videos and blogs. I will be back with more insightful articles soon. Take care and keep learning!
FAQs
What exactly does Placeit offer?
Placeit offers versatile tools to aid you in your designing process. You get the Mockups tool to design attractive models for your brand, merch, apps, etc. The Design tool helps you create graphics for your social media and other marketing assets.
With the Logo Maker, you can create personalized logos. And finally, the gaming templates collection focuses on assets for YouTubers and Gamers.
Why eCommerce merchants should use Placeit?
eCommerce merchants can use Placeit to design mockups for their products, creating graphics for their social media platforms, and even designing professional logos for their brand!
How do you cancel your Placeit account?
Your Placeit account can be cancelled by contacting their support team through email or phone.
What is included in a Placeit subscription?
The Placeit subscription is priced at $14.95/month where you get unlimited access to all images, videos, and logos on Placeit along with unlimited downloads!
How does Placeit Logo Maker match up to the competition?
The Logo Maker of Placeit looks like a powerful tool. It offers 3k+ creative and highly engaging templates covering various categories.
Along with that, you can also edit and customize your logos to design your perfect brand logo!
Does Placeit have an app?
No, Placeit does not feature an app for mobile devices. However, you can access their website with your mobile browsers.
Does Placeit offer a free trial?
No, Placeit does not offer a free trial, but you get a forever free plan with access to some limited templates and designs.
Can I sell Placeit designs?
Yes, you can sell designs created with Placeit to your clients and charge them a fee for it.
Should I use Canva or Placeit?
Canva and Placeit are both capable tools. However, Canva is better for designing social media posts and Placeit is best if you want to create product mockups and professional logos.
How can you remove the Placeit watermark?
You can remove the Placeit watermark from all assets by purchasing its annual subscription that costs $14.95/month.