Online learning has become the new normal today, and the demand for online course creation platforms has skyrocketed!
One such highly popular online course platform is Teachable. After testing out its features and using it to create a few courses, I am here with the Teachable Review.
In his review article, we will discover its stunning features, its pricing plans, its pros and cons, its best alternatives and who should buy it!
I was impressed with its Bulk Coupon Generator, but its Basic plan disappointed me! Want to know why? Let's dive into our review.
I'm using Thinkific for my courses but I'm also using for last 2 months now to decide if it's any better. So, without any more delay, let's get started!
What is Teachable?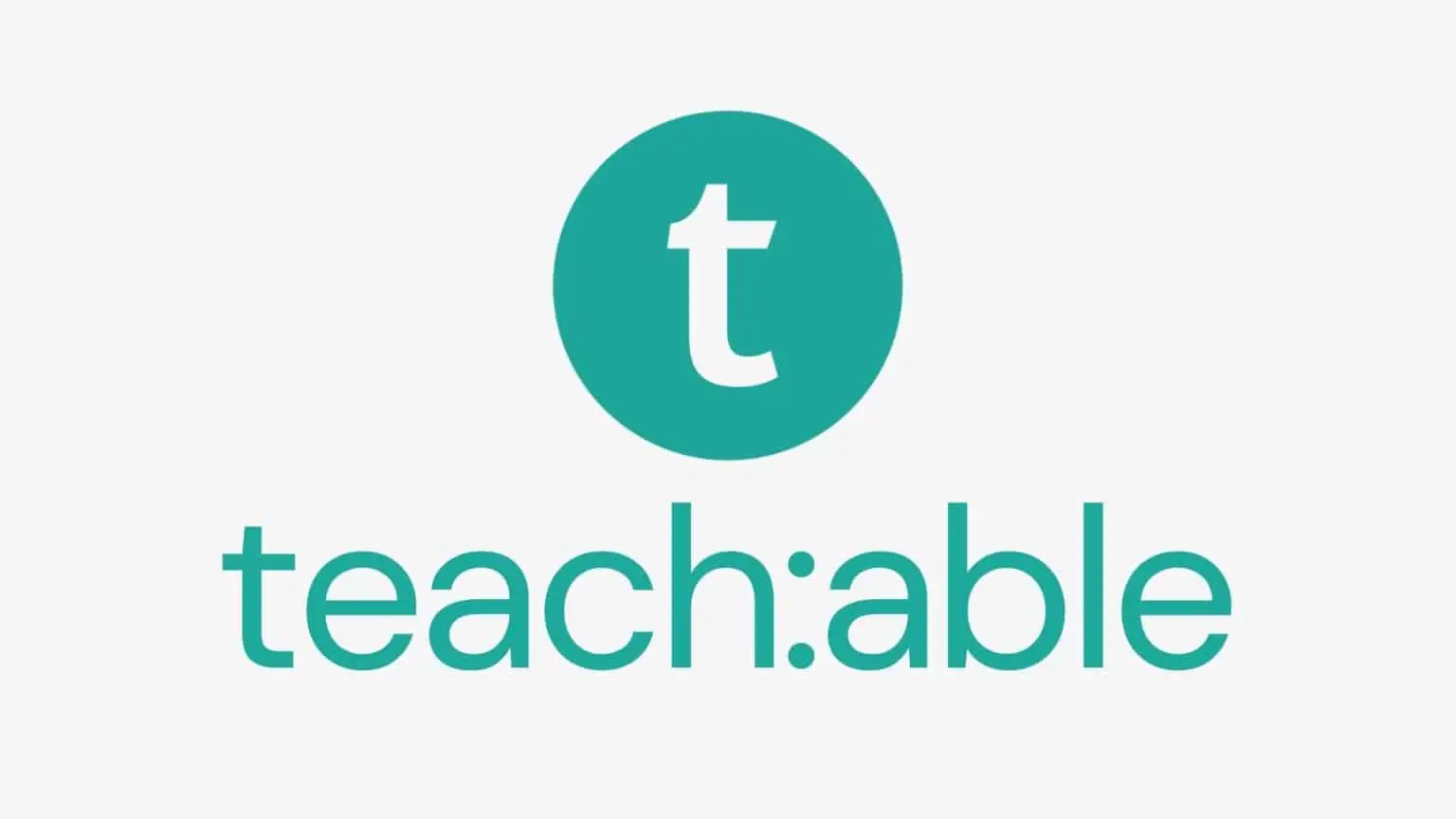 Teachable, previously known as Fedora, is an online course platform focused on marketing and selling your courses.
It helps you create and sell engaging online courses and boost your revenue in no time. But do you know is not just limited to selling courses?
Well, you can basically sell any digital product on Teachable, including ebooks, audiobooks, freelance or coaching services, consulting services, memberships, live sessions, and more.
The best part is, you don't need to know a single line of code for working with it! takes care of every aspect of your online course – from designing, to hosting, marketing, selling, and receiving payments!
Teachable Pricing
Teachable offers 3 different pricing plans to suit different users' requirements.

Teachable offers a limited free plan and you can also find a 14-days free trial on its Pro plan, and a 30-days refund policy on all plans!
But wait, I've got an even better offer for you. Keep reading to find that out!
Teachable Free Plan
UPDATE: As of June 2022, they have imposed restrictions on the Teachable free plan. Now, you can only have one published course and upload up to 10 videos with a free account.
You can still have an unlimited numbers of students though.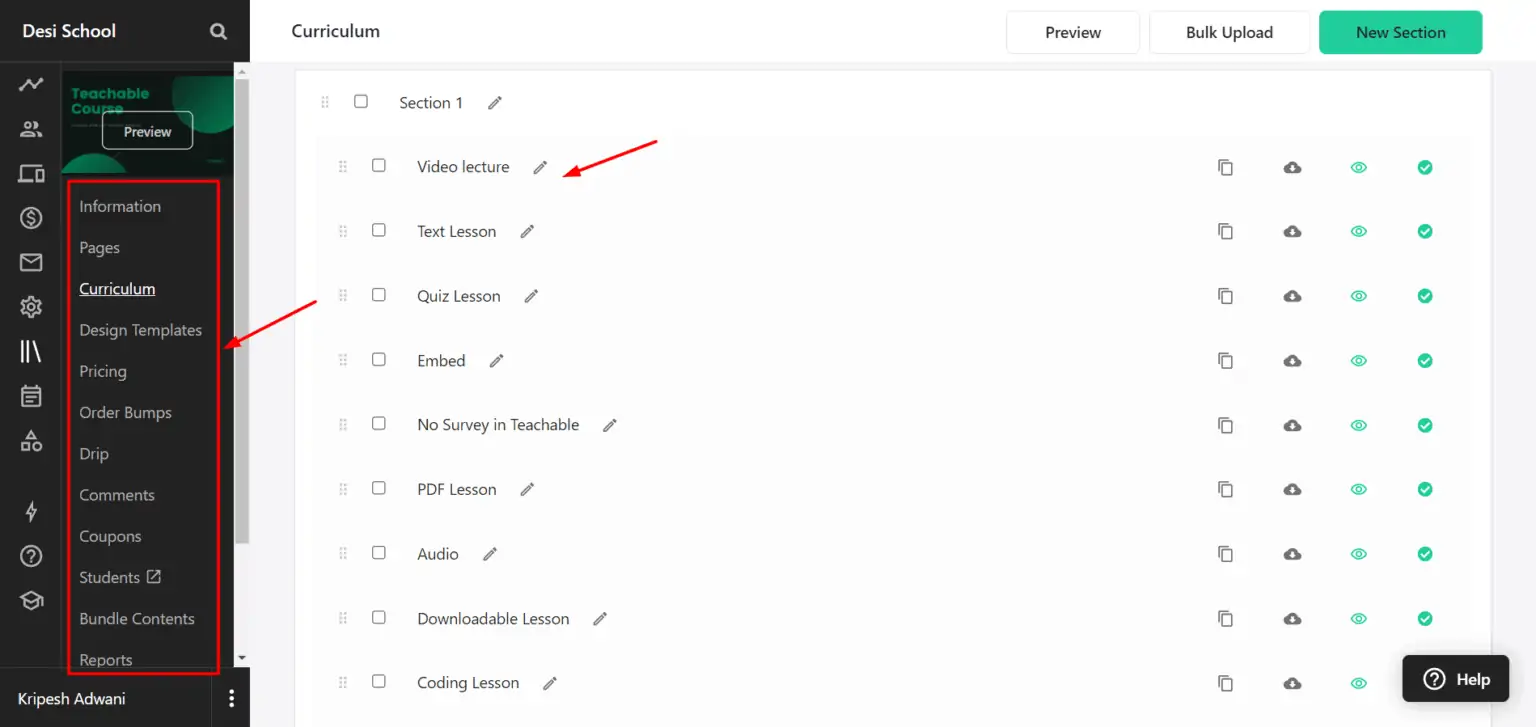 You are also free to create all types of lessons, basic quizzes, and set up a few integrations.
When you sign up for a free plan of , you get the 'Teachable.com' branding. This means that your free website exists as a sub-domain of Teacha`ble.
For example, the URL for my free plan is: schooldesi.teachable.com. If you want to remove the branding and get your own domain, you need to switch to its paid plans.
It comprises basic features like access to the Students tab, Bundled Courses, Course Design Templates, Comments, etc. It also lets you keep the pricing as free, which is good for releasing free courses.
The only downside of Teachable is that it charges 10% on every transaction and $1 on top of it, which is quite an outrageous amount. But we have a solution to counter this issue!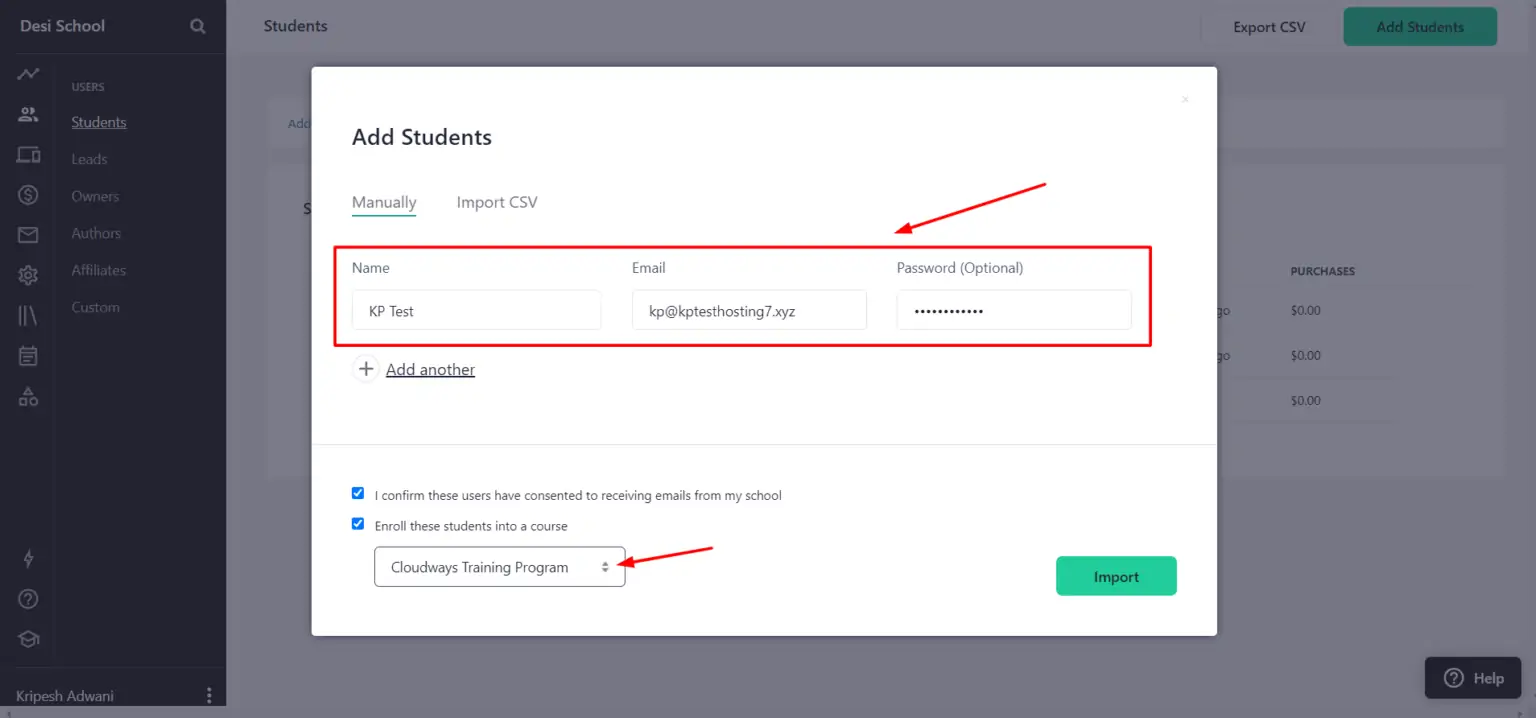 What I liked the most in the free plan is that you can manually enroll students into your courses by entering their name and email. So, you can easily sell your course on a different platform that has low transaction charge, like Instamojo.
And then you can enroll them manually on your free plan. Though the drawback would be that your students won't be able to access your courses instantly. But if you need to save a few bucks, then this would be your best bet!
Alternatively, if you need a course creator for designing a single course with no transaction charges, you can check out Thinkific!
Teachable Lesson Types
Instructors often struggle with finding the right lessons while teaching online. makes your task easier by offering a variety of lesson types to choose from.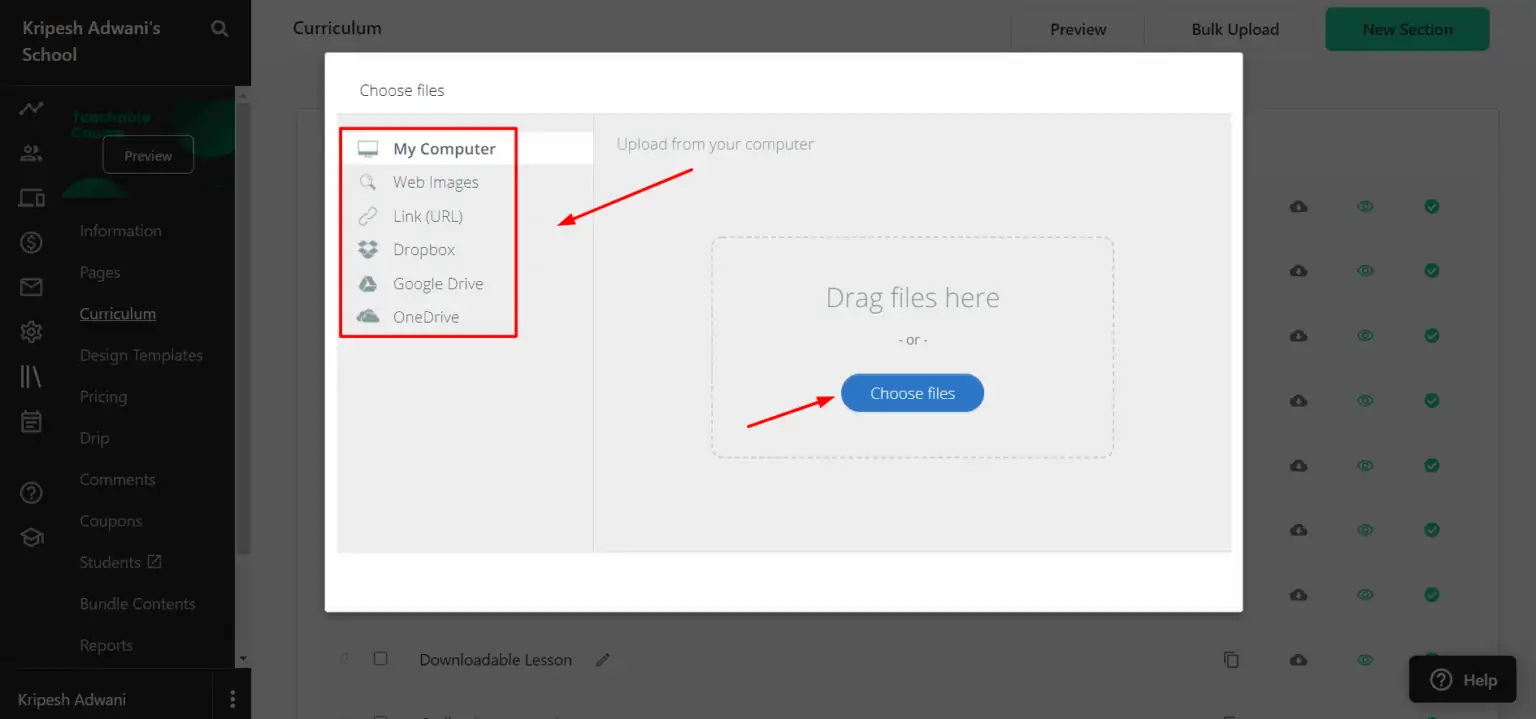 Teachable supports drag and drop upload functionality, so you can directly upload files to the lessons from your local device, Google Drive, OneDrive, Dropbox, links, or even use the integrated web search!
Let's check out the type of lessons available in Teachable.
Teachable Video Lessons
Video Lessons simplify complex concepts by presenting them visually. You can upload video files upto 2 GB in size, or embed video links as well.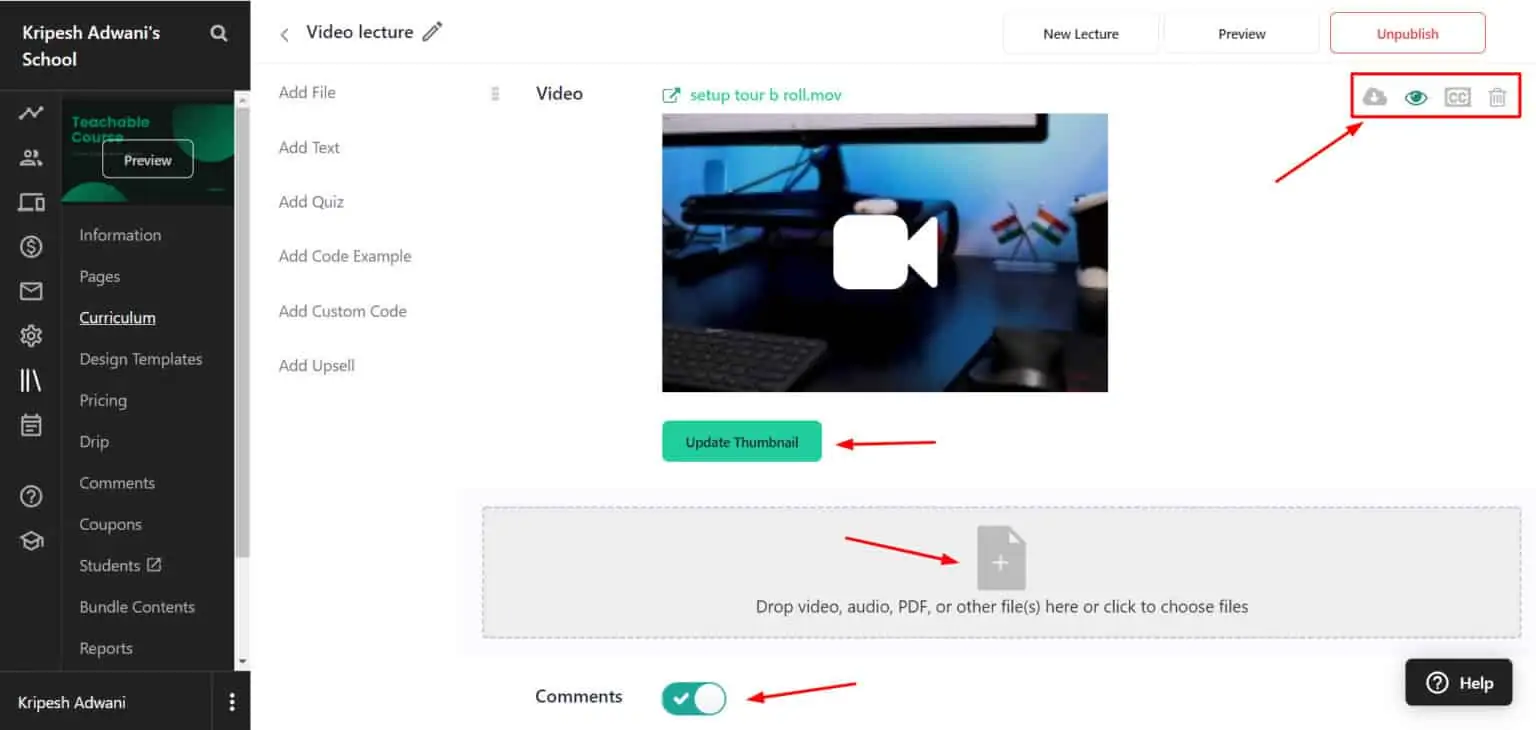 Teachable supports video files in MP4, AVI, and MOV formats. All the videos uploaded are stored on Wistia hosting service.
You can also specify additional settings like:
Enable/disable student comments
Enable/disable video captions
Enable/disable videos to be downloaded
Teachable Text Lessons
Teachable helps your text lessons stand out by offering decent formatting options like using:
Bold/Italics
Bullet points
Images or videos
Tables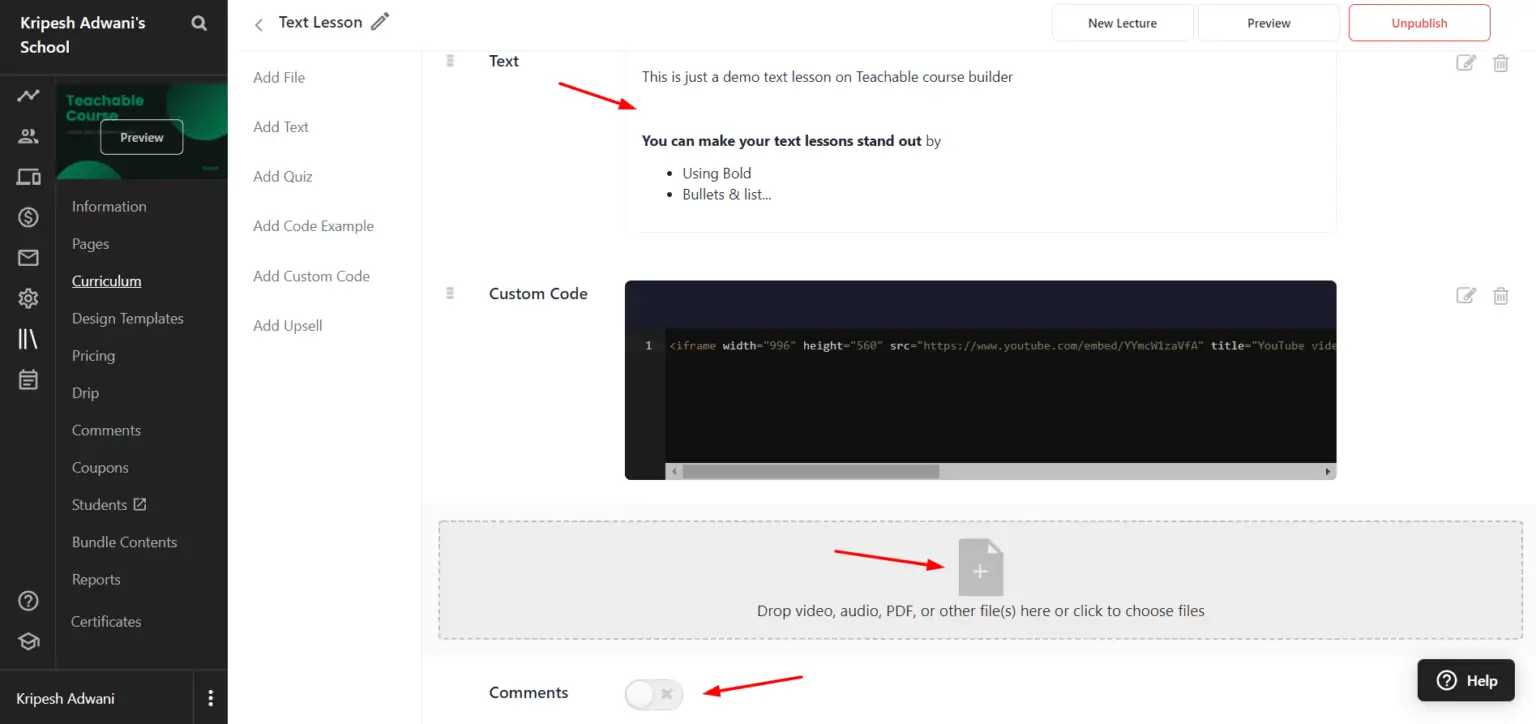 But, unlike Thinkific, the formatting bar in Teachable does not remain stuck while we scroll down. This is quite inconvenient while formatting text lessons.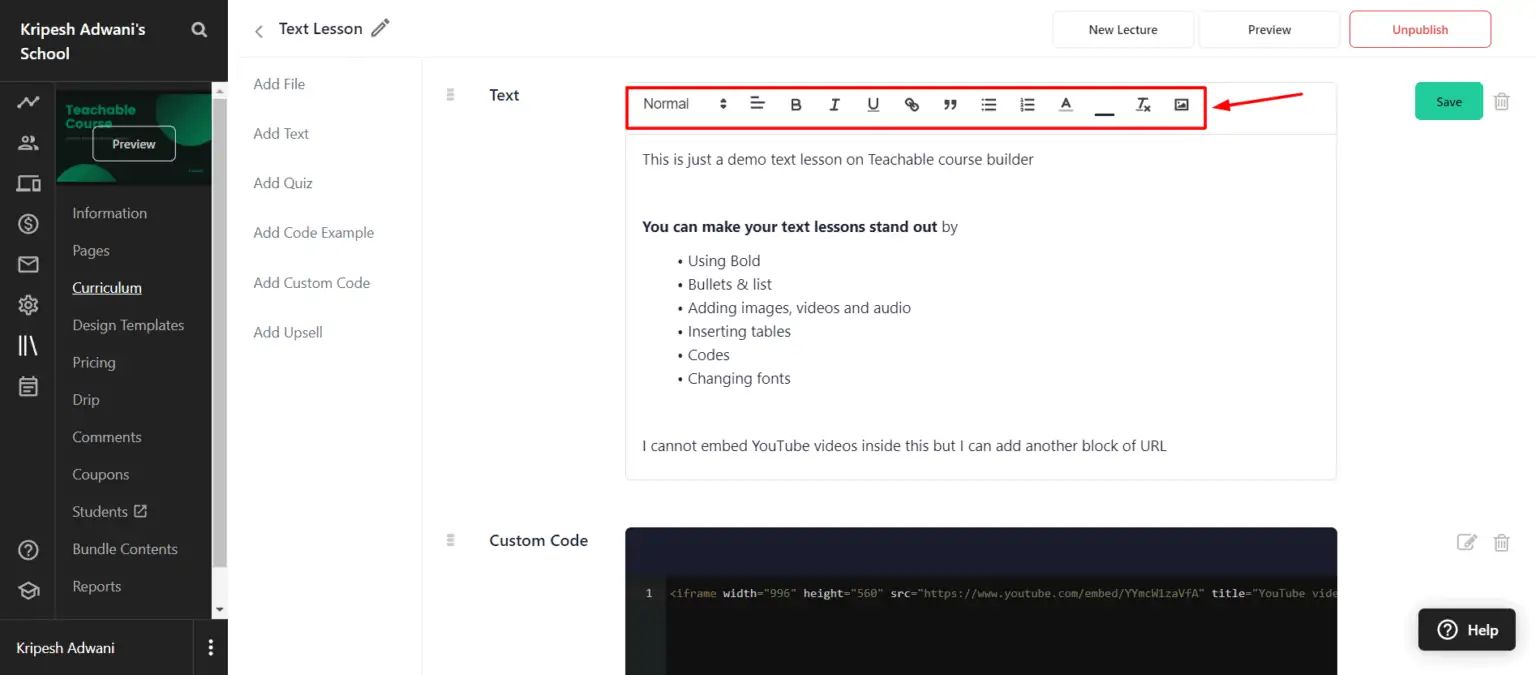 Another issue that I faced was the inability to embed YouTube videos directly into the text lesson (which was possible with Thinkific). However, I can add it using the custom code option.
Teachable Quiz Lessons
For better assessment of students' knowledge, Teachable offers Quiz Lessons. Using its Quiz Creator, you can create multiple choice quizzes that are limited to one quiz per lecture.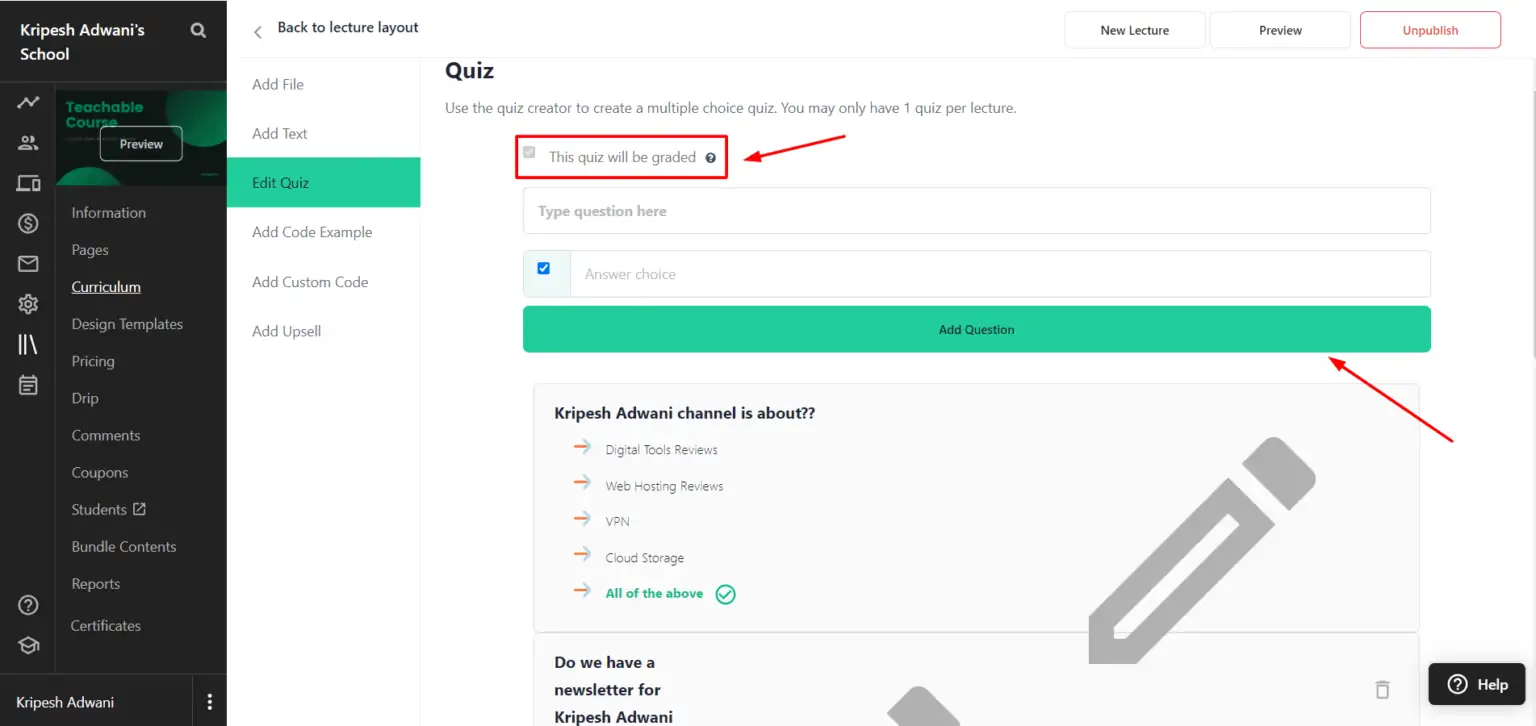 If you enable the Graded Quiz mode, your students will only get one attempt to take the test and the results would be their final grade! This is a clever option to stop students from getting all the answers right after multiple attempts! ?
What I found missing here was the ability to add explanation fields to our Quiz questions, similar to Thinkific!
Teachable PDF Lessons
PDF Lessons allow you to upload a maximum of 35 MB PDF files on Teachable.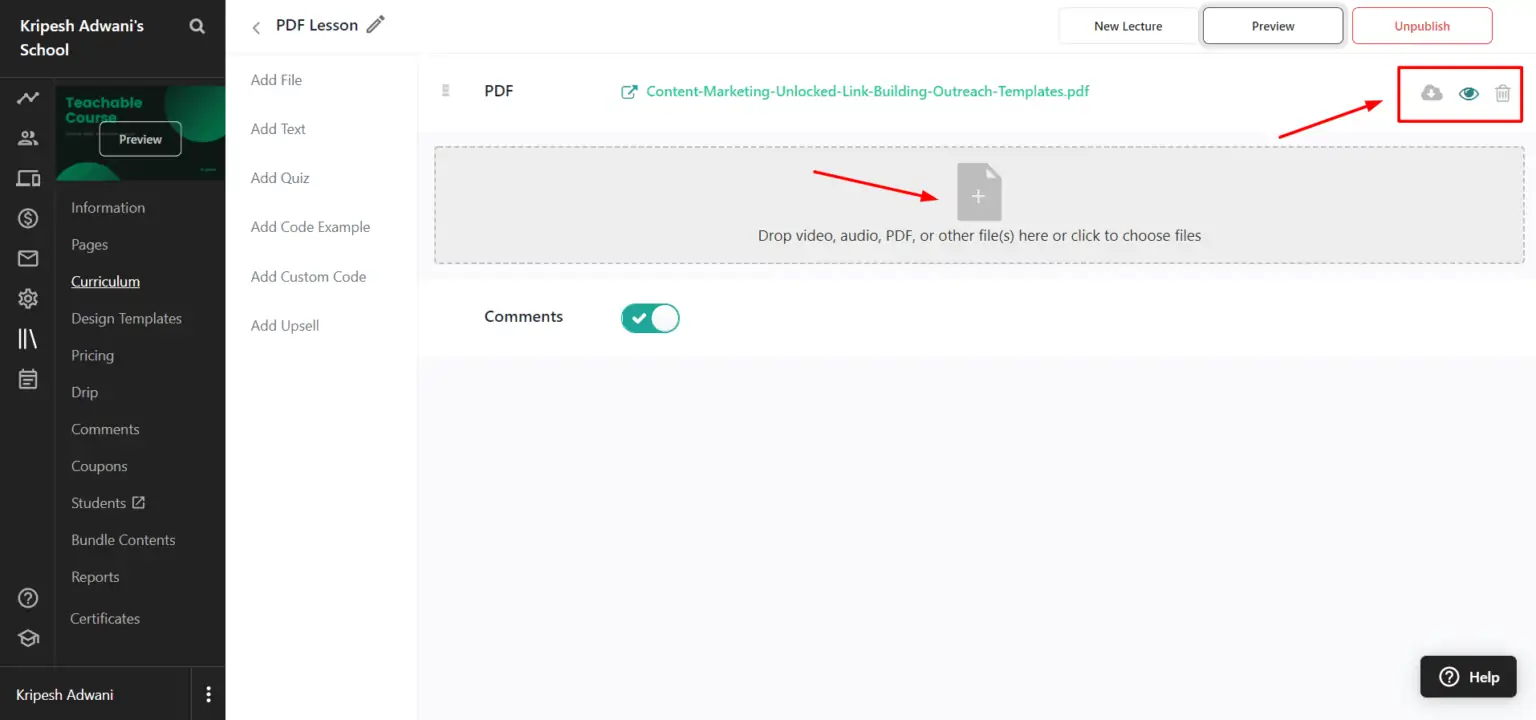 Because it is a drag-and-drop editor, you can easily drag your files to upload them. You can also enable download to let your students download the PDF file.
Teachable Audio Lessons
If you wish to teach your students through audio lectures, you can do so by directly uploading audio files on Teachable.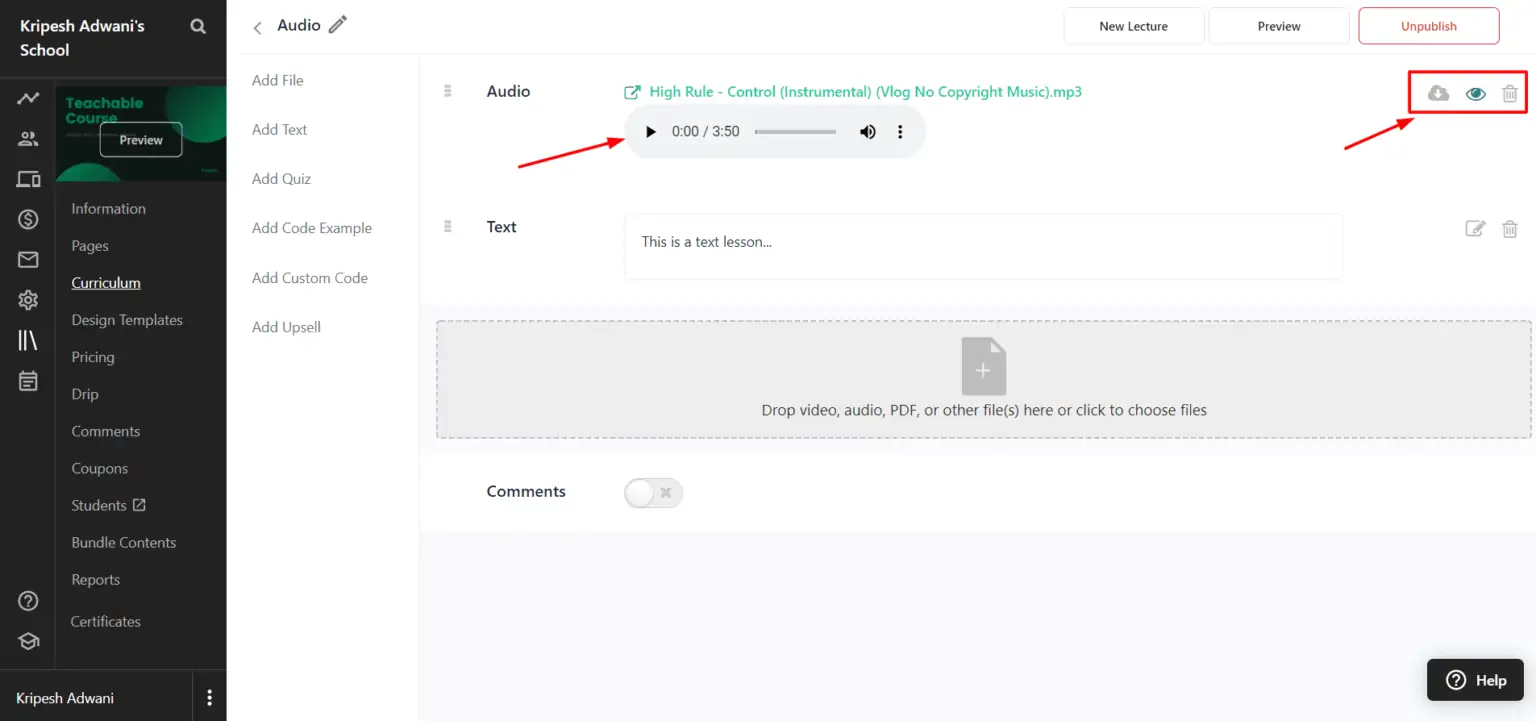 You are free to embed audio links through the Custom Code block and enable or disable the audio downloads.
Teachable Downloadable Lessons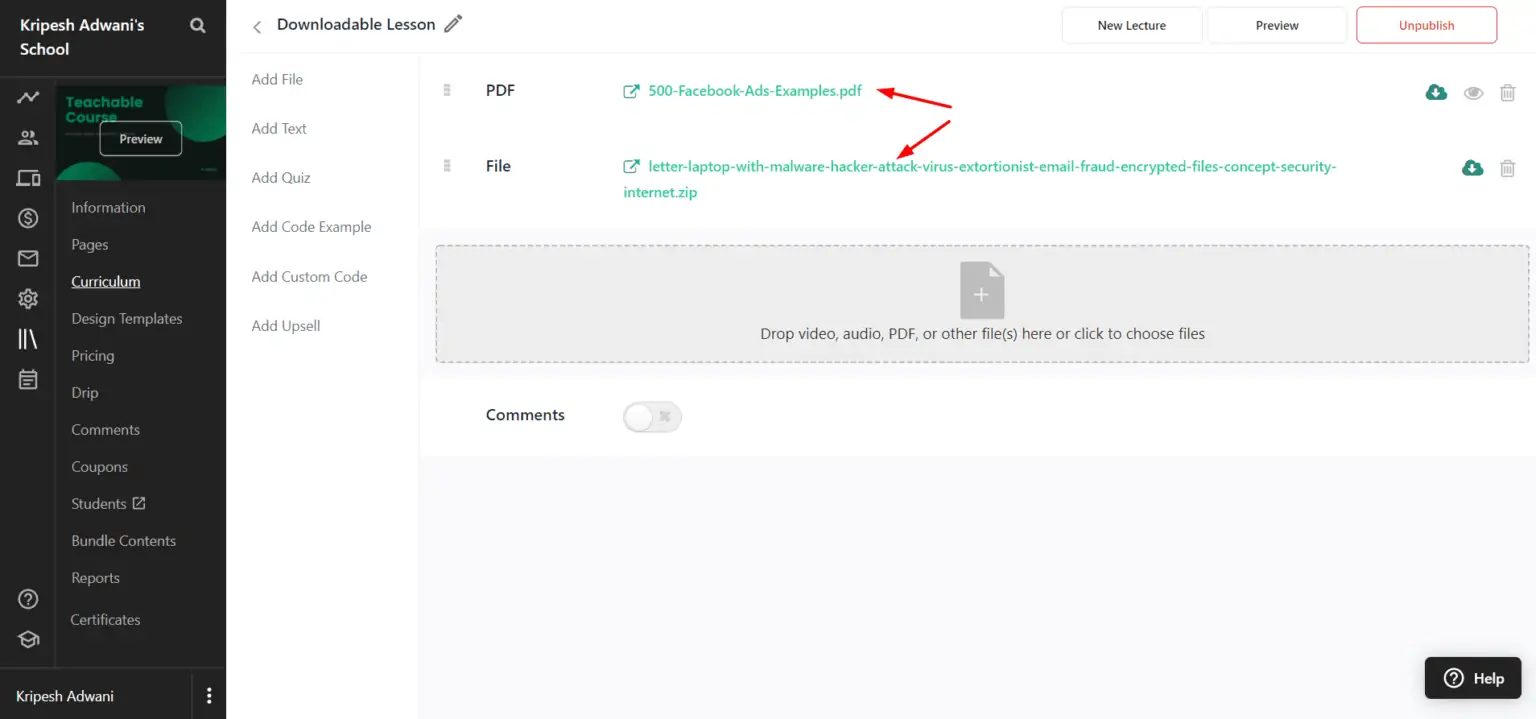 Downloadable lessons can be any files including videos, audios, PDF books, images, etc, that you want your students to download.
Teachable Coding Lessons
This is a very interesting type of lesson that was missing in Thinkific Course Builder. lets you add coding snippets to your lessons. This is a precious feature if you wish to take coding classes.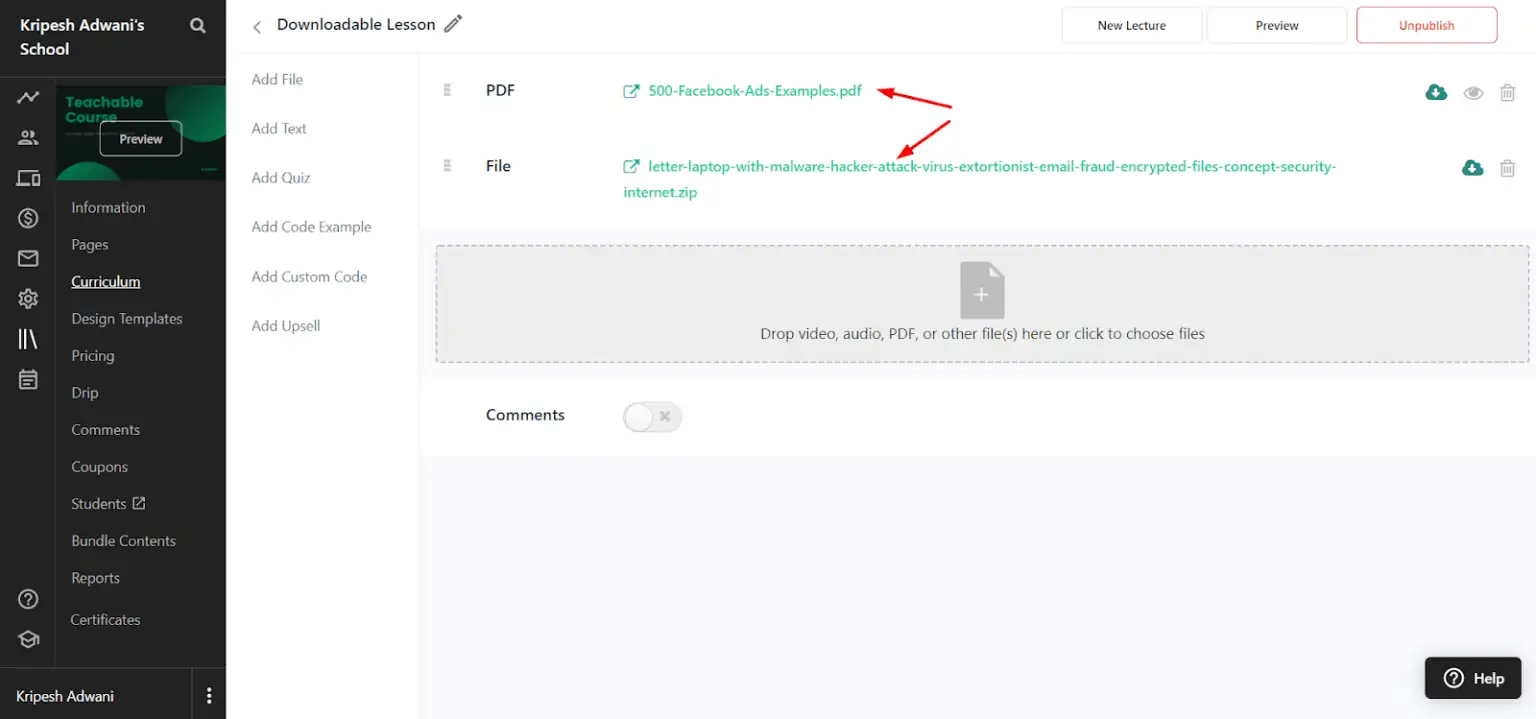 All you need to do is select a language from the drop-down menu. It supports 17 languages including Java, PHP, HTML, CSS, Javascript, MySQL, and more.
Next, you paste your code in the editor, and it is automatically color coded as per the language selected. I found it pretty effective in delivering programming lessons.
Teachable Embed Code
If you wish to add more variety of content to your lessons, lets you embed links using HTML, CSS, or Javascript code.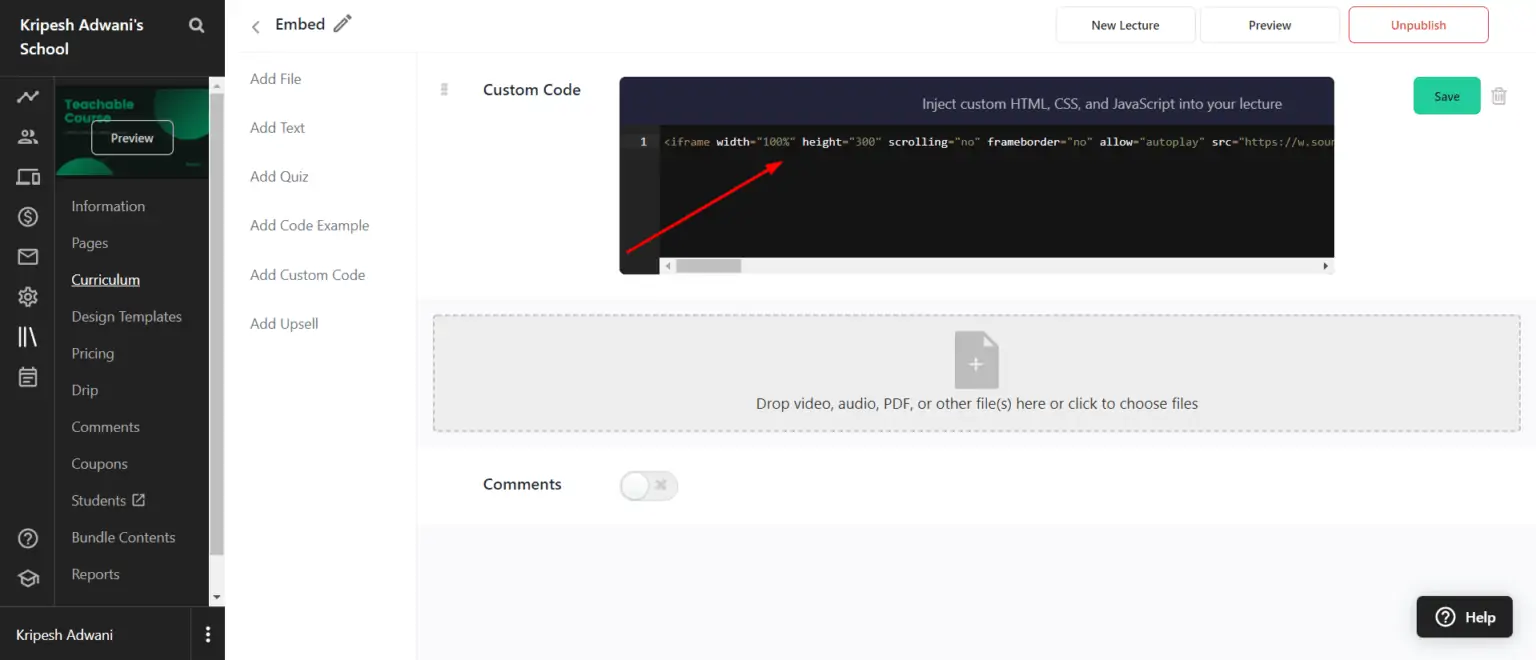 For example, if I embed an audio from Soundcloud into Teachable, it would look something like this on the Student interface.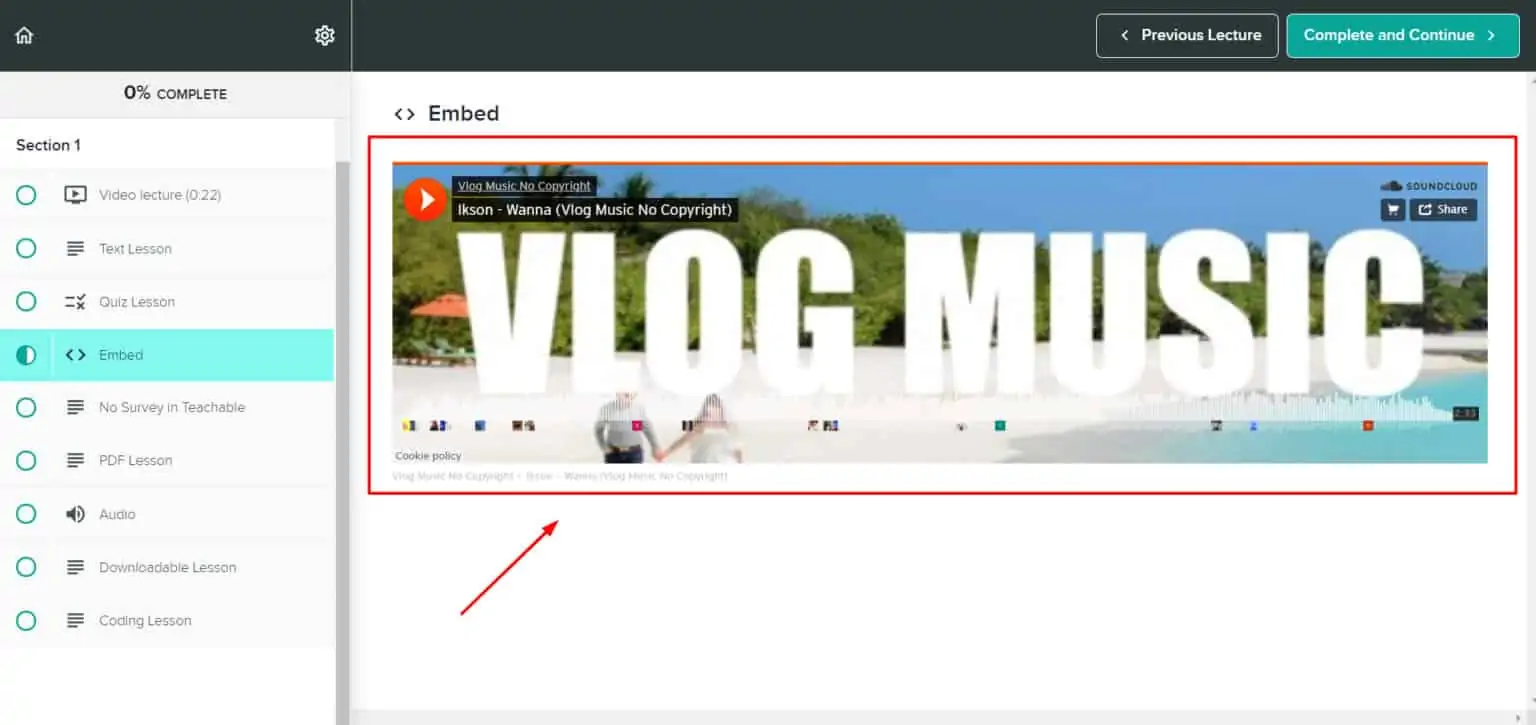 Using this feature, you can easily embed these contents into your lessons:
Video players like YouTube
Forms like Google Form, Survey Monkey, Typeform, etc
Audio Players
Live Streams and Webinars
I found the Survey Lesson to be missing in Teachable. But you can use custom code to add different forms, which is great!
Teachable Admin Interface
The admin interface is clean and organized. You can find all the options neatly arranged on the left panel.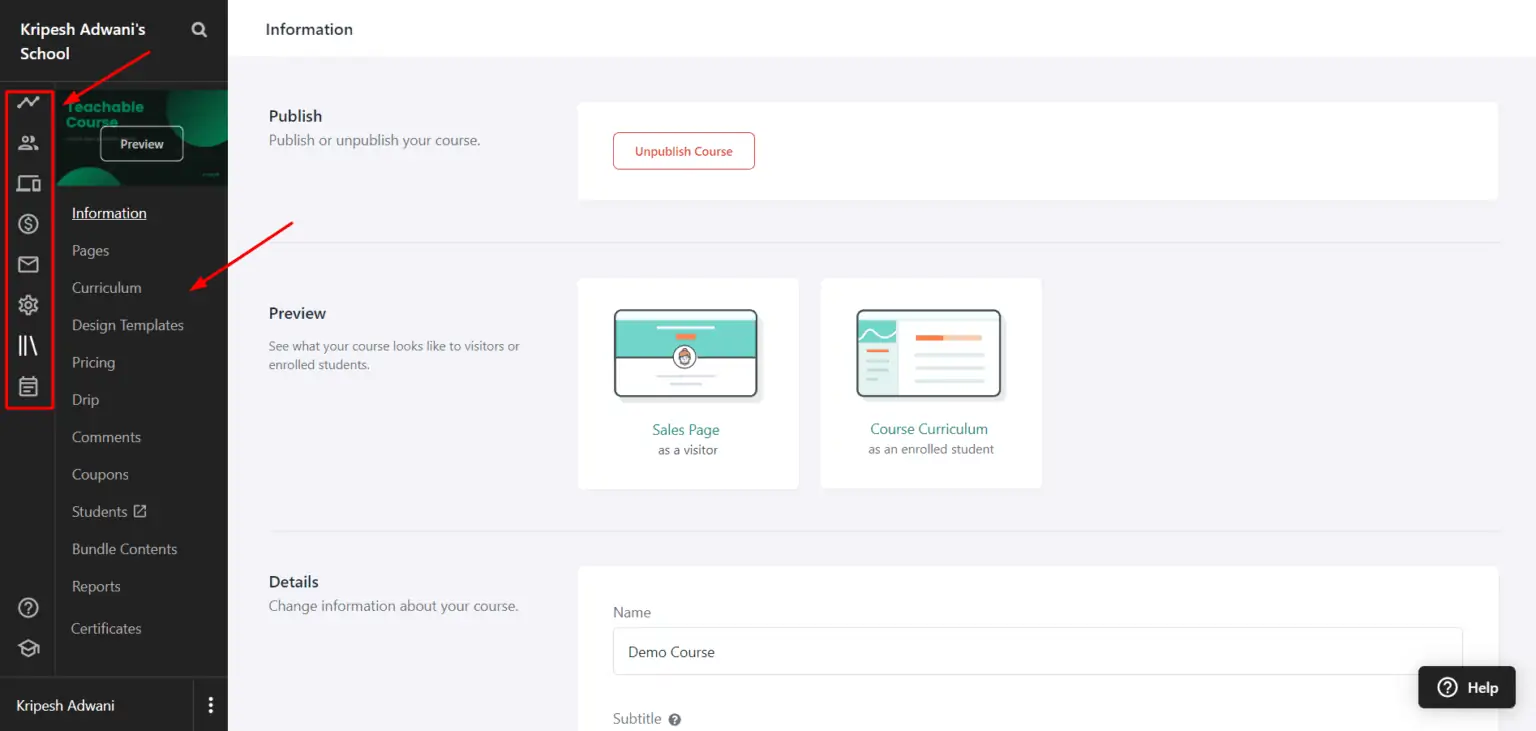 However, I found its website to be quite slow and confusing at times. Beginners would need some time to understand where to find all the important features on the Teachable dashboard.
Teachable Student Interface
The Student Interface looks quite impressive. Teachable lets you select from three elegant design templates to set the perfect layout of your lessons.
A progress bar is visible beside every course. Students can click on the handy Start button to begin a lesson.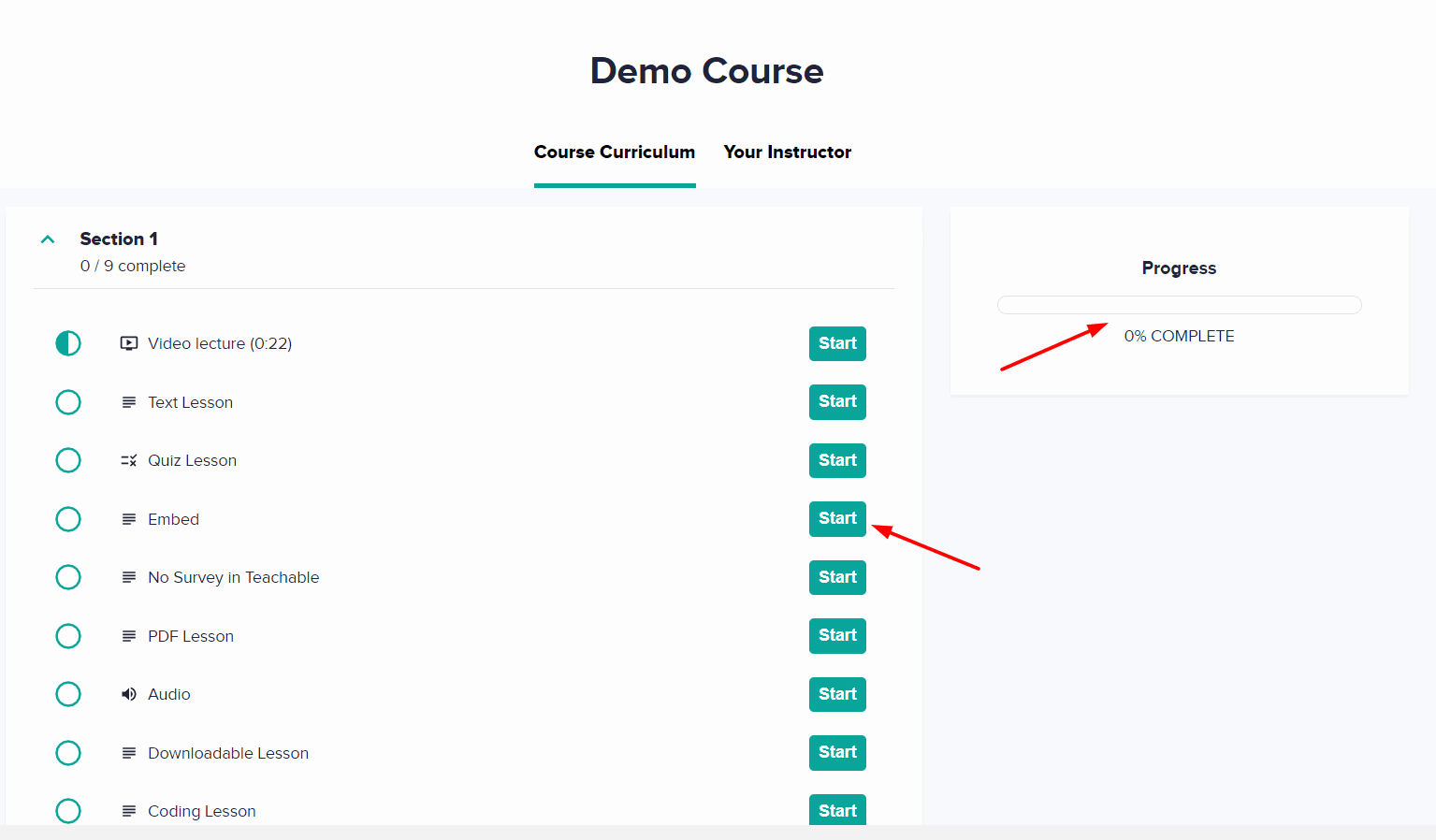 There might not be the option to start discussions like Thinkific, but students are free to leave comments under every lecture and even upload files from:
Local device
Dropbox
Google Drive
Facebook
Instagram
This feature would prove quite helpful for teachers wanting to collect homework, assignments, project work, reports, etc.
Teachable app is available only for iOS devices right now. But it also works efficiently on mobile browsers.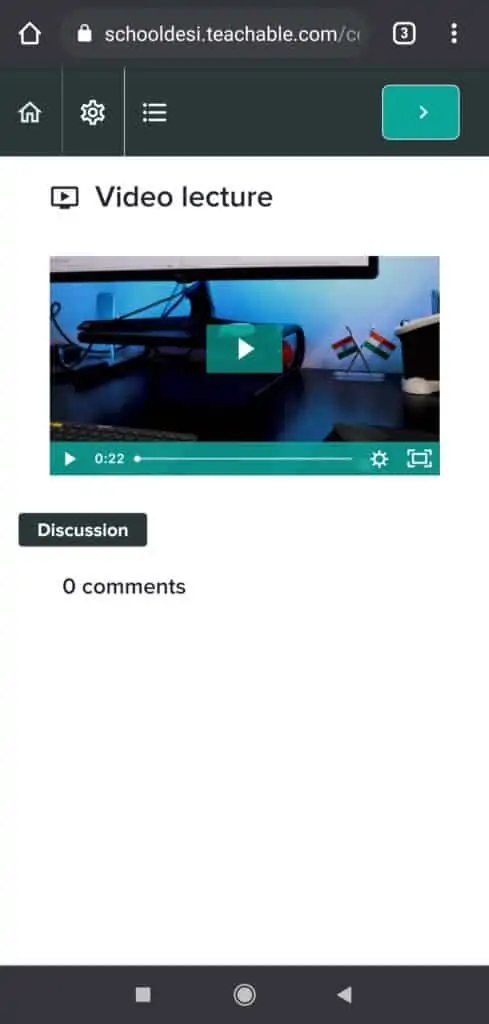 Videos, audios, and other file types work well, playback is smooth. Overall, the student interface is swift and provides a satisfying and trouble-free learning experience.
Teachable Drip Content
Drip Content is used for scheduling your content to be published after a specific time. You can use this feature with lessons and courses that require the student to invest time.
This is also a clever idea to release your incomplete courses and then complete them at your pace!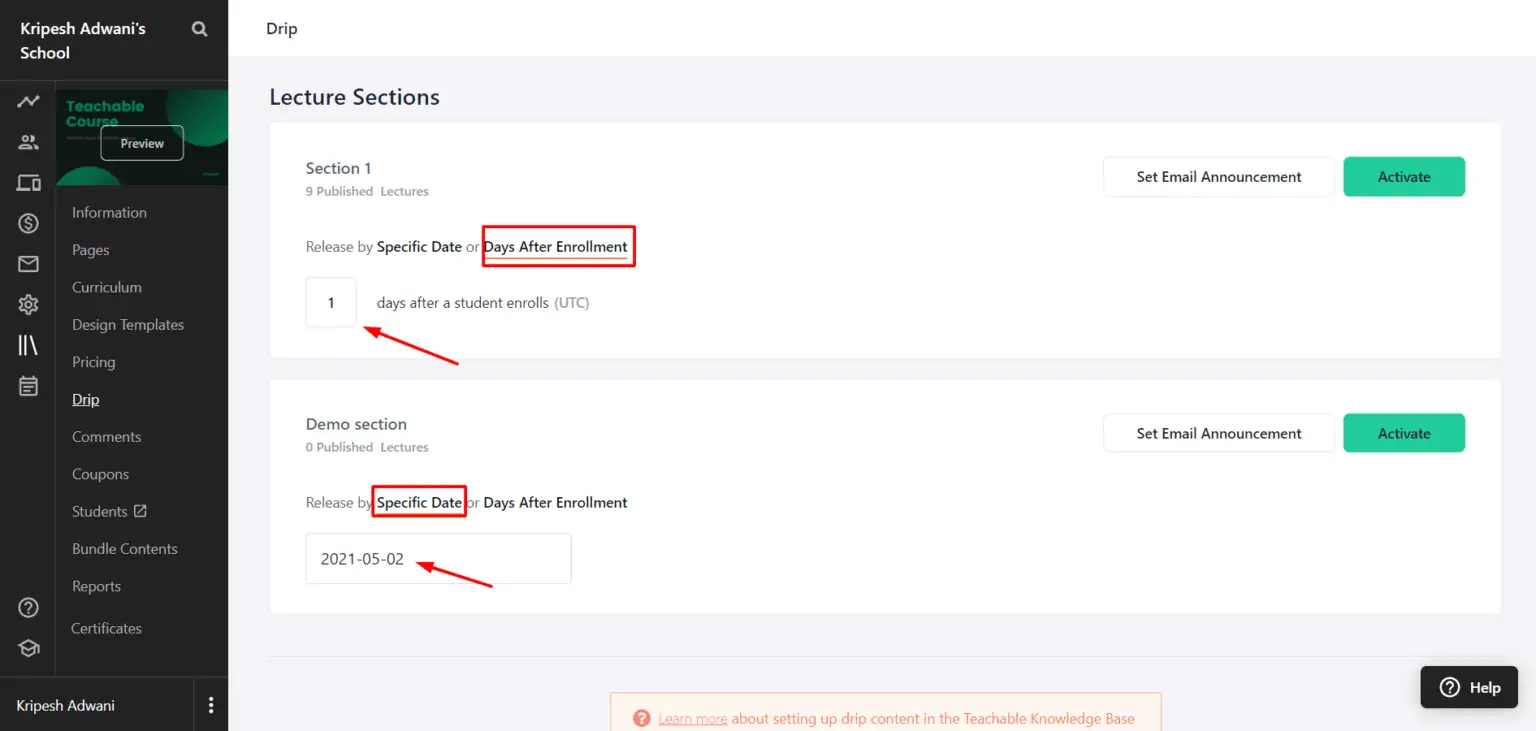 The only drawback with Teachable Drip Schedule is that you can only drip your content chapter wise. So, all the lessons within a chapter will be available at once!
You can solve this problem by creating a new chapter for every lesson. But this might make it inconvenient and hard to manage your course content.
Thinkific is much better for scheduling content. It not only lets you schedule lessons separately, but you can also set release dates for each of them.
Teachable Upsells
Well, this is not really a lesson type, but you can add it within your lessons to promote your popular courses and products.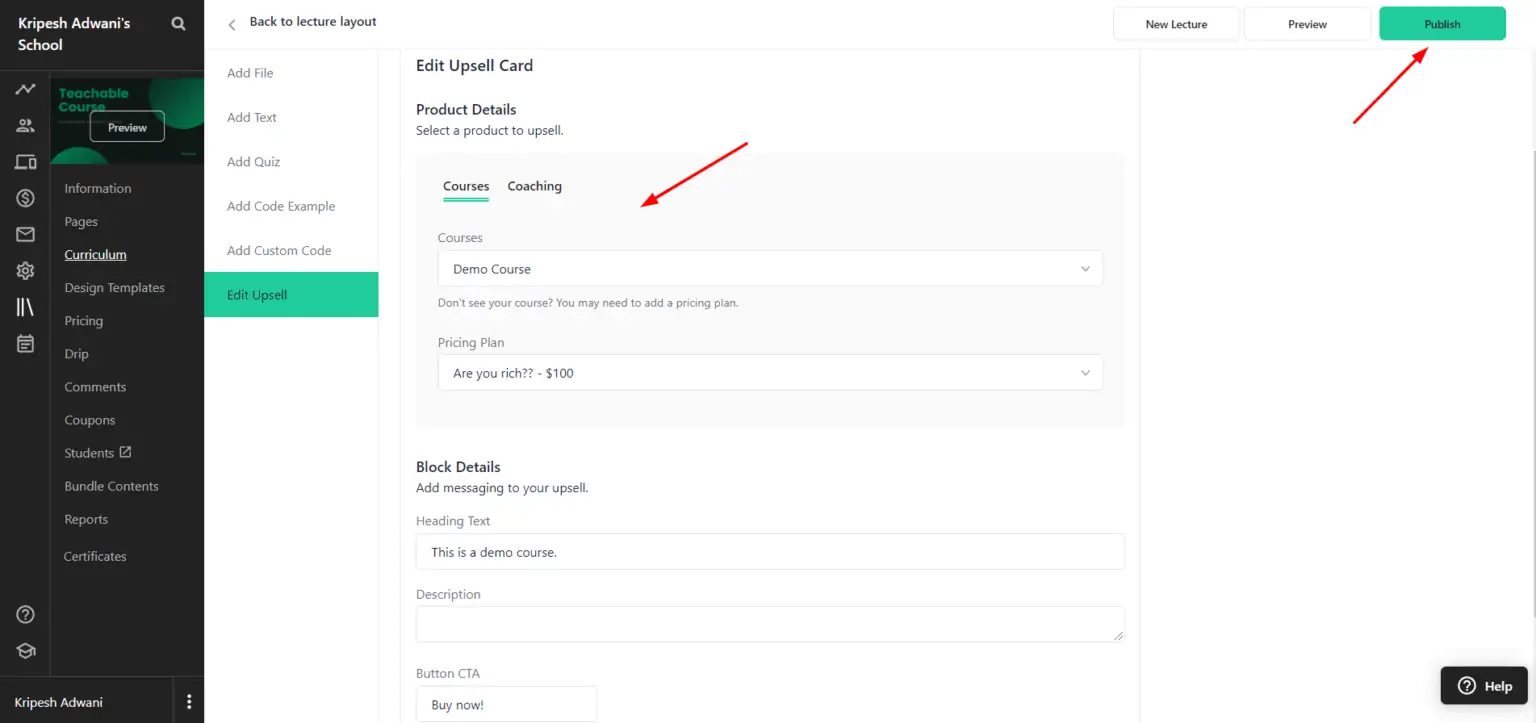 Teachable lets you create an upsell card. So you can choose a course or a coaching and add a pricing plan to it.
Next you can edit its description and add a CTA button. Your upsell card is created and you can add this on multiple lessons and pages to attract your audiences!
Teachable Certificates
Teachable also lets you issue beautifully designed course completion certificates to your students.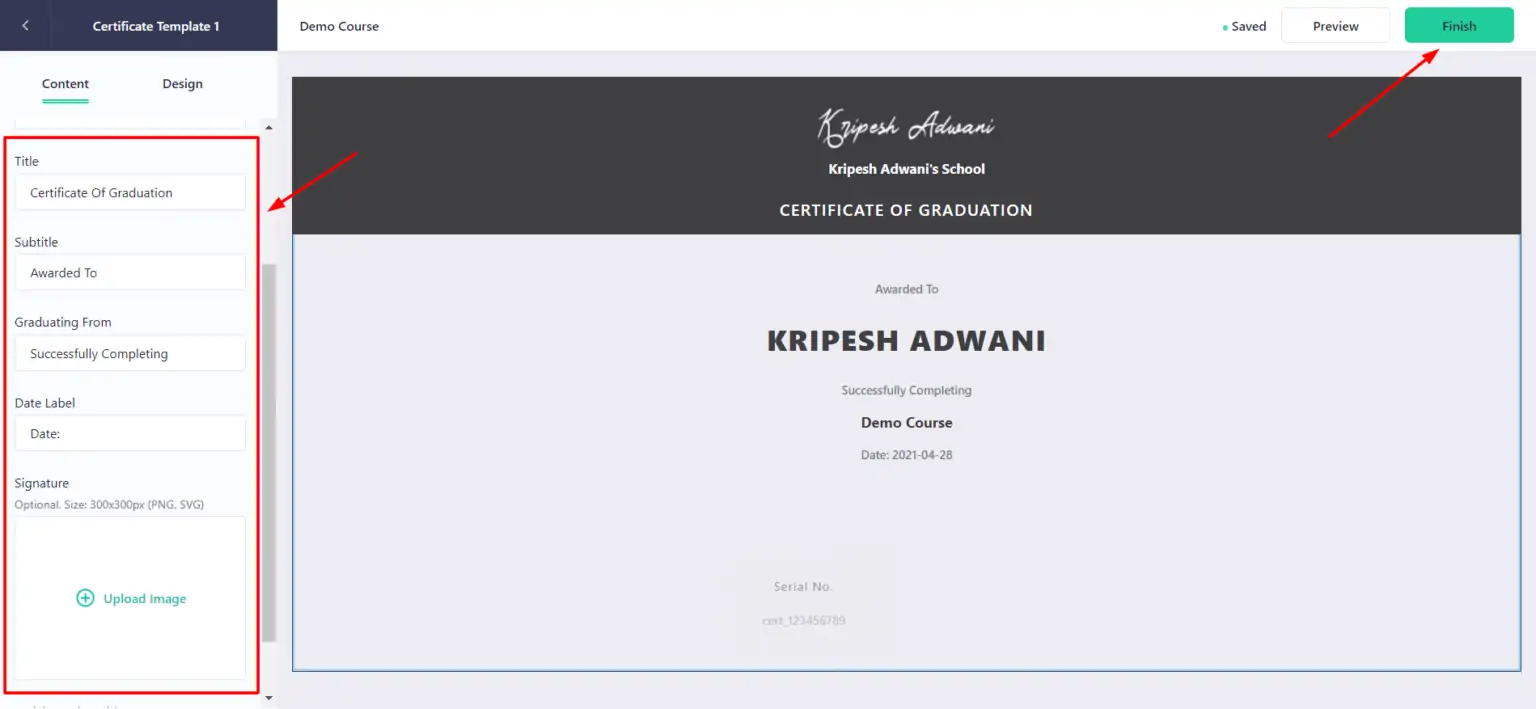 You can customize the text and colors of the certificate according to your brand.
Teachable Coaching Products
When it comes to marketing and selling, Teachable is not just limited to online courses. You can add any kind of digital products and services under its coaching section like freelance services, consulting sessions, tutorials, live sessions, ebooks, memberships, etc.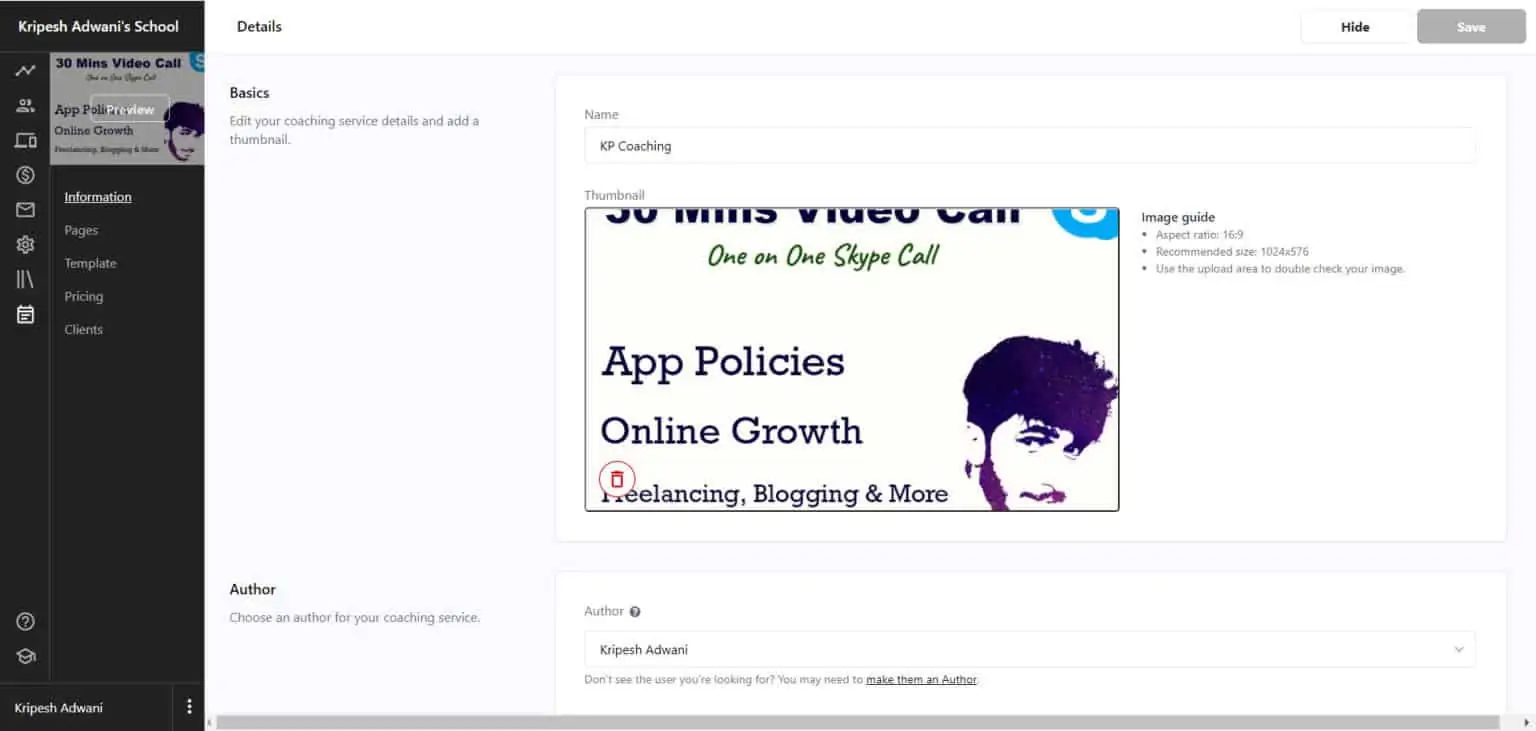 The students/clients can add their name, pay the amount and directly book a call or schedule an appointment with you through integrated services like Calendly, TidyCal, Zoom, etc.
Teachable Coupons
Teachable's versatile Coupon Generator lets you create discount coupon codes for your students with ease! It is available with all the paid plans.
All you need to do is:
Add a coupon code
Set the expiry date
Specify the discount percentage
Add the number of coupons required (for multi-use)
And you're all set with your coupons!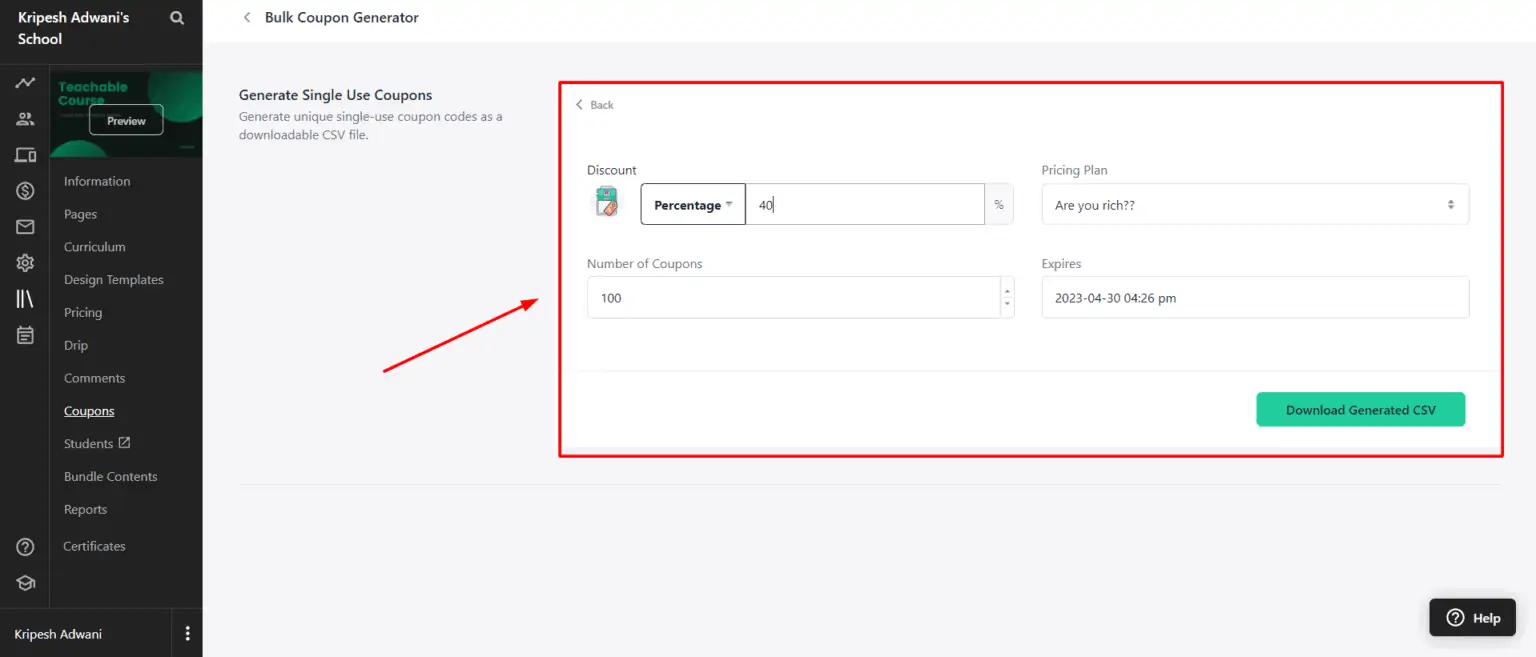 You can create two kinds of coupon codes with Teachable.
Single-use Coupons
These coupons are used by a single user only. For example, you can use this to offer a discount on a course to a specific student.
Multi-use Coupons
These are bulk coupons meant to be used by large group of students. You can generate a maximum of 1000 coupons in bulk at a time!
These types of coupons are useful for arranging heavily discounted sales. For example, offers like 75% off on a course to the first 500 users can be created with multi-use coupons.
Teachable Student Pricing Options
Teachable offers four types of pricing plans for students.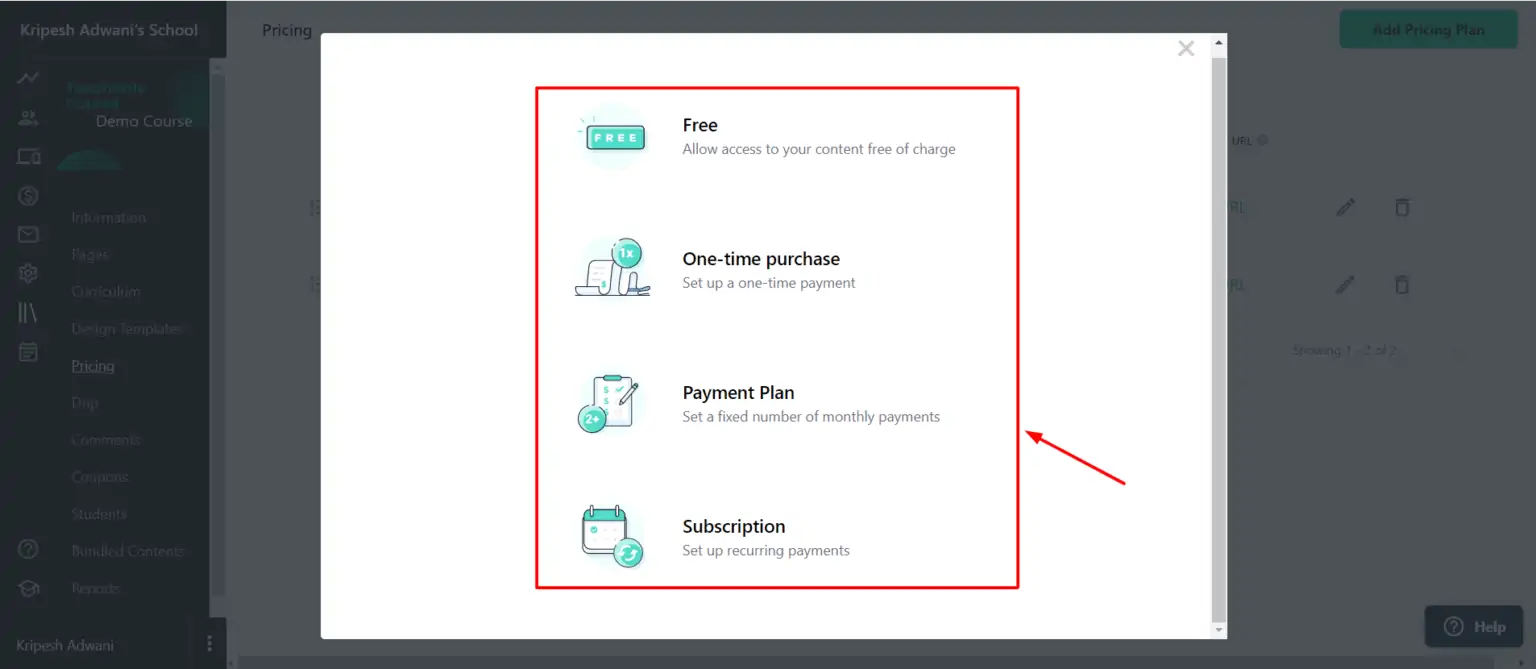 Free
You can offer a free course or product that students can access by signing up on Teachable.
One-time Purchase
You can offer a course/product for a fixed price that student can access with a single purchase.
Payment Plan
You can offer the student to pay the entire amount in fixed monthly payments. This is similar to EMI payments.
Subscription
You can allow students to pay a fixed amount every month to keep accessing your content.
Teachable Student Reports
This section gives you an in-depth analysis of your students' performance across various courses and metrics.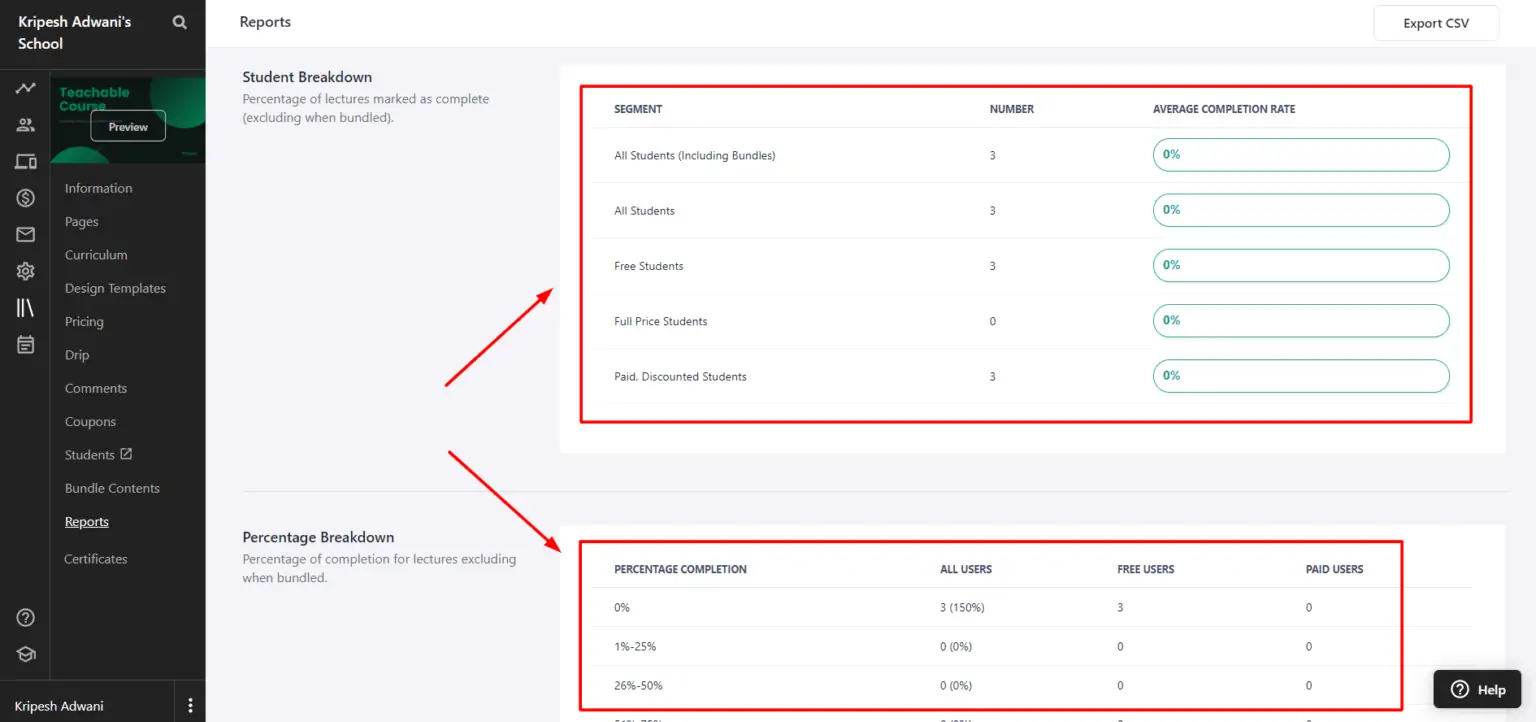 You can find detailed student reports on lecture completion, video stats, quiz scores, leaderboards, engagements, etc.
Teachable Bundled Courses
Using this feature, you can group similar courses together and sell them at one price.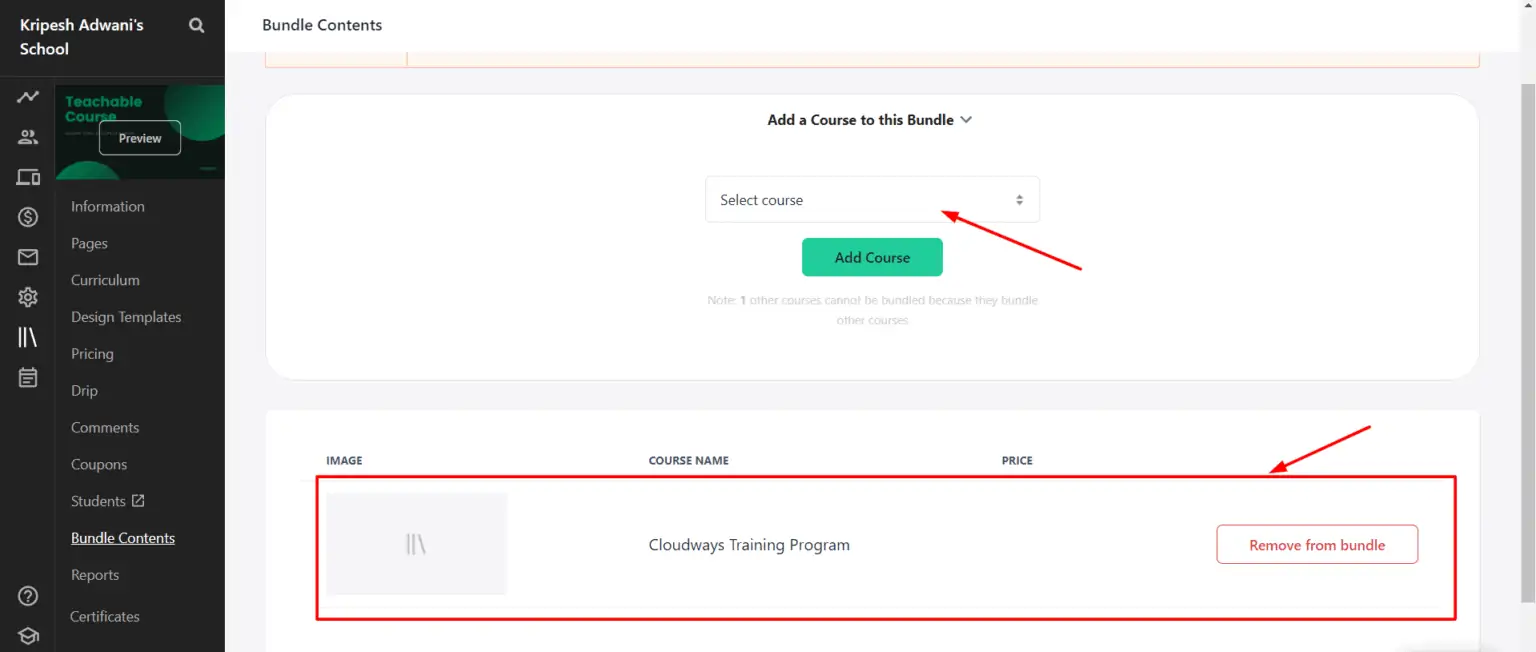 The price of a bundle course is ideally kept lower than the original courses to attract more users!
Teachable Landing Page Builder
Landing Page is the most important element of your online course. Not only does Teachable's Landing Page Builder help you design the significant pages for your course, but it also lets you add custom HTML or CSS scripts.
So, you can easily modify the appearance of your pages if you have some technical knowledge.
Teachable Page Builder might not be the best, but it is sufficient for beginners and intermediate level instructors. Let's check out the different page builders.
Homepage Builder
Home page is the default page that an enrolled student will see. It comprises pages like home page, privacy policy, and terms of use, along with a list of all your courses.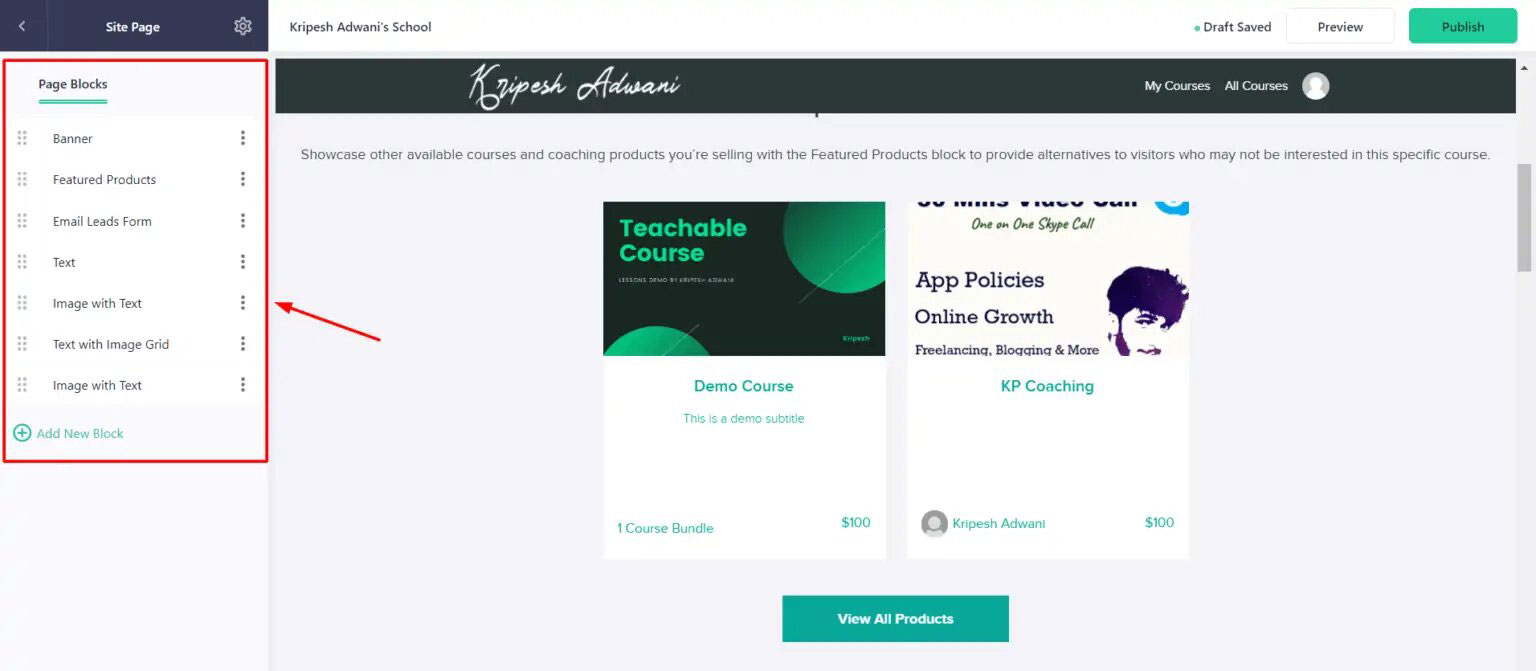 You are free to rearrange different sections, edit text, color, links, collect emails, display images with text, image grids, add buttons, featured products, etc.
However, there is no countdown feature like Teachable.
Sales Page Builder
The Sales Page Builder helps you design different pages for the checkout process, like:
Sales Page
The Sales page comprises a banner with a get started button. It lets you display the course curriculum, along with the price of the course.
You can even display a video talking about your course to add a personal touch! Other elements like Image, Text, Email Leads form, Features Products, Image grid, etc can also be integrated.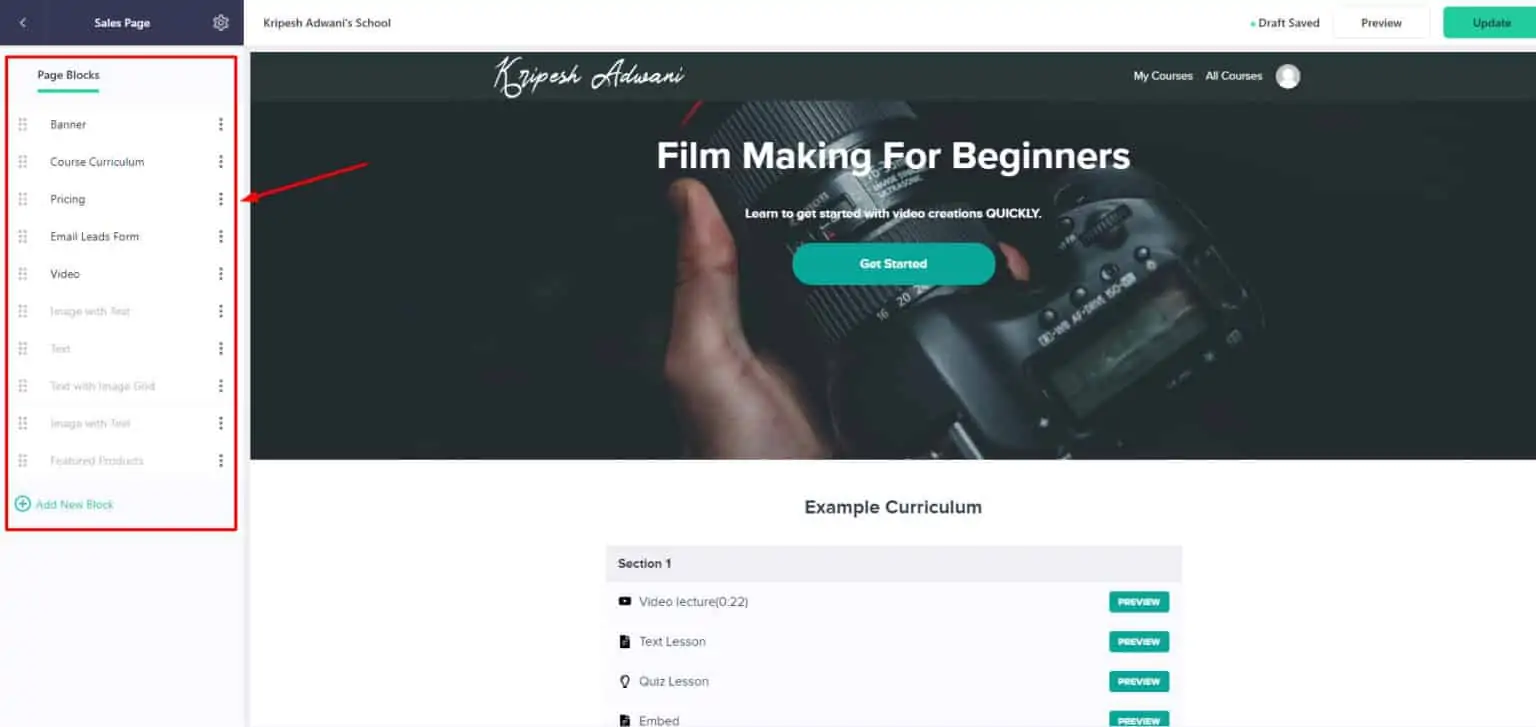 An interesting feature is that Teachable lets students preview lessons without registering.
Unlike Thinkific, that does not allow lesson previews without signing up first, this is an appreciable feature!
Checkout Page
You cannot edit the Checkout Page much. On this page, you can add bullet points to stress on the benefits of your product/online course, add testimonials, and a 30-day refund badge if applicable.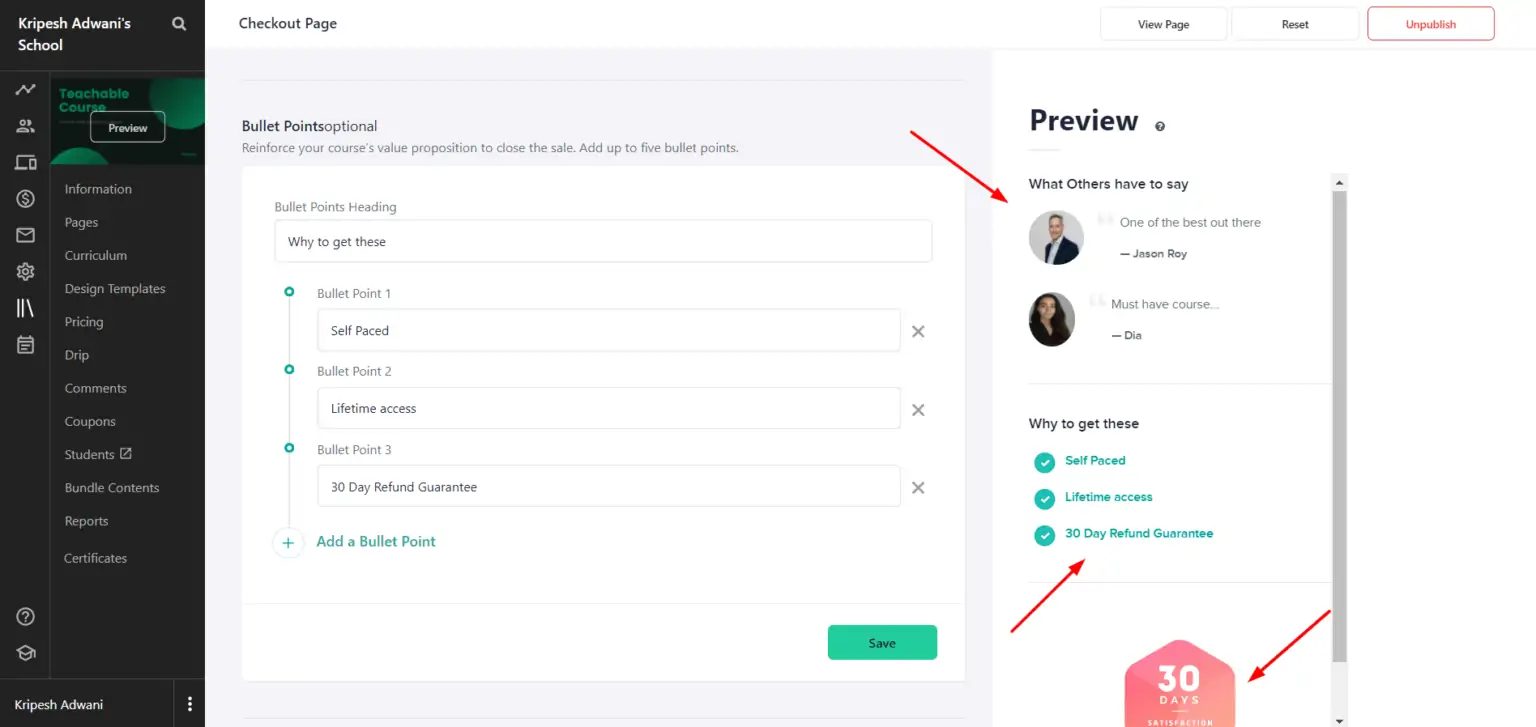 Thank You Page
This page is visible to a student after he/she purchases your course.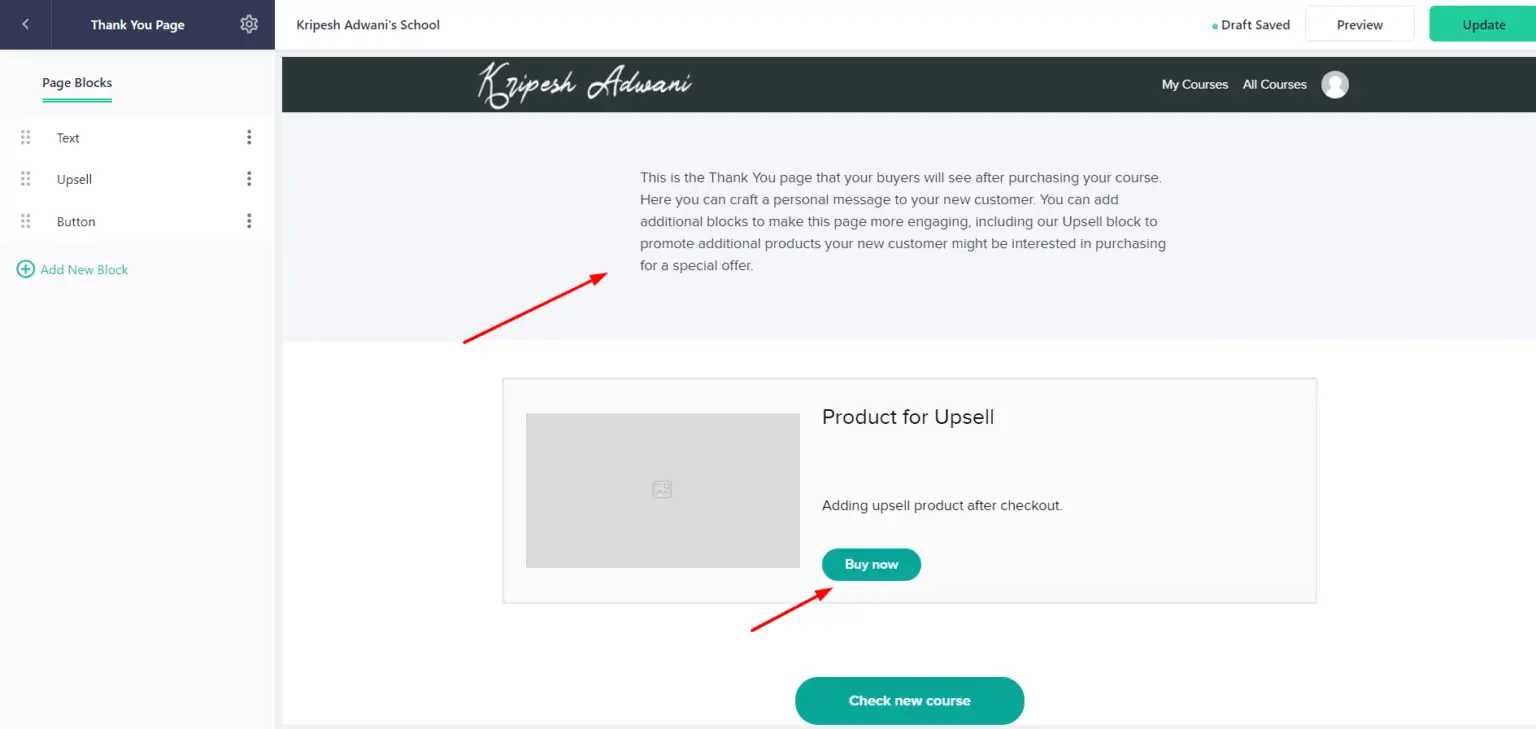 You can add one-click upsells along with the purchased course like personal coaching, ebook, Webinars, etc to boost revenue!
Teachable Affiliates
This is another exceptional marketing feature of Teachable. It lets you add affiliates to your courses and also specify a commission percentage.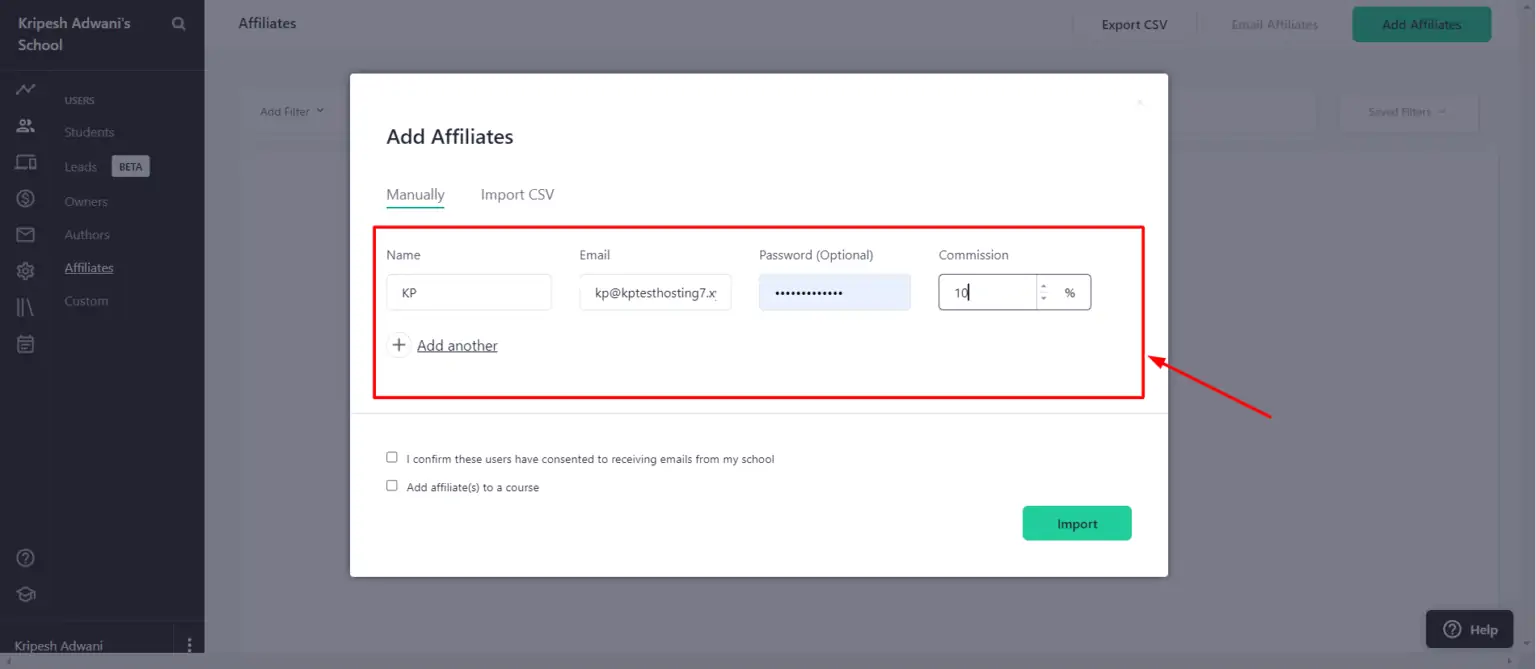 Affiliate users get access to promotional links that they need to circulate among people. More the users signing up using those links, higher is their commission! Clever technique to market your courses, right?
Teachable Integrations
Teachable integrates with a lot of third party services to provide you a better experience. Let's have a look at some of them.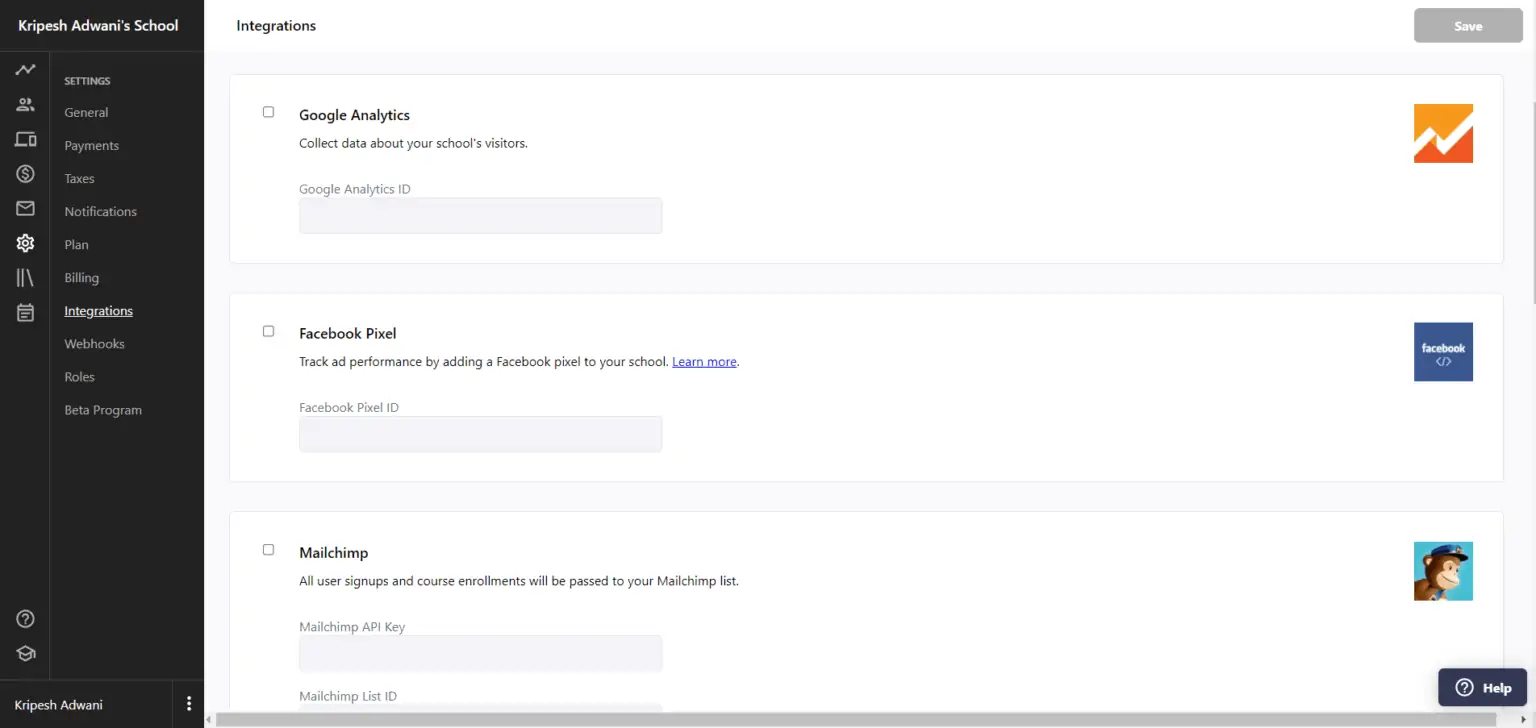 Analytics Services
Teachable supports Google Analytics, Segment.io, and Facebook Pixel for Analytics. There's no MixPanel option like Thinkific, but Segment works well too!
Zapier Integration
You can get Zapier triggers in Teachable Basic plan and Zapier Actions in Pro plan, which is great for automating your tasks.
But, if you use other automation services like Pabbly Connect or Integrately, you can easily connect them to Teachable using Webhooks.
Webhooks are available in all paid plans of Teachable. However, you can only use them for Zapier Triggers and not Zapier Actions.
Email Integration
For email marketing, Teachable offers integration with ConvertKit and MailChimp.
Teachable Payment Options
Teachable offers three payment options. Let's see what they are.
Teachable Payments
Non Indian users can use Teachable Payments for collecting their payments. It is their own payment gateway powered by Stripe Express.
However, it's not available for the Indian audiences.
PayPal Payments
Teachable offers a PayPal option for the Indian users, but the transaction fee is way too high at 3.9%!
Stripe Payments
They offer a Stripe payment option in the Pro and above plans, but not on the Basic plan.
In my opinion, Thinkific is much better in terms of payment options.
It offers a more secure Stripe payment feature and does not charge any transaction fee, even in the Basic plan!
Teachable Custom Branding
Unlike other course builders, Teachable gives you the freedom to customize your website exactly how you want.
It lets you add your brand logo, thumbnail, and even a favicon to your site!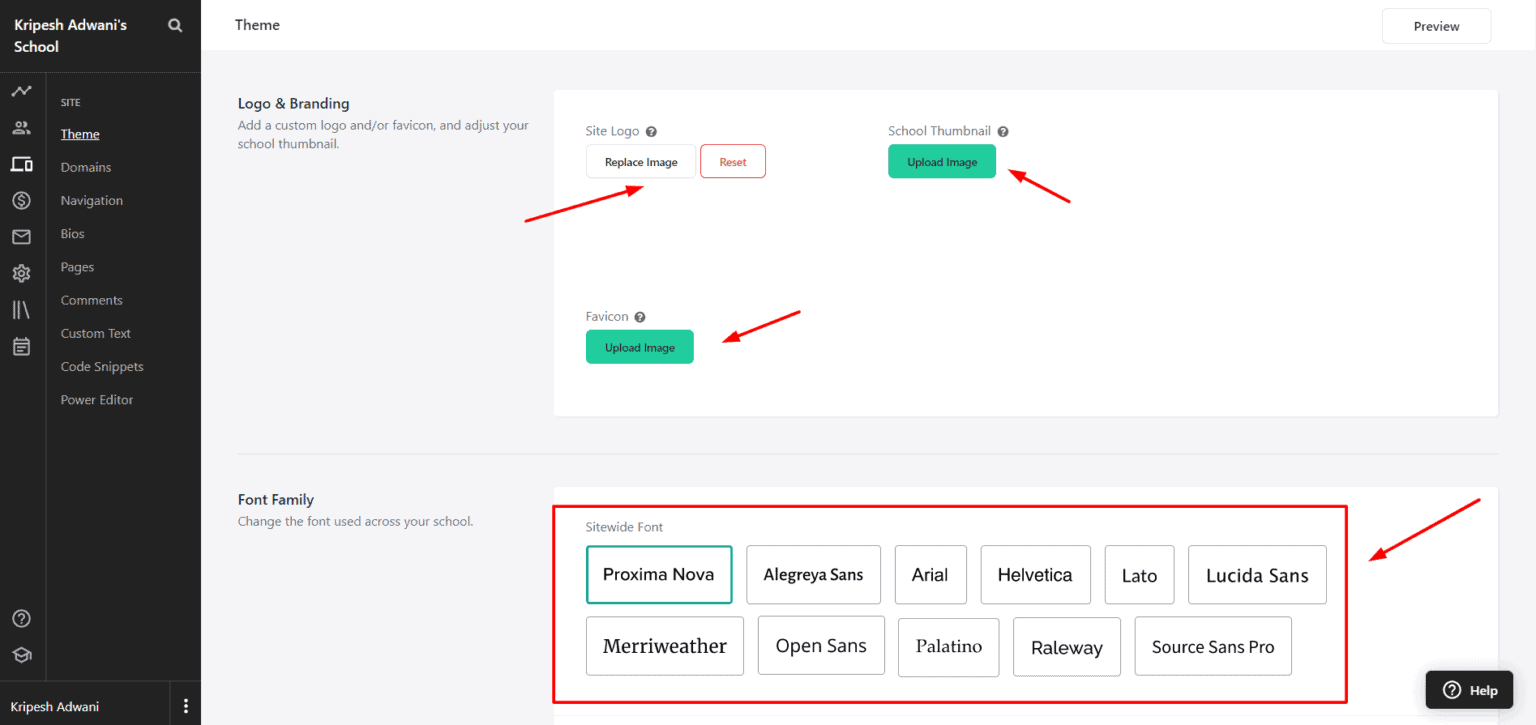 You can choose from a variety of fonts and custom colors or color palettes to align your site's appearance as per your brand identity.
Teachable Communication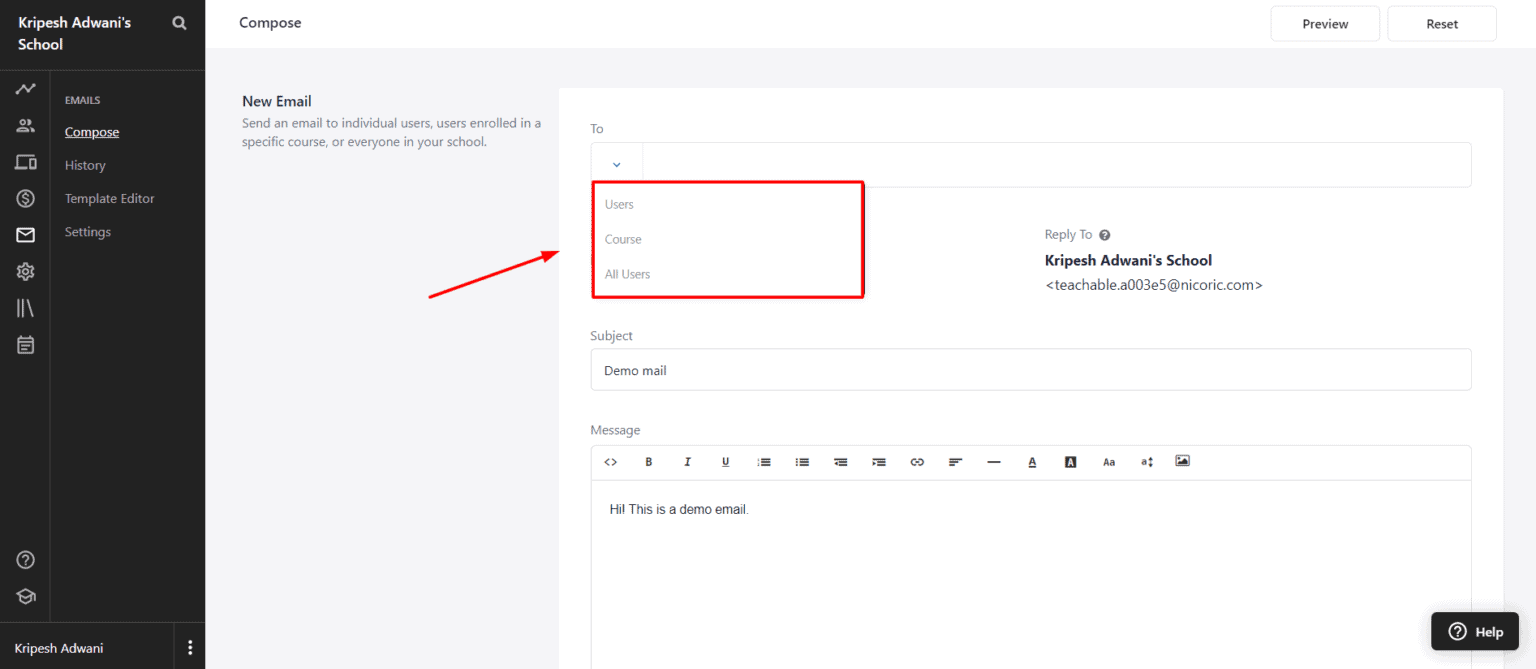 Teachable offers advanced options for communicating with your students through email. Mails can be sent either individually or in bulk. For Bulk emails, you can send mails to
All students enrolled in a specific course
Total students enrolled on your platform
Teachable Notifications
Teachable also offers email notifications that you can enable/disable as per your requirements.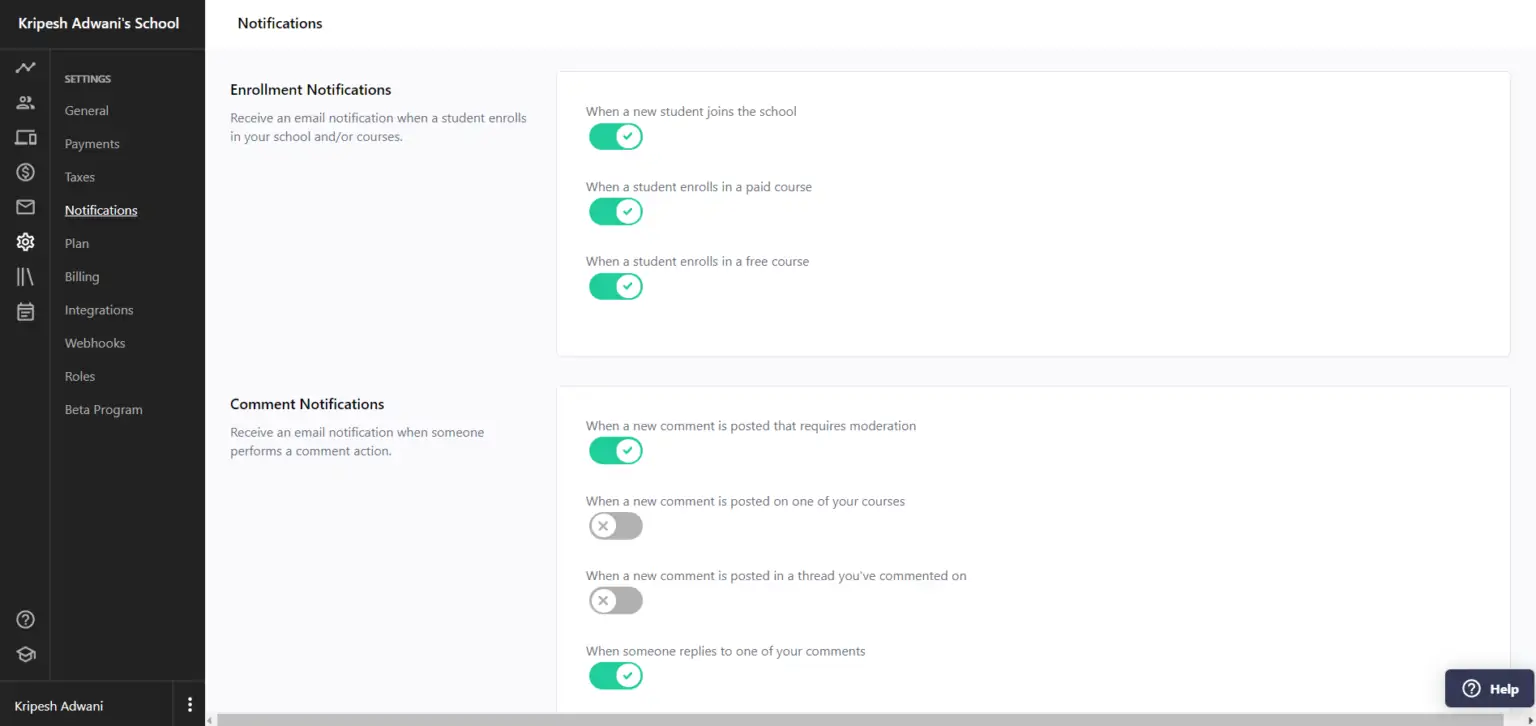 You can get notifications for student enrolments, comments, subscriptions, and more! Both admin and student notifications can be customized from fhr admin dashboard.
Teachable Template Editor
I loved using this feature because it truly allows you to put on your creative hat! With the Template Editor, you can customize the default email notification templates as per your requirements.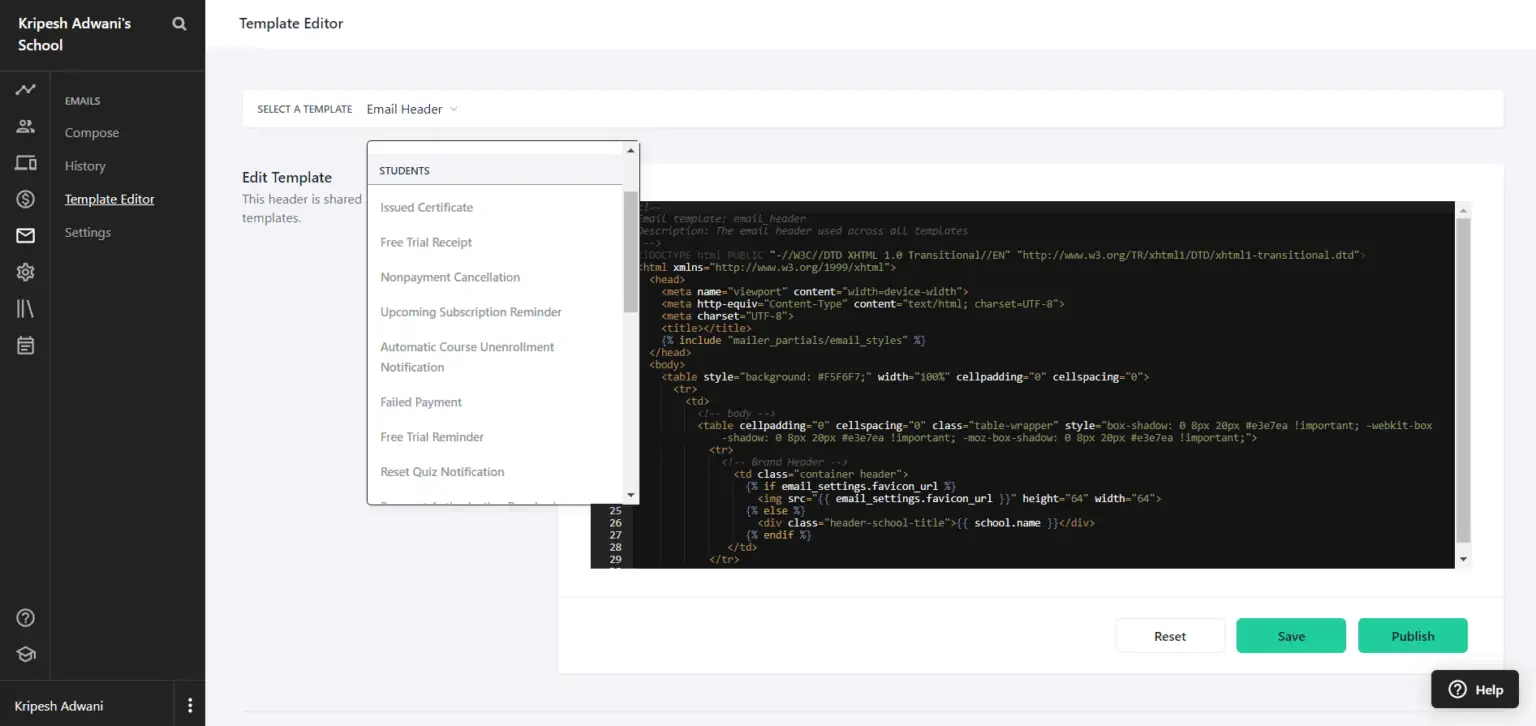 For example, a student enrollment notification can be enriched with your custom links, ebooks, informative resources, PDFs, and even upsells!
This would not only make your emails more personable, but provide more value to your students too!
Teachable Custom URL
When you create a new account, your website is by default a sub-domain of Teachable. For example, it would look something like: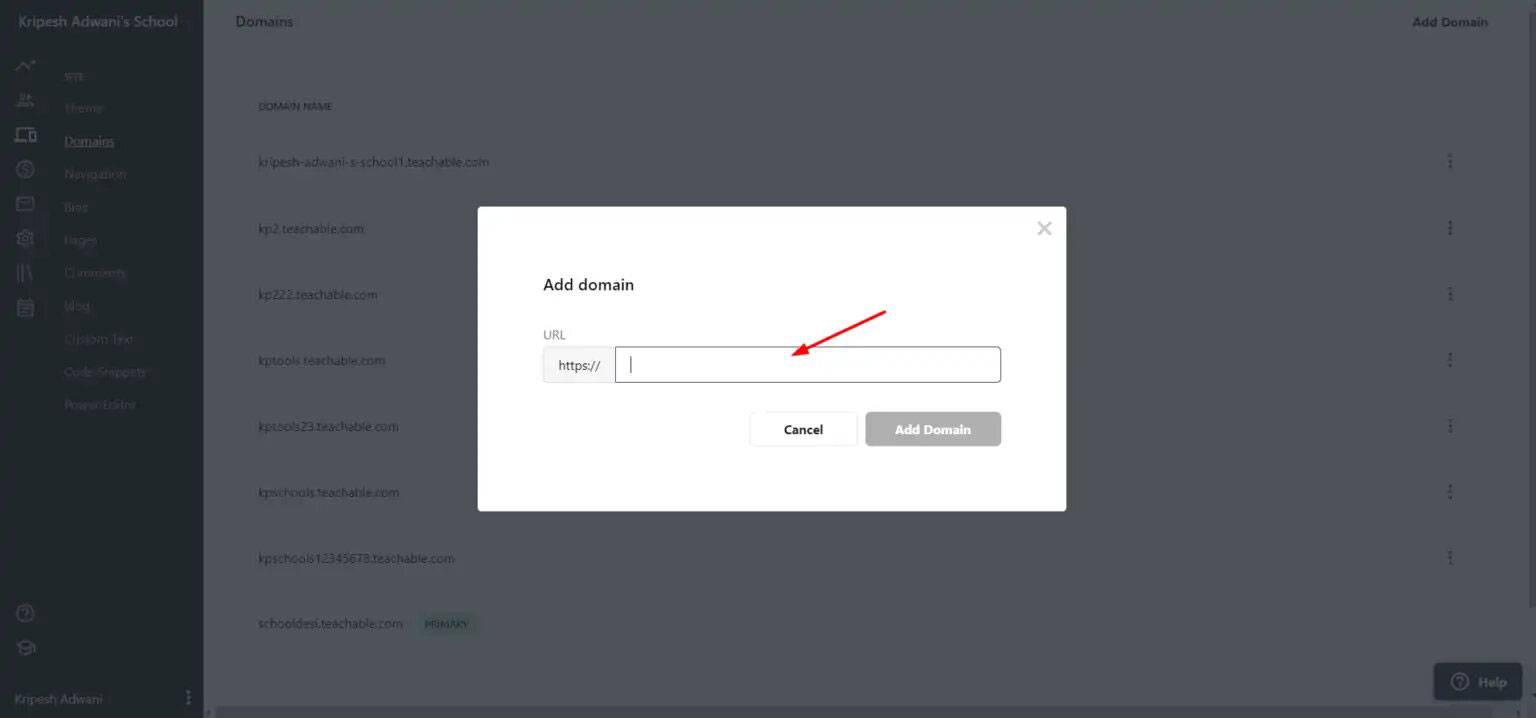 But if you already own a domain, your Teachable URL can be customized as per your domain.
For example, "courses.yoursite.com"
This feature helps you promote your brand identity and appear more professional. Custom URL is available on all plans of Teachable.
However, if you wish to remove the Teachable branding ('Powered by Teachable') that appears on all pages by default, you need to go for the Pro and above plans!
Teachable Support
Teachable offers a satisfactory email support and an informative knowledge base of articles. You can find answers to a lot of your queries in their articles itself!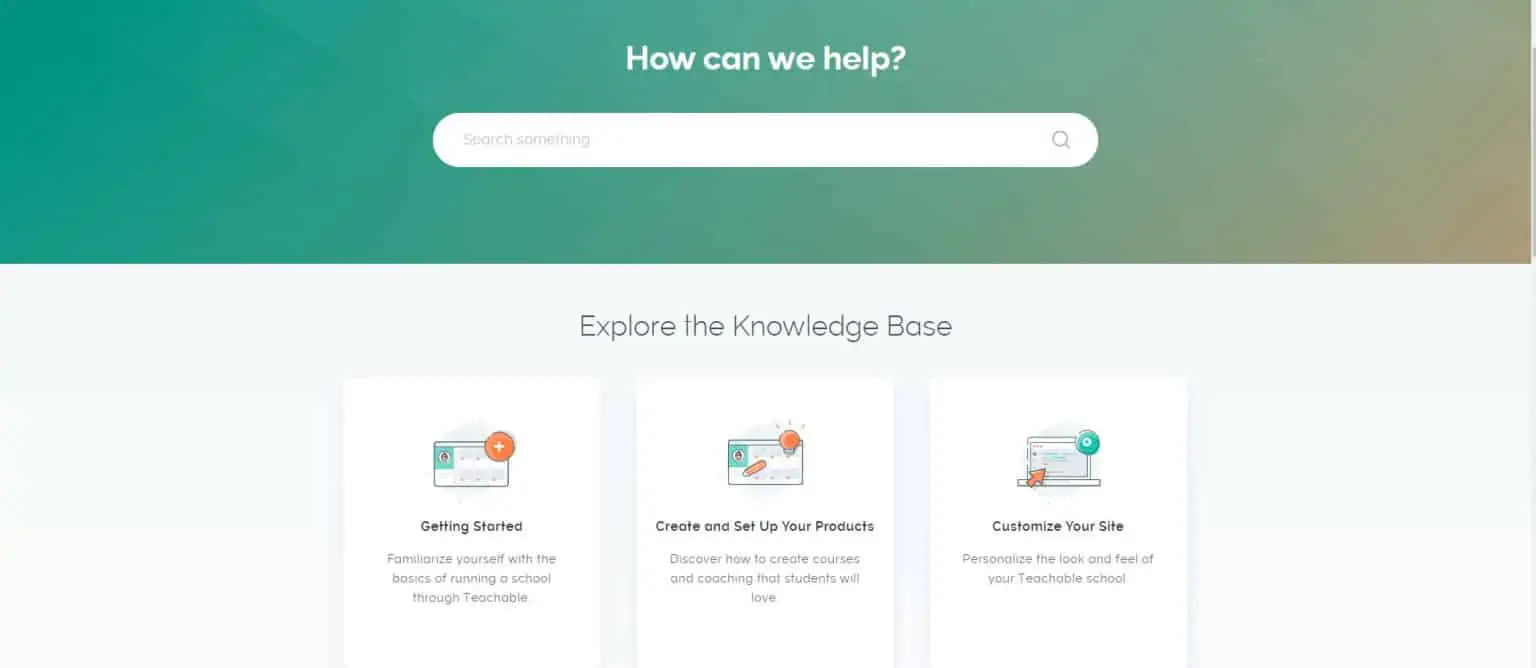 What I liked most is that Teachable provides a helpful Live chat support for the Pro users.
They also have educational platforms to help beginners and anyone who wants to learn something new!
TeachableU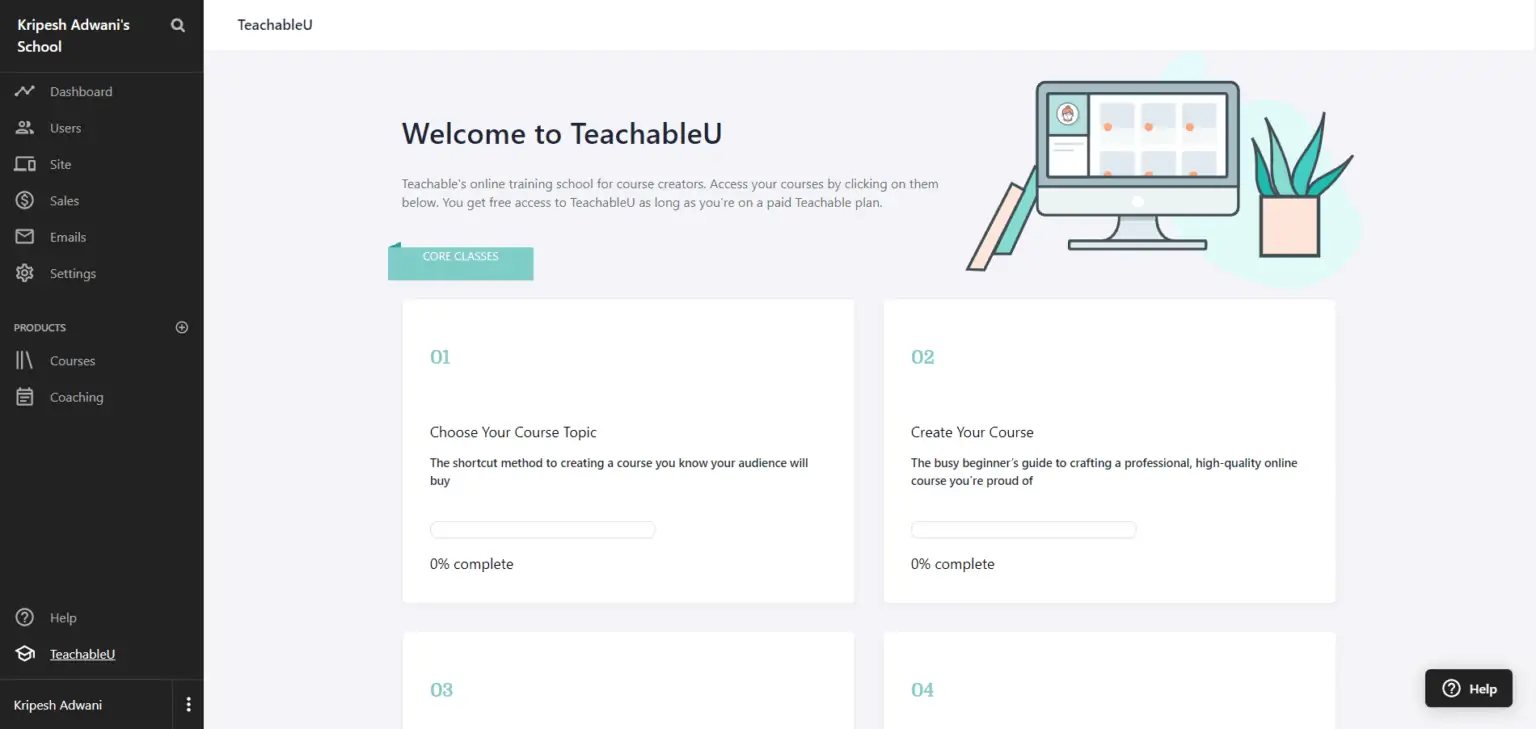 On their platform TeachableU, beginners can find insightful courses on how to create a course, build an audience, and launch their first course.
Teachable Discover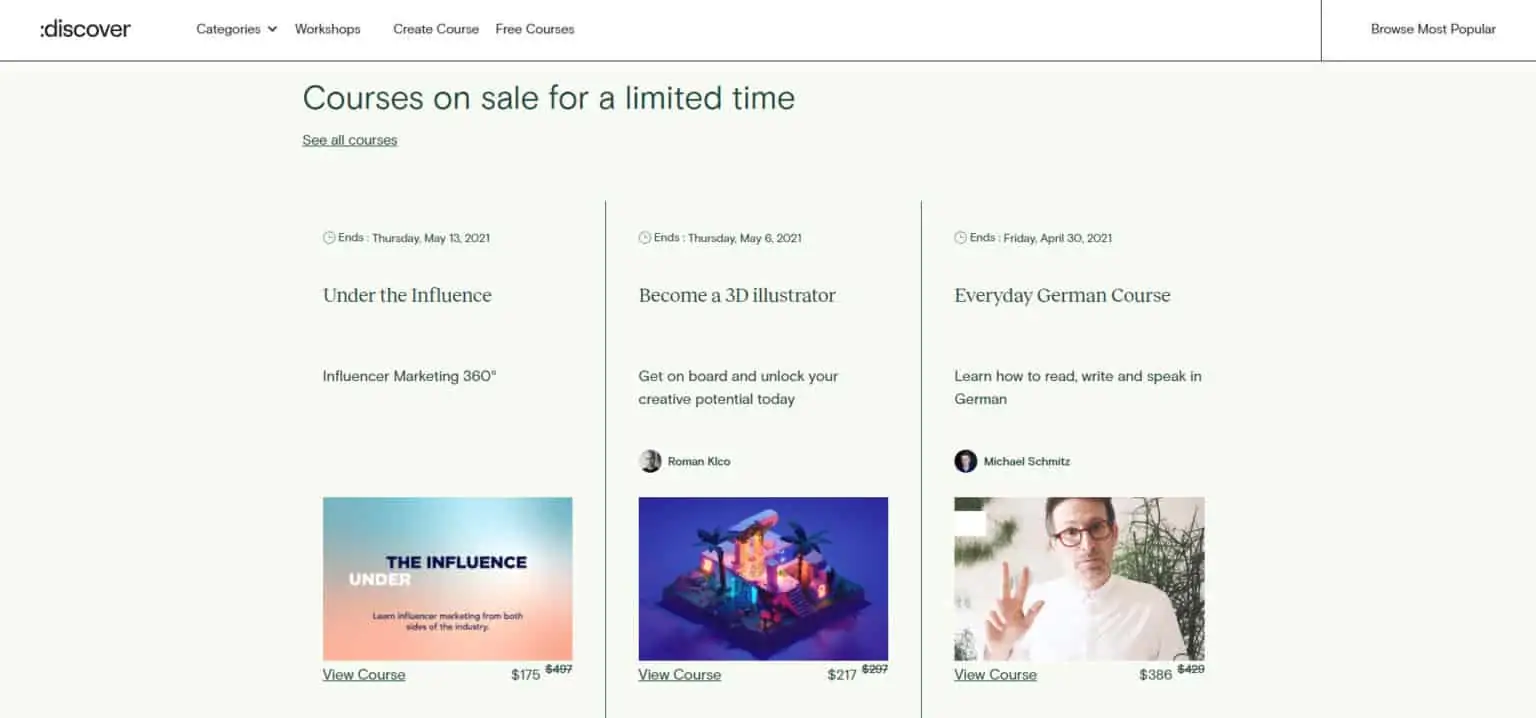 Teachable Discover is a platform where you can find the most popular courses on and sort them by categories.
Teachable Best Plan
I would not recommend you to go with jts Basic Plan, mainly because of two reasons:
It charges a 5% transaction fees
It lacks the Stripe payment option
The Professional Plan of offers excellent price to value ratio! And if you need a free trial, check out my discount offer below!
Teachable Discount Coupon Code 2022
Now that you know how efficient and feature-rich the Teachable course creator is, I'm sure you must be thinking about giving it a try!
Well, in that case, I have a very interesting offer for you! If you use my link, you can get a 2-months free subscription of Teachable Pro plan right away.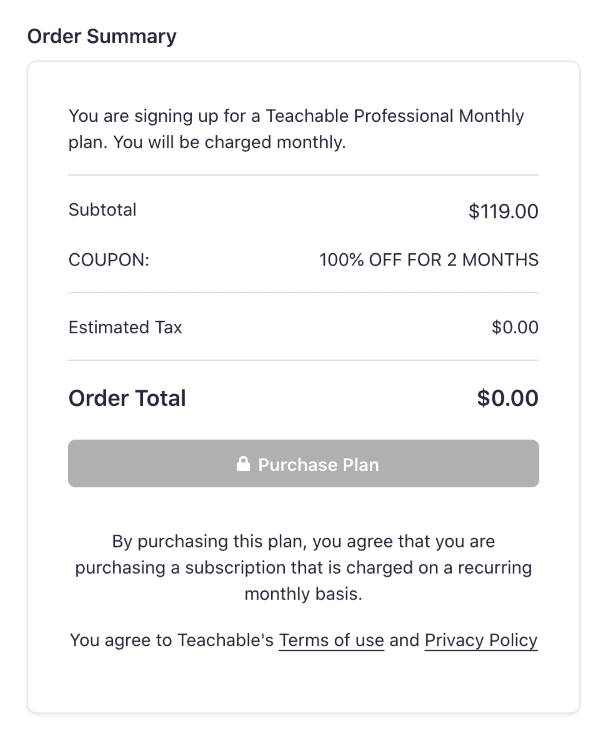 All you need to do is
Select the monthly Pro plan
Enter the coupon code KRIPESH
That's all! Now you can thoroughly try and test out Teachable Pro for 2 months to see if it is of any use to you.
And after the free trial is up, you can either cancel the subscription or upgrade it to the annual plan!
So, what are you waiting for? Grab this opportunity right now and enjoy Teachable Pro completely free of cost for 60 days!
Teachable Pros
1. Good Pro Plan
Teachable Pro provides complete value for your money with its advanced features and live chat support.
2. Coding Snippets
Creation coding related courses is a cakewalk with ! You can add coding snippets from 17 different languages and they will be color coded accordingly!
3. Bulk Coupon Generator
Teachable lets you create unique one-time coupons in bulk! This is beneficial if you have a large student base.
4. Built-in Marketing Tool
Its integrated affiliate program helps you effortlessly promote your courses and build your audience by adding students as affiliates!
5. Easy to Use
The user interface is neat and well organized, and beginners would find it quite easy to use.
6. Good Customer Support
You can get all your queries solved with Teachable's helpful email and live chat support for its Pro plan subscribers  They even have a very informative knowledge base.
7. Decent Page Builder
Their page builder is heavily customizable. You are free to add HTML/CSS scripts to modify the appearance of your pages.
8. Email Template Editor
With , you can even edit email templates and give them a personal touch. For example, you can add your own promotional links, ebooks, upsells, and other educational resources in yout emails.
Teachable Cons
1.Limited Free Plan
As per a recent update in June 2022, the free plan of Teachable now allows you to only have 1 published course and 10 videos uploaded on the platform. This is quite limited.
2. Transaction Charges on Basic Plan
5% transaction charges are applied on the Teachable Basic plan. This is why I would not recommend this plan to anyone!
3. No Stripe Support in Basic plan
Teachable offers PayPal support in all plans. However, the Stripe Payments option is available only in the Pro and above plans!
4. Slow Admin Interface
Designing courses on the admin dashboard feels quite slow and sluggish at times.
Teachable Alternatives
There are loads of online course creators available in the market today. But as per my research and experience, the following platforms are the best alternatives to Teachable.
1. Thinkific
Thinkific is a popular LMS platform that comes at an affordable price point. It's easy to use and does not charge a transaction fee on any plans. It also supports Stripe Payments, which is great for Indian audiences!
However, it does not support coding snippets, which is why I don't find it convenient for creating coding related courses.
2. Learnyst
Learnyst is another popular LMS platform that offers a variety of Indian payment options and a 0% transaction fee. Along with that, it also offers secure DRM Encryption to safeguard your online courses from piracy and a feature-rich free plan for beginners.
However, the lack of coding lessons along with a complex and buggy interface are some of its downsides. The pricing plans of Learnyst start from ₹3499/month. By using my link, you can get a 25% off on all paid plans of Learnyst. (Use coupon code: KRIPESH25)
3. Udemy
Udemy is one of the most popular online course creation and teaching platforms. With Udemy's massive student base, you don't need to worry about promoting your courses at all!
Putting up a course on Udemy might be free, but beware because they charge an unbelievable 50% of share on your every sale!
4. Podia
Podia is a new course creation platform. You can find integrated email marketing, an engaging chat widget, and comes at decent prices to provide you a better overall teaching experience!
The major downside of Podia is that it lacks a free plan!
Should you buy Teachable?
Teachable LMS offers unlimited courses, lets you add unlimited students, and provides unlimited video hosting on all plans. But all of this comes at a price!
Teachable charges a 5% transaction fee on its Basic plan, which is why I don't like it much. I find the Pro plan to be the most value-for-money option.
In my opinion, if you have a large crowd of students and need
Advanced tools for student management
Coding lessons
Bulk Emailing
Bulk coupon codes
Editable email templates
Affiliate marketing support
Automation through Zapier or webhooks
Then Teachable would be the right choice for you!
However, if you're tight on budget, Thinkific course creator would suit you better. To know more, you can check out my detailed Thinkific Review.
Conclusion
I hope this Teachable Review article helped you decide if  is the right LMS platform for you!
If your primary aim is marketing and selling your courses or digital products, then would prove to be a powerful tool for you.
And if you're not sure about investing into it right away, here's my link to get a 2 months free subscription of 7 Professional plan.
P.S. If you wish to try out a different LMS platform, I recently reviewed Thinkific. You can check out the detailed Thinkific Review and see if that suits your needs.
Anyway, this is Kripesh signing off! If you are new here, don't forget to sign up for my Newsletter to keep receiving the latest updates. I'll be back with more such informative articles soon. Till then, stay safe and keep learning! Cheers!
FAQ
Does Teachable have a free plan?
Yes, Teachable does have a free plan. However, as per a recent update in June 2022, it only lets you have one published course and up to 10 videos uploaded on their platform.
Does Teachable charge transaction fees?
The Basic plan of Teachable charges a 5% transaction fee. There are no transaction charges on the other plans.
How long is the Teachable free trial?
Teachable offers a 14-days' free trial on its Pro plan. But if you use my link, you can get a 2-months free subscription of  Pro! All you need to do is select the monthly Pro plan and enter coupon code KRIPESH.
Is Teachable mobile friendly?
As of now, software is only available for iOS devices. But it works really well on mobile browsers too!
It offers smooth audio and video playback, along with easily accessible coding lessons and an attractive interface.
The only problem I faced was that the embedded videos do not scale properly on mobile browsers!
How much does Teachable cost?
Teachable features 3 pricing plans that cost as follows when paid for annually:
Basic Plan: $29/month
Pro Plan: $99/month
Business Plan: $249/month
You can choose one as per your requirements. However, I found its Pro plan to be the most value-for-money option!
Is Teachable a good platform?
Teachable should be your go-to platform if your primary focus is selling your online courses.
It offers good marketing features and tools to help you promote your courses and boost your revenue!
What is Teachable used for?
Teachable is used for creating, promoting, and selling online courses.
Along with that, it also lets you sell digital products and services like consulting, freelance services, coaching, live classes, ebooks, audiobooks, and more.
Does Teachable offer free courses?
Their platform TeachableU offers a few free courses that are designed to help beginners on every stage of course creation from choosing a topic, creating a course, building an audience, tolaunching their first course!
Does Teachable come with its own email marketing tool?
No, Teachable does not have an inbuilt email marketing tool. But it integrates with MailChimp and ConvertKit.
You can even use Zapier to connect other 3rd party email marketing services.
What type of Teachable integrations are available?
Teachable offers integration with various third party services including:
Google Analytics, Segment.io, and Facebook Pixel for Analytics
MailChimp and ConvertKit for Email Marketing
Zapier for Automation
Can Teachable create drip content?
Yes, Teachable can create drip content. However, it only applies to entire sections and not individual lessons.
What can you sell on Teachable?
Along with online courses, you can sell digital products like ebooks, audiobooks, freelance and tutoring services, webinars, memberships, etc on Teachable.
What percentage does Teachable take?
For the Basic plan, Teachable charges a 5% transaction fee. But there is no transaction free for the Pro and above plans.
Who should use Teachable to create courses?
Content creators, online educators, bloggers, instructors, entrepreneurs, small businesses, etc can use to create valuable content and earn more revenue.
Does Teachable offer discount codes?
Yes, Teachable offers a 5% discount for new subscribers, which only applies in the first year. You can check it out here.
But if you wish to get an even better offer, use my link and get a 2 months free subscription of  Pro. (Use Coupon Code: KRIPESH)