About Windsor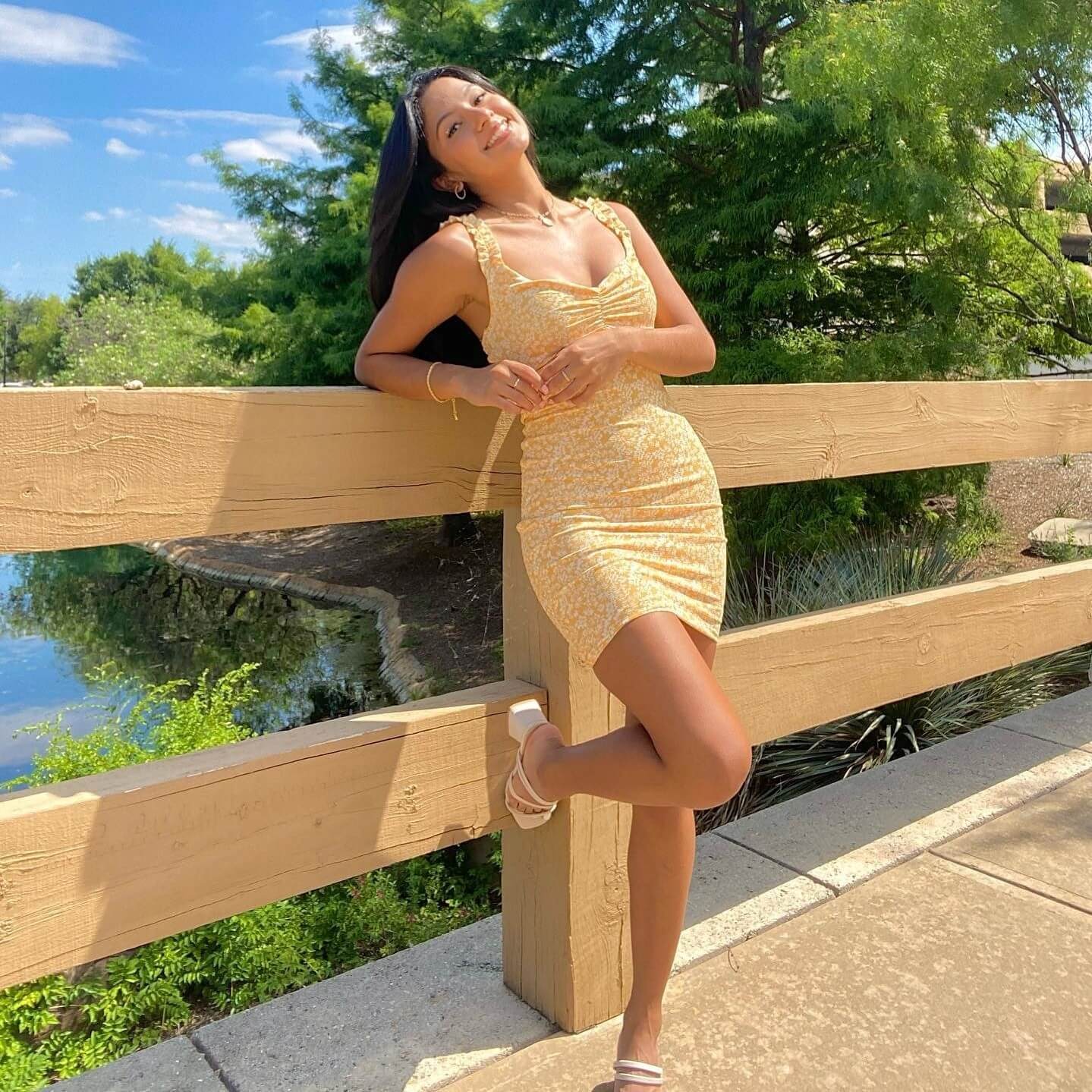 Shop Now At Windsor Store
Windsor offers trendy, fashionable clothing items for women. They have a wide range of attire from cool, casual wear to elegant formal wear.
The company is a one-stop dress shop for special occasions, featuring a category on their website for weddings, proms, and homecoming dances.
The company boasts a significant 1.1M follower count on its Instagram page. Many customers can't get enough of their soft, sultry looks.
Are you searching for a magical gown for your special day? This Windsor dresses review might be able to help you out. Join us as we take a closer look at the brand, its bestsellers, customer feedback, and more, to help you decide if their clothes are worth the buy.
Overview of Windsor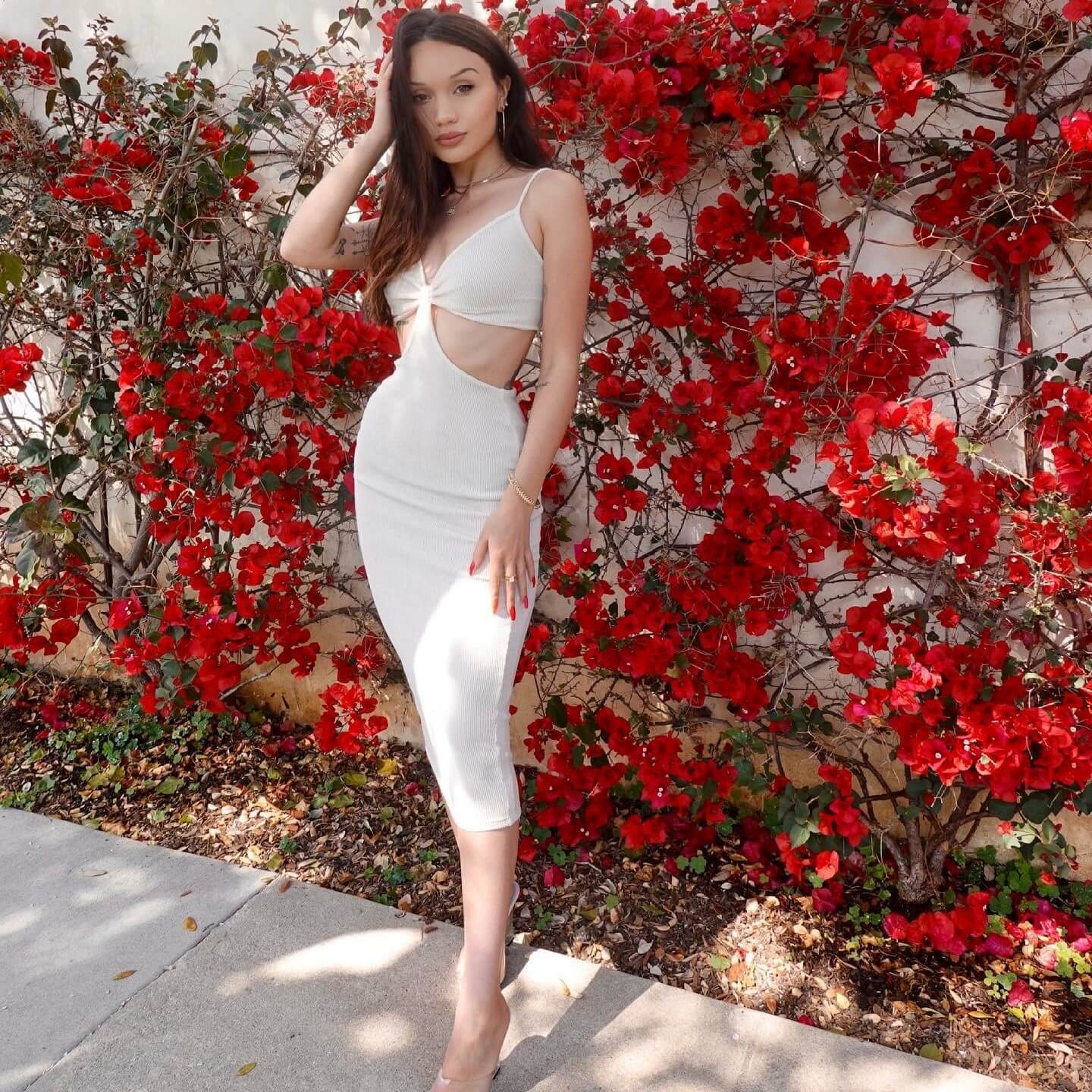 Windsor was founded in 1937 by two Zekaria brothers. Their small, family-owned business began as a hosiery and lingerie store. Since then, the Los Angeles-based company evolved and began offering Windsor formal dresses distributed by generations of Zerkarias.
The brand began with a mission "to create an oasis that inspires and empowers women." They continue to help women feel beautiful on days of celebration and little everyday happenings.
Windsor stores have now expanded to 200 locations across the United States. Their collection has stayed contemporary and features a wedding shop with bridesmaid dresses, bridal shower attire, and bridal gowns.
Before getting into our Windsor dresses review, we're going to give a brief overview of the brand with a pros and cons list.
Pros
Extensive collection of trendy and formal clothing
Offered at reasonable prices
Financing options available with QuadPay
They have 200+ retail locations in the United States
International shipping available
Free shipping with orders $75 and up
You can join a VIP rewards program for some perks and deals
Cons
Complaints around long shipping times and customer service
Returns start on shipment date
The online store doesn't accept exchanges
Windsor clothing ranges from dresses, to outerwear, intimates, matching sets, and more. They also offer shoes and accessories. No matter the occasion, the brand has glamorous finds for every event.
Got an important event coming up? This Windsor dresses review will take you through some of their most popular gowns, while offering suggestions for completing the entire look.
Windsor Dresses Review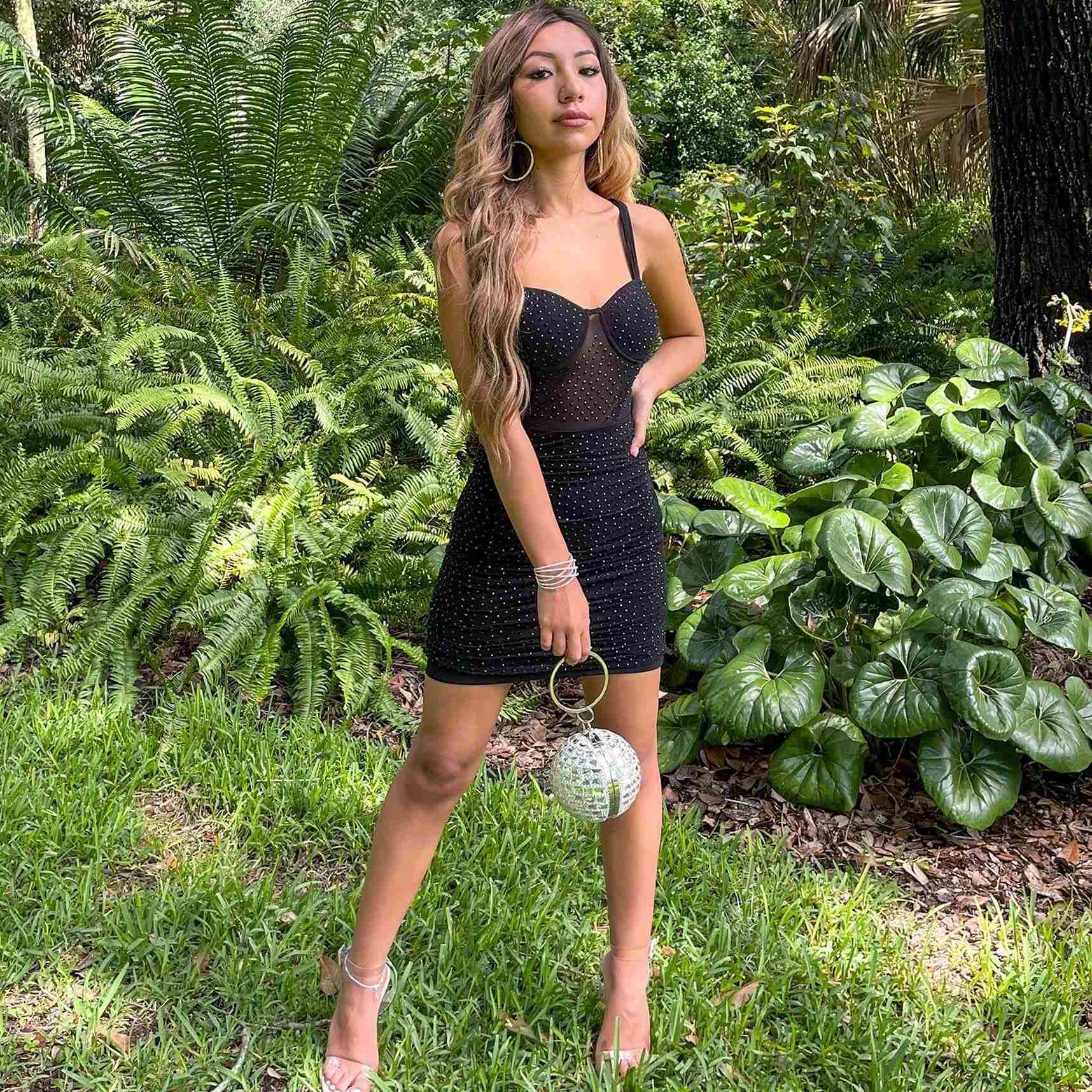 Out of the brand's impressive collection, what pieces are shoppers most drawn to? If you need some inspiration while browsing, look no further than this Windsor dresses review.
Whether you're sorting through Windsor graduation dresses or need an outfit for clubbing, we'll go over some bestsellers that might just end your search. Note that there are financing options available through Quadpay.
Windsor Rhiannon Satin Dress Review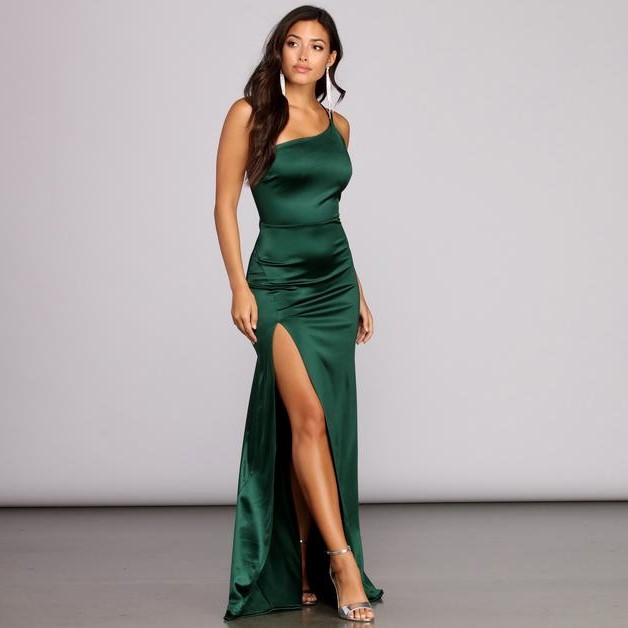 The Rhiannon Satin Dress is a dream hoco look. It exudes elegance as the floor-length skirt sweeps against the ground. This formal gown is designed to be a timeless piece that'll get people talking.
This Windsor satin dress not only features a classic A-line silhouette, but it also has a flirty, thigh-high slit to show off some glitter heels. The Rhiannon also has a one-shoulder neckline, adding another fashionable touch. Paired with some silver jewelry, you'll be a shining star.
Coming in five different colors, the Rhiannon retails for $60. Sizes range from XS–XL, but the only options currently available are small, medium, and large. If your size isn't available, you can join their waitlist.
Windsor Persephone Formal Satin and Sequin Two-Piece Dress Review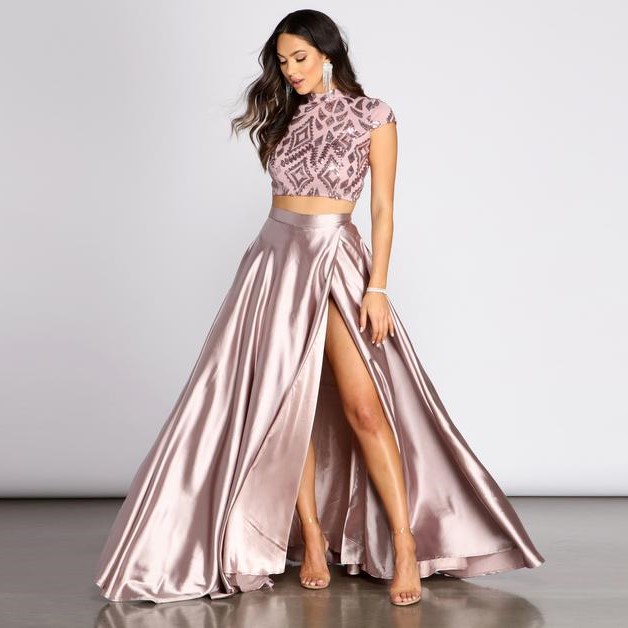 Who said you had to wear a traditional dress to prom? Why not try on a beauty like the Persephone Formal Satin and Sequin Two-Piece Dress? This piece is an example of a Windsor prom dress that stands out but also remains on-trend.
This sparkly, geometric patterned crop top and long, high-waisted skirt combo completely subvert the traditional formal gown. Both pieces have some peek-a-boo moments, with a triangle back cutout and a skirt slit to show off a bit of leg.
The kicker? The skirt also has hidden pockets for lip gloss or cell phone storage. Paired with diamond jewelry and similar heels, you'll be feeling powerful and beautiful.
You can get the goddess look with the Persephone, which will run you $125.
Windsor Mona Formal Plunging Glitter Dress Review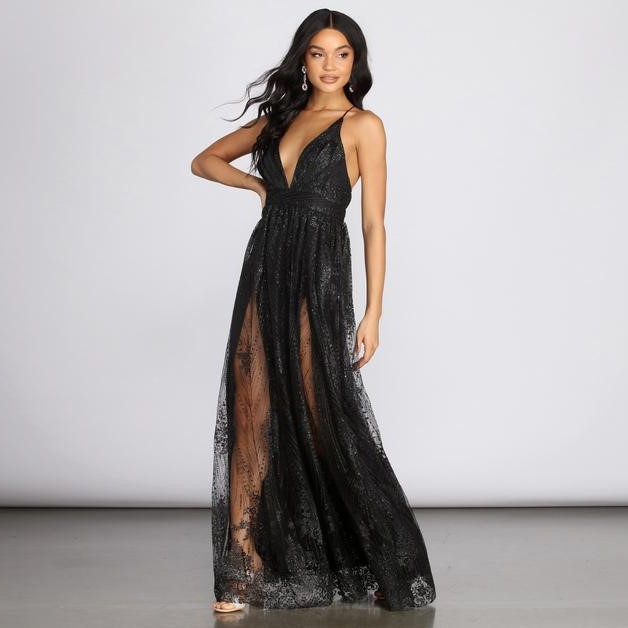 We honestly love a plunging neck dress blended with unique details. The Mona Formal Plunging Glitter Dress reveals and hides. Its deep V design and black, beaded detailing have an err of mystery that you also see in the semi-sheer tulle fabric that covers the high-slit skirt.
This relaxed-fit Windsor black dress is part of the brand's bridesmaids collection. There's no denying that you'll be a dazzling part of the entourage in this cross-back design. Despite its color, the floor-length skirt is glamorously whimsical, and it can sweep people off their feet.
This A-line silhouette dress retails for a sweet $70, which might just put a Mona Lisa smile on your face.
Windsor Lola High Slit Satin Dress Review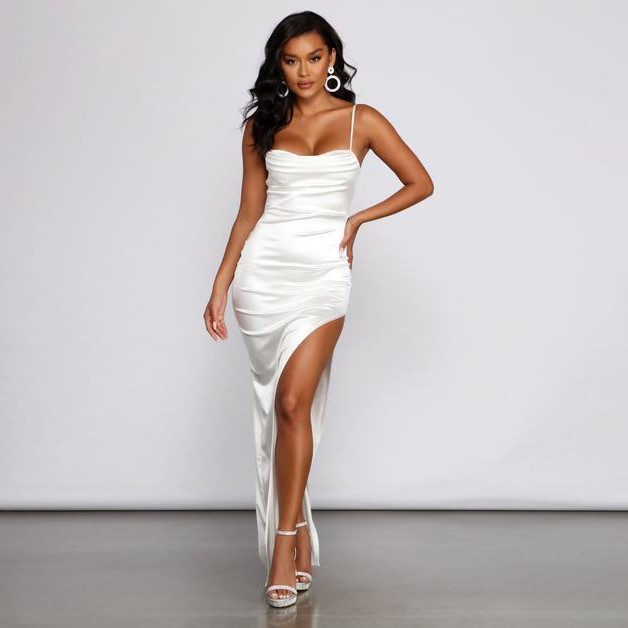 If you're up for showing more leg, may we recommend the Lola High Slit Satin Dress? This Windsor white dress hugs your body, allowing you to show off some curves while the skirt flows all the way down to the floor.
The sultry and straightforward satin dress checks the boxes for being another conversation starter. Form-fitting dresses can be intimidating, though. Luckily, the Lola is made of stretchy satin, so the fabric can hug all the right places.
This dress proves that radiance doesn't have to be complicated. This Windsor dresses review suggests pairing this dress with bright statement necklaces and rings for some red-carpet-ready vibes.
Besides white, the Lola High Slit Satin Dress comes in 11 different other colors and retails for $55. So, you can look expensive without breaking the bank.
Windsor Kayla Sequin High Slit Formal Dress Review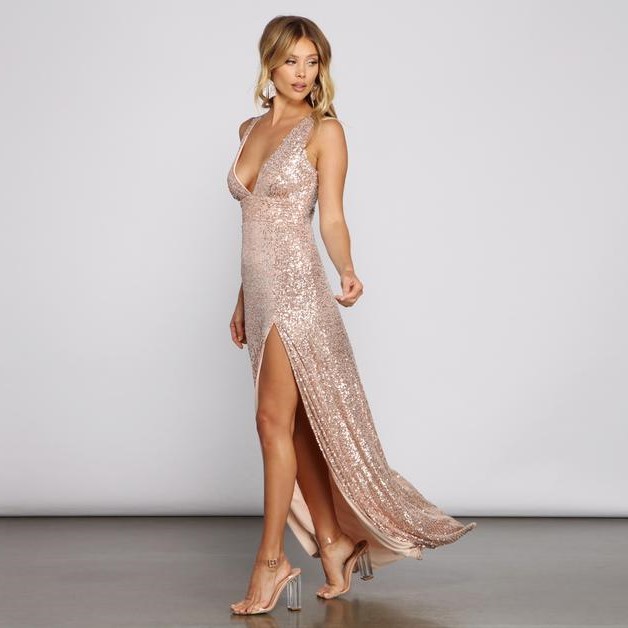 The Kayla Sequin High Slit Formal Dress makes it clear that Windsor sequin dresses will have you sparkling like a disco ball, which is honestly a great look. You can glow in this gold, plunging V, bedazzled dress.
At this point, we don't think it'd be a formal dress without a high slit, but we have no complaints about it. Any excuse to show off some gorgeous heels is a good one. Plus, the wide shoulder straps and high-waisted floor-length skirt adds a classic feel to the Kayla.
The $80 Kayla Sequin High Slit Formal Dress isn't complete without jewelry. This Windsor dresses review recommends bangles and your favorite silver earrings to tie it all together.
Windsor Ravishing Lace Bodycon Dress Review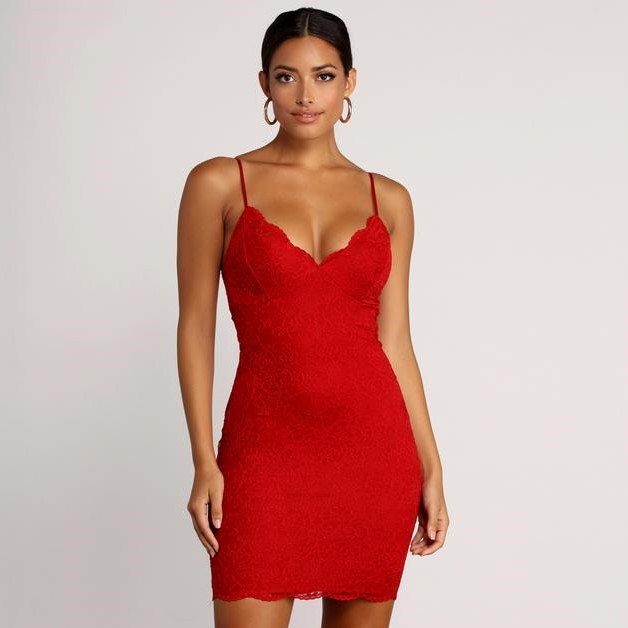 Bright reds are definitely for the daring. With that in mind, the body-hugging Ravishing Lace Bodycon Dress makes a bold 'I know what I want' statement.
This lacy Windsor bodycon dress is absolutely fierce and fiery, making a great pick for your next girls' night out. It also has moderate stretch, ensuring that you'll be comfortable while out on the town. Paired with your favorite hoop earrings and a clutch, you'll be unstoppable.
At the time of this review, the Ravishing Lace Bodycon Dress is sold out. Still, you can join Windsor's waitlist to stay updated on a restocking. The dress retails for only $35.
Windsor Fresh Start Floral Off Shoulder Dress Review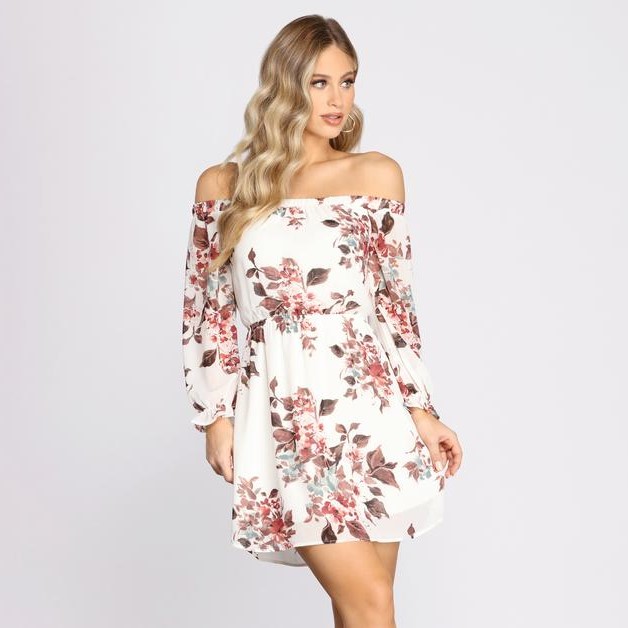 For a casual occasion, why not go with the Fresh Start Floral Off Shoulder Dress? This Windsor floral dress is perfect for brunch dates, picnics, or any event that doesn't require formal wear.
The chiffon dress is also evocative of springtime, with the balance of long sleeves and a mini skirt. So, it'll keep you cool and warm. There's really nothing more to say! The Fresh Start dress can truly freshen up your wardrobe as an adorable, breezy addition.
This dress is currently out of stock. It was on sale for $10, but regularly sells for $31.
Is Windsor Ethical?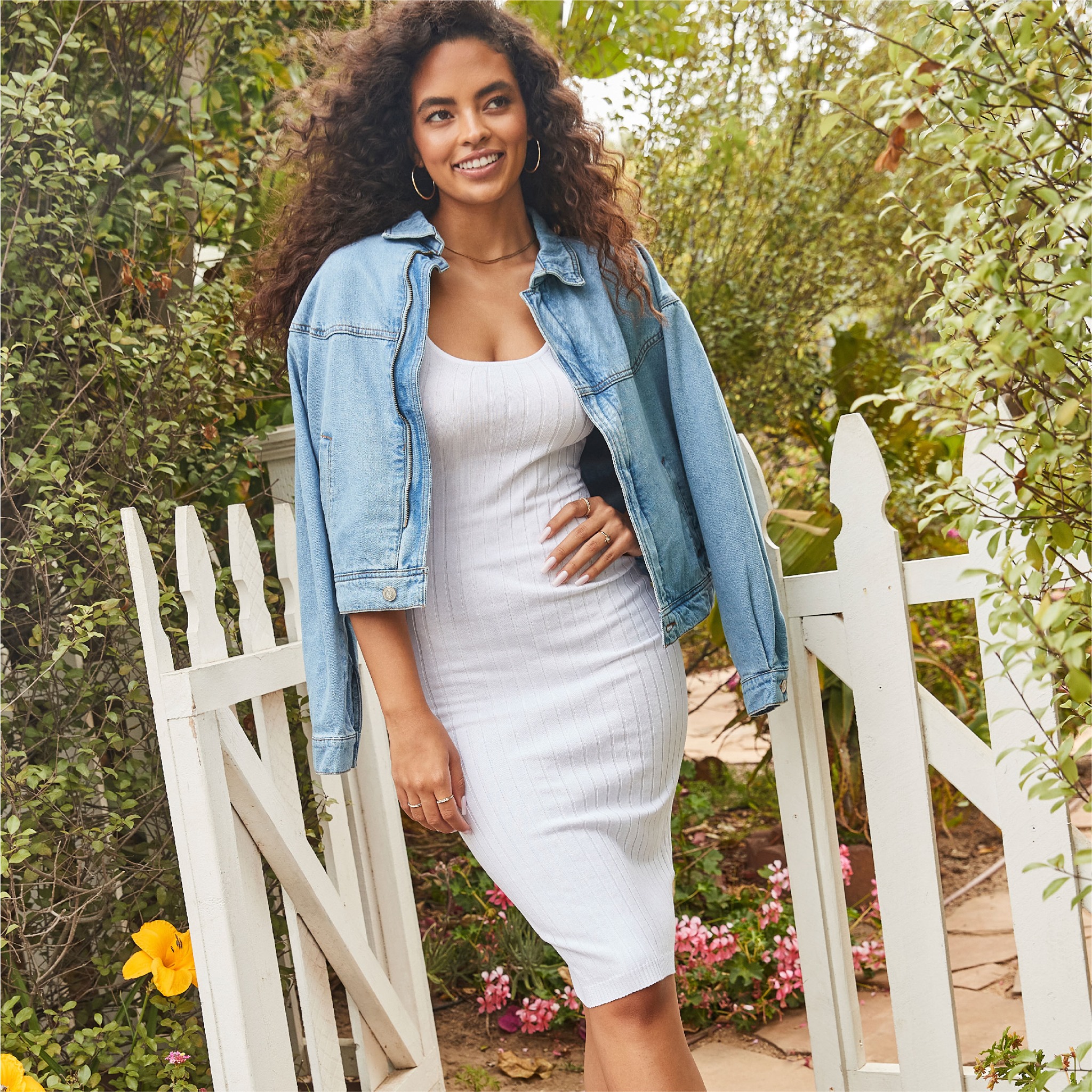 Windsor is ethical, as evidenced in their Supply Chain transparency statement. In addition, they are actively making sure that their suppliers and manufacturers are using high conduct standards with a three-stage audit.
Who Is Windsor For?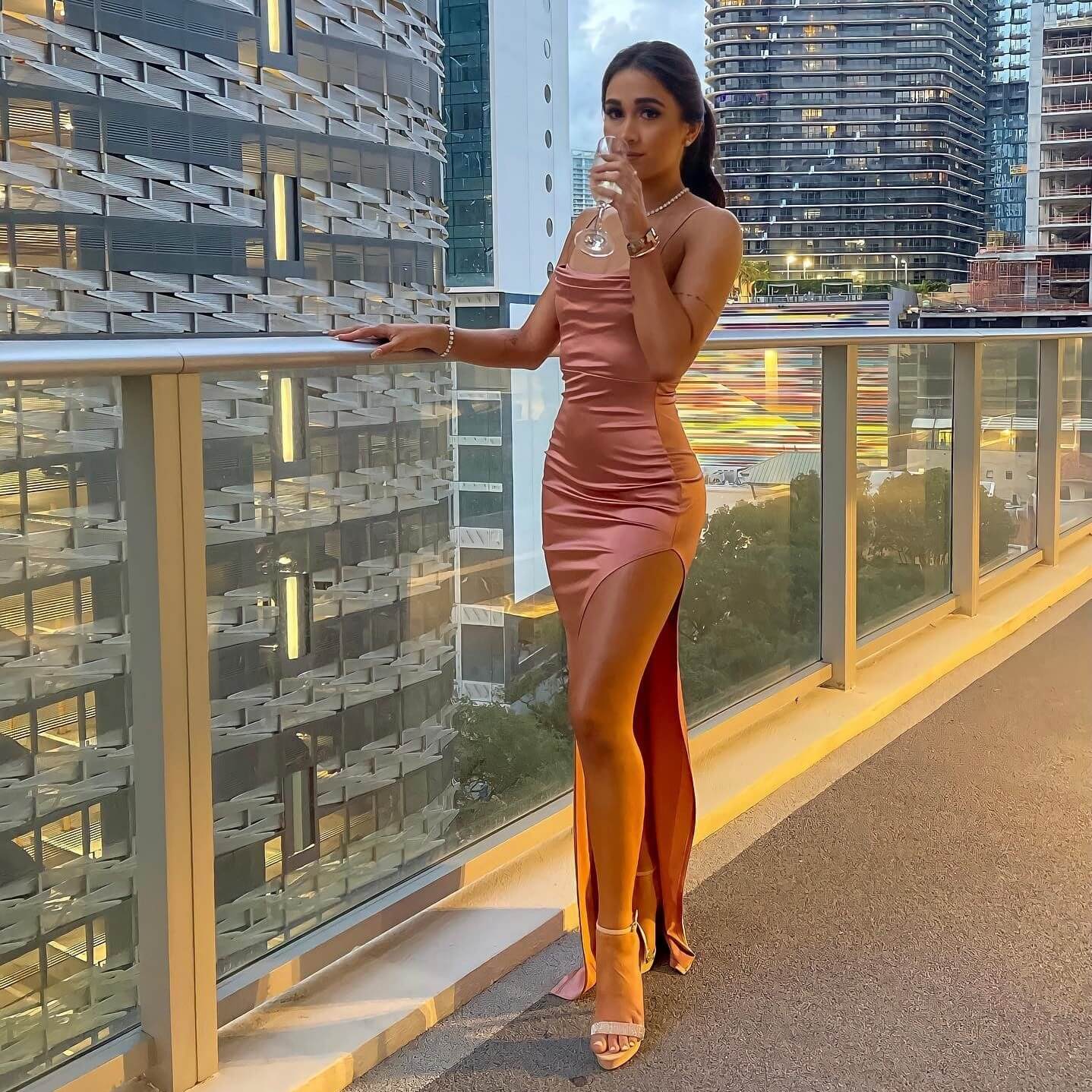 Windsor's marketing is definitely geared towards teen girls and young adult women, which also appears to be their primary demographic. But, their clothing can be for any woman looking to add some glitz and glam to her wardrobe.
Additionally, students who have tight budgets are bound to love those cute Windsor sundresses due to the brand's affordable prices.
Comparison: Windsor vs. Roolee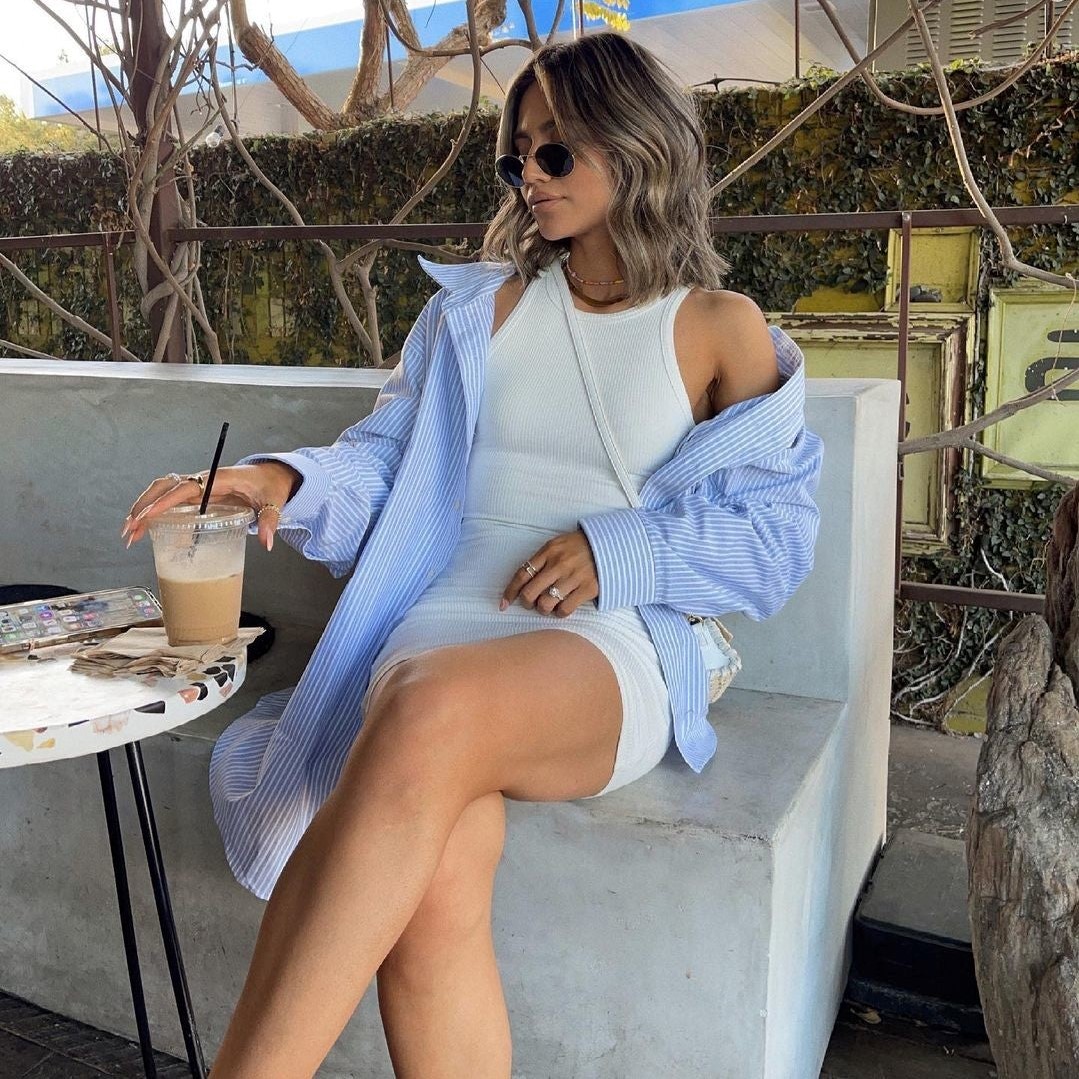 So, you might be wondering how Windsor is different from other women's clothing brands. Well, we also took a look at Roolee to compare and see how these two companies match up.
First, we'll go over a few similarities between Windsor and Roolee:
They both have a mission that's based on empowering women
They both offer worldwide shipping
Their items are within the same price range
At the base, the brands are pretty similar. But, while digging deeper, we did find a few differences as well:
Roolee focuses more on casual wear for both women and children
Roolee offers home decor in their collection
Roolee has a 'Try It on at Home' program, which gives you 7 days to try on clothes, pay for the ones you want, and return the ones you don't want.
So, which company piques your interest? If Roolee is scratching that itch, you can check them out here..
Windsor Reviews: What Do Customers Think?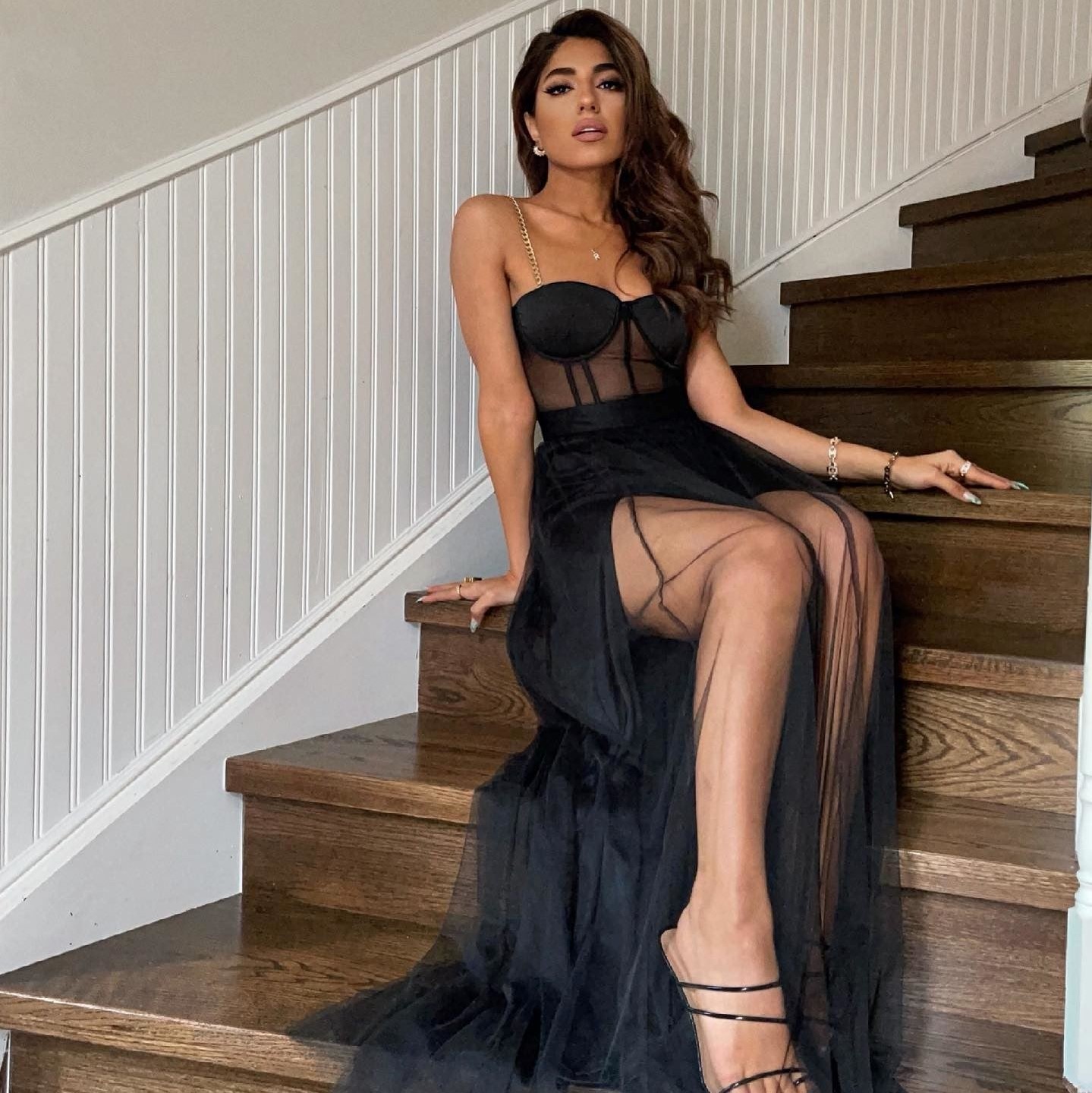 So, what are customers saying about the clothing company? This Windsor dresses review dug around on the internet to find honest feedback. We found some on their main website and third-party sites such as Trustpilot, SiteJabber, and TrustMamma.
Reviews on their main website are generally positive. Unfortunately, they don't receive the same reception on other sites, but we'll get to that later. Here's the average main site rating for the products in this review:
Rhiannon Satin Dress: 4.3/5 stars from 51 reviews
Persephone Formal Satin and Sequin Two-Piece dress: 4.3/5 stars from 3 reviews
Mona Formal Plunging Glitter Dress: 4.4/5 stars from 30 reviews
Lola High Slit Satin Dress: 4.4/5 stars from 151 reviews
Kayla Sequin High-Slit Formal Dress: 4/5 stars from 1 review
Ravishing Lace Bodycon Dress: 5/5 stars from 16 reviews
Fresh Start Floral Off Shoulder Dress: 4.3/5 stars from 8 reviews
We've decided to focus on the Lola High Slit Dress. This piece has the most reviews on Windsor's website, and many customers love the fitted bodice. They say it fits true to size.
One reviewer writes, "Love the fit of this dress, and it looks so pretty! It fits my shape pretty well, and usually, I have trouble with my stomach, but the ruching helps."
Ladies are loving the Lola. Another customer agrees, saying, "Such an incredible dress! It looks so good on the body, hugs all the right spots, and looks so expensive on. I got it for a friend's wedding as a guest, and I am so happy with it."
The Rhiannon Satin dress also gets excellent reviews, with one customer saying, "Beautiful dress! It's a little too long but not enough to be upset about. I'm so excited to wear it for prom."
Reviews on all three websites have common themes: unresponsive online customer service, bad in-person service at retail locations, and some inconsistencies with quality.
Is Windsor Worth It?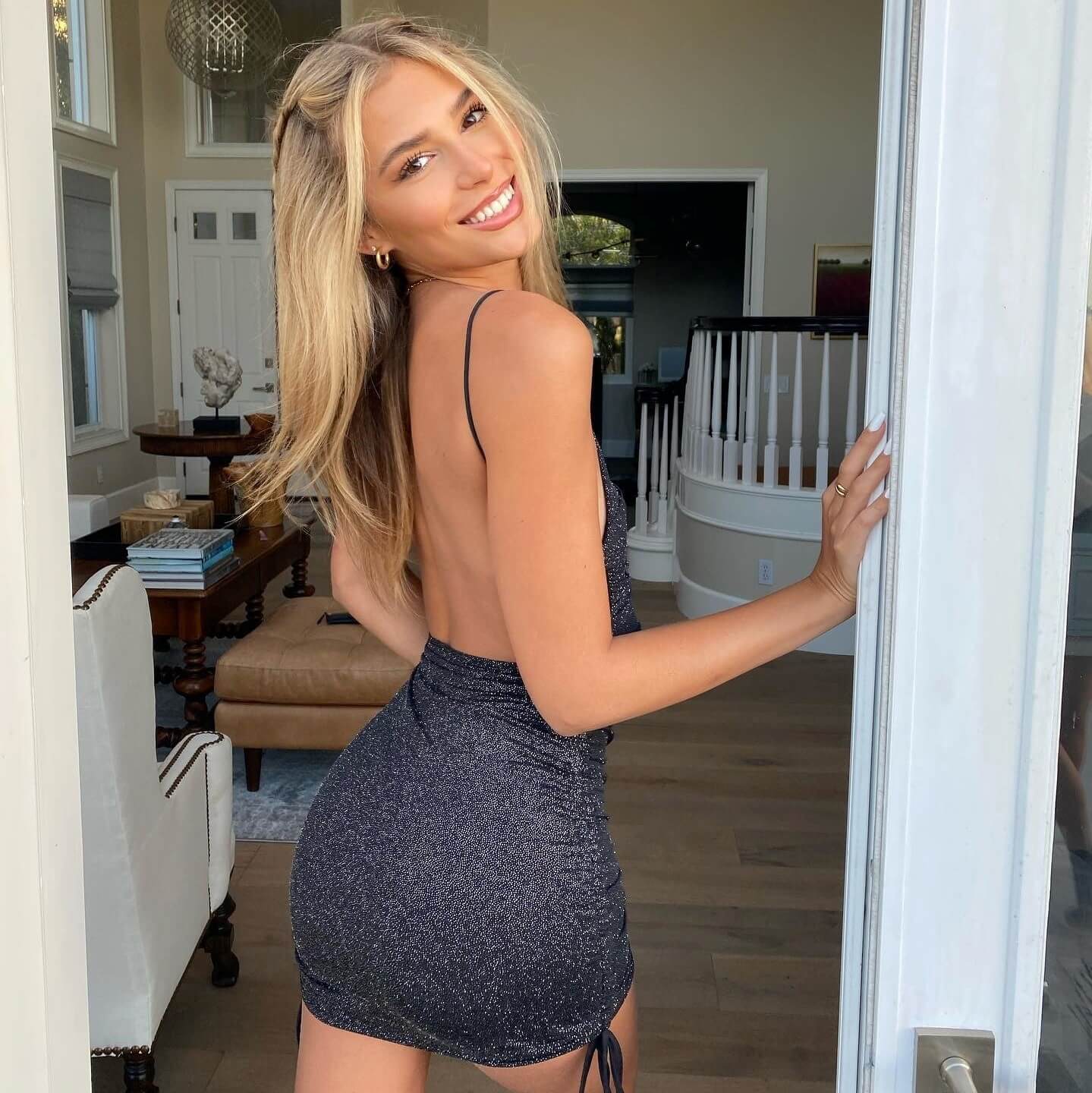 It's difficult to find reasonably priced formal wear, but Windsor definitely breaks that mold. Their dresses are much cheaper than other special occasion stores, and they're great for a student's budget.
That being said, based on this Windsor dresses review, we would say that you should proceed with caution when shopping with this brand. The products are definitely beautiful and almost regal, but their return policy is not the best. Plus, the company's service gets mainly negative reviews on sources outside of their main website, and that is concerning.
Customer service is the core of a company. Unfortunately, whether it's online or in-person, Windsor fashion doesn't get much praise for either.
Products on their website also have limited reviews, but not a lot of them are negative. So, it's safe to say that Windsor might not publish unfavourable testimonials around its products. But, most people complain about the service and not the dresses.
Ultimately, the brand can help with outfit inspo. But, you should definitely do a lot of research before actually buying that Windsor corset top you've picked out.
Windsor Promotions & Discounts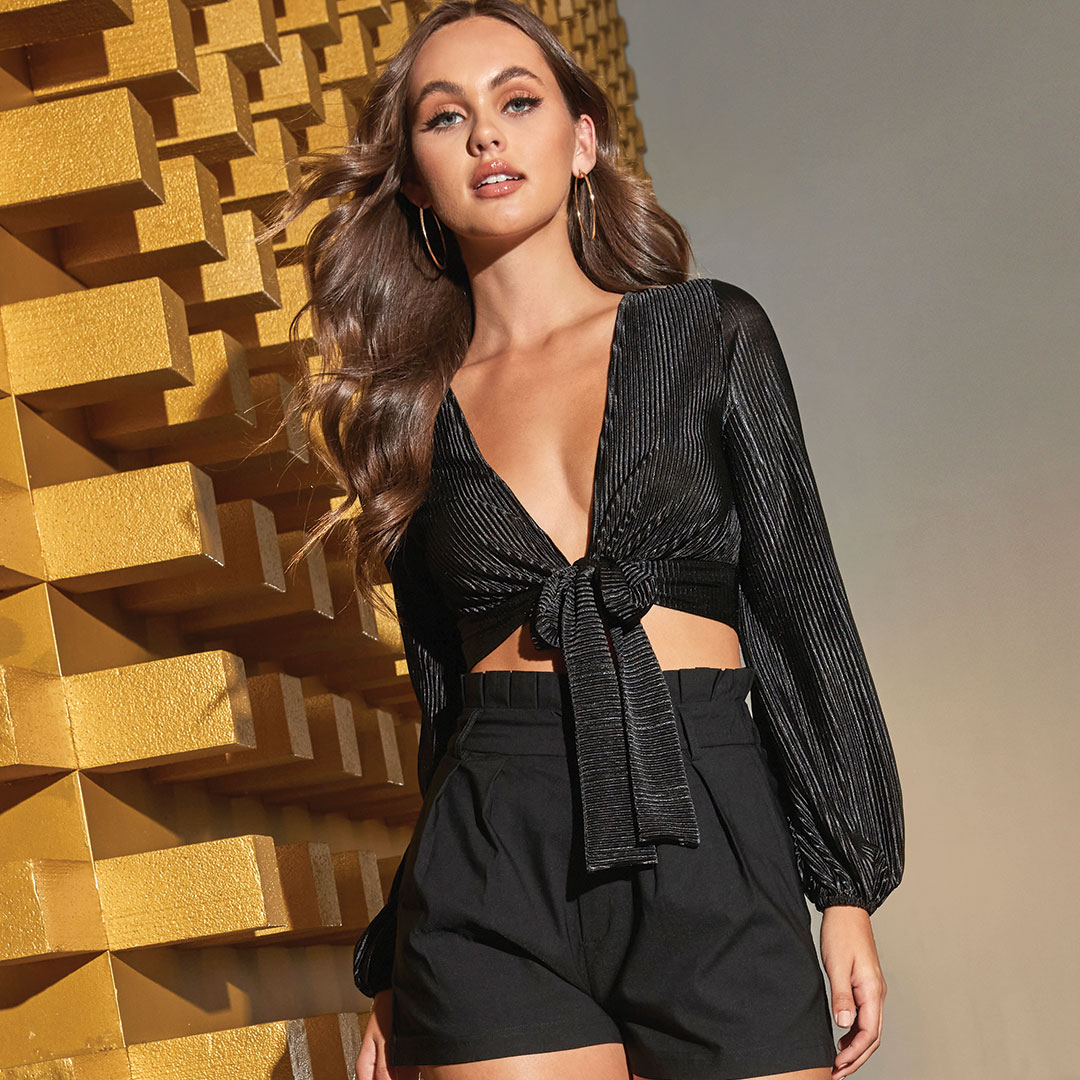 Windsor offers a VIP Member program, and upon signing up, you can receive 15% to 30% off your next purchase. You'll also get early access to promos, exclusive deals, and an annual surprise for your birthday.
At the time of this Windsor dresses review, the brand is offering a 65% off sale.
Where to Buy Windsor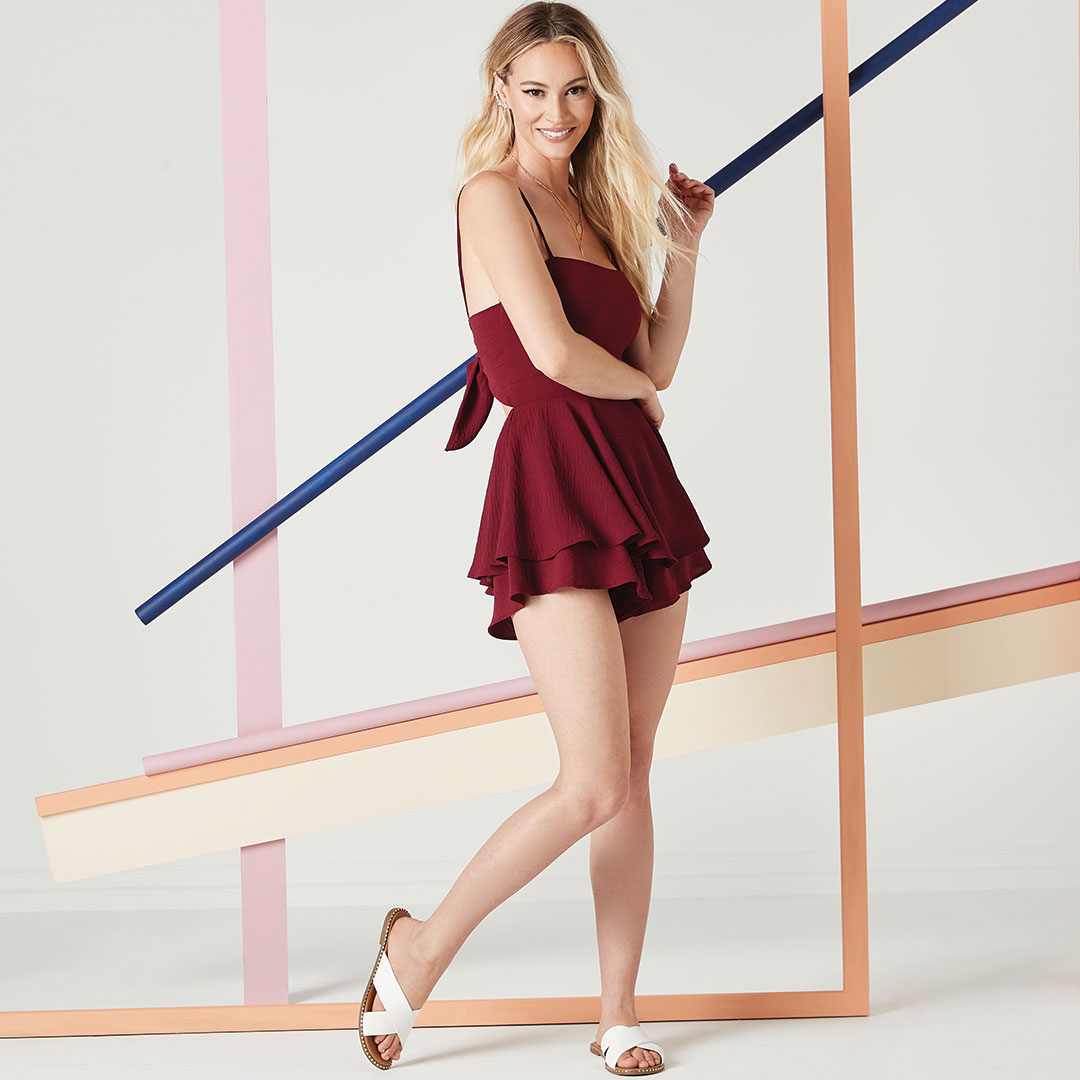 Can't find that cute Windsor lacy bodysuit in any of their retail locations? Shop the brand's online collection at windsorstore.com.
FAQ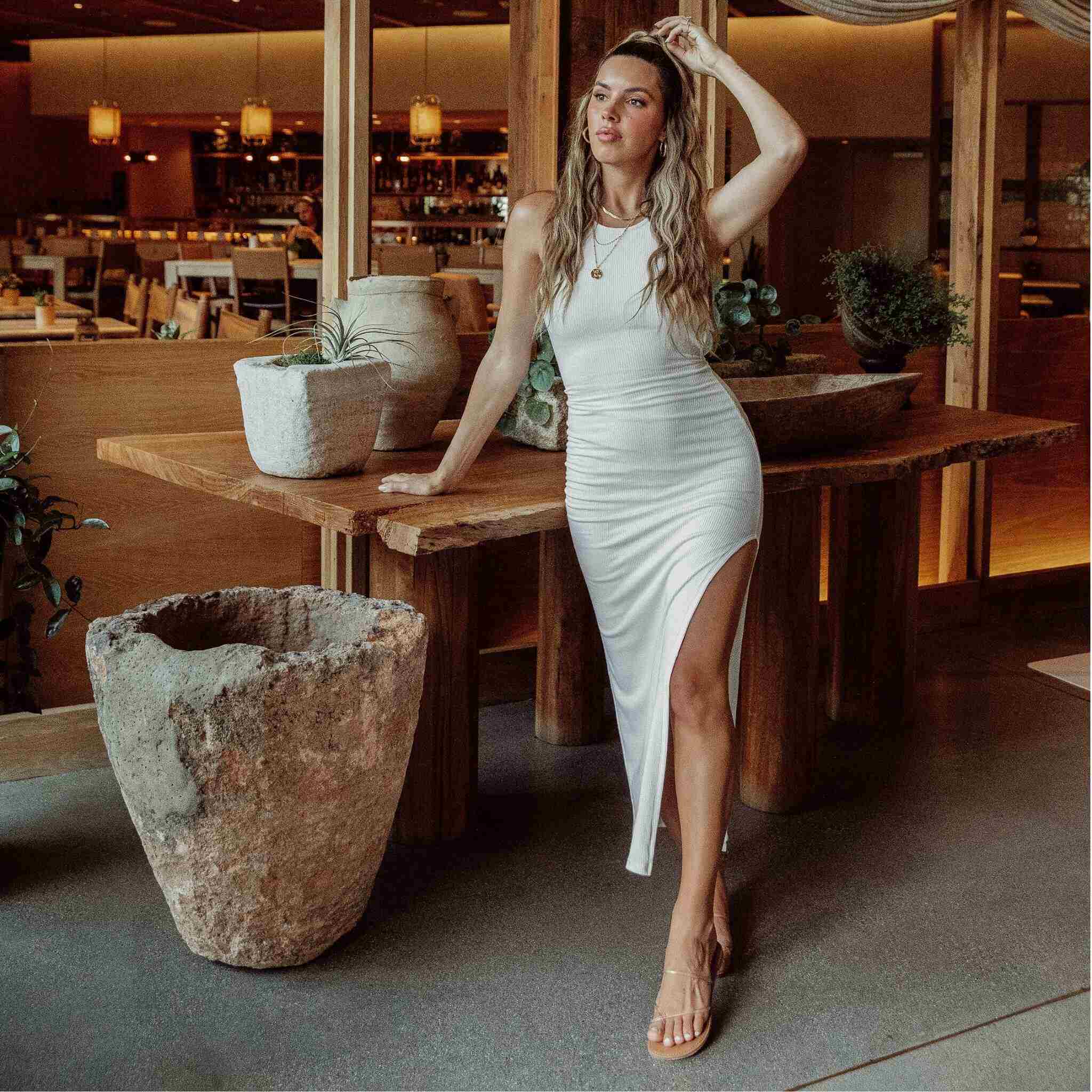 Where is Windsor based?
Windsor's HQ is based in Los Angeles, California. They also have over 200 locations across the United States.
Where is Windsor made?
Unfortunately, this Windsor dresses review couldn't find any information about where their clothing is manufactured. But, the company regularly ensures that their suppliers are using ethical practices.
Does Windsor fit true to size?
Windsor does fit true to size, and some of their items have a bit of stretch as well.
What is Windsor's Shipping Policy?
Windsor delivers worldwide, and free shipping is available for orders that are over $75. They offer three different shipping methods for US customers.
This Windsor dresses review has compiled all the available options, plus the estimated shipping times and prices.
Everyday Shipping (1–9 business days): $6
Standard Shipping (1–5 business days): $10
Express Shipping (1–2 business days): $24
Shipments to Alaska and Hawaii are completed via Express Shipping. Fees for international orders are calculated at checkout.
Express shipping for their international locations generally takes about 1 to 3 business days. Here's how long standard shipping takes for some of these locations:
Canada: 3 to 10 business days
Australia: 5 to 10 business days
New Zealand: 8 to 10 business days
Saudi Arabia: 5 to 11 business days
This Windsor dresses review found that standard shipping is not available for Mexico, Singapore, Hong Kong, or Japan.
What is Windsor's Return Policy?
Windsor has a 30-day return policy, while their formal dresses have a 14-day window. But, these policies begin at the ship date in the US, not the delivery date.
The return label costs about $7, and the customer is responsible for any additional charges. Fashion tape, adhesive bras and panties, earrings, cosmetics, and intimates are all final sale.
You can initiate the process through Windsor's return portal. International return costs are calculated after processing your item, and duties are not included in your refund.
How to Contact Windsor
Do you have your eye on some Windsor homecoming dresses? Have questions beyond this Windsor dresses review? You can contact the brand via:
Phone: (888) 494-6376
Filling out the online contact form
Windsor's customer service hours are Monday to Friday, 7 AM–4 PM PST.