Whenever people talk about email marketing tools, ActiveCampaign is usually mentioned.
But how good is this tool?
In this ActiveCampaign review, we'll look into what the hype is all about, what features it has, and its main strengths and weaknesses.
After reading this post, you should be able to determine for yourself whether this email marketing automation tool is something your startup or small business can use.
What is ActiveCampaign?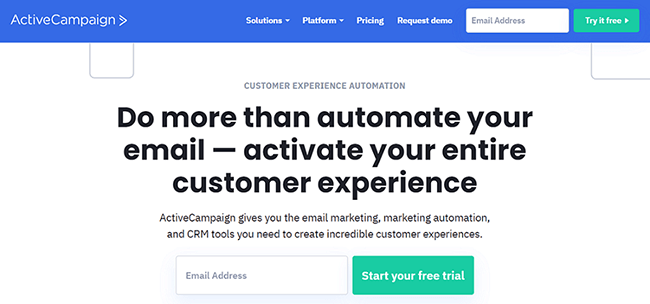 ActiveCampaign is widely considered as an email marketing and automation tool.
However, a closer look at its features (which we'll talk about later) should tell you that the software is more than that.
Its main goal is to help people grow their businesses and ventures from the ground up by providing better customer experiences.
That means, on top of email marketing features common among the best tools around, ActiveCamapign has a host of other bells and whistles that makes the customer journey all the more worthwhile.
And to get a better idea of what ActiveCampaign is all about, we need to discuss the different features it has at its disposal.
ActiveCampaign features
At the heart of ActiveCampaign is its comprehensive email marketing functions.
But it branches out from these features to create a more immersive experience not only for your customers but also for users such as yourself.
Using ActiveCampaign will help you realize the power you wield with your business and help tap into your abilities to engage and interact with your audience.
And to help you fully understand this, we must break down its different components, starting at its very core.
Email marketing
Let's face it: email marketing is all about collecting the most prospects and sending the best emails at the right time, right?
While the statement above is true, executing it to perfection is easier said than done.
Each of these variables has other moving parts that you need to manage and have full control of in order to yield the best results.
Among the different tools available in the market, ActiveCampaign offers one of the most loaded suites of features to help you launch your email campaign.
Segmenting your list
One of the most understated things about email marketing is organizing subscribers to their respective lists.
The ability to segment your audience into different groups allows you to send them more targeted emails that guarantee higher conversions.
ActiveCampaign lets you do this by tagging subscribers based on how they joined your list.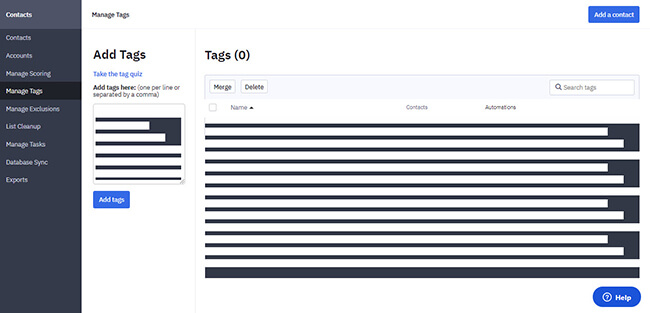 For example, if a subscriber joined your form promoting a product, then you can create a "product" tag to append him or her. So, whenever you have an email related to the product, you can send it to your subscribers that have this tag.
This way, only they can receive the email and not those without the tag.
Collecting emails
Now that you have created segments for your list, you must build one next.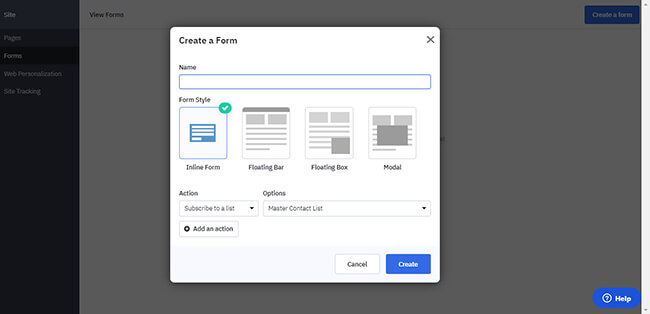 ActiveCampaign allows you to create unlimited forms using any of the four layouts:
Inline Form – Create a form you can embed or insert into a page on your site.
Floating Bar – Install a sticky bar on your site that remains on top even while you scroll up or down the page.
Floating Box – Set up a box that will appear on any corner of the screen after a period.
Modal – Build a triggered opt-in box that covers the screen, making it hard not to be seen.
You can also assign what will take place once a user completes an action on the form (add a tag or deal or subscribe to a list).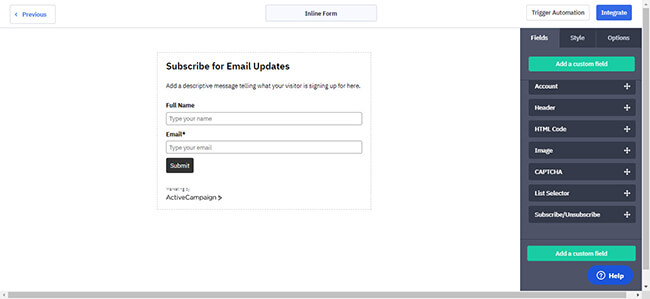 Building the form is very straightforward as you can edit the text, layout, appearance, and theme of the form as you see fit.
You can also drag and drop elements onto the form if you want to add more details to it.
Aside from collecting leads using forms, you can create landing pages.
The best thing about this is you don't need design experience to create build beautiful pages that convert. Simply choose from the tool's selection of templates.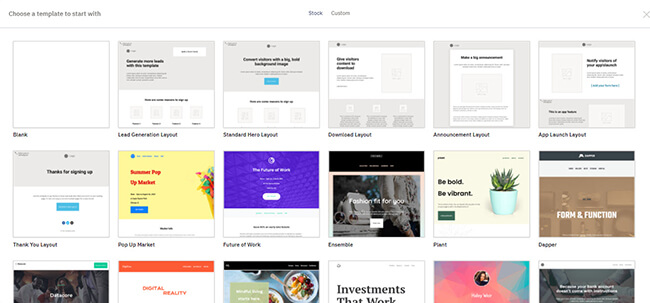 Once you've chosen the template to use, you can edit its elements to tailor-fit your needs.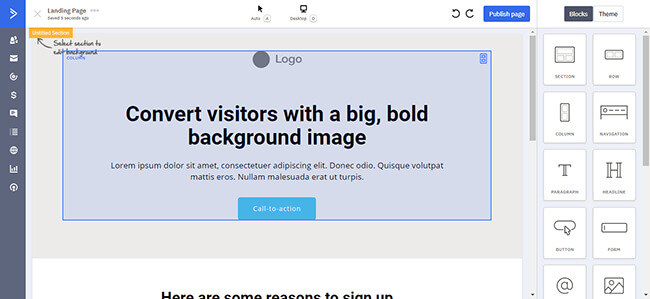 You can drag and drop blocks and move them to your desired location on the page. You can also customize the theme and appearance of the page to achieve the look and feel you want and need.
Aside from using ActiveCampaign landing pages to build your email list, you can also use them to drive traffic to your money pages and directly generate sales for every successful transaction.
Sending emails
Once you've built your list, it's time to engage with, if not monetize, them via emails.
Create a campaign by choosing the type you want to launch and send to subscribers.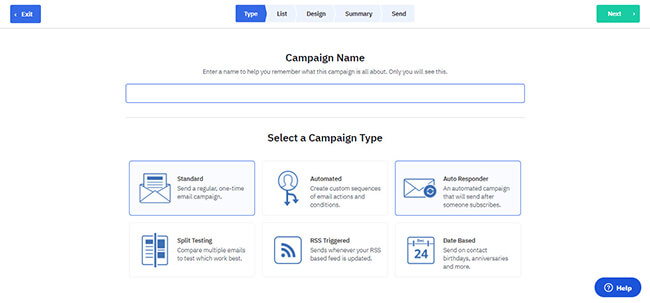 Below are the types you can choose for your campaign:
Standard – Send a one-time email to subscribers or segments.
Automated – Create actions that you can use as conditions or triggers for your other campaigns.
Auto Responder – Create an email that new subscribers will receive immediately.
Split Testing – Launch multiple variants of the same email and see which converts the best.
RSS Triggered – Send emails whenever you publish new content from your RSS feed.
Date Based – Send this email when the subscriber achieves a milestone (birthday, anniversary, etc.).
After choosing a campaign and selecting a list, you will have to design it by selecting any of the templates available.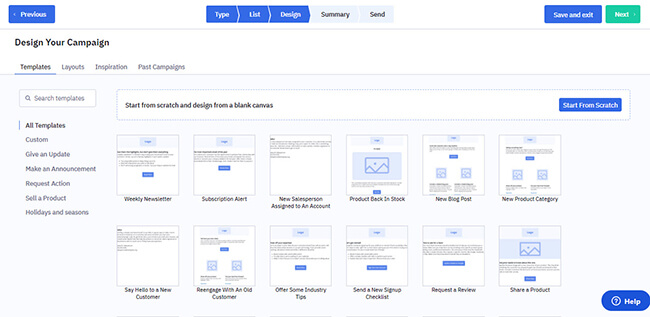 Marketing automation
Keeping up with subscribers manually is an impossible task. You simply can't send them emails one by one.
In this case, automating which emails will be sent to subscribers in a particular segment is the best solution to this.
Doing so helps you save time and effort from manually sending them the emails.
More importantly, you can set up a series of emails that will be sent to people on your list automatically so you can sell even while you're asleep!
You can do this on ActiveCampaign by creating an automation recipe, starting with its triggers.
Similar to building landing pages, creating automation triggers are easy as you can choose from different templates categorized according to industry.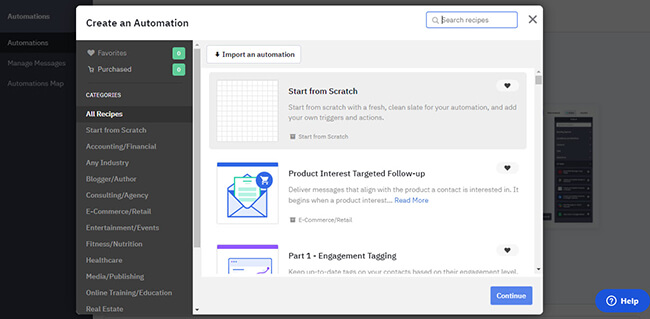 You have the option to start from scratch, but it's more convenient to just choose a template that suits your needs and edit it to your liking.
Once on your editor, you can tweak the template to your preferred design and message by adding blocks to the email.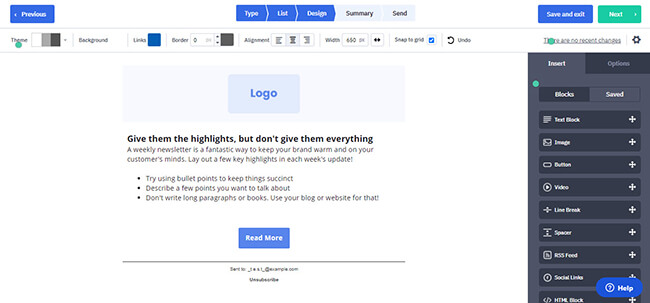 Before launching the campaign, you can edit when it will be sent, track the replies, which automation triggers to use after the recipient opens the email, and more.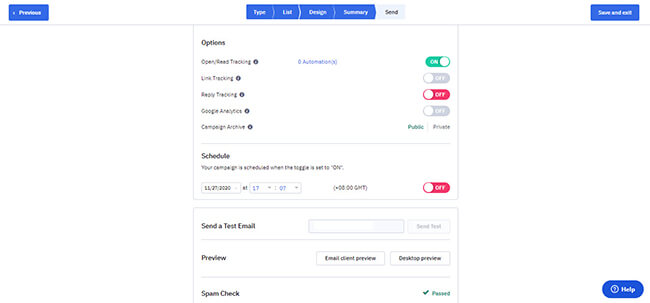 Once the automation is created, you can employ this and others whenever you want to build a recipe for a specific action to be performed on your site.
CRM & sales automation
It's one thing to keep your list engaged by sending them emails.
It's another to know what stage they are in your sales funnel.
If you're not aware of what stage they are in your funnel, you won't be able to send them the best email to convert them into clients.
With ActiveCampaign's CRM tool, you can store information about your leads and contacts necessary to help effectively turn them into paying customers.
Arguably its best feature is lead scoring. You can choose between Contact Score or Deal Score.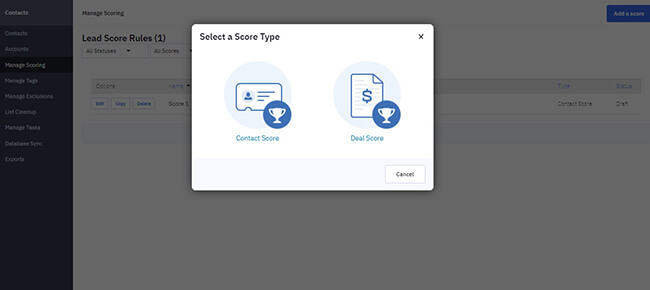 The former allows you to create actions on your subscribers if they meet certain variables. If they do, you can transfer them to another segment or append a tag on them.

At the same time, every successful variable subscribers hit bags them a score. Therefore, the higher their score gets, the more likely the lead will convert.
From here, you can prioritize leads with the higher scores since they're primed for conversions.
Service & support
If you want to provide excellent and responsive support to your prospects and customers from your website, ActiveCampaign has got your covered.
It begins with the live chat widget you can embed on any page of your site.
Since most people want to find out answers to their questions without having to call via phone, live chat allows your business to respond to queries immediately without needing a phone number.
All you need to do is use ActiveCampaign's Conversations feature to set up the appearance of the live chat widget before installing the code on your site page.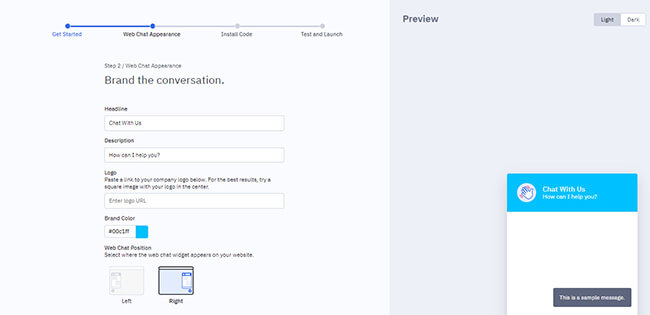 You can even turn the widget into a chatbot by setting up automation rules.
From Automations, create a recipe from scratch, choose "Submits a form" for action, and select "Conversations chat form" from the drop-down menu.
From here, you can set up automated replies via messenger, email, or SMS. Even better, you can segment the information of users so you can send them relevant content based on your automation recipes.
This way, you can keep the conversation going even if no one from your support team is around or even if the chat has concluded!
ActiveCampaign pricing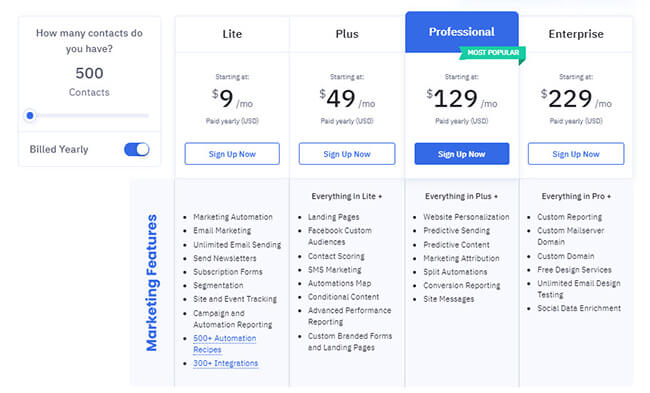 ActiveCampaign offers four plans for users to choose from. Upon signing up, you are eligible for a 14-day free trial. Use this time to put all its features to the test to help you make an informed decision about the software.
Each plan only allows you certain features to use. The lower the plan, the more limited the features you can access.
Also, their prices depend on how many subscribers you have. The more subscribers you have, the greater the price becomes regardless of which plan you choose.
Below are the different plans they offer and the list of featured included in each:
Lite
Perfect for: small businesses and startups working on a tight budget
Starts at $15 per month ($9/month paid annually) for 500 contacts
Create subscription forms to collect leads to whom you can send unlimited emails and newsletter
Segment your list and create marketing automation recipes you can track and monitor
Integrate with over 300 third-party tools and apps
Get help from up to three (3) user to manage chat and email support
Plus
Perfect for: Digital marketing teams looking to scale up their performance by generating more leads and conversions
Starts at $70 per month ($49/month paid annually) for 500 contacts
Includes everything under Lite Plan (plus up to 25 users for chat, email, and support)
Create custom branded landing pages and form to collect even more leads
Score contacts and leads and keep track of their activity from its CRM tool
Nurture prospects through SMS marketing to complement your email efforts
Professional
Perfect for: Businesses that want to use the tool's best lead generation and email marketing features
Starts at $159 per month ($129/month paid annually) for 500 contacts
Includes everything under Plus Plan (plus up to 50 users for chat, email, and customer support)
Leverage tool's predictive AI for sending emails, creating content, and calculating win probability for increased conversions
Receive messages from the software using its live chat widget to be featured on your site
Use split automation to provide leads and customers with a more personal experience
Enterprise
Perfect for: Agencies and enterprises looking to unleash ActiveCampaign's full power
Starts at $279 per month ($229/month paid annually) for 500 contacts
Includes everything under Professional Plan (plus unlimited users for chat, email, and customer support)
Receive free design services for your emails, newsletters, and landing pages
Take advantage of custom reporting and mailserver domain
Get help from dedicated account reps who will guide you through the process
ActiveCampaign pros and cons
I'm going to go ahead and say that ActiveCampaign doesn't have a glaring weakness.
Nonetheless, it doesn't mean that the tool is for everybody.
Below is a shortlist of what makes the software one of its kind (and a con that you need to consider before jumping the gun on this tool):
Pros
All its features work within an ecosystem in which everything is connected so you can manage your leads and customers more effectively.
Lots of templates you can choose so you don't have to build a page, form, campaign, and automation recipe from scratch.
Easy to use drag and drop builder makes creating email and page content easy for non-designers.
Intuitive lead scoring feature helps you make measured actions to identify warm and hot leads.
Incredibly powerful marketing automation features that let you run your business on autopilot.
Con
Has a steep learning curve that users must get a handle of first to fully understanding how to use its intricate features and how they work with other each.
Frequently asked questions
What is ActiveCampaign good for?
ActiveCampaign is one of the best tools for businesses looking to create intuitive and engaging customer experiences using different methods of communication such as email, SMS, and live chat.
Is ActiveCampaign better than MailChimp?
It depends on what your goal is. If you're looking to optimize your marketing and sales processes to increase conversions, ActiveCampaign has all the features you'll need. But if you want features to help run your e-commerce site more effectively, MailChimp has them in spades.
Is ActiveCampaign a CRM?
ActiveCampaign has CRM capabilities. You can profile your leads and customers from the tool and monitor their progress to know which approach you must take to make a sale. That said, ActiveCampaign also happens to be one of the best marketing automation software providers on the market.
How much does ActiveCampaign cost?
ActiveCampaign costs $15 per month for 500 contacts. The price increases if you reach your contact limit or you move up to a higher plan.
ActiveCampaign review: Verdict
We've barely scratched the surface as to what other things ActiveCampaign can do for your business.
There's its Machine Learning (ML) feature that identifies the best time email variant to send to subscribers to subscribers based on their recent open rate history.
The ActiveCampaign CRM Chrome extension lets you manage your leads and customers straight from your Gmail account. From there, you can set up tasks for your sales team to do for each contact.
At this point, however, I think you know where I'm going with this.
This ActiveCampaign review feels more like an affirmation that it is definitely one of the top email marketing tools out there, if not the best.
Its marketing automation feature ties everything together and elevates the software to greater heights.
You can create different recipes for every action users make on your site, live chat, and the emails they receive. From here, you can keep them engaged with your brand to help push for more conversions.
The only thing that's keeping it from being truly useful for everybody is also what makes it great: there are too many features crammed into the software.
This isn't a disadvantage by any means, especially since everything works really well. However, it's the one thing keeping newbies from realizing the true power of ActiveCampaign.
Other than that, there's no other way I can't recommend this tool enough to give your customers the best experience they deserve.