Budget truck rental review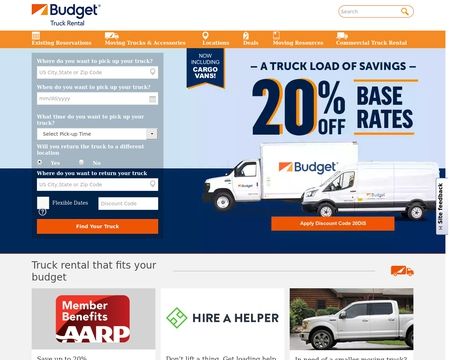 Budget truck rental company emerged in the year 1998. It was a new arrival in the moving industry at the time when some veteran companies like uhaul were already flourishing in business. The company witnessed consistent growth and today they manage a total of 32,000 trucks and provide their services across the nation.
Budget truck rental, as the name suggests, offers diy moving options at affordable rates which lets you keep your moving budget low. They strive to make your move extremely easy and make sure that you don't have to pay an arm and a leg while you try to get the best services for your move. Before you decide to sign any deals with budget truck rental, let us tell you everything about them so that you can make informed decisions about your move.
Budget truck rental: how does it work?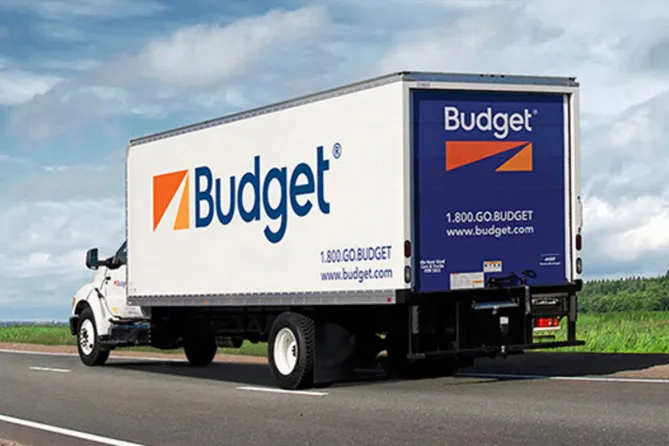 The most beneficial aspect of a diy move is that you are your own boss. No one can sit on your head and make you rush through things. When you go for a diy move, you have to pack your stuff, rent a truck, load it, drive it and unload it all by yourself. It might seem like a lot of work. On the flipside though, being able to have complete control of your move can save hundreds or even thousands of dollars in the process.
When you rent a budget rental truck, they give you the following two options. You can rent a truck for a day. This option is generally available for customers who are planning a local move. One where the truck needs to make a round trip to the same company location at the end of the day. You can also opt to rent a truck for multiple days for a long-distance move. In this, you have to pay for the one-way trip made by the rental truck to your new house.
Making a reservation and moving with budget is very simple. Let us walk you through the moving process with budget truck rental:
Before the move
A diy move means that you are the one who makes an inventory of all your belongings and determines what size of a truck you would have to rent. Pack all your belongings, you might have to request help from your social circle if you wish to finish up the packing process quickly. You can then go online and visit the budget website to get a quote for your move. The website is remarkable and absolutely user-friendly. You don't even have to put in your personal details if you just want a quote!
After you get the quote, budget will also give you a few options of add-on services with their price values. Here are some of the add on services provided by budget to its customers:
Furniture pads: you can get 12 quilted pads (3 ft x 5ft) to protect your furniture from scratches.
Hand trucks: you can use them to simplify the process of loading as you won't have to carry your stuff into the truck.
Helpers: you can opt to hire 1-6 helpers to help you pack/unpack and load/unload your stuff.
Car trailers or tow dollies: your moving truck can tow your car to your new home.
Once you get the desired quote, you avail the extra services that you might need and then confirm your reservation with the company. You can effortlessly book all your moves online, there is no need to talk to any company representatives over the phone.
During the move
On the day of the move, you will have to go to the company facility and pick up your truck. Then you will have to load your truck. As mentioned before, budget lets you hire helpers to make your loading process convenient. They do this via a third-party app called movelift. Movelift acts like a broker and allows you to compare the prices of the loading services offered by various companies.
If you are going for a long-distance move, there is a possibility that you will pass certain toll booths. Budget gives you the option to sign up for the platepass system which helps you save your time. In this, you end up paying for the tolls, but the entire process becomes automated. You don't have to search around for cash to pay for the tolls.
After the move
If you are going for a local move, you will have to pay a daily rate. This means that you will be charged for 24 hours of usage. If you exceed that time limit, you will have to pay some additional late fees. Once you are done with your move, you will have to drop off your truck at the same facility from where you picked it up.
If you opt for a long-distance move, then you will have to go through a different payment structure that we shall discuss later. Once you reach your destination, you will have to drop off the truck to the company facility that's nearest to your house.
What size truck should you rent?
Budget owns around 32,000 trucks across the nation and offers them to their customers in 4 different sizes. The best part about their trucks is that they don't make your journeys (especially long-distance ones) uncomfortable. All vehicles are air-conditioned with inbuilt am/fm stereos. Driving their trucks isn't too difficult as they are equipped with power steering, power brakes, and dual-facing mirrors. You can get more detailed information about their trucks on their website. Let us now compare the different types of trucks offered by budget.
What is the cost of renting budget trucks?
People generally go for a diy move in order to save up on moving costs. If you are looking to move at a cheaper cost, budget is the perfect option for you. They are known for their lowest prices for services in the moving industry. They also offer their customers tons of discounts and give you the best moving deals that suit your budget.
The average cost of moving with budget truck rental company is $1,520 and the average cost of a short local move is as little as $80. Budget often provides you with a base rate. But some additional costs are added to this initially quoted price that will make your final cost higher than the initial quote. Here are some of the hidden costs that you should definitely account for while creating a budget for your move.
Security deposit: the average amount of $150 will be charged on your reservation as a security deposit. For a local move, the amount of money to be paid for your deposit can either be $150 or 1.5 times your quoted price (the higher of the two). This amount will be refunded after you return the truck to the facility. Sometimes, the money isn't refunded if the truck is dirty when you return it, or if you haven't filled it with gas.
Gas fees: many people tend to forget that gas fees aren't included in the truck rental fee. This is so because the amount of gas required by you depends on the distance traveled by you. If they give you the vehicle with a full tank, you are supposed to return the vehicle with a full tank. If the tank isn't full, make sure you know how much gas the truck had when you rented it. You will have to return the truck with the same amount of gas in it.
Per mileage fees: if you are going for a local move, you will be charged a per-mile fee which may range between $0.60 to $1. Most long-distance moves have the provision for unlimited mileage. If you are going for a long-distance move, make sure that the company doesn't charge you with a per-mile rate.
Taxes: you may have to pay some taxes like an environmental tax. They will mostly cost you about $100.
Liability coverage: you will have to pay if you purchase insurance.
Additional days fees: if you book additional days prior to your moving days, you will be able to get this extended booking at $70 per day with a $0.70 per mile rate. In contrast though, if you book for additional days on the day of your reservation or after you have picked up the truck, you will be able to get the extended booking at $85 per day with a $0.85 per mile rate.
Truck rental fees: ther
E is a daily charge that you will have to pay for the truck you rent. If you are going for a local move, you may be charged in the range of $29.99-$39.99 per day with a per-mile rate of $0.79. If you go for a medium-sized move (about 250 miles), you will be charged in the range of $252 to $330 along with unlimited mileage. Lastly, if you go for a cross-country move, you have to pay around $1,287 which will include unlimited mileage.
Make sure you don't assume the price for your move by just looking at the price reviews of budget rental trucks. You will get a personalized quote for your move when you book your rental truck. You can talk to the company representative to get more clarity on how much your move would cost you and what other additional fees you will need to pay. You can also negotiate with the representative if you want to bring the cost down.
What happens when you cancel your move?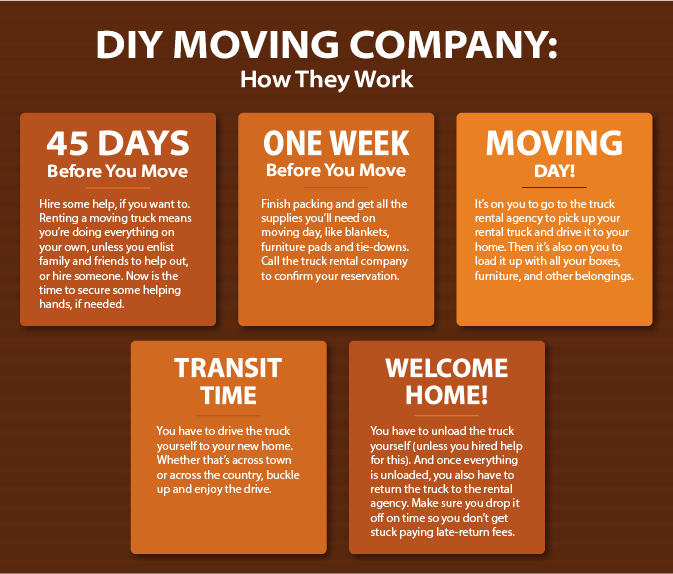 You should always enquire about the cancellation policy of a company before you hire them, as there is a possibility that you may cancel your move due to some unpredictable circumstances. If you cancel or modify your move 48 hours prior to the day you are going to pick up the rental truck, you can do it free of cost. However, if you cancel or try to modify your reservation within those 48 hours, you will be charged $75 as a cancellation fee.
Similarly, if you don't show up within 24 hours of your scheduled pick-up time, you will be listed as a no-show customer. You will then be charged with no-show fees which amount up to $75.
Does budget truck rental offer insurance?
The short answer to this question? Yes! Let us elaborate it for you though. If you are doing a diy move, there is a good chance of you not used to driving a truck. On top of that, accidents have a way of occurring out of the blue. So it is vital that you purchase enough insurance. Let's face it, you wouldn't want to experience a huge monetary loss if your belongings or the truck gets damaged while you are moving.
One thing you need to remember is that insurance coverage is not included in the quote given to you by budget truck rental. You will be given a choice to purchase the needful coverage at an additional cost by the company. The cost of purchasing insurance from budget truck rental depends on the following factors:
The value of your belongings
The size of your truck
The distance of your move
Company facility location (insurance prices change according to company location)
You will have to ask about the insurance options and their cost when you are getting a quote for your truck. There are primarily five types of coverage options offered by budget truck rental:
Physical damage waiver: this option will provide you with coverage if the truck or the rental equipment has been damaged in any way due to vandalism or burglary. Damages caused by you won't be covered under this insurance.
Supplemental liability insurance: this option will give you coverage if a third party makes injury or damage claims after being involved in an accident with you.
Personal accident and cargo: this provides coverage for the injuries that happen to the driver or the passengers and the damages sustained by your belongings during the move.
Roadside safetynet: this provides coverage for roadside assistance that you might need for your move.
Auto tow protection: this provides up to $15,000 of coverage for damage sustained by your personal car that is being towed by your truck during the moving. Damages caused by accidents and natural disasters like fires or floods are covered under this insurance option.
Reasons to choose budget truck rental
Wide availability:
Budget rental truck is one of the leaders of the moving industry because you can avail of its services absolutely anywhere in the usa (except hawaii and alaska). It is easier to do business with them as there are no limitations on their location availability.
Numerous discount offers:
Their services are already available at low prices. The numerous discounts offered by them to their customers are like a cherry on the top. If that wasn't enough, they also have a separate one for us military personnel and aarp members in the form of a flat 20% discount on all kinds of reservations. Additionally, students, people working in the emt and police or fire departments, motor club members, and the bar association members get 15% off on one-way moves and 20% off on local moves. These discounts can end up saving hundreds of dollars!
Quote generator:
Their website is quite user-friendly and the quote generator allows you to book your moves simply and efficiently. All you have to do is select a truck, find a company location and select some add-on options. Once you do this, you will get an accurate quote for your move. Then you will just have to put in your personal details if you want to proceed and make a reservation.
Save up your fuel money:
The 26-foot truck given by them uses diesel as fuel. Thus, their largest trucks are more fuel-efficient and you won't have to spend much on fuel as these trucks give good mileage.'
Additional help for loading:
Budget truck rental lets you hire helpers through them if you feel that you need help with packing or loading/unloading your vehicle. They let you compare prices and choose the helping service that is affordable for you.
Are budget trucks reliable?
Budget trucks are the most reliable truck rental company in town! All of its locations perform 10-point inspections on their equipment before each rental, and they maintain it regularly. The company purchases new trucks annually to help keep up with demand; older vehicles will be retired if they're not being used much anymore.
Is budget truck rental cheaper than uhaul?
Budget truck rental is the best option if you're moving locally and money is on your mind. In fact- their local prices are about $10 lower than u hauls!
What happens when your budget truck breaks down?
You will need to call a tow truck and find the closest mechanic. If the rental company handles everything, then they'll send someone out who knows how to fix it!
How fast does a budget truck go?
Budget doesn't list any maximum speeds for driving the vehicle unless it's being towed. They recommend not going over 45 mph when pulling an rv or semi-trailer, though- so keep that in mind if your plans include towing anything with this type of transportation.
What do you need to rent a budget truck?
All renters must present a valid driver's license and credit card (or debit card) with the renter's name. Prepaid cards are not accepted at the time of pick up.
Can you tow with a budget rental truck?
If you're thinking about towing with your budget rental truck, think again. The company doesn't allow it!
Does budget accept cash?
When you return the vehicle, you may choose to pay for any remaining rental expenses in cash, credit, or debit card. To allow a car to be given to you at the pick-up time, however, you must use a credit card or, in some instances, a debit card to secure a deposit.
Are budget trucks automatic?
A lot of them have extra features that make life easier, like automatic transmissions or power steering!
How many miles per gallon does a 12-foot budget truck get?
Budget trucks get the following mileage in gasoline: 12-foot truck: 8-14 miles per gallon. 16-foot truck: 6-10 miles per gallon (diesel fuel). 26-foot truck (diesel fuel): 8-10 miles per gallon