Booking travel around the world varies, and there are so many services to help you do so. With each offering a slightly different angle on the services they provide, it's hard to know which type of service you need. Even when you know what kind of services you need, how do you know whether they're legit?
We're here to help you out. Today, we are looking at and reviewing an India-based travel service.
Cleartrip is a cheap flight search engine that helps you book flights, train tickets, hotels, and activities. They focus primarily on India and the Middle East, but some of their features extend to other parts of the world.
So how does Cleartrip work, and is it an excellent service to use? Keep reading to find out our deep dive into the travel booking service, Cleartrip.
What is Cleartrip?
Cleartrip is a travel booking service that helps with flights, hotels, trains, and activities. They are based in India, focusing primarily on travel in the Middle East and Asia. Still, you can use their services for major cities around the world.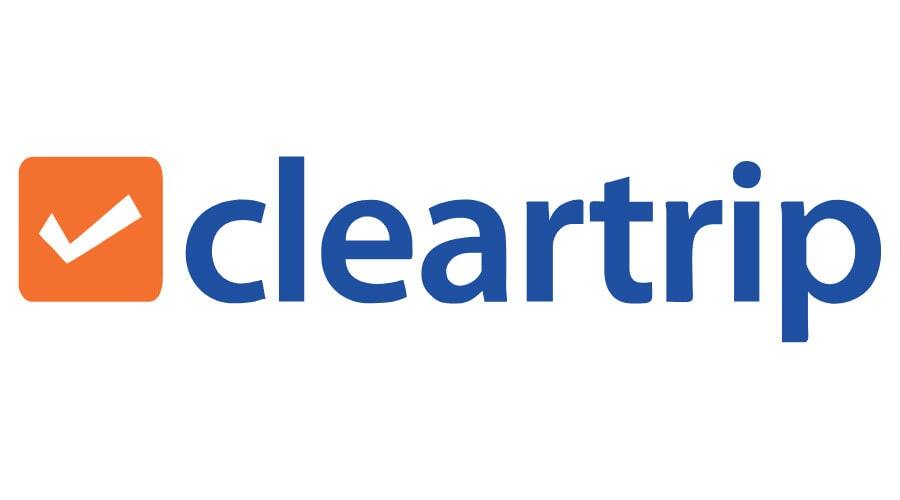 What are the features Cleartrip offers?
Cleartrip has four services they offer:
Flights
Hotels
Activities
Trains
Let's dive into what exactly do these features do, starting with their leading feature service, flights.
Flights
Primarily, Cleartrip offers a cheap flight search service where you can search for flights across many airlines worldwide.
You need to input your departure and arrival airports, dates, and how many people are flying to start a search. You can also add your seat class and airline if you have a preference.
Then, once your search returns the flights for your date and route, you can filter it even further by the following filters:
Number of stops
Departure time
Price
Airline
Trip Duration
Layover Duration
When you are ready to book, you can do so on Cleartrip's website.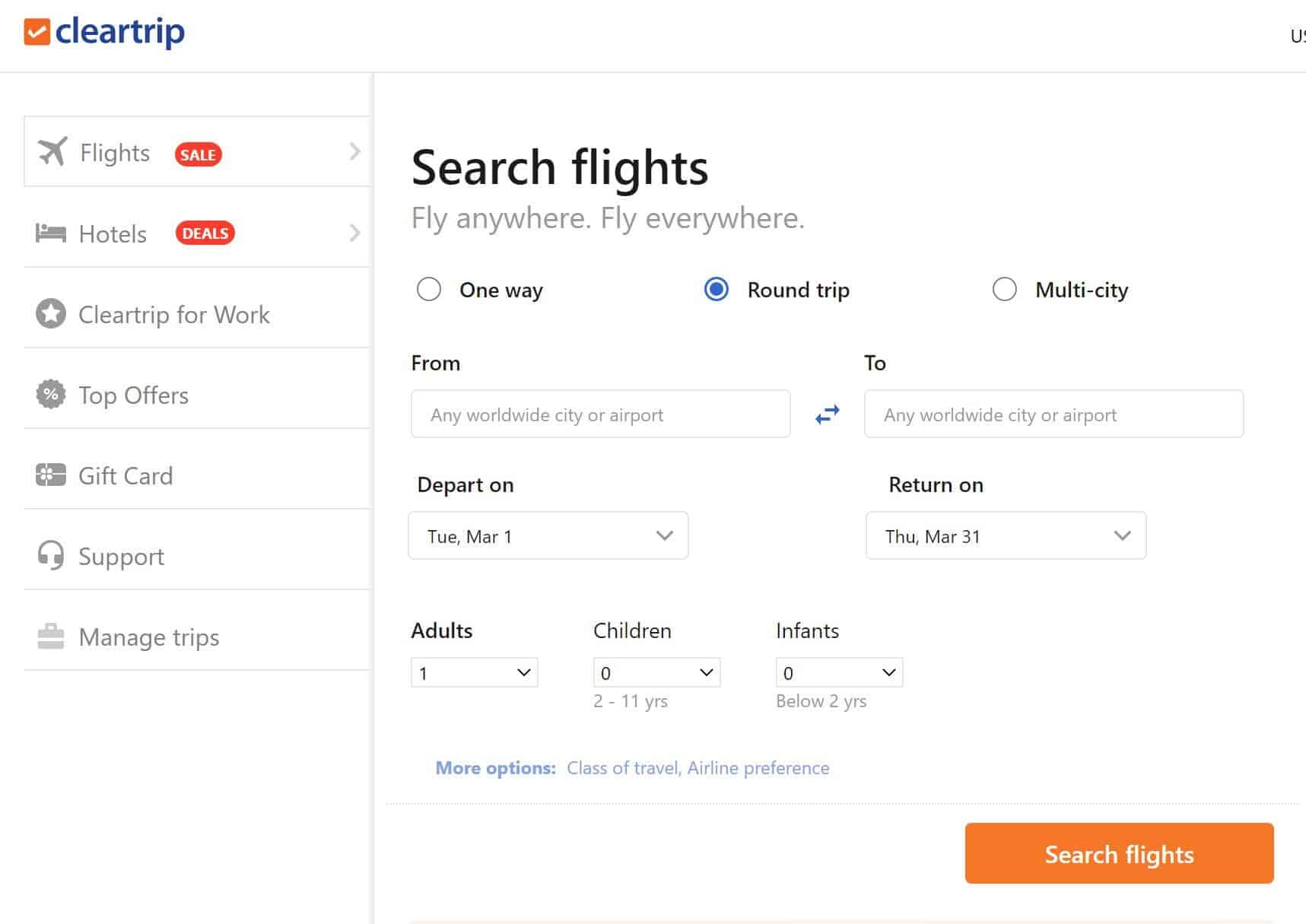 Hotels
Next is Cleartrip's hotel feature. You can use this to search for and book hotels around the world. You need to search with specific dates and the number of rooms and guests. Then, you can choose your destination by city name, a landmark, or the exact hotel name.
A majority of the hotels available on Cleartrip are in India. There are more than 3,000 Goa hotels on the site that you can book. But, you can find hotels worldwide using this search feature.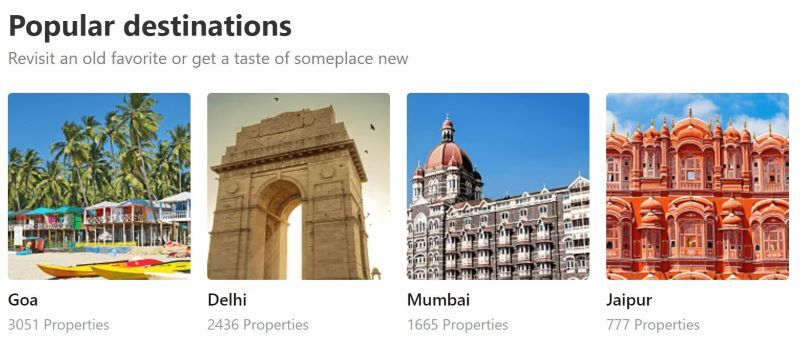 Activities
Another feature of Cleartrip is the activities page which helps you find things to do in more than 100 cities worldwide. Most of the cities are in India, but they also recommend activities in other parts of Asia and Europe. The activities come in a wide variety, so everyone can find something they enjoy.
In Asia, they have many nightlife activities like pub crawls and plenty of food tours. Cleartrip's European activities are great for history and culture in cities like Barcelona, London, and Paris. India's most popular cities for Cleartrip activities are Bangalore, Goa, Mumbai, and New Delhi, which have more than 1,450 activities between those four cities.
Trains
Finally, Cleartrip has a train search feature, like the hotel and flight search features. All you need is your departure and destination, your date, and which class ticket you want, and Cleartrip will show you the available trains.
The trains feature limited to those on the Indian Railway and nowhere else in the world. So, it's an excellent tool for train travel in India. Still, you need to use a different search engine for anywhere else.
If you are not seeing the features you want in a trip planner, check out our reviews of the top free travel planner apps for more options.
Highlights of Cleartrip
Lots of Activities for India and the Middle East
Cleartrip offers thousands of activities in India and the Middle East, with more than 900 activities in Bangalore alone. Other popular cities include Goa, Mumbai, New Delhi, and Kolkata.
If you are traveling in this region, Cleartrip is an excellent resource for booking activities while you are there and getting inspiration for which cities you should visit.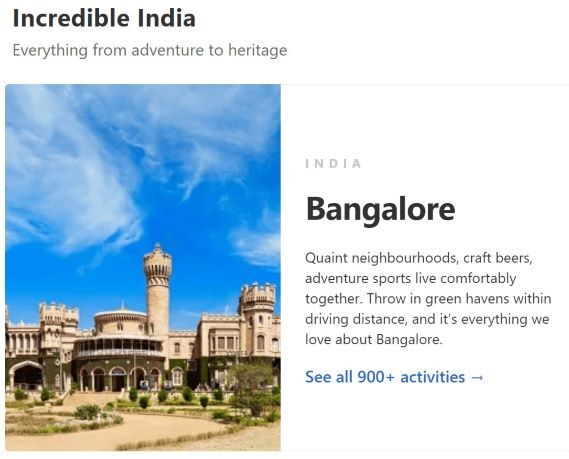 Flight Alerts 
The flight search on Cleartrip has a lot of options to help you find the best flights for your date, route, and any other filters you may have. Once your search is set up, you can turn on price alerts.
You can set up alerts for all flights on a single day, or you can filter your search and get alerts only for the flights that match your filters. Flight alerts can be sent to your phone, email, or both.
Deals and Offers
Cleartrip offers a variety of deals to their customers, like discounts on hotels in specific destinations, on flights on certain airlines, or between particular destinations.
The deals are only valid on bookings in eight countries, stemming from India and the Middle East. But, these destinations are Cleartrip's focus, so the deals work for most customers.
Limitations of Cleartrip
Expand Internationally
Cleartrip needs to expand its services outside of Asia and the Middle East. While their focus is on these countries and excellent service, they exclude travelers traveling outside of Asia by limiting the activities and services on their site for those countries.
You can find flights, activities, and hotels from countries worldwide, but the options are not as good as their primary countries. And, the train search is only for train tickets on the Indian Railways system.
If they could expand to other countries, they would be a much more useful search tool. Since the destinations are limited, travelers will have to use other travel search websites to plan travel outside India. Using different search tools that have destinations worldwide means Cleartrip isn't necessary.
More Flexibility in Search Features
Cleartrip requires you to be specific with your searches for flights, hotels, and trains. You have to know your dates, and if you want to find something cheaper, you will have to change your search dates and manually compare prices.
For example, you need to put in your specific dates when searching for hotels. It would be nice to have a feature to put in a particular month or even just see the lowest prices for a specific city or hotel.
Add More Features
Right now, Cleartrip only offers the four features we explained above, which is a good start, but they can add more since travel involves more than just four things. They could expand to other forms of transportation or travel guides and tips within India and beyond.
Another travel site that focuses on Indian travel is MakeMyTrip (which we also reviewed!). They have some more features that Cleartrip doesn't have, including a bus booking service and a currency exchange. You can also book packages and events like tours and festivals in and out of India.
Is Cleartrip worth it?
Cleartrip is a fantastic resource for travelers in India and parts of the Middle East. They offer great flight, hotel, and train searches for travelers in these countries, as well as thousands of activities in the region's cities.
However, if you are traveling outside of these areas, Cleartrip's usefulness is relatively low. There are no trains available outside of India, and the activities offered are significantly lower. You can still search for, and book flights, but other services offer travelers outside of India more options.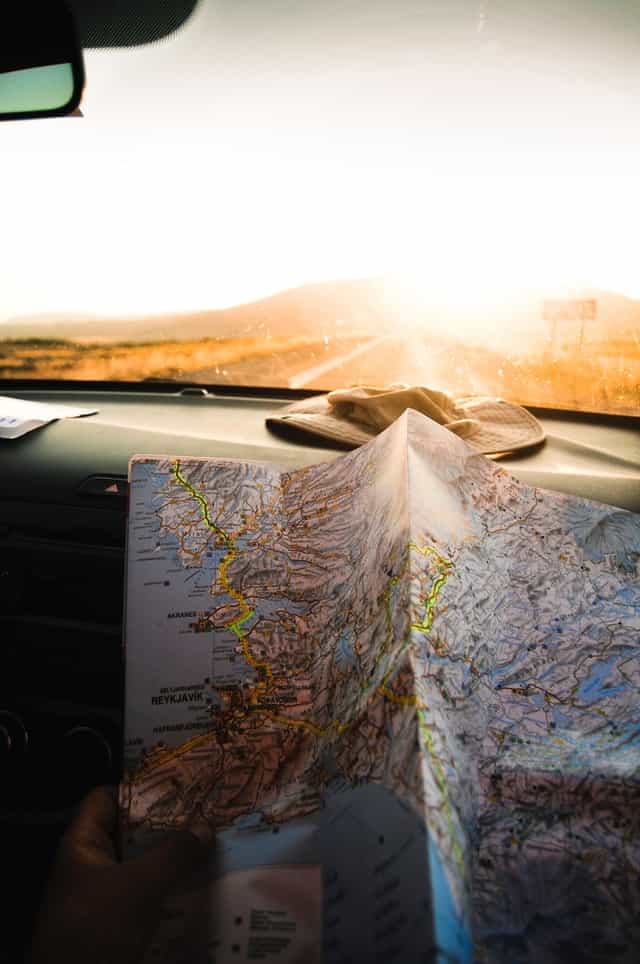 Pros:
Great for Indian and Middle Eastern travel
Flight alerts for your phone and email
Activities in 100+ cities
Deals and coupons, primarily for India travel
Cons:
Expand to more Locations
Need flexible searches, not just specific dates
Offer more features like a bus search
Plan your next trip with Pilot.
Searching for different flights, hotels, or transportation options is excellent, but having a great plan is essential for a great trip.
This is where Pilot comes in!