So now you all know that I am backpacker too. Traveling is my new love and this time, I am not with some travel journey experience but with the 'Savior Clear Trip Mobile App' review. I thought to share about ClearTrip app because through this app I found my new travel destination where I will spend a peaceful weekend with the dearest people of my life.
I called 'Cleartrip app savior' because of the great places suggestions in just a short interval of time (ultimately saves time) and for giving good prices for booking. I was planning a weekend trip from a long time but was not able to finalize any place but then suddenly when I was just exploring cleartrip app for hotels, I found 'Country Inn Kosi' under 'Weekend Getaways' section; this getaways feature seems really cool to me and I'm just loving this.
This coming vacation will be the most awaited vacation for the family and every one seems so excited about the trip, so as I, but I am more thrilling because finally, I am going to see beautiful temples of Mathura and Vrindavan (I heard a lot about this Krishna place).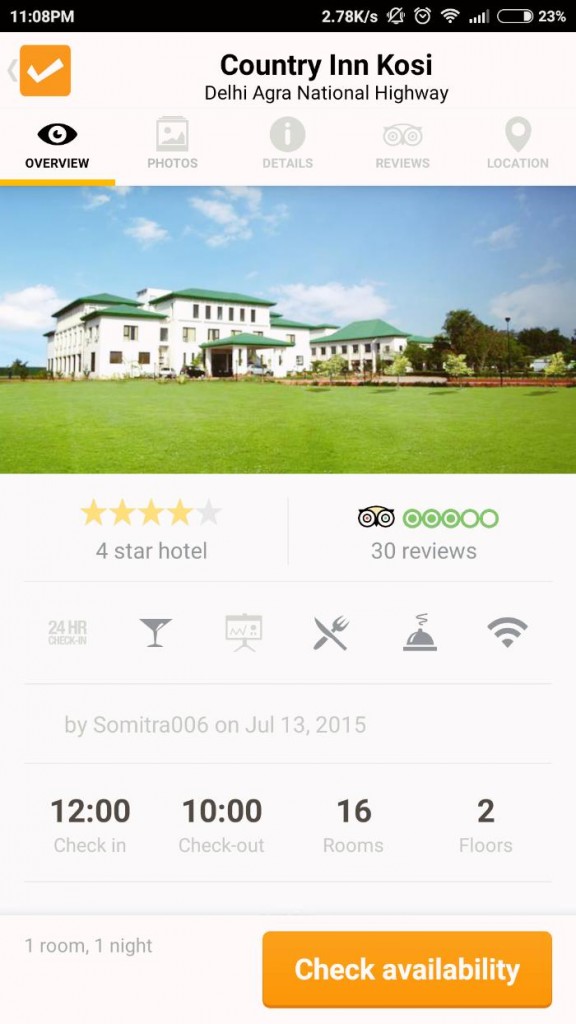 This resort where we are going to stay is on Delhi-Agra highway and Vrindavan is very close to this place. After my visit to this resort, I am surely going to come up with my experience and photo collection of 'Country Inn Kosi' and 'Mathura and Vrindavan temples'.
Not only the ClearTrip app gives the best suggestion for hotels, flights, trains and bus and but also it gives them really easy and quick booking procedure and I am the one who experienced best of ClearTrip :).
Let me explain you bit more about ClearTrip & Weekend Getaways, it is a feature of ClearTrip app shows you the nearby best resorts and hotels where you can go and spend your holidays. I selected my location Delhi and then I found best resorts and hotels categorized under the cities name. I was able to see & book best places from Delhi, Gurgaon, Manesar, Kosi Kalan, Karnal, Jaipur, Shimla, Ajmer, Dehradun and more, there was no end.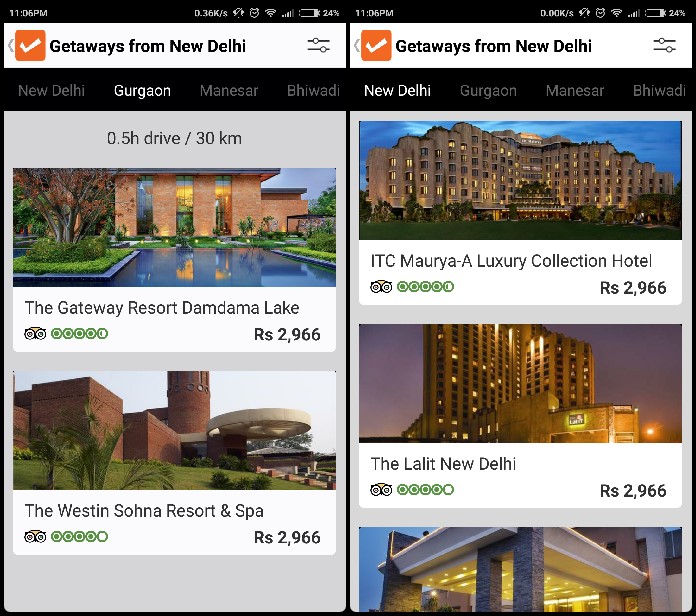 Though I was looking for a short vacation; that too for a family trip I have to book a nearby place and I stopped at 'Kosi Kalan'. We all are very attached with Kosi because my father spent his childhood there. Country Inn Kosi looks like the best resort to stay in Kosi as per the ClearTrip & TripAdvisor ratings. Best part is, I got the bookings as well but for the 4th week of Aug as bookings for the 3rd the weekend of Aug 'Independence Day Weekend' were already done.
Before making any  final bookings, I explored a lot about the Resort, I saw the pictures, facilities, exact location, reviews  and everything was so easy to navigate. I checked the TripAdvisor ratings & feedbacks as well. One thing that I like about booking a hotel through an app is  'one doesn't need to scroll down a page just few taps and all information will be on the palm' but yes a good network connection is always required With Cleartrip app, I only faced issues when my phone's 3G was not working.
Overall it was good Soon will be sharing more about The 'Country Inn Kosi and Vrindavan Visit'. BTW to find out Weekend getaways for your location download the ClearTrip app now.
Frequently Asked Questions 
Is the app completely free?
No, the app is not completely free on the App Store.
Yes, the app is secure as it doesn't store any personal information and it asks for very few permissions.
What permissions does the application require?
The app needs basic permissions like Storage, Location, and Photos/Media/Files.
Which android version does it require?
The application is compatible with android version 5.0 and above.
Does the app have a dark mode?
The app does have a dark mode.