Know Fenty Beauty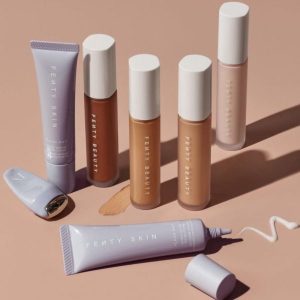 This is a brand that is owned by a renowned celebrity, Rihanna. This brand is best known for its amazing collection of highlighters, foundations, as well as lipsticks for various skin types. Fenty Beauty came into existence with a promise of inclusion of all women.
The brand has more than 10 million followers on Instagram and is spotlighted in various media outlets like Forbes, Allure magazine, Vogue, etc. Rihanna can be seen endorsing her brand continuously via YouTube.
With so much endorsement, do you think that this brand is worth the purchase? This review of Fenty Beauty cosmetics will help you know about it in-depth.
Fenty Beauty Overview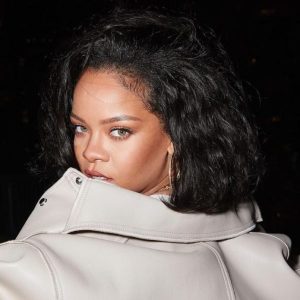 Rihanna was always in love with makeup and she used to be transfixed with her mother's lipstick. It has always been a personal thing for her to express her mood, personality, and self-expression.
The brand was launched by the star in 2017. It focuses on creating formulas that are suitable for every skin type. Here are some of the pros and cons of the brand before stepping into its actual review: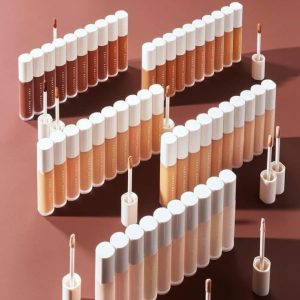 PROS
Diverse cosmetics collection which is meant for diverse skin types
There are no additives or harsh chemicals used in the cosmetics
Its skincare line is completely natural and clean
It is eco-conscious that includes packaging
Positive customer reviews
There is a payment option of Afterpay
CONS
It is costly in comparison to other competing retailers
If you are a die-hard lover of bad girl RiRi then this brand has an amazing and massive collection
of makeup that can be great to experiment with. They have everything, glittering Fenty Beauty highlighter, bronzer compact, foundations, etc.
Review of Fenty Beauty
The product of Fenty Beauty is designed for women to channel their inner goddess. The brand offers everything from highlighter, foundation, concealer, serums, moisturizers, etc. Here is the review of Fenty Beauty with some of the fan's favorite products.
Review of Fenty Beauty Pro Filt'r Soft Matte  Foundation Review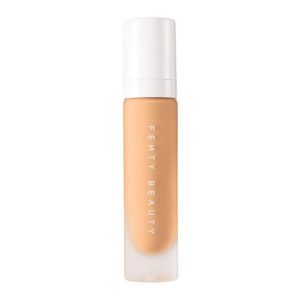 This is an award-winning foundation in 2018 by Allure. The foundation comes in over 50 different shades which make it revolutionary. It has a buildable formula and gives a soft matte texture. Also, it is oil-free and is created with climate-adaptive technology, and is sweat and humidity-resistant. It is very lightweight and offers smooth and shine-free skin. The foundation is only $36.
Review of Fenty Beauty Killawatt Highlighter Duo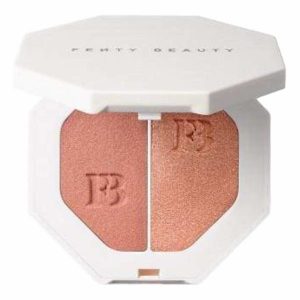 This highlighter is a weightless and cream-based powder which have superfine shimmer and blends easily while giving a radiant finish. It has a super creamy application and has two complementary shades along with various nine combinations. It's one side is for a subtle and daytime look whereas the other has very intense pigment. This highlighter is for $36.
Review of  Fenty Beauty Fat Water Pore-Refining Toner Serum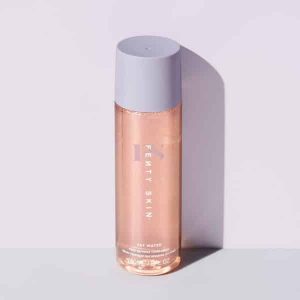 Cleaning your face is highly important. This toner serum has two skincare steps with one formula that focuses on pores as well as dark spots. It has niacinamide, a Japanese raisin tree, hazel water, and various other ingredients. The toner serum has a vegan formula that helps to even the skin tone, tightens the pores, and helps in reducing oil. This toner serum is very thick and has a water-like gel that absorbs very nicely. Also, it has a scent of cherries as well as sun-kissed fig that helps in making skin rejuvenated, hydrated, as well as fresh. It is only $28.
Fenty Beauty Pro Filt'r  Concealer Review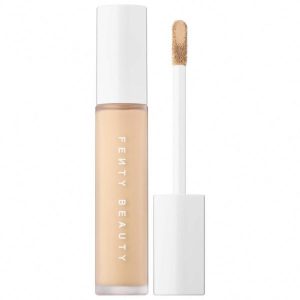 This concealer is a very creamy, crease-proof liquid that offers medium to complete full coverage entire day. The concealer is available in more than 50 shades and blends easily offering a soft matter finish. This concealer is helpful in covering redness as well as dark spots and is only $26.
Fenty Beauty Body Lava Luminizer Review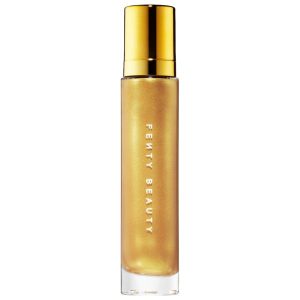 This luminizer has a gel-based formula that helps in offering a radiant, shiny, as well as dewy finish which is perfect for summer vacation. Using light-diffusing micro-pearls blended nicely sheer tint of color is important for the body. It has a very delicious vanilla aroma and has three different lava shades in it. This luminizer is only $59.
Fenty Beauty Slip Shine Sheer Shiny Lipstick Review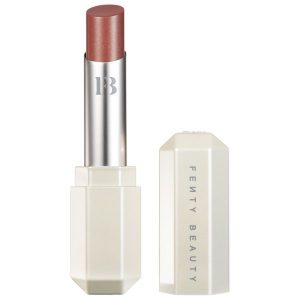 This lipstick is best known for providing hydration while maintaining the color. It has a lightweight formula that has pomegranate butter and it has a creamy texture that is buildable. The lipstick offers a shiny finish and is available in 10 different shades. This is an essential lipstick that is priced at only $22.
Fenty Beauty Mattemoiselle Plush Matte Lipstick Review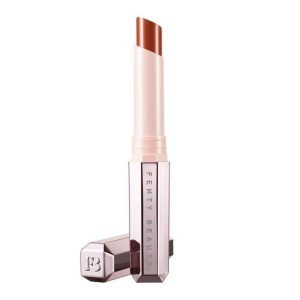 This matte lipstick is known to be the winner of Allure's best of beauty 2018 competition. It is light to apply and has a creamy texture that stays on for hours. There are 24 shades in this lipstick including orange and green. This is for $18 but customers can get it for $9 during the sale.
Fenty Beauty Stunna Lip Paint Longwear Fluid Lip Color Review
This lip shade is best for customers who like their lips to be nicely painted. It is light and creamy and offers a soft-matte finish. However, its applicator is small and precise but doesn't miss a spot when applying. It is available in nine shades and is only $25.
Fenty Beauty Gloss Bomb Universal Lip Luminizer Review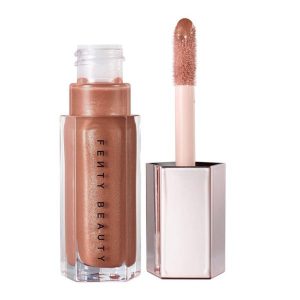 This is for team gloss. This luminizer offers amazing shine and is available in seven shades. It has enriching shea butter to moisturize your lips. Also, it is not sticky, unlike other lip glosses. It will make your lips look fuller and have a scent of peach and vanilla. This luminizer By Fenty Beauty is $19.
Reviews of customers about Fenty Beauty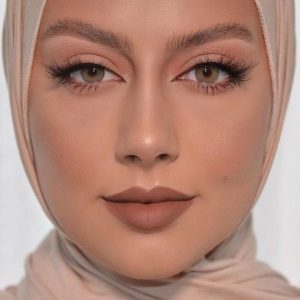 There are many amazing praises for Fenty Beauty products on its official website as well as third-party websites. Also, people have commented with an average of 4.5/5 stars to 5/5 star ratings.
One of the customers said, 'The Fenty Glow Gloss is amazing. I don't prefer lip glosses that are sticky but this one is not at all sticky. It is super comfortable on the lips and I love the shade.'
There are many continued positive reviews on Sephora regarding Pro Filt'r Soft Matte Longwear Foundation and it got 4/5 stars. Users also mentioned that it has a lightweight formula and the skin looks flawless and even.
However, there were some customer complaints as well. Some found Pro Filt'r Soft Matte Longwear foundation to get dry quickly and is hard to blend. But others found the foundation to be incompatible with oil and dry skin types. It got 2.3/5 stars on Trustpilot. Many customers also reported bad customer service and the shipping process.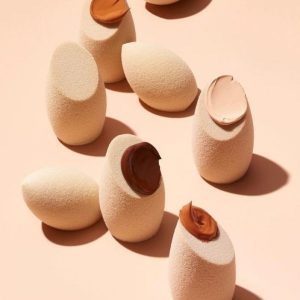 Is it worth it?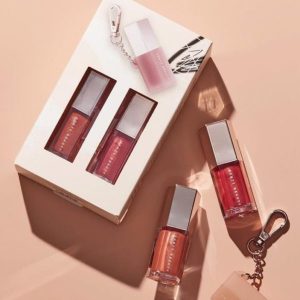 The company is promoting diversity as well as inclusivity. Also, to bet the competition Fenty Beauty offers a wide shade range. Like in Filt's Soft Matte Longwear Foundation is available in more than 50 shades. Also, their foundation and concealer are available in all light and dark skin tones. The brand also focuses on creating clean and sustainable products which are making it a big success in the cosmetic as well as skincare industry. This brand is great for makeup enthusiasts who want easy access to makeup.
Promotions & Discounts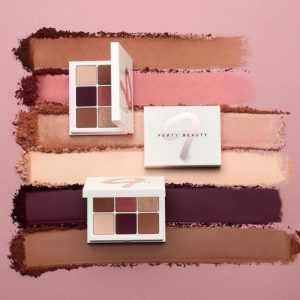 The customers can get 15% off on their orders if they subscribe to Fenty Beauty.
There is a separate category of sales on their website where customers can find various products at discounted prices.
What is the right place to shop for Fenty Beauty?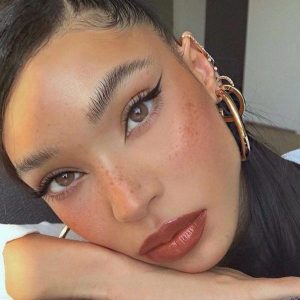 You can shop their products from FentyBeauty.com and other retailers like:
Fenty Beauty Sephora
JCPenny
Amazon
Harvey Nichols
Boots
FAQs
Rihanna is the CEO as well as the owner of Fenty Beauty.
Who is the owner of Fenty Beauty?
As per the Fenty Beauty review, Rihanna is the CEO of Fenty Beauty.
As per the ingredients lists and customer reviews, their products are of good quality.
According to the review, not all of its products are vegan but some of them are under this category. But Fenty skin is completely vegan.
Is this brand cruelty-free?
Their products are cruelty-free.
Some of their products are meant for dry skin like Fenty Beauty hydrating foundation.
Is it nice for all skin types?
There are more than 50 shades when we talk about its concealers, contour palettes, foundations, etc.
Is it helpful for dark spots?
There are selective products by Fenty Beauty that are meant for dark spots like Fat Water Pore-Refining Toner Serum.
How long it take to deliver the product?
It offers free shipping options depending on the total cost. Also, it matters if a customer is ordering in the US or international countries. The delivery process takes around 1-2 business days. The standard shipping is 3-days, 2 days, and one-day shipping, and the delivery time and fee vary.
The brand also delivers international orders via DHL express as well as DHL eCommerce. The fee for this is $10 for orders that are $50 or above. Customers get the tracking number and confirmation email to track the orders.
What is its return policy?
You can return the product within 60 days if you are not happy with the product. This is free of cost. Also, one needs to fill out the Fenty Beauty return form and mail it back to Fenty Beauty's return department. However, for international customers, one needs to return within 10 days. But they don't accept merchandise exchanges for international orders.
What is the right way to contact Fenty Beauty? 
Here are some of the ways:
Fenty Beauty's customer service email is 

[email protected]

.
You can contact them on their phone number 1-855-440-7474 from 7 am-2 am EST from Monday to Sunday.
One can also fill out the message form available on the site.
One can even direct message on Fenty Beauty Instagram page.