Best Schemes is supported by readers. Some links on Best Schemes are referral links. If you use one of these and buy something, Best Schemes may make a small amount of money
After staying clear for about a year, my skin broke out last month in horrific cystic acne. It was a nightmare, I tell you. What caused it? I actually don't have a clear idea, but I would love to blame my over-anxious hormones. I was eating clean, exercising, and listening to good music, still, the hell broke on my skin. Meanwhile, I received a beauty lot from Just Herbs.
I was not supposed to try out new products, since my skin was already under shock. I could not help but one day, I slathered Just Herbs Petalsoft face pack, and boy, my skin calmed down a lot. I realized, this clay face pack was a nice match for my inflamed and broken skin. And similarly, slowly, I started using the other products from Just Herbs. After using the products for about a month, now, I am happy to share my honest review of the products. Are you ready? Hope on my review wagon then, will ya?
About The Brand – Just Herbs
As a continuation of my list on Indian Skin Care Brands,  I am happy to add Just Herbs. The brand formulates natural skincare and hair care. The brand lets you take an Ayurveda test if you are willing to and then it suggests products to you on the basis of your doshas. If you believe in Ayurveda, I would suggest you take the test.
Just Herbs products are certified by the Ministry of Ayush. The brand does not test on animals. Also, the products are free from Parabens, Petrochemicals, SLS/SLES, PEG/PPG, Genetically Modified Organisms, Artificial fragrances and dyes, and other synthetic and harmful chemicals.
The brand offers skincare and hair care products based on skin types, hair types, and concerns. Here are 4 products that I received and used from Just Herbs.
Just Herbs Silksplash Rehydrant face Wash
Just Herbs Petalsoft Anti Tan Rose Pack
Just Herbs Aloe Vera Facial Massage Gel
Just Herbs Rejuvenating Beauty Elixir Facial Serum
My Skin Type & Concerns: I have oily, acne-prone, and sensitive skin. I started using these products when my skin was already in a bad state. I was suffering from Cystic and inflamed acne. I was not taking any medication orally or topically.
Just Herbs Silksplash Rehydrant Face Wash
Clean skin is the basic step of skincare. Just Herbs Silksplash face wash contains bitter orange and neem as it's key ingredients. Neem and Orange are any way best buddies of oily and acne-prone skin. The face wash has a honey-like consistency and does not lather much.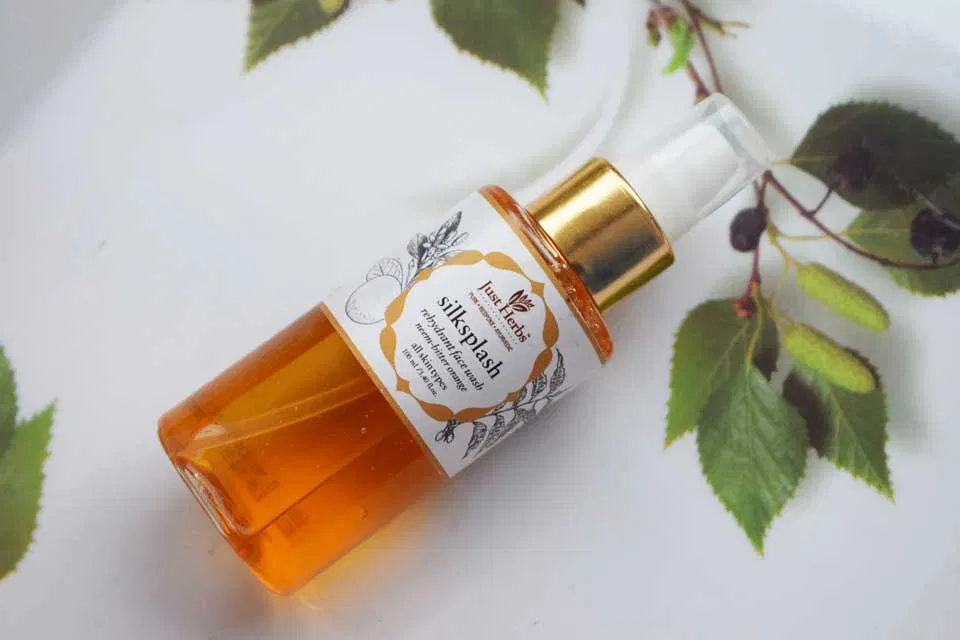 Ingredients
purified water, steam distilled sandalwood water, steam distilled orange blossom water, decyl glucoside( plant-derived, biodegradable, and gentle ), cocamidopropyl betaine(moisturizing agent derived from coconut oil ), lauryl glucoside (foaming agent, safe for skin), sodium cocoyl glutamate (foaming agent, derived from natural ingredients), vegetable glycerin, soy lecithin (emulsifier), cold-pressed wheat germ oil, potassium sorbate (safe preservative), gluconolactone(natural acidifier), ethylhexylglycerin(derived from synthetic raw material, but safe for skin), caprylyl glycol(humectant), sodium gluconate(safe for skin), natural preservative blend of herbs and essential oils, citric acid(pH adjuster).
The face wash is claimed to be 99.2% natural.
Packaging
The face wash is packed in a transparent pump bottle. A label across the bottle contains all the information about the face wash. The 100ml bottle is quite sturdy and can fit in a handbag as well.
Fragrance & Texture
The texture of the face wash is gel-based but it resembles honey. The orange-colored face wash does not lather much because it sans all the chemical foaming agents. It has a faint sweet smell with the hints of orange blossom and sandalwood.
How To Use Just Herbs Silksplash Face Wash
Using his face wash doesn't to need require special skills.
I wet my face and squirt out 2 pumps of this face wash.
I mix a little bit of water before applying the mixture to my wet face.
The face wash does not lather much, so I keep on massaging my face gently and in a circular motion.
Lastly, I splash water and wash away the face wash.
My Experience
It is a decent face wash. It does not lather much and that is not a problem for me. Actually I stay away from overly foaming face washes because they rip the natural moisture of my skin. I prefer mild cleansers and face wash.  Silksplash has a nice gel-like texture, it actually reminds me of honey. It has a mild fragrance. Overall, I like how it feels on my skin.
Coming on to the cleansing power of the face wash, it does a good job. It cleanses my oily skin very well even though it doesn't lather much. It leaves skin clean and without any slippery feeling. That's a good thing for me. I do not like a face wash to leave behind any slippery feeling on my skin.
Good Things
Herbal and natural face wash.
Cleanses well without leaving skin dry or sticky.
Balances skin.
Smells good.
Easy to use.
The face wash is suitable for all skin types.
What Could Be Better?
I feel the price of the product doesn't justify the quantity of the product.
Just Herbs Petalsoft Anti Tan Rose Pack
This anti-tan face pack has the goodness of Roses, Indian Ginseng, and licorice. This is a clay face pack and looks like it also contains a lot of fuller's earth as its base, but it is not mentioned under its ingredients list. This face pack promises to brighten the complexion, take away tan and soothe down the skin.
Free of parabens and mineral oils, this face pack is 99.3% natural and contains 100% herbal actives.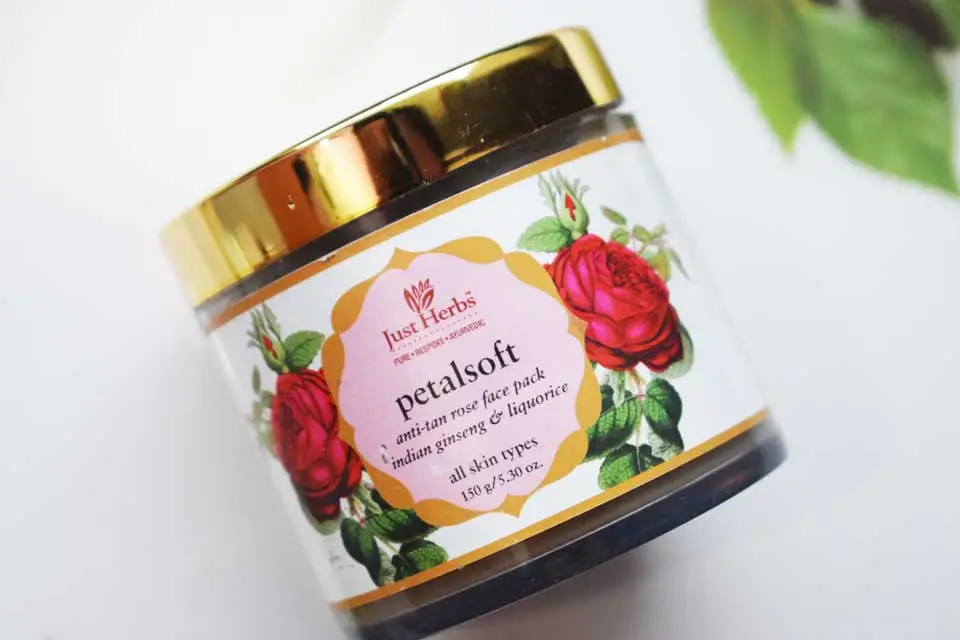 Key Ingredients
Indian Rose 5%, Indian Ginseng (Ashwagandha)Extract 1%, Licorice Extract 1%, Honey 2%, Holy Basil Extract 2%
Other Ingredients
Purified water, Steam-distilled rose water, Aloe Vera leaf juice, Vegetable Glycerine, Indian Volcanic Clay, cold-pressed Grapeseed oil, china clay, bentonite clay, potassium sorbate(natural preservative), caprylyl glycol(humectant), gluconolactone/ sodium gluconate(preservative), natural preservative, blend of herbs and essential oils.
Packaging
The way all the products from Just Herbs are packed gives me a luxe feel. It is packed ina glass tub (I prefer glass packaging because it keeps the product's efficacy intact). The glass tub has a golden lid and an intermediate plastic cap to avoid the spillage. The pack has a label across it with beautiful graphics and all the information about the product.
Fragrance & Texture
As I open the golden lid of the glass tub, a beautiful and authentic fragrance of roses greet me bringing a faint smile on my lips while my eyes close on their own. I know it sounds so poetic but this is what happens every time I open the lid of this product. So I don't think I need to say anything else about the mesmerizing fragrance of the product.
Coming to the texture, it is a clay pack made with china clay(Kaoline clay) and bentonite clay, it looks like a normal fuller's earth pack. The texture is quite thick and almost solid so that sometimes, I mix little rose water to make it go on my face easily, This way I need just a little bit of the product.
How To Use Just Herbs Petalsoft Face Pack
This face pack is meant for all skin types. For Dry Skin, honey, milk, milk cream could be added to the face pack before applying it. I use it 2-3 times a week.
On already cleansed face and neck, I apply an even layer of the face pack.
I feel a little sensation on my skin, nothing alarming but a very mild yet known sensation fades away within a minute.
I wait for 15-20 minutes to let it work.
Just before it starts to get dry, I damp my face and starts massaging it in a circular motion.
Lastly, I take off by washing with water alone.
My Experience
So, as I was saying, my skin was not doing well, when I received this product last month. I went ahead and used it because it was a clay pack and it's key ingredients were very impressive. I consider myself quite brave for trying out a new product while my skin was sore. It turned out to be a nice decision. My skin felt calm and brighter after the use. The acne started to heal on its own.
I feel a little sensation, every time I put this face pack on my skin. I have used pure rose powder on face and I have felt the same sensation, So I am quite familiar with this sensation. It is not burning, but just an indication that the herbs and other potent ingredients are working on my skin. This kind of sensation is quite common whenever we use natural products.
A face pack should never feel abrasive on your face. Even while washing it, I make sure I am gentle, because clay face packs could stick to the skin making us go crazy with rubbing. So I am always patient and take the face pack off only by gently massaging it.
I do not feel any kind of dryness because the face pack contains rose extract which has moisturizing properties. The clay part takes away my inflammation and calms down my skin. Overall, a very good product to go with.
Good Things About Just Herbs Petalsoft Face Pack
No dryness noticed the post usage.
Skin feels fresh, brighter, cleaner and calm
Does not aggravate existing acne.
Helps to heal cystic acne
Smells amazing.
The effect lasts long
Natural and safe for all skin types.
What could be better?
No complaints.
Just Herbs Aloe Vera Facial Massage Gel
I use this gel as a moisturizer. This product is a lightweight blend of aloe vera, cucumber, and soy lecithin. This massage gel contains 100% herbal actives and is free of parabens and mineral oil.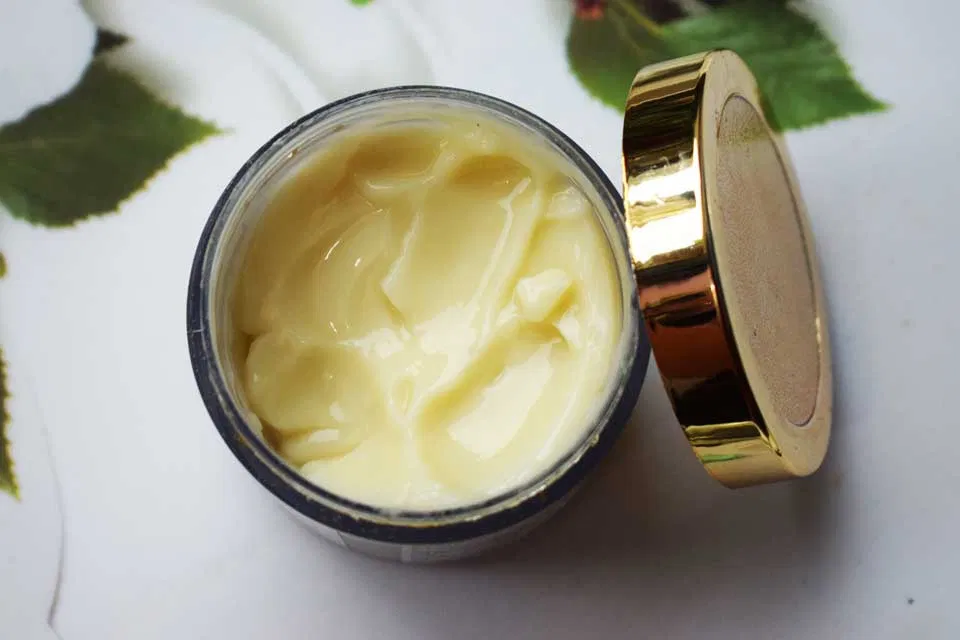 Active Ingredients
Aloe Vera Leaf Juice 5%, Cucumber Extract 1%, Soy Lecithin 1%
Other Ingredients
Purified Water, Cetearyl olivate( plant-derived), vegetable glycerine, cold-pressed grapeseed oil,  octyldodecanol (natural-origin, safe for skin), sorbitan olivate(plant-derived), caprylyl glycol(humectant), potassium sorbate (safe preservative), gluconolactone(natural acidifier), ethylhexylglycerin(derived from synthetic raw material, but safe for skin), natural preservative blend of herbs and essential oil.
Packaging
Packed ina glass tub with golden lid the product looks nice seating on my vanity. I have something for such beautiful packagings. The glass tub has a label running across it talking about the product. It has clear mentioning of the ingredients and directions to use the product.
Fragrance & Texture
It has a sweet and pleasant scent but I can't find any hints of aloe vera or cucumber in it. It's something else. It's mild so it does not bother me.
The texture is more like a lightweight and oil-free lotion and not exactly a gel. It absorbs really quickly without leaving behind any sticky stains. That is the reason my oily skin gets well with it.
Soy lecithin is what gives the gel this unique blendable texture. It is an emulsifier and safe for skin.
How To Use Just Herbs Massage Gel
The brand has suggested to use it in the following way:
Damp your skin using raw milk/rose water.
Apply Just Herbs Aloe Vera Massage Gel on your face and neck.
Massage the gel into your skin, gently using a circular motion.
Remove the unabsorbed product with damp cotton.
My Experience
I don't use massage gels or massage creams, as I never feel good post using such a product. I use Just Herbs Massage Gel as a moisturizer only because of the lightweight texture that it offers. This gel is more like a lotion and a perfect fit for the moisturizing needs of my oily skin.
It does not feel heavy or make my skin sweaty. That's what I always look for when it comes to choosing the right moisturizer for my skin type. It hydrates my skin well, as my skin responds to aloe vera and cucumbers in a positive way. The product does not block my pores.
Good Things
Herbal, natural and safe
Contains the goodness of aloe vera & cucumber
Works as a moisturizing gel
Lightweight lotion-like texture
Does not make skin sticky or sweaty
All skin types.
What could be better?
It's a nice product but only could have been more affordable.
Just Herbs Rejuvenating Beauty Elixir Facial Serum
What do you expect from a beauty elixir? Irrespective of the ingredients it contains, it should hydrate skin, repair it, and pamper it. Just Herbs Rejuvenating Beauty Elixir has a long list of ingredients and I wonder will it be able to deliver what I expect it to. This beauty elixir is made from Gotukola and Indian Ginseng. Let's learn about these main ingredients first.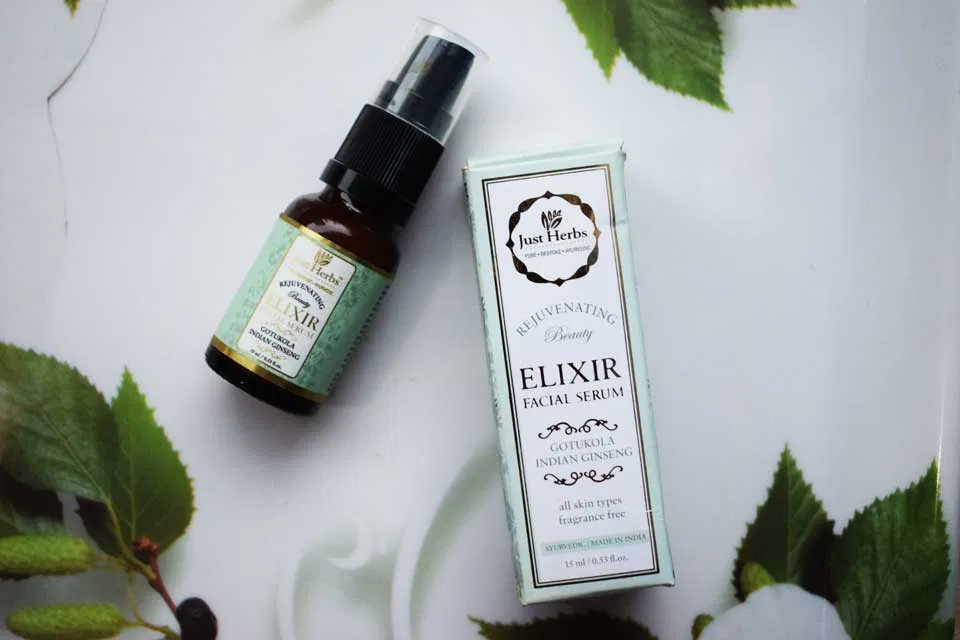 Gotukola: This South Asian, herb of longevity is a common ingredient in anti-aging and sun care products. It protects skin cells and helps to keep the skin young and beautiful.
Indian Ginseng: Also known as Ashwagandha, this Indian herb is a basis of many Ayurvedic treatments for health and beauty. This is another powerful anti-aging ingredient that protects skin against free radical damage. Skin firmness can be improved using this one herb keeping skin young and youthful.
Ingredients
Rosehip seed oil 2%, Indian chestnut 2%, Safflower oil 2%, moringa seed oil 2%, chandrika 1%, cold-pressed wheat germ oil 1%, eucalyptus seed extract 1%, Indian senna leaf extract 1%, colloidal oats 1%, allantoin 0.1%
Packaging
This 15ml product is received in a dark-colored glass bottle with a pump. In order to protect the product from direct sunlight such kind of glass packaging is used.
Fragrance & Texture
The scent of the product is nothing fancy but quite raw since it is a mix of so many herbs and oils. It is mild and can be easily ignored. It does not linger on the skin.
How To Use
On a cleansed skin, apply a pump of this facial serum.
Massage it and it absorbs quickly.
Proceed with a moisturizer.
My Experience
This serum is supposed to be used before using a moisturizer. I have oily skin, so this serum alone takes care of my moisturizing needs. But I still apply a pea size moisturizer above it to reap the maximum benefits out of this serum.
Honestly, I am yet to find out if it is delivering anything on its own. My skin feels good after using these products for 3-4 weeks, but I feel, this facial serum is something I can skip and I might not miss anything. The aloe vera massage gel from Just Herb, which I am using as a moisturizer makes me feel better about my skin than this pretty expensive serum. The 15 ml product any way did not last for long even though I used just one pump every night.
I was hoping it could work in the scars left by the acne breakout, but it didn't work on them.
So, I feel this is my least favorite product from the Just Herbs lot that I received. I just can't seem to make up my mind that it has been doing anything for my skin.
Good Things
Made with amazing herbs and essential oils
Lightweight and absorbs really fast into the skin
hydrates skin on its own
suitable for all skin types
Convenient packaging
What could be better?
The results and quantity could have been better. For a price paid, this much amount of the product does not seem to deliver the expected results. Even a Vitamin C based serum would work wonders in a week.
Do let me know if you have tried this brand and if you too have found your favorite product from this brand. Also, in case you have any queries, do reach me at [email protected] or DM me over Instagram or Facebook page, provided below. Take care.