We are well aware of the fact that email is the best form of digital marketing. On average, email has a 37:1 ROI which means for each dollar spent, it offers $37 in sales as well as various other types of conversion.
Along with various other digital marketing solutions, there are small as well as growing players plus the giants. For SEO one largely relies on SEMrush,  and for Amazon sales, nothing is better than Helium 10. But for email, there are many big names such as MailChimp, AWeber, etc.
These platforms are great and have various features and tools that can help your brand to grow but they are expensive. It is not possible for a small business to do such expenses and there are other software solutions as well.
However, MailerLite has many strong features which are offered by its expensive competitors and all of these are offered in a user-friendly package.
No matter whether you are a small business, agency, or a single business person, MailerLite is the best software for you to make the best use of email marketing at very affordable prices.
Know MailerLite
MailerLite is known to be an email marketing solution that focuses on small businesses as well as agency customers. It is known to be feature-rich as well as intuitive and is a great complement to the already going digital marketing strategies.
Also, it is simple to use for newbies and is great for professional email marketers. It has a simple drag-and-drop editor which helps to create professional-looking emails. Apart from templates, it also has HTML as well as a Rich text editor for customization. MailerLite has tools that are beneficial in building web forms, landing pages, and a lot more.
MailerLite is known to be 50% of the cost compared to its competitors. You can get your 1000 subscribers for free and 10,000 at just $50 per month in comparison to MailChimp which offers the same at $75 per month.
Features of MailerLite
File Manager
Built-in Photo Editing Feature
Subscriber Management
RSS Campaigns
Auto Resend
A/B Testing
Drag-and-drop Editor
Custom HTML Editor
Rich Text Editor
Free Newsletter Design Templates
Pop-Ups
Landing Pages
Embeddable Web Forms
User Permissions
Integrations
Unsubscribe Page Builder
Campaign Reports
Click Maps
Open by Location
Email Automation
Developer API
Let's start with MailerLite
MailerLite provides a 14-day free trial for every premium account on Forever Free plan that offers 1000 subscribers as well as some limited features.
When it comes to other email marketing solutions, there are a lot of formalities or go through the approval process like completing your profile, answering questions about your company, and verifying your identity through your website before sending any emails.
It is very simple and later you will be given complete access to everything within a few hours. These are extra steps that will avoid spammers.
 Pricing of MailerLite
The price of MailerLite is one of its attractive features. The unlimited free plan allows access to some premium features for up to 1000 subscribers. And you will be given 12000 emails every month limit.
Similarly, with the free plan, you won't get to enjoy some features like promotion pop-ups, Dedicated IP, split testing, as well as auto-resend. Therefore, it is worth switching to premium even if don't have 1000 subscribers.
After this, the price starts at $10 every month and it keeps increasing as new subscribers are added.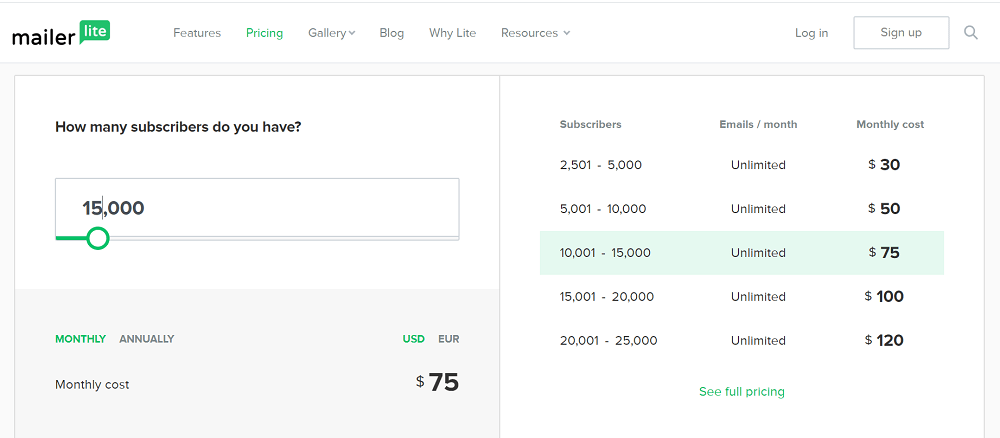 What can be done with MailerLite? 
MailerLite is known to be a one-stop shop for email marketing. You will get to create professional-looking campaigns and it has various other tools to increase your ROI such as forms, automation, and a lot more:
Campaigns – There are four types of campaigns that you can create with MailerLite:
Regular campaigns
A/B split campaign – it tests email types and finds the best out of all
Auto resent – It is known to resent emails to people who didn't open the email initially with the latest content, new subject
RSS campaign – You can send your brand's RSS feed in the format of an email. After this, you can start using the drag and drop or HTML/RTF editors. They are simple to use and have various content blocks, including videos, buttons, and countdowns.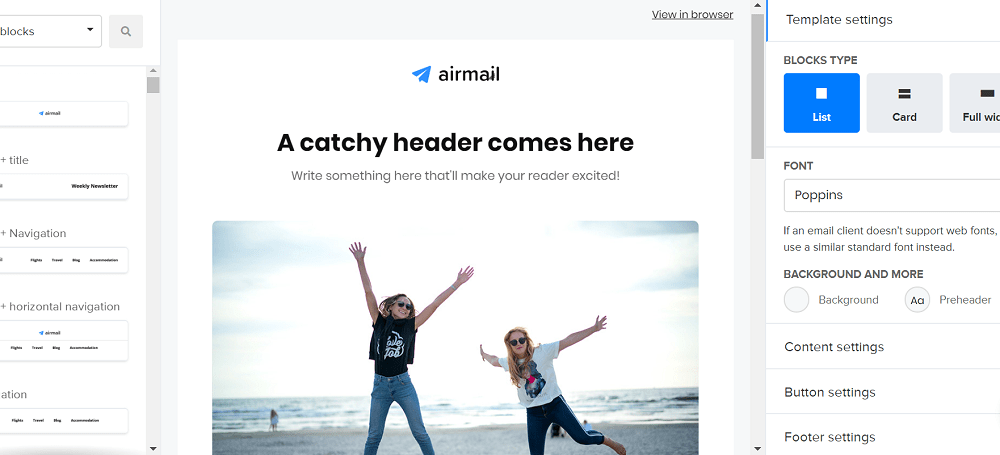 2. Segmentation
Segmentation – This is all about how you use your email list in a proper way. After creating the email, targeting users based on various segmentation features like:
Sign-up date
Campaign
The last email opened
Location
Name
Contact information available
You can combine everything to make the campaign relevant.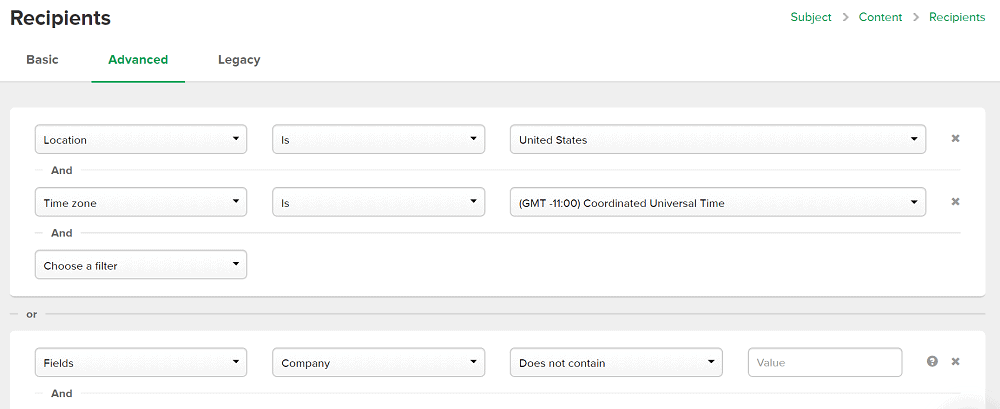 3. Scheduling
An average person can receive more than 100 emails every day. Also, they might be using an Inbox that filters every email in various categories. Thus, it is not about the email content but what you are saying to them. This is the reason to switch to the paid plan as it is beneficial to select the time to send the email and deliver it as per the subscriber's time zone. However, MailerLite doesn't have any automated delivery depending on the user behavior but this can be done by looking at the analytics.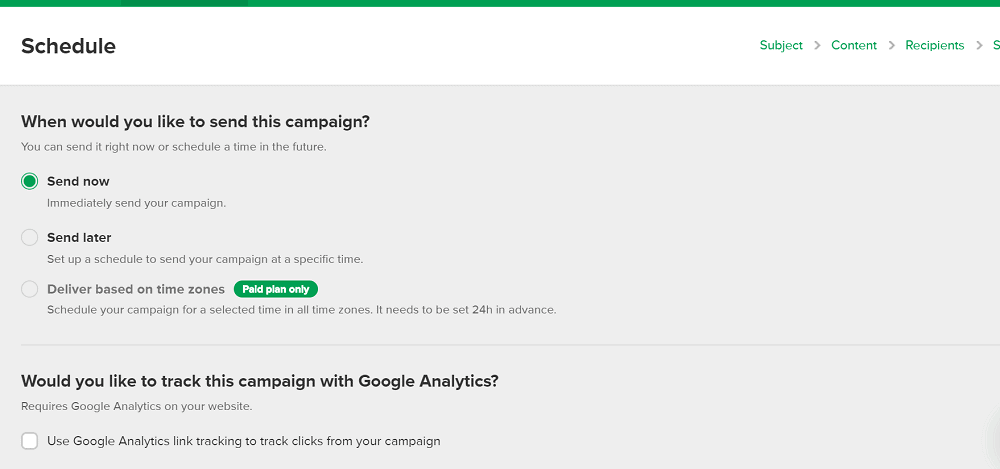 4. Forms
MailerLite has various forums that can be used to expand the email list and landing pages to get higher conversion rates. Also, creating pop-ups as well as landing pages is simple in forums. You can check the temples and customize them.

5. Automation
MailerLite has amazing automation tools. You need to follow simple prompts so that workflows can be created as per the subscriber's behavior. Plus, you can automate the complete chain of action depending on customer behavior. This is a great way to measure engagement and get refined workflows that help in creating better marketing goals.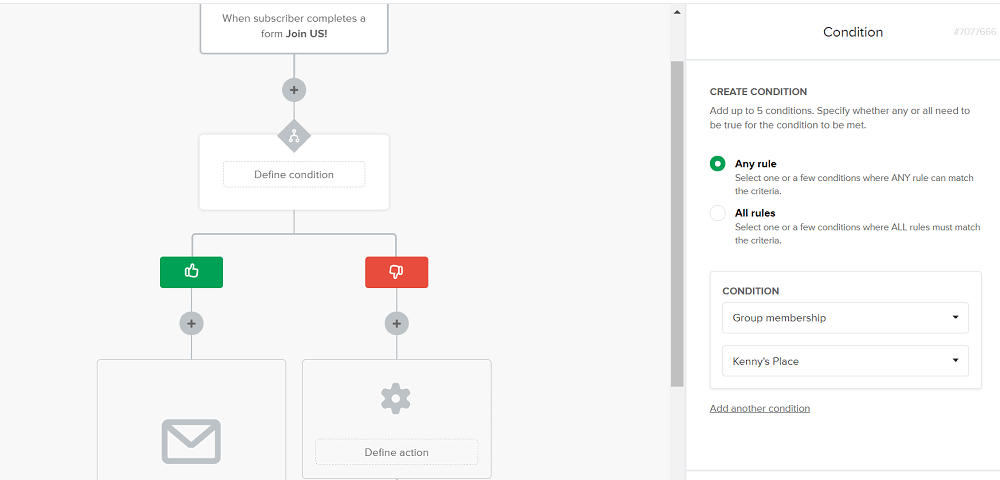 6. Reporting
The campaign stats can be seen in the dashboard and this helps to learn about campaigns plus automation stats, sign-ups, subscriber growth, etc. If combined with automation as well as other tools of MailerLite then it can create better campaigns.

7. Integrations
MailerLite is meant for small brands and agencies but it is also great for bigger platforms like Shopify, WooCommerce, Instagram, WordPress, etc. Moreover, if any app doesn't integrate well with MailerLite then the API tools or third-party integrations offer simple workaround options.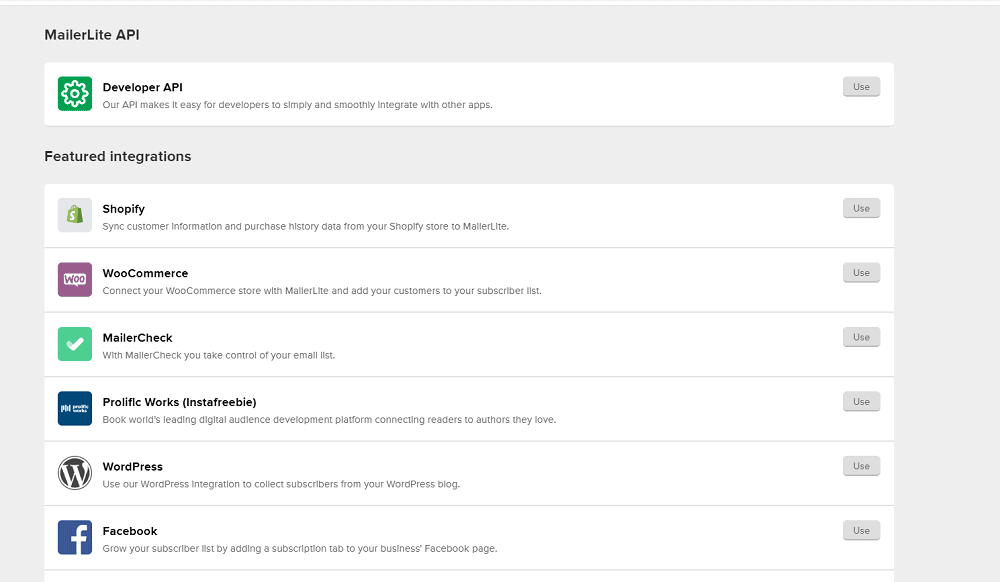 Is MailerLite worth everything? 
It is great for any small business and newbie. MailerLite is not only nominal but is simple to use. It takes only a few hours to set up everything to create a professional-looking email campaign. It is hard to beat MailerLite when it comes to price as it offers robust functionality. Plus, MailerLite provides a 30% discount if you are choosing an annual plan as its starts from $126 per year.
PROS
Simple to use
Free plan
Affordable
Automation tools
Templates
Large integrations list
Powerful segmentation tools
Advanced campaign types
Form, pop-up, and landing page tools
Can easily add practical elements like countdowns and product boxes
Great reporting tools—both digestible and detailed
Amazing customer support
CONS
Fewer email templates than competitors
Slow Performance
No automatic delivery based on user behavior
No site tracking support
Stricter approval process than most
How does MailerLite beat the competition? 
MailerLite can easily stand against big dogs such as MailChimp. But if you are looking for well-rounded as well as affordable then nothing can beat it. However, it is not fast as ConvertKit and doesn't have many templates as MailChimp or features like ActiveCampaign but it does everything that email marketers require and is done with ease. If you are looking for something easy to use, features, as well as flexibility with nominal prices then MailerLite is the best option.
Conclusion 
MailerLite is the best option for users who have a limited budget and want the best offered by email marketing. This is the best solution for bloggers, freelancers, small agencies as well as business owners.
With its affordable price, you also get amazing tools that include split A/B tests, automation, etc. Therefore, if you are just beginning with email marketing or simply reinvigorating the subscriber's list then MailerLite can be very beneficial.