If you're looking for a comprehensive email marketing solution that also includes CRM and marketing automation, then you should follow this ActiveCampaign review.
In this ActiveCampaign review, I'll go over the platform and explain its pros and cons.
You can rightfully think of ActiveCampaign as an "all in one" marketing tool. So if you're looking to save money and consolidate the number of tools you use, definitely check it out. Keep in mind, though, that none of the ActiveCampaign features are best in class. If you're looking for a "Rolls Royce" CRM solution, for example, you should probably check out Salesforce. But you will pay for that quality. That's why many small businesses and cash-strapped startups turn to ActiveCampaign. It offers a lot for its price point.
ActiveCampaign Review: Email Marketing
First and foremost, ActiveCampaign offers email marketing. If you're looking to send a one-time email blast to everybody on your distribution list, ActiveCampaign has you covered. Additionally, if you'd like to target an email to a specific list segment, you can do that with the platform as well. You can even send emails to specific contacts on a schedule. Just set up your dates and let the system do all the work. And if you're looking for a solution that will send an email to folks who've just joined your list, ActiveCampaign offers an autoresponder for just that purpose.
The service can handle drip campaigns as well. All you have to do is write a series of emails that lead your prospects from curiosity to purchase. ActiveCampaign will send those emails out over time and on schedule. If you're more of a hardcore email marketer, you'll find that the platform offers a great deal of flexibility. You can create sophisticated workflows that use custom logic to determine when to send emails and who should receive them. You can also send conditional content. That is, ActiveCampaign enables you to set up a single campaign that includes different content for specific recipients based on their past behavior or insights you've gathered about them. Even better: you can personalize your emails with custom fields. Finally, the platform provides you with analytics about your email campaigns. They'll give you plenty of insight about the effectiveness of your marketing efforts.
ActiveCampaign Review: Management With Lists and Tags
ActiveCampaign gives you the best of both worlds when it comes to managing your contacts. You can do so with lists and tags. In other words, you can segment your contacts into separate lists (for example: "People Interested in Electronics" and "People Interested in High-End Clothing") or you can "tag" your contacts to further segment the people in a single list (for example: "iPhone Purchasers" and "Party Dress Purchasers").. As if that weren't convenient enough, ActiveCampaign also lets you edit contacts in bulk. That means you can tag several contacts, or add them to a list, with just a few short clicks. One of the best ways to use tags is by tagging email recipients who click a link in an email you've sent. Fortunately, ActiveCampaign makes it exceptionally easy to set that up in the email composition UI. You can also export your contacts. Then, you can import that list in another tool. One useful way to use an exported list is to import it as a Facebook custom audience. The only downside of subscriber management is that it's a bit overwhelming for new users. Unfortunately, that's pretty common among all applications that offer a great deal of flexibility.
ActiveCampaign Review: Different Options for Split-Testing
As with everything else in digital marketing, email marketing requires split testing. Fortunately, ActiveCampaign offers you a couple of different options. The first is the more traditional approach. That gives you the option to compare a control against a variant. If you're new to split-testing (or A/B testing), the control is the "original" version of something (like an email) and the variant is the tweaked version. So, for example, if you want to test a couple of different subject lines to see which one gives you the highest open rate, you'd set up your experiment with the two different subjects. ActiveCampaign would split your list and send the control to half your contacts and the variant to the other half. After the email blast is completed, you can check your analytics to see which subject "won." ActiveCampaign gives you the option to choose the winner based on the most opens or the highest click-through rate. You also get to specify how long you want to wait before declaring a winner. That's all standard split-testing fare. But the platform gives you an even more sophisticated way to conduct experiments. You can split-test an entire marketing automation workflow. In that case, you'd set up a workflow that splits your contacts manually. Then, you'd send half of your contacts the control and the other half the variant. But there are way more options when it comes to split-testing workflows that can be described here. In fact, ActiveCampaign offers a complete split conditions editor that you can use to create powerful experiments. I'll discuss workflows in a little more detail later in this article. For now, though, just understand that you can split-test your marketing automation efforts and fine-tune them to maximize your sales.
ActiveCampaign Review: The Email Capture Form
Chances are that you're going to use an online form to capture people's email addresses. Fortunately, ActiveCampaign will help you create a form that you can easily add to your website. That's the good news. The bad news is that you can only create an inline form at the lowest price point. In other words, if you want to make a floating bar, a floating box, or a modal (read: popup) dialog, you'll have to spend some extra cash. Twice the extra cash, in fact. Even worse, though: the inline form is branded with this text: "Marketing by ActiveCampaign." Yeesh. On the other hand, if you're happy with using an inline form that's got ActiveCampaign branding, you can go the "cheap" route. When it comes to designing the form, you'll follow a UI that's easy to use. In just a few moments, you can put together a form that asks for a user's first name and email address. Then, you can embed that form on your website. Alternatively, you can link to it from a hosted site, use a plugin to add the form to your WordPress website, or add the form to your Facebook page. If you're looking for a whole lot of flexibility, though, you won't find it on ActiveCampaign. For example, you can't change the design of the form itself unless you know CSS.
ActiveCampaign Review: Building an Email
Of course, no email marketing solution would be complete without a designer. ActiveCampaign allows you to create spectacular emails with a drag-and-drop user interface. That will help you achieve the exact appearance that you want. The editor itself looks like the form editor I described above. However, it has far more options. You can use it to create text blocks, image blocks, videos, line breaks, buttons, spacers, and even an RSS feed.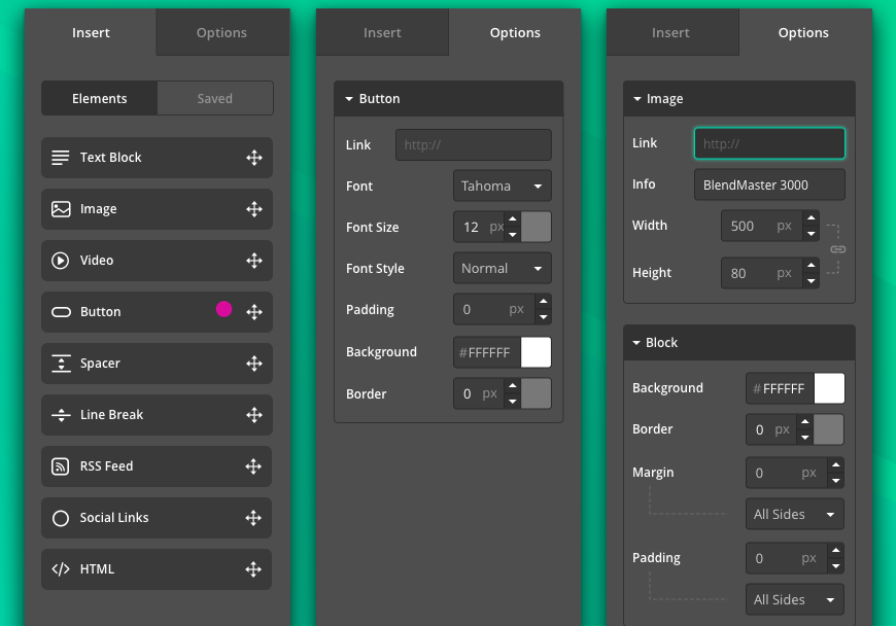 When it comes to designing the layout, you can set the line height, background color, border, padding, and margin. You can even add conditional blocks that only appear to certain recipients based on tags associated with them. However, the email editor isn't without its faults. For starters, when you paste in text from a different source, it won't automatically use your default font family and size. You'll have to adjust that manually. It also takes a long time to upload images. Maybe it's doing a virus scan on the back end?
Email Templates
If you're a busy entrepreneur who doesn't have time to design emails from scratch, feel free to use one of the system's professionally designed templates. It's not likely that people in your target market will know that you "cheated." However, your options are limited when it comes to selecting ActiveCampaign templates. There are only about 30 of them. Conversely, other email marketing solutions (such as MailChimp) offer hundreds of email templates. That's one area where ActiveCampaign is lacking.
ActiveCampaign Review: Sales & CRM
ActiveCampaign doesn't just stop with email marketing. It offers a sales and CRM solution as well. Because that solution is part of the same digital marketing ecosystem, it plays nicely with other features on the platform. In other words, the CRM component integrates with the email marketing component. Beyond that, though, ActiveCampaign also handles the basics. For starters, it's a contact management system. The tool uses a standard scrollable UI so you can browse through your list of contacts with ease. If you're looking for specific contacts, you can use the search and filter features.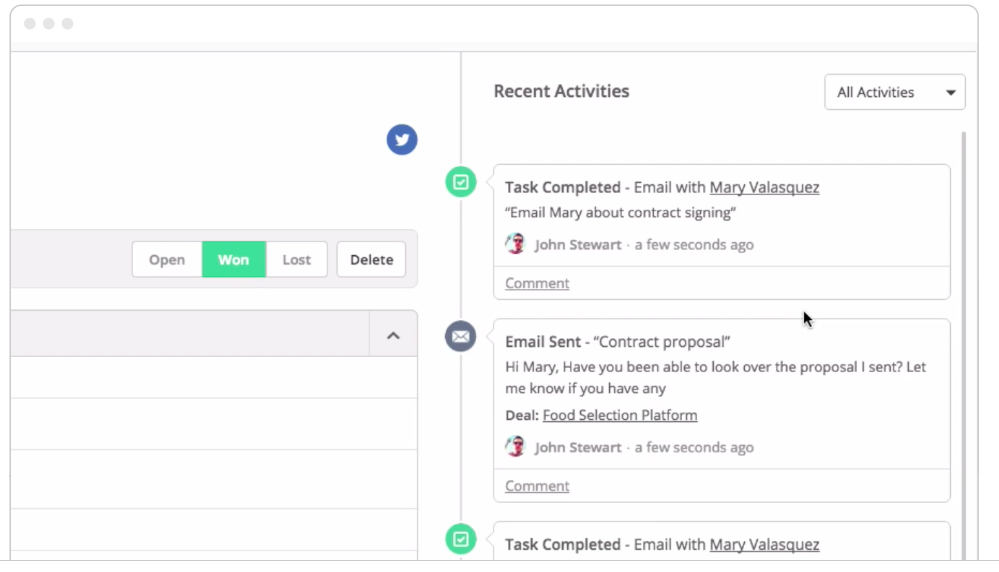 ActiveCampaign also offers lead scoring. That way, you can prioritize the contacts who are most likely to become customers in the near future. The platform also shows you the interests, interactions, and social profiles of your contacts. That will help you get to know them a little more so you can tailor your marketing message accordingly. Perhaps best of all, ActiveCampaign has a CRM app. You can install it on your smartphone and never step away from important contact information.
Active Campaign Review: Marketing Automation
ActiveCampaign also offers a marketing automation solution that will save you time and help you trim your payroll. It could also help you increase sales. According to Forrester, marketing automation can boost your sales pipeline by as much as 10%.
ActiveCampaign enables you to automatically engage with prospects using automated email marketing. For example, if you want to send your contacts a "Happy Birthday" email when they celebrate their birthdays, you can create an automated campaign for that purpose. You can also set up more complicated automated workflows. Here's an example:
Customer makes a purchase
That customer receives a "How was your experience?" email two days later
The customer responds to the email with feedback
The system sends a personalized email back to the customer with a coupon code
The system also sends the customer a monthly email that advertises the latest sales
That's just one example, though. ActiveCampaign provides countless automation options that you can use to create a well-oiled marketing solution that runs without human intervention. The platform also enables you to automate processes based on contact behavior. All you have to do is insert a snippet of code (similar to the Google Analytics code or Facebook pixel) on your website. Then, you can track events from within apps, server-side code, and more. After that, you can use the data you collect from those interactions to create personalized campaign automations. Additionally, ActiveCampaign allows you to dynamically segment your market within automations. That will enable you to create a custom marketing message to individuals based on demographics. You can fine-tune that message even more if those folks open the email and visit a web page. The service also has the ability to set up automations that will tag your email list subscribers based on actions they take. Then you can send highly targeted emails to people who share the same tag for even more personalized marketing. Finally, ActiveCampaign enables you to see your workflows with flowchart-like graphics.
ActiveCampaign Review: Noticeable Quirks With the Marketing Automation UI
Although the marketing automation aspect of ActiveCampaign is powerful, it's not perfect. Users have reported some quirks. For starters, the visual builder is sometimes slow to respond. In an environment where time is money (and that's pretty much every environment these days, isn't it?), that sluggish behavior could cause some pain.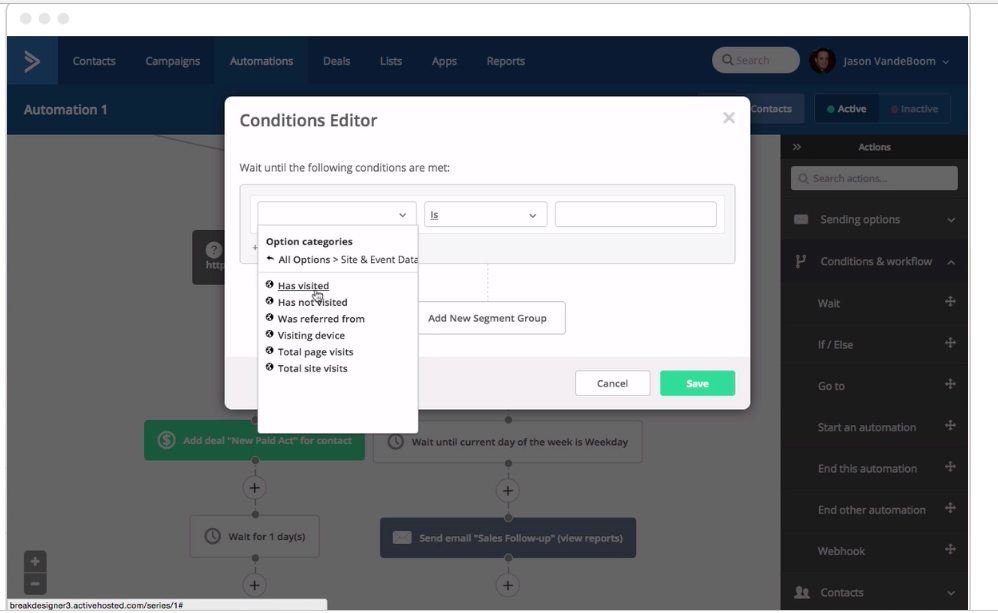 Also, if you want to add an email to your workflow, the system will take you out of the builder to a different screen. That adds even more time to the whole process. Finally, you have to use an advanced builder for every automation, even the simple ones. A "basic" automation builder would be a big help
Ready-Made Automations
As is the case with emails, you don't have to create your own automation workflows from scratch. You can use one of ActiveCampaign's ready-made automations. In this case, though, you might have to open your wallet. Some of those automations aren't free. Marketers create automations and make them available on the ActiveCampaign market. You can purchase one and secure a high-converting workflow in mere minutes. In fact, you can create an automation unique to your industry and put it on the market. That's a nice way to pick up some extra cash. Unfortunately, though, the import process in the automation builder is a bit buggy. Sometimes, the automations that you spent your hard-earned cash on don't transfer in as easily as you'd prefer.
ActiveCampaign Review: Messaging
If you're interested in incorporating SMS messaging into your marketing, good for you. That's a great way to gain an advantage over your competitors. Also, you'll be happy to learn that ActiveCampaign offers an SMS solution.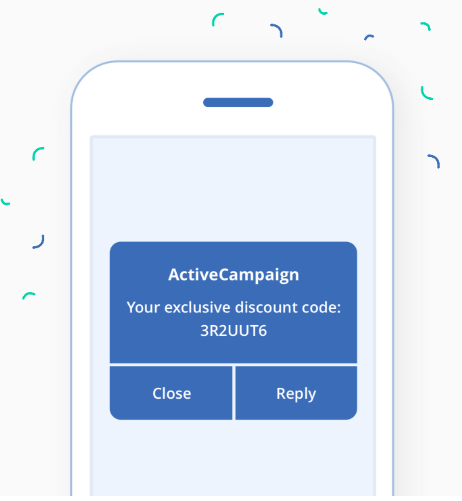 In fact, you can incorporate SMS messaging into your automated workflows. For example, you can send automated follow-ups to your contacts. You can also use the system to collect phone numbers with forms that integrate into your apps and websites. Also, ActiveCampaign allows users to subscribe to your email distribution list via text message. All they have to do is text a phone number.  They'll receive a message back asking for their email address. Once they provide it, they're added to your list. Keep in mind, though, is that your monthly fee for the service doesn't cover all your text messages. Those are an additional charge. As of now, ActiveCampaign supports SMS messaging to the United States, Canada, Great Britain, Australia, Spain, Mexico, and Germany.
Customized Tracking and Reporting
ActiveCampaign doesn't decide for you which analytics you need to see. It lets you be the boss when it comes to tracking and reporting. The platform has the basics covered. You can see email opens and link clicks. But it does much more than that. You can also track replies or integrate your email campaign with Google Analytics. When it comes to reporting, ActiveCampaign leaves no stone unturned. Whatever metrics you're looking for, you'll find. The Opens/Reads report, for example, will show you the total opens/reads in addition to unique opens/reads and the number of people who didn't open the email. But the report also enables you to drill down even more and examine each contact. You can use it to create a new campaign, for example, that sends another email to everybody who didn't open the first email. Reports will also show you details about your automations. For example, you'll be able to review your completion rate and average completion time. There are a couple of downsides to the reporting feature, though. For starters, it can take a long time to load. That's especially true if it needs to crunch a lot of data. Also, the screens are a bit user-hostile. It might take you a little while to get used to them.
Payment Features (Or Lack Thereof)
Unfortunately, ActiveCampaign is missing any payment features. That's a fairly large hole for an "all-in-one solution." So don't expect to use the platform to sell products or accept payments. You'll have to look at other tools for those features. You also won't be able to create order forms or use ActiveCampaign to add a shopping cart to your website.
ActiveCampaign Review: Integrations
It's pretty much an expected practice these days that marketing tools will integrate with other, more popular tools. ActiveCampaign fulfills that expectation nicely. If you head over to the company's Apps & Integrations page, you'll see that it currently plays nicely with more than 150 other tools. Among them:
Basecamp
Bigcommerce
ClickFunnels
Dropbox
Evernote
Facebook
Google Analytics
GoToMeeting
Magento
PayPal
Salesforce
Shopify
Twitter
Once again, you'll find that MailChimp is superior to ActiveCampaign in terms of the number of integrations. However, ActiveCampaign has most of the popular tools covered. Finally, ActiveCampaign offers an online explanation of how each integration works. To read it, all you have to do is click the appropriate icon.
ActiveCampaign Review: Support
At the lower pricing levels, ActiveCampaign offers email and chat support. At the highest level, you can get phone support. Usually, you'll get a response to your support email within 24 hours. If you need a quicker reply, consider using chat. Keep in mind, though: the company doesn't offer 24-hour live chat. You'll have to reach out to somebody during business hours. The website also hosts a knowledge base. It includes how-to guides, videos, and even webinars. You'll likely be able to use the knowledge base to get the answers to many of your questions.
Pricing
One of the strongest selling points of ActiveCampaign is that it's affordable. Pricing starts at just $17 per month. That's low enough that even the most cash-strapped startup can use the service.

However, that price point limits you to a thousand contacts. It's worth noting, though, that ActiveCampaign doesn't count unsubscribes towards your subscriber limit. Many other services do charge you for unsubscribes. Also, that price is an annual fee. In other words, you pay $17 per month but for 12 months all at once. For that, you get email marketing, newsletters, automation, and support via email or chat. You can also have up to three users. Obviously, higher levels of service will cost more. As of now, the Enterprise price point starts at $229 per month, paid annually. For that, you get everything mentioned above plus:
CRM
Sales automation
Lead scoring
Data integrations
Custom branding
SMS marketing
A custom mailserver domain
A dedicated account rep
Free design services
Free social data
Phone support
Wrapping Up This ActiveCampaign Review
I'll close this ActiveCampaign review with a simple recommendation: get it if you can afford it and can't afford anything more expensive. Although it does have some quirks and pain points, the benefits far and away exceed the limitations. Also, ActiveCampaign gives you the option to try the platform for free with no credit card info. In other words, you have absolutely nothing to lose by test-driving the service. Why not do so today?