If you are in search of a web hosting provider with full features then Network Solutions can be the best option. They have amazing tools to register as well as manage the domain. It is known to have simple-to-use site creation tools, email marketing capabilities, and eCommerce features. Also, it offers a 30-day money-back guarantee and products including things related to web development, SSL certificates, etc.
Here are some of the services that Network Solutions offer:
Domain Name Registration
Dome Name Transfer
Website Forwarding
DIY Websites
Website Design
E-Commerce Websites
Web Hosting
VPS Hosting
SSL Certificates
Email Services
Marketing Services
PROS
Offers web design as well as development solutions
Nominal-priced cloud hosting plans
24/7 telephone live support
CONS
Limited hosting plans
No ticketing options and live chat
Network Solutions – Features 
Genuinely Priced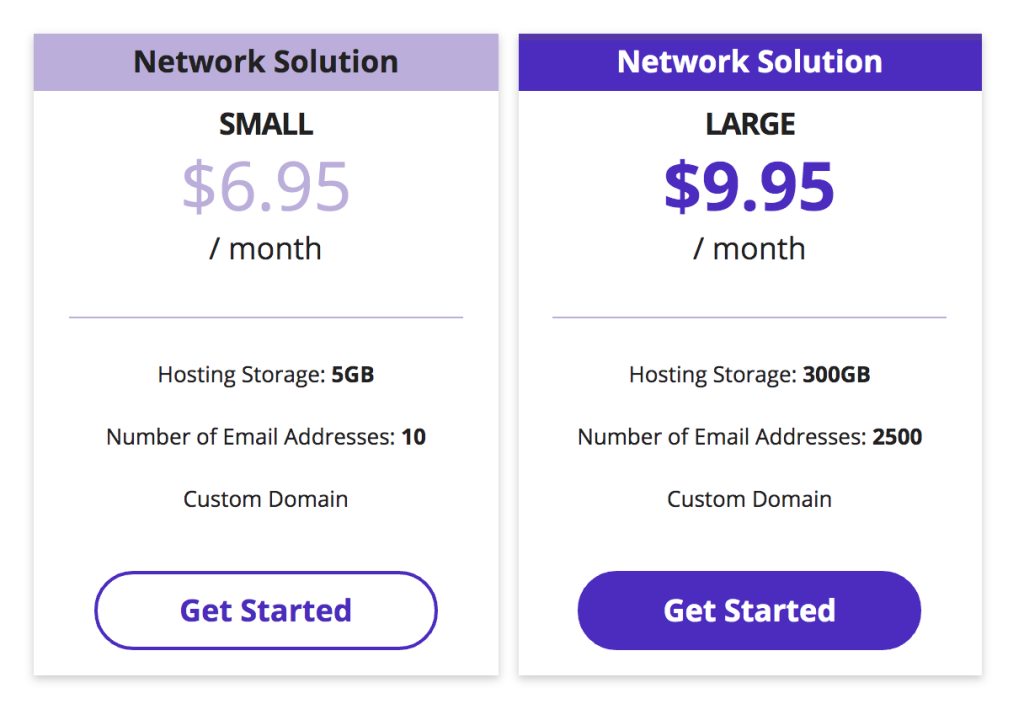 Network Solutions have genuine prices when it comes to their web editor. They have two offers which are a small package and a large package. The large package has more storage and value
Offers Shared Web Hosting Packages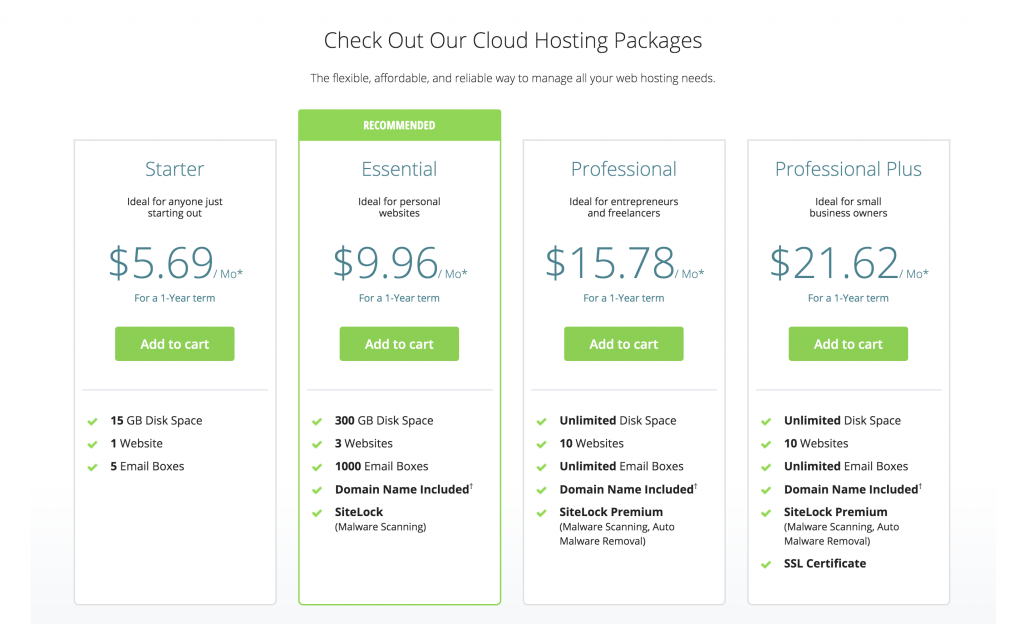 They have wallet-friendly packages. In case you want a WordPress blog then you can go for the WordPress blog hosting package which is for $3.85/month. But if you want a SharePoint site then its hosting plan is for $7.74/month. However, Network Solutions' basic web hosting plan which is essential hosting is only $2.99/month and is for small businesses. The plan includes 300GB storage, 1000 email mailboxes, as well as unlimited data transfers. Its professional hosting plan is for $3.99/month and offers 500GB storage as well as 2500 email mailboxes. Also, its premium hosting package is for $36.95/month and is meant for businesses that have high-traffic sites and it offers unlimited storage as well as email mailboxes.
Network Solutions also have basic web hosting as well as a marketing package which is for $3.99/month. However, you can always go for an add-on for $9.95/month. Its hosting, marketing, as well as store package, is for $4.99/month. The eCommerce add-on is for $7.98/month.
Virtual Private Server Packages & Pricing
The shared web hosting plans are known to offer great storage, bandwidth, as well as email addresses. However, its VPS hosting starts at the price of $40 and offers the advantages of dedicated web hosting.
VPS essential is for $40/month and provides a virtual CentOS Linux server along with 512MB RAM, 500GB data transfer, server management, etc. Its VPS professional is priced at $80/month and offers 1GB RAM, 2TB monthly data transfers, etc. But it limits only 200 email accounts.
If you want to go the VPS route, we recommend checking out Arvixe, the BestSchemes' Choice for virtual private servers. Arvixe has a choice of Linux and Windows servers, and those servers can be outfitted with up to 4GB of RAM and 100GB of storage. Arvixe also offers unlimited email and monthly data transfers.
WordPress Blog Setup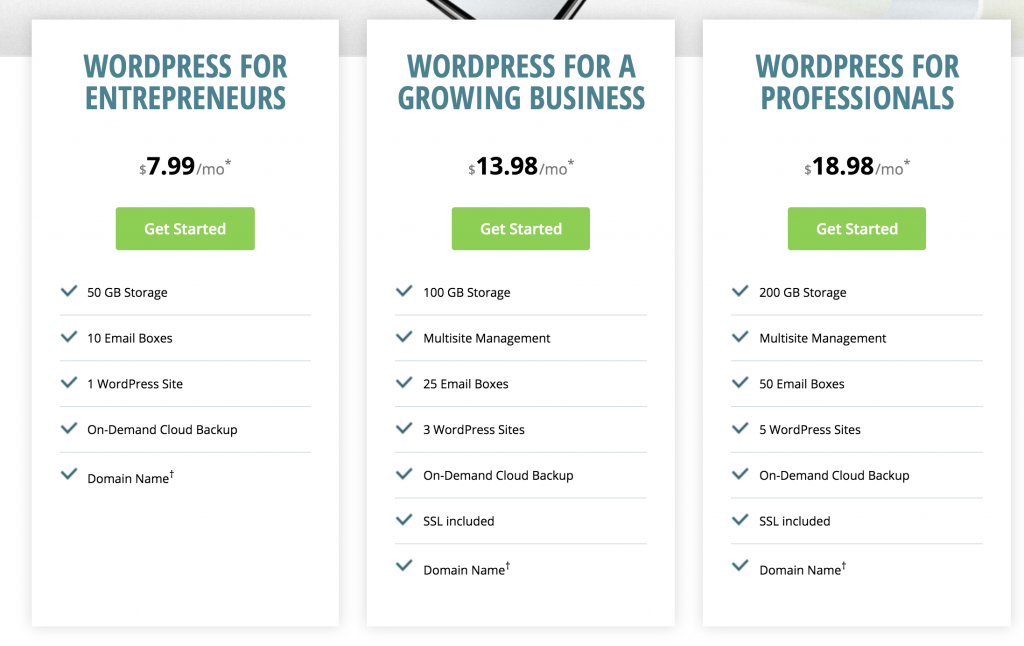 It allows to set up open-source applications which include WordPress, Joomla, WebCalender, SugarCRM, etc. These apps are available at the 'web hosting toolbox' option in the web hosting dashboard.
However, setting up WordPress is simple as you need to click on the add button and set up a wizard to define the URL of the blog. Later, set the administrator username as well as password.
Email
They also include email in their hosting package as well as basic plans by offering 1000 mailboxes as well as 1GB storage capacity. The email accounts are configured to be used POP or read through a webmail interface. There is also an option to buy add-ons like LOQMail. However, the platform doesn't offer anti-spam or antivirus options as well as apps to install. This can be quite difficult to install.
Emarketing and Ecommerce
The platform offers email marketing at the price of $5.95/month as an add-on. The add-ons are known to offer 400 ready-made email templates. Its eCommerce package is priced at $7.89/month along with a control panel to manage orders, shipping orders, etc. There is also an option to create a merchant account along with bank card services. It also has a separate site builder so that you can design the storefront.
Features of security 
It offers an SSL certificate which is priced at $69.99/month as well as TRUSTe priced at $3.71/month for a better privacy policy. You also get the option to lock the domain registration information to avoid people collecting your address and phone number of yours.
Network Solutions – Customer service
There is an option of FAQs which can clear your confusion and there is also an option of 24/7 email as well as telephone support. The eCommerce technical support can be contacted only during weekdays from 9 am-5 pm EST.
Technical as well as security details 
Here are some of the WordPress security features which are available with the standard package:
Automatic update of the WordPress core
Automatic update of all plugins and themes used by your site
Whitelisting of plugins and themes
Malware scanning and automatic removal
Datacenter-class firewall
On-Demand Cloud Backup
Daily backups
SSL certificates.
You also get unlimited storage, bandwidth, set-up help, 24/7 support, as well as other services.
Conclusion 
Network Solutions is no doubt cheap but the add-ons and other upsells can increase the price. It is on auto-renew and domain management is also very simple but not well-integrated with web hosting. However, it can get hard for less savvy administrators but professionals will fall in love with its advanced features.