Offering more products in your Redbubble shop gives you a greater chance of making sales but with over 90 products to choose from, it can be hard to know what to focus on. Here's our list of the most popular products on the Redbubble that customers will be searching for this year. We'll be promoting them throughout the holidays, so it's a good idea to make sure you're offering these essentials in your shop.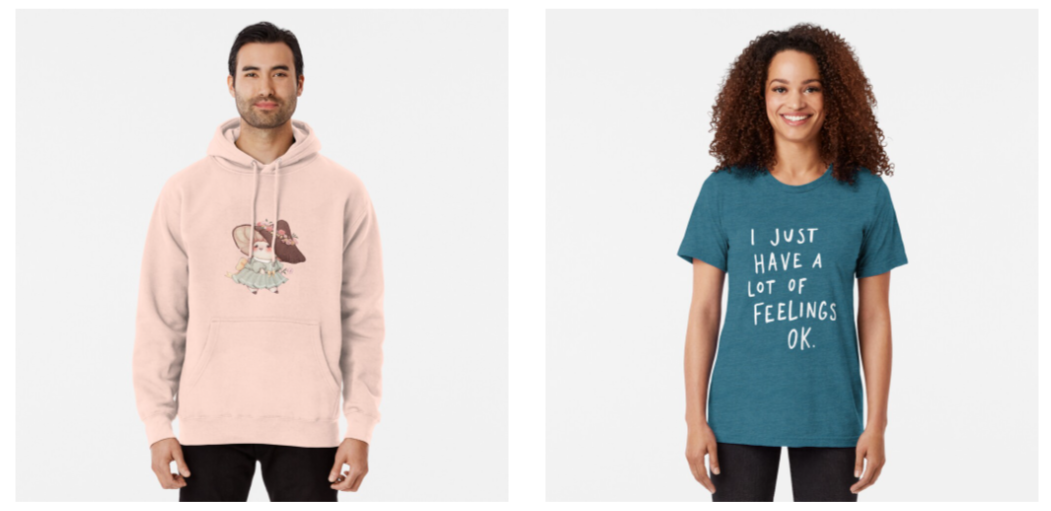 T-Shirts, Hoodies, and Sweatshirts
T-shirts, hoodies, and sweatshirts are always popular sellers and they make great gifts. We recently added new pink and white colors for pullover hoodies, and four new tri-blend t-shirt colors, so these are great things to call out when you're promoting your designs. To improve your product design game, give some thought to how your design works with the background color of the shirt.
Stickers
Stickers are still one of the most popular products on Redbubble. They're great stocking stuffers and are popular with all kinds of customers. This product looks best when it's cut as an organic shape, without a solid square or rectangular background, so save a version of your work as a png with a transparent background for the best results.
Posters
Posters are one of our most popular wall art products. Printed on 185gsm semi gloss poster paper, they're lightweight for shipping and perfect for dorms, bedrooms, offices and studios. They make great gifts as they're an affordable way to change up a space and add instant impact.
Throw Pillows
Throw pillows are another super popular product. They come in 5 sizes (including floor pillows) and customers can order them with or without inserts. They make great gifts during holidays but customers also buy for themselves for a seasonal decor change or a cosy addition for winter.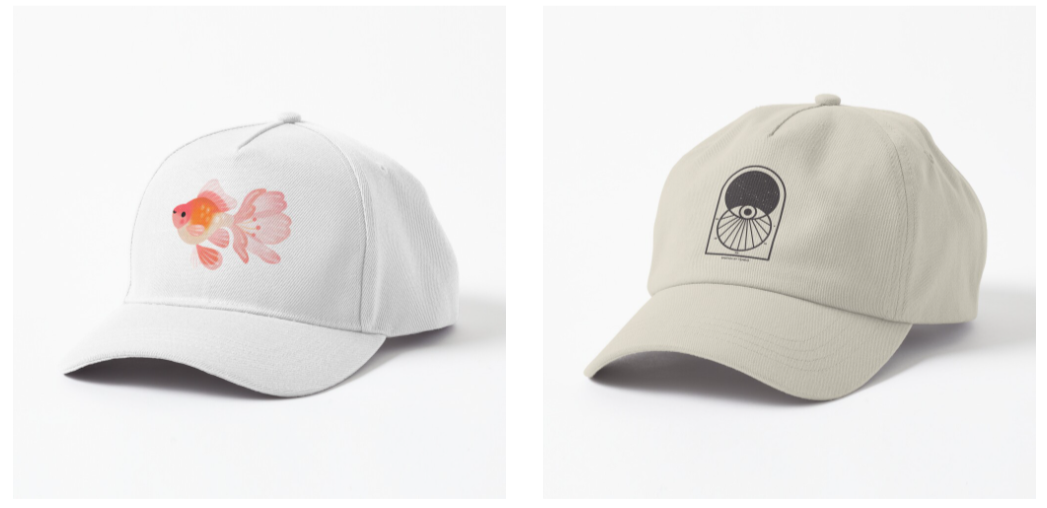 Baseball Hats and Dad Caps
Baseball hats and dad caps have been flying off the virtual shelves since we added them earlier in the year. Another budget-friendly gift idea, they're both practical and good-looking. If you still haven't added them to your shop, it's worth making time to add some designs for holidays. Like stickers, magnets and cotton totes, the best designs have transparent backgrounds rather than solid rectangles so we recommend making the effort to design something specifically for this product.
Cotton Totes
Cotton totes are made from 100% natural cotton and are a popular choice for customers wanting to cut down on their plastic usage. Like stickers, some of the best designs have transparent backgrounds, and we've seen some great examples where designers have chosen colors that work with the tone of the cotton canvas. For the greatest impact, both on screen and in real life, try to use as much of the print area as possible.
Throw Blankets
Throw blankets are the ultimate cozy addition to bedrooms, couches, or your favorite armchair. They're made from 100% polyester fleece and come in three different sizes. With the majority of our customers heading into Winter, they're the perfect gift for this time of year.
Magnets
Magnets are another affordable stocking stuffer for holidays. They come in three sizes and are die cut to the shape of the artwork. They're printed on 0.5mm flexible vinyl and are super durable. They're a really fun product and a great way to add personality to fridges, lockers, filing cabinets, and other metal surfaces. Like throw pillows, they're also a great way to refresh your decor for the holidays.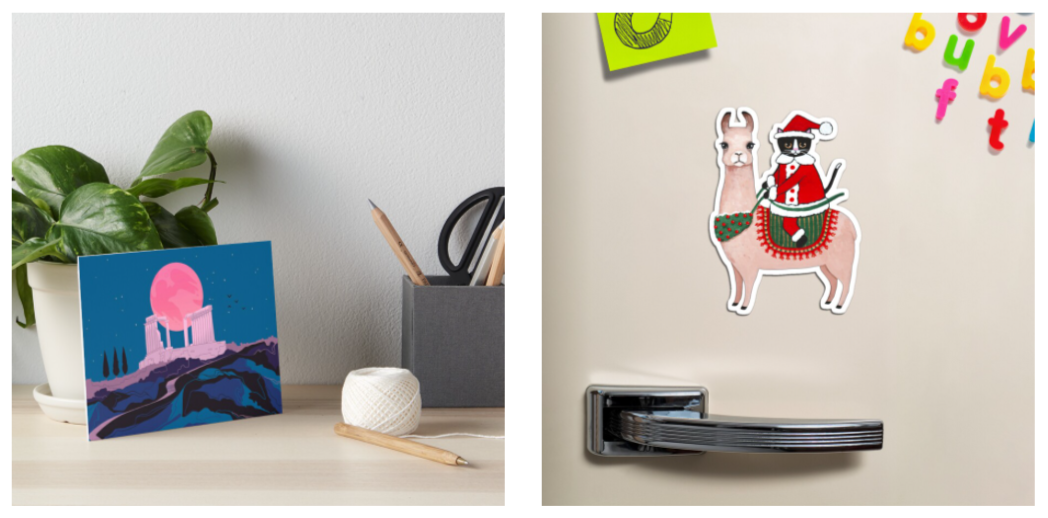 Art Board Prints
Customers love art boards as they're budget-friendly, good looking, and easy to hang. They're one of our most popular wall art products. Art boards prints are made from textured watercolor paper mounted on 4-ply art board, with 3M velcro dots for easy application and removal. They're perfect for gallery walls or displaying art in a collection.
Aprons
We introduced aprons in 2020 and they quickly became popular with customers. They're great for cooking, painting, making art, gardening, or barbecuing, so they're a great idea for all kinds of people on your gift list. They're machine washable and durable, with a vibrant all-over sublimation print that makes your art look pretty amazing.
Kids Hoodies and T-Shirts
Kids clothing is a popular gifting choice during holidays as customers search for unique ideas, packed full of personality. Kids clothing isn't automatically enabled in your shop so you'll need to go into the uploader, click on 'standard clothing', and enable the kids options to add any appropriate designs. You can also do this via the bulk enable tool on the Manage Portfolio page, but make sure you go back and check the positioning of your designs so your products look great.
iPhone Cases
It wouldn't be the holidays without the release of a new iPhone case and we've already launched cases for the new iPhone 13 series. Every year brings a slightly different shape, size, and camera position. We've accounted for that in the uploader with bigger files sizes and larger bleed areas but it's always worth checking how your existing designs look, and making any adjustments so your products look perfect.
With the festive period fast approaching it's time to start getting your shop in shape. Reviewing the products you have for sale and adding any new ones is a great place to start, and offering these customer favorites is a sure-fire way to increase your shop's visibility and reach more customers.