About Restream review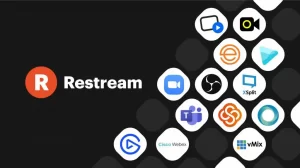 Restream is a web-based live streaming application that lets you publish your streams on multiple platforms simultaneously. It is a good choice for beginners but not recommended for professionals as it lacks the crucial processing power for advanced live feed rendering.
Educational and informative vlogs are extremely helpful. But generally, they are a monologue or a monotonous narrative.
This means no one is going to question the information being imported by the host. And this very gap is being filled by video podcasts and live streaming channels.
According to a report by Cisco, the global live streaming market is expected to grow 15 fold by 2022 and reach 17% of all internet traffic.
For this very reason, you can expect the number of live streaming to increase in the years to come.
Overview of Restream review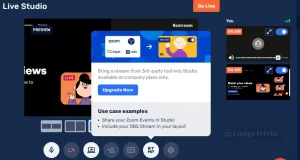 It doesn't matter whether professionals are working from home or getting back to their offices, live streaming is here to stay and prosper.
In this Restream review, we would try to find out how it is different from other conventional live streaming software.
We will learn how Restream allows streaming to multiple sites and whether or not this is the right product for you.
Let's begin with a brief overview of Restream.
This means your live stream would be published on different platforms simultaneously and you need not publish them manually. Restream also allows you to live stream on various Facebook pages and groups at the same time.
A few weeks back we reviewed ManyCam which is another live streaming application.
So let's deviate from the obvious live steaming utilities and jump on to the features that set Restream apart from the rest.
Restream Features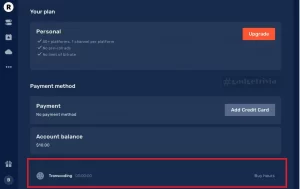 1. Live stream from your web browser
When I first visited Restream.io I was fanatically looking for the recommended system specification.
But as Restream allows you to live stream from your browser you need not worry much about your system requirement. Just make sure you have a good internet connection and the latest browser. That's all you need to stream to multiple platforms.
2. Schedule your event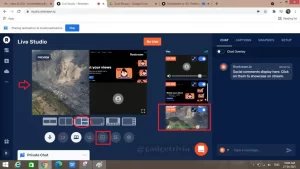 Restream allows you to schedule live streams or recorded videos. If you already have a recorded live stream in place, you have to simply specify the date and time when you want to publish it and the relevant platforms.
While scheduling a live stream you have to specify the time and the destinations for the stream. Once you complete your live streaming it would be saved as a video and get uploaded to the destinations of your choice at the scheduled time.
Scheduled recordings ensure that your podcast/live stream recordings are seamless. Let's say during your live streaming if one of your participants gets disconnected, you as a host would be caught in a fix.
This is when a scheduled recording can come in handy. You can record the part of the podcast when your participant is available and publish the podcast as a single run without any interruption.
3. Live streaming Analytics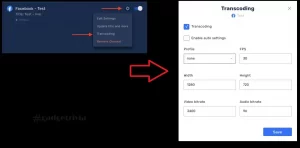 With Restream analytics you can get valuable insight into your live stream performance. This is a fresh feature that I haven't encountered in any other live streaming application.
Restream analytics provides a plethora of different metrics that allow you to quantify your live streams' impact.
The stream metrics show your broadcast period and the total number of platforms where you have broadcasted.
While the audience metrics give you detailed figures concerning the number of viewers, viewing time, and the time of your stream when participation peaked.
And that is just the tip of the iceberg.
As restream collects all stream-related analytics under a single section you need not navigate to all social platforms to get detailed analytics of your live streams. Mark my words, Restream analytics can be a very powerful tool in the hands of a digital marketer.
4. Cross-Platform chat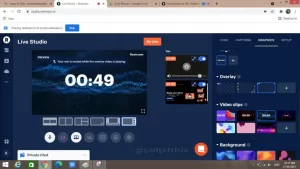 Restream webchat feature displays all user messages from different platforms in your chat. You can reply to all chats or reply separately specifically to each platform.
That means when you stream to Twitch and YouTube at the same time you need not visit either of these platforms to reply to your audience.
The website integrated with Restream would take care of it all.
There is also a relay bot integrated within the webchat. The bot acts as a mediator and brings messages from different platforms onto the webchat.
In a way, the relay bot allows audiences from different communities to interact with each other.
Restream analytics can also draw data from the webchat during your streams. Here's a list of Restream chat-supported services.
5. Transcoding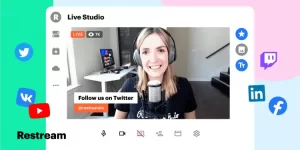 You can use the transcoding feature to downgrade the streaming quality on specific channels.
For example platforms like Periscope has a lower bit rate restriction.
So even if you can stream your high-quality content over other social media platforms, you would not be able to do so on Periscope.
For such situations, you can use transcoding on specific streams. You can specify the transcoding criteria and the resolution at which you want the string to happen.
Transcoding is a server-intensive process. So platforms relying on transcoding might experience a delay of 2 to 3 seconds with respect to other platforms.
Also, you have to buy transcoding by the hours. It is not part of any paid plans. Please visit this page for more details on transcoding costs.
Not that you have an overview about Restream, let me stitch everything together for you in a quick walkthrough.
How to use Restream.io?
Restream lets you stream live from the browser. You need not install a separate application on your machine.
When I was working on this Restream review, I was trying to find the download link on their website.
All you need to do is sign up on the website and after confirming your email ID you can start live streaming right away.
Signup/ Login
To sign up enter your username your valid email ID and password. You would receive an email that would contain the confirmation link. Just click on the confirmation link and your account verification would be completed
After logging in with your Email ID and password you would land on the Restream dashboard page.
From this page, you can configure different channels and connect to them.
On the Restream dashboard, you can find over 30 different live streaming platforms and you can even configure your own custom live streaming server.
After configuring your social media profile this is how the different live streaming channels will show.
You can toggle on and off of the channels where you want to live stream simultaneously.
As you can see in the screenshot below both Facebook and YouTube channels have been turned on. This means when I start my live stream the content would be available on both these platforms.
After you have decided on the platforms click on the enter live studio button to start streaming.
Setting up live streaming channels
This is how the live streaming page looks like. You can find the preview window in the middle which shows u a sample of your live stream in real-time.
From this screen, you can configure your webcam input or specify any third-party software which you might be using for rendering your video feed.
You can also specify the resolution frame rate and audio quality of your live stream.
Restream lets you share your screen as one of the stream inputs. You can opt to share your current window, any specific application running in the background, or any active
Chrome tab.
This feature is extremely handy for gamers and online tutors. You can turn on and off any source as well as change the way the different streams are laid out.
You can also see individual volume controls for each of your sources.
By changing the stream layout you can decide how you live stream would be stacking the different video feeds in the live feed.
On he right side of the preview screen, you can live chat with your participants. The cool thing about it is while streaming simultaneously on multiple platforms chats from all platforms would be visible to you under this section.
There is no need to switch between tabs while replying to your audience.
You can also add participants to your stream in different ways. You can either share your Restream link which they can use to connect to your stream or bring a stream from a third-party conferencing application like Zoom or Skype.
Unfortunately, as I was working on the Restream free trial I could not add participants from Zoom or Skype.
The application prompted me to upgrade my plan to use that feature. We will be discussing more on the different Restream plans in the subsequent sections
Apart from streaming your video feeds you can also share your videos and files from your cloud storage.
You can upload your files to Google cloud or Dropbox and access them from Restream's video storage.
However, streaming of media files from the cloud and recording your live streams is only available for paid members.
Ease of use
So far we discussed at length about Restream from a utility point of view. Now I would like to emphasize how easy and hassle-free Restream really is when you are using it daily.
Click open a browser and start streaming – It barely takes any time to set up live streaming. Simply click open a browser, visit restream and you are good to go. If you already have configured the channels where you would generally publish then you can start streaming right away. It is especially beneficial for gamers as they need not worry about the live streaming software biting a chunk out of their machine's processing power. Do you want to speed things up even further? Just save your restream dashboard link as a bookmark and you can start streaming in a few clicks.
In-house robust analytics – From a digital marketing perspective, your live streaming analytics is very crucial. When you are live streaming parallelly on different platforms, it might be cumbersome to collate data from various sources. Also, as there is no standard analytical parameter, you might even have to transform data from certain platforms. But with restream analytics, you can get all your live streaming data under one roof. That way you can figure out which platform provided you more reach and which had a better engagement.
Cross-platform live chat – Restream chat application and relay bots brings all charter from different social media platforms. This increases your engagement with your audience from all sources while increasing your presence.
Restream support system
Restream free base pack allows you to live stream for free. If you just want to catch up with your followers and share some info you can do it using Restream for free.
If you want to download your live streams and add more participants, you just have to opt for the right plan.
Don't worry Restream ensures that all your queries and blockers are handled at the earliest. They have a pretty robust support team that can cater to you all your concerns. Here's how.
Dedicated Support page – Their support page curates all common questionnaires and lists steps for complex live-streaming workflows. Almost all your queries are most likely to get resolved once you scroll through their support page. Simply type in your query and you would be prompted with the most relevant solution.
24/7 live chat – If the support page doesn't answer your concern, you can use their 24/7 live chat service. Restream chatbot can connect you to the right solution on the support page or relay the message across to its operations team.
Priority support for companies – Companies that have subscribed to the premium or business plan would get priority support. Any request that comes from a company will get priority support.
All in all, no matter the purpose of the use or the number of people using Restream, all your questions and hurdles would be e taken care of by the restream staff. No need to worry folks.
Restream Pricing
Restream follows a subscription-based pricing model for individuals and companies.
For individual usage, you can use Restream for free. Under the free subscription, you can stream from third-party streaming software and stream across over 30 different streaming platforms.
To exploit additional features like stream recording and streaming in full HD you have to go for the standard or professional plan.
Their standard plan starts from $19 per month while their most popular professional plan would cost you $49 per month.
For companies who want to use Restream, they can opt for either their premium or business plan.
Thes plans come with priority support and unleash the true power of Restream. A premium subscription would cost you $99 per month while a business plan can be availed at $299 per month.
For more details related to a subscription plan and its features, please visit their website.
Restream Alternatives
In this Restream review, we figured out the parallel streaming capabilities of this web application.
Now let's briefly touch upon other live streaming applications that is similar to restream
1. vMix
Many consider vMix to be a professional live production software. It allows you to create professional streaming simultaneously on different platforms.
The software architecture allows it to run smoothly even on a modest PC. vMix is currently supported on Windows and Mac platforms but you can use Android and iOS devices also for controlling your live streams.
Apart from their default live streaming features like streaming from multiple media, chroma keys, and transitions, vMix also allows you to perform color correction and setting up saturation and hue of the rendering content.
It has a robust audio mixer that makes switching between streams a fun affair.
Pricing – vMix trial version can be used for free for 60 days. Once the trial period expires you have to opt for a license. Depending on your expectations the license can cost you anywhere between dollar 60 to $1, 200.
If you want more details about their features and licensing options you can visit their website.
2. ManyCam
ManyCam is a live streaming application for Windows and Mac platforms. Apart from using it for live streaming, you can use ManyCam as a virtual webcam while you are on a conference call on other applications like Skype, Zoom, or Microsoft Teams.
You can use ManyCam to stream from multiple video sources. Its user interface is clean and doesn't take much effort to get used to.
It has a lot of neat features which can shorten your video production time. For example, you can export and import presets of your live stream and create a video playlist for glitch-free rendering while streaming live.
It allows you to use drawing tools and save your live stream on your local device
Read here our detailed ManyCam Review.
Pricing – You can buy a ManyCam license or opt for a subscription. Their basic subscription plan would cost you $29 per year while their lifetime license starts from $59.
Please visit their website for more details.
3. Streamlabs
Unlike other alternatives, Streamlabs is a free live streaming application. It is distributed as an open-source application and allows developers to add new features to it from time to time.
Just like Restream, Streamlabs allows you to publish content on multiple platforms simultaneously.
Apart from other live streaming features using Streamlabs you can add personalized widgets and link third-party apps to your live stream.
Pricing – Being an open-source application you can use streamlabs for free. No licensing cost is involved.
Conclusion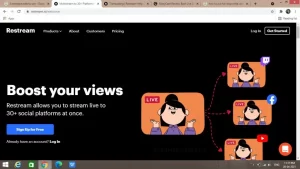 A few weeks back I did a thorough review of ManyCam. For this Restream review, I had to resort to Restream free trial. As the user experience of ManyCam is still freshly etched in my mind here's how I rank Restream.
Pros
Restream is a complete web-based live streaming application. You need not worry about fancy hardware specs.
You can change your live streaming layout from multiple streams for free.
They have a powerful analytics tool which analyses your live streams performance. Its usefulness cannot be emphasized enough.
You can integrate Restream with chat service and chatbots which allows you to relay comments across platforms. Its a smart take on
something which would have taken you lot of time to accomplish manually.
Cons
Being a web application Restream can only be used online. It might be a restriction for online tutors who can create live streaming
content offline from the available material on their local machines and stream it later.
You cannot change color saturation or contrast.
You need to upgrade to a paid plan to save your live streams on your local machine.
As Restream is not a native application it lacks the processing power required to apply a green screen for chroma keys. You need to
rely on other software encoders to apply a green screen to your live stream.
My suggestion
You can use Restream for free if your demands are basic. Also, its analytics feature is pretty awesome. As a digital marketer, I would
be ready to upgrade and pay just to use Restream analytics. Don't worry, you can use Restream analytics for free.
If you are a professional live streamer who needs green screen and audio mixing then you should definitely look out for other alternatives but it would never harm you to have restream in your kitty.
Yes, Restream is completely safe to use. As long as you configure your live stream channels properly you would do just fine.Restream duplicates the exact signal and route it to all the channels. Depending on your network bandwidth the bitrate quality might vary by 100 kbps. So your live stream is going to be lossless as long as your internet bandwidth is not compromised