About Restream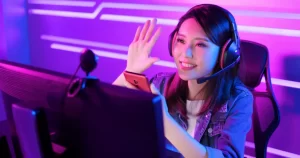 When it comes to live video streaming and multistreaming, Restream.io features prominently alongside the likes of Castr, StreamYard, Be.Live, Streamlabs, Wirecast, and Switchboard.
These are the types of software tools you turn to when you need to take your live video broadcasts to the next level.
You see, while social media sites and webinar platforms can support live streaming natively, they only offer basic broadcast management tools. Multistreaming tools, on the other hand, not only give you advanced streaming tools, but they also offer the benefit of broadcasting to multiple sites at once. That's why they're getting increasingly popular among full-time broadcasters, online course creators, and expertise-based businesses that want to extend their reach and – in many cases – create new streams of revenue. I'm talking about consultants, coaches, authors, speakers, trainers, you name it – the savviest among these professionals are becoming regular users of Restream and other multistream platforms.
If you're aiming to capitalize on livestreaming and multistreaming, stick around as we explore all the features you'll find on Restream. This Restream.io review dives deep into the platform to probe its key capabilities and how they work. We'll also uncover all the little-known weaknesses and the pricing options you should expect if you choose to sign-up.
Before we get to that, however, let's start with the basics. What is Restream.io? And why was it even built in the first place?
Overview of Restream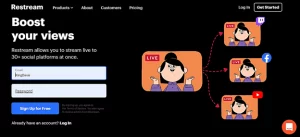 Restream.io is not a site where your audience views your videos. Rather, it's a platform that allows you to stream to sites where your audience views video. Most importantly, it can stream your videos to multiple sites at once. In fact, Restream supports more than 30 streaming sites. You can channel your live videos to media giants like Facebook, YouTube, and LinkedIn – as well as less widely-used platforms like Mixcloud, Twitch, Picarto, and Steam.
Given that type of reach, you can easily get your content in front of bloggers, gamers, influencers, content creators, businesses, and – of course – your best prospects. Restream currently helps its users deliver more than 8 million broadcasts per month, which subsequently end up reaching an audience of over 600 million viewers every month.
Impressive. And, as it turns out, Restream is only getting bigger.
One of the primary drivers of this success is the fact that, apart from multistreaming, Restream offers an extensive array of video management tools. You can, for instance, optimize your live video streaming quality by tweaking frame drops, frames per second, and bit rate.
But, that's not all. Restream also allows you to stream multiple points of view at the same time. You just need multiple cameras and the multi-camera mode will take care of the rest.
And while Restream.io is popularly known for its live video streaming capabilities, it doesn't limit you to real-time video shooting. It's also possible to stream pre-recorded videos across multiple platforms at once.
The process itself is pretty simple. Just upload your videos in .mov or .mp4 format, select the streaming channels, and then schedule the streams to run at a specific time. And while you're at it, you can even edit the videos by throwing in translations, voice-overs, and other elements that make you look like at true pro.
Other notable features you'll find on the Restream.io platform include customizable branding, text-to-speech alerts, bots, automated alerts, and metadata updating. The multistreaming platform integrates with a range of third-party applications, including XSplit, Elgato, SLOBS, and OBS Studio, making it easy to extend and enhance Restream's core capabilities.
To top it off, Restream.io provides a central analytics dashboard where you can keep tabs on audience engagement, trending content, and the performance of your streams across various streaming channels.
Sound like a platform you might want to try out?
Well, put your answer on hold for now – at least until we unravel what's really lying underneath all these features.
Here's a detailed rundown – based on my own personal experience on the Restream.io platform.
Restream.io Review – Main Features

Ease of Use and Getting Started
Because it's a cloud-based application, Restream saves you all the trouble that comes with the on-premise installation of video editing tools. For example, you don't have to worry about getting yourself an expensive PC with a dedicated graphics card.
All you need to run Restream is a web-enabled PC. Just go to Restream.io and voila! You can register and get started right away.
The process of creating an account is simple and straightforward. Once you hit the "Get Started" button on Restream's homepage, you'll be directed to its signup page – where enter your username, email, and account password. That's all it takes.
When you land on the dashboard, Restream.io will first prompt you to link the system to your streaming channels – e.g., Facebook, YouTube, LinkedIn. The free account gives you access to a wide range of options, which you could easily increase by upgrading to a premium package.
Whichever options you choose, you'll appreciate the ease of setting up channel connections. Restream's automated system requires only a single click to seamlessly link to your social accounts. So, in just a matter of seconds, you'll be ready to start streaming live videos.
Another thing you'll notice at this level is that Restream.io offers an engaging onboarding guide, which launches to give you a brief rundown of the main functionalities. You'll learn how to add more channels, customize titles, integrate third-party applications, and launch the live studio.
On the live studio is actually where all the magic happens. You'll find a friendly layout for managing all your streams – complete with easy-to-use video, chat, editing, and setup controls.
Overall, I'd say beginners won't need more than 10-15 minutes to get used to how everything works on the platform. Seasoned broadcasters, on the other hand, should be able to get started right off the bat. All the tools are well-organized and clearly labeled.
The only thing that might take you some time to adjust is third-party app integration – as Restream doesn't provide a one-click integration button. It, instead, requires you to copy its RTMP integration credentials and then paste them to the third-party applications (e.g., XSplit, Elgato, SLOBS, OBS Studio).
Live Video Streaming

The live video streaming area on the platform is known as "Restream Live Studio". This is where you get access to a host of robust tools for managing and controlling your video streams.
You can, for example, tweak your video layout, share your screen, introduce overlays, edit backgrounds, connect to integrated apps, customize the chat interface, add streaming channels, enable cameras, and more.
And speaking of cameras, Restream.io doesn't need additional equipment to get your videos rolling. You can live stream content right from your PC's camera and microphone. (If you want to explore setting up a simple home video studio, though, check out this post.)
The pre-set video quality is very good, as Restream automatically fine-tunes its quality settings to deliver a crisp live video streaming experience. You can, however, manually adjust the settings to produce your desired video display quality, depending on your internet connection speeds.
The highest you can go on your video output is 1080p, which translates to Full HD. That's fairly understandable, if you ask me – especially considering that most viewers' displays and bandwidth tend to max out at that level.
Be aware, though, that neither the Free Plan nor the lowest cost paid plan (Standard) support Full HD live video streaming.1080p live streaming is only possible on the Professional, Premium, and Business plans.
An all plans you are able to invite additional presenters to join you for the live stream and each invited presenter has the ability to stream themselves as well as share their screen.
And as the primary host, you get tools for controlling the entire layout. You can, for instance, set the split-screen format, swap places with your guests, and share video files.
And, if you want to customize the branding and overall look and feel of your live video streams, just go to the Graphics tab and play around with the settings. You can set overlays, video pre-rolls, backgrounds, and custom logos.
Multistreaming

Live streaming capabilities are at the core of Restream Live Studio, but it's the ability to broadcast your content across multiple channels simultaneously that really makes this type of software powerful.
Again, Restream supports multistreaming to more than 30 different platforms – and that's the case even on the free plan. You could have your videos playing on:
Upgrading to a premium plan will grant you access to these additional exclusive options:
Akamai
Wowza
Facebook Live (public page)
Custom RTMP
Custom RTMP here allows you to establish your own custom connections with third-party streaming platforms. You can, for instance, use it to add your Instagram channel to the list of multistreaming channels, with the help of a third-party service called Yellow Duck.
There's no limit to the number of channels you can add to your account. Restream.io only regulates usage by controlling the length of each stream, the number of videos you can store, and the size of the videos you choose to upload. Each plan comes with its limits – basically, the more you pay, the higher the usage limit stretches.
Even with the free plan, though, you can get going with the channels that will be most relevant to many aspiring multstreamers.
Streaming Pre-recorded Videos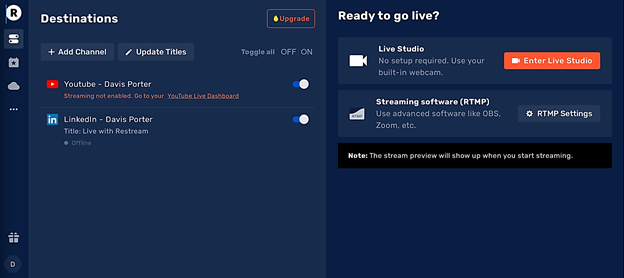 While live video streaming is perfect for those occasions that require real-time audience engagement, pre-recorded videos tend to deliver better-customized presentations overall.
So, you might want a streaming platform that's capable of handling both. And, thankfully, that's precisely what you get with Restream.io. This is a feature that online course creators, in particular, are bound to appreciate, as it allows them to prepare their lesson videos beforehand. (Keep in mind, though, that it is only available on Professional plans and above. Free and Standard subscriptions do not offer streaming of pre-recorded videos.)
Restream.io supports MOV, M4V, MKV, and MP4 pre-recorded video formats. The recommended bitrate is 4,000 kbps, while the frame rate and resolution go up to 30 FPS and 1080p respectively.
Keep in mind, though, that the final output frame rate, resolution, and bitrate of the videos are largely determined by the streaming channels. So, you might want to confirm their video limitations before proceeding.
Once you're done, you can upload your pre-recorded videos from Restream's Video Storage area. This is usually accessed through the cloud icon on the dashboard's left side menu.
The next step after uploading your videos is usually scheduling the streams. This is done from the Events section, which you can access by clicking on the calendar icon on the left side menu.
It's important to note that you can only schedule one stream at a time – whether live or recorded. Put differently, you can't set the system to stream two different videos at the same time. This means you can't run an event with concurrent sessions. (If you need to do that, consider a virtual events platform like HeySummit.) It also means you can't target your audience segments with different content, unless you schedule the videos to run at separate times.
Still, at least Restream.io allows you to schedule one stream after another, with only a minute gap between them. So, you could even create events that run consecutively round the clock for 24 hours.
For the best possible viewing experience, though, Restream advises you to first run your pre-recorded videos through a free app called HandBrake. It offers the right tools for optimizing your pre-recorded videos to run smoothly across various streaming channels. (Restream aside, it's a good app to know about and use for your videos.)
You can, for instance, compress the videos without ruining the quality. This would not only improve the streaming speeds, but also help ease the whole video upload process.
Analytics
Restream isn't all about broadcasting. It also tries to help you make informed business decisions by providing insights into your performance across all the streaming platforms. You'll find all these details in the "Analytics" section of the platform, which is accessible directly from the dashboard.
To be specific, Restream groups its analytics into these four categories.
Followers Metrics
Audience Metrics
Chat Metrics
Stream Metrics
The Stream Metrics, for starters, provide in-depth details about your broadcasts. You get to view not only the number of broadcasts
you've made, but also the average duration of the streams, as well as the total broadcast duration.
Then if you're curious about how people have been responding to your live streams, you'll find all the numbers in the Audience Metrics. This is where Restream shows you the audience peak time, the total number of views in each streaming instance, the maximum number of viewers your streams have attracted, and the corresponding average number of concurrent viewers.
Chat Metrics, on the other hand, focus on the performance of your chats during the live streams. You can identify the top chatters, the popular phrases your chatters have been using, the number of chat messages sent and received during your broadcasts, and the number of chatters who participated.
Restream.io doesn't stop there, though. It also dives deep into your social multistreaming platforms to uncover relevant Followers Metrics. This section of the report gives you information on the number of followers across your social streaming accounts, the number of followers you've gained or lost during your broadcast sessions, and the consequent follower growth rate per hour.
In a nutshell, you'll be able to keep tabs on all the critical aspects of your streams.
Restream.io Review – Pricing

Restream offers two categories of pricing plans. As an individual, you get three package options, while companies have two pricing plan options.
Free: The Free plan is free forever. That means you won't be paying anything at any point, unless you choose to integrate a premium third-party app.
Here, you can take advantage of stream health monitoring, stream analytics, cross-platform chat (with relay bot and overlay templates, but a message delivery time of 15 seconds, the ability to host up to 6 stream participants, screen sharing, on-screen comments and captions, multistreaming across over 30 channels, along with third-party streaming app compatibility (XSplit, OBS, and Zoom).
Standard: On the Standard plan, you'll be charged either $19 per month, or a cumulative equivalent of $16 a month if you settle for yearly billing.
In addition to all the features on the Free plan, you'll get a 5 second message delivery time, the ability to host up to stream participants, the ability to record up to 6 hours per stream, stream recording storage for up to 15 days, an allowance for 1 extra custom channel, plus the privilege to stream to Facebook Groups and Pages.
Professional: The Professional plan will have you paying either $49 per month, or a cumulative equivalent of $41 per month if you choose yearly billing.
It comes with all the capabilities on the Standard plan, plus up to 3 secured RTMP pull links, split audio track recording, Full HD streaming, video uploads, custom graphic overlays on the streams, exclusion of the Restream watermark, the ability to record up to 10 hours per stream, streaming of pre-recorded videos, cloud storage for up to 10 pre-recorded videos, 1 hour duration/2 GB limit on each pre-recorded video, plus an allowance for 3 extra custom streaming channels.
As for company users, Restream.io takes everything up a notch with the fo
Premium: The Premium plan goes for $99 a month, or a cumulative equivalent of $83 per month if you settle for yearly billing.
This will give you all the features on the Professional plan, along with Restream's streaming amplifier, up to 5 secured RTMP pull links, multi-camera support, priority customer support, stream recording storage for up to 30 days, the ability to record up to 20 hours per stream, cloud storage for up to 25 pre-recorded videos, a 2-hour duration/5 GB limit on each pre-recorded video, plus an allowance for 10 extra custom streaming channels.
Business: This will cost you $299 per month, or a cumulative equivalent of $249 a month if you choose yearly billing.
Additionally, you get all the capabilities of the Premium plan along with Restream's Failsafe stream backup, up to10 secured RTMP pull links, cloud storage for up to 50 pre-recorded videos, a 4-hour duration/10 GB limit on each pre-recorded video, plus an allowance for 20 extra custom streaming channels.
Pros
Restream offers a permanently free plan
The Restream Live Studio comes with an intuitive user-friendly interface and controls. Beginners will find it satisfyingly easy to use.
With all plans – even free – you can stream your content to over 30 social platforms at once.
Restream allows you to upload and broadcast pre-recorded videos (on the Professional plan and above).
You can build your own custom streaming channel into the platform.
Restream comes with a chatting feature that allows you to supplement video engagement with chat interactions.
The analytics engine tracks all the relevant parameters to provide insights into your streaming channels, audience, followers, and chats.
Restream.io is entirely cloud-based, meaning you won't need to install it on your PC.
You can record your live streams for up to 20 hours – and then repurpose them as vlogging videos or podcasts.
It's possible to stream from multiple cameras at the same time.
The Live Studio allows you to invite other broadcasters into your live streams as participants
Cons
Full HD streaming is only available to users who pay at least $49 per month.
Restream doesn't support 2K and 4K video streaming.
There's a limit to the number of pre-recorded videos you can store, as well as the length and size of each upload.
The streaming of pre-recorded videos is only open to users on the professional plan or higher.
Only company users on the Premium and Business plans get priority customer support.
Restream watermarks your broadcast content until you upgrade to the Professional plan.
It's not possible to run two separate streams with different content at the same time.
The quality of your video streams, in the end, depends on the bandwidth and strength of your internet connection.
Restream.io doesn't provide robust video editing tools.
Restream.io Alternatives
If Restream.io doesn't seem like the perfect multistreaming platform for your business, you could alternatively go for one of these:
StreamYard
OBS/Streamlabs
Castr.io
StreamYard vs Restream
StreamYard and Restream are very similar. They both support live multistreaming, screen sharing, broadcast participants, layout customization, and stream recording.
And, StreamYard also happens to be a cloud-based platform that offers beginners a permanently free plan.
The main difference between the two platforms lies in the number of channels you get access to for livestreaming and multistreaming. While Restream is flexible enough to run its live streams across over 30 channels – even on its free plan – StreamYard limits live streaming to 8 destinations even on its Professional plan. It's free plan only supports livestreaming to Facebook, YouTube, LinkedIn, Persicope, and Twitch and doesn't support multistreaming at all.
OBS Studio/Streamlabs vs Restream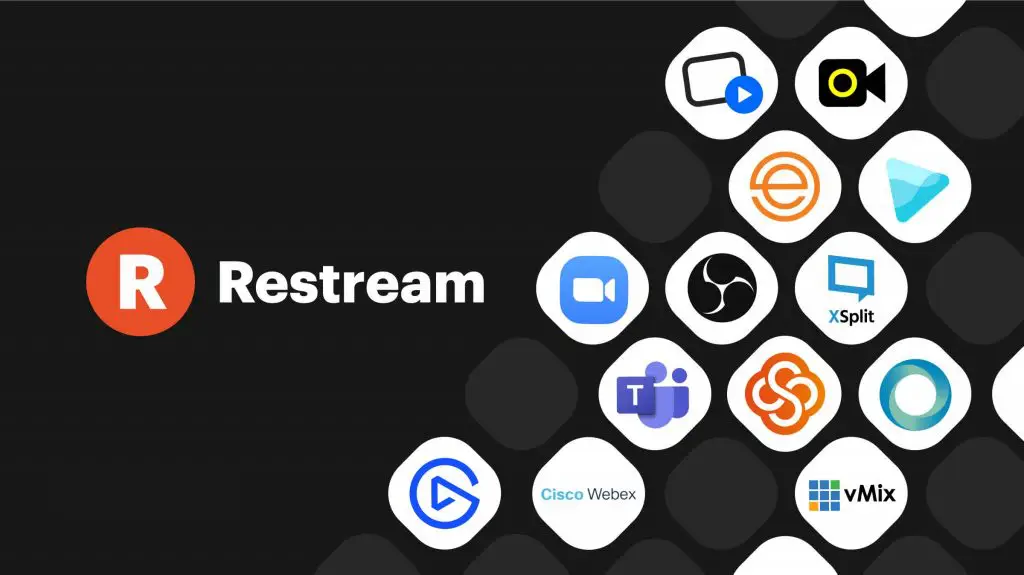 OBS Studio is a free open-source software that focuses more on video editing than live video streaming. If you have a reasonably powerful PC, you can download it, and then use its tools to create professional videos for your livestreams.
Video and audio mixing, capturing, custom transitions, noise suppression, video duplication, filter editing, you name it – OBS Studio comes with all the standard video editing capabilities that you might need. In fact, you may want to use it in combination with Restream to give you stronger video editing capabilities.
While technically you can use it for streaming (here's a quick start guide), you'll probably really want to use Streamlabs OBS, which is built on top of OBS Studio, to achieve an experience similar to Restream. It's not quite as feature rich as Restream and you have to run it from your own hardware, but it has the upside of being totally free.
Castr vs Restream
Castr definitely gives Restream a run for its money.
In addition to supporting live multistreaming across over 30 social platforms, this cloud-based application allows you to embed the video broadcasts onto your website. What's more, you can turn your live streams into on-demand videos that give your viewers the chance to fast-forward, rewind, skip, pause, or re-watch your videos.
Add pre-recorded video streaming and layout customization tools to that, and you have yourself a multistreaming platform that's great for teaching online.
The rub? Castr.io costs more than Restream, and it doesn't offer a free plan. Plus, you won't be able to collaborate with other broadcasters while you're on air.
Restream.io Review – Final Verdict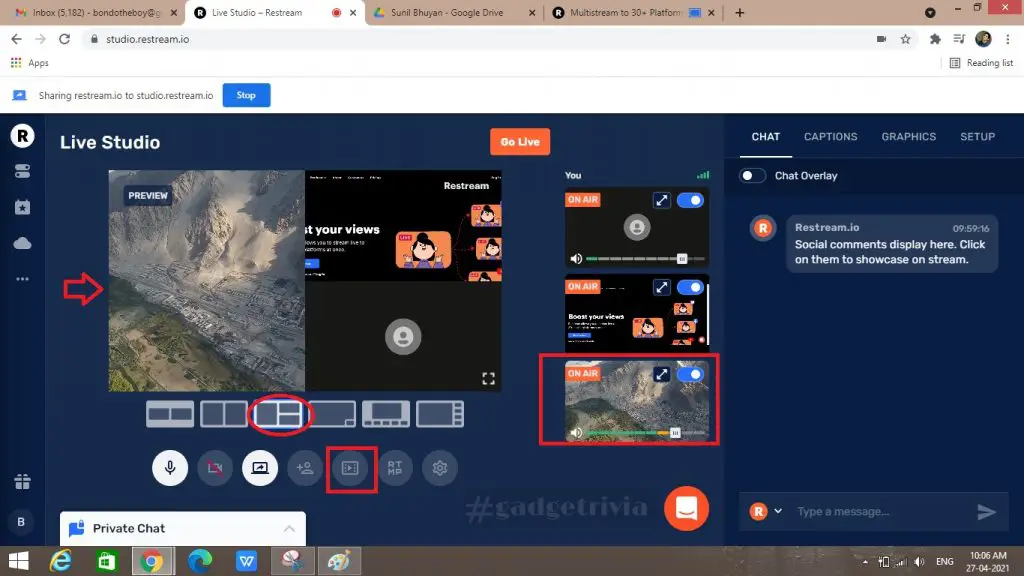 Restream.io definitely delivers what it claims – a multistreaming platform that's flexible enough to connect to over 30 social sites at once, enable you to connect with and engage your audience, and support collaboration with other content creators.
It's easy to get started and, while you do have to jump up to the Professional plan to get some of the key features, the per-month subscriptions rates seem quite reasonable for the level of value the platform delivers.
At the same, Restream is not strong on the video editing front – it does not, after all, claim to be a video editing tool. You can tweak the video streaming layout, but for the really professional videos, you might want to combine Restream with a tool like OBS Studio or XSplit.
All in all, Restream offers a compelling way to get started with the major opportunity that livestreaming and multistreaming represent. Given that there is a free plan, it's worth signing up and taking it for a spin today.