Users who are already using Thrive Themes must be a fan of it because of its advanced features as well as its ease to use. However, people who are new to Thrive Themes need some of the cons along with many pros. This is meant for bloggers who can easily make changes while focusing on conversions. No wonder Divi is best but it comes slightly high as plugins like Thrives Lead Box are not involved.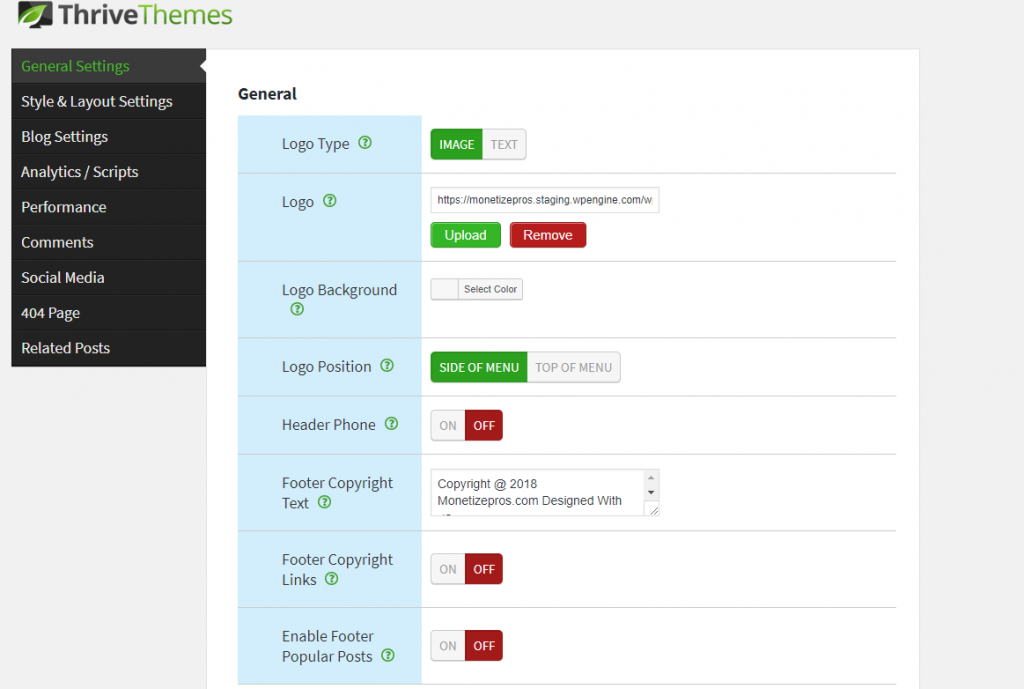 Review of Thrive Themes
There are many aspects of Thrive Themes which people are unaware of. It is not a single plug-in that is used for themes but is known to be an all-in-one plug-in that can transform the entire website into a great success.
The Thrive Architect WordPress page builder 
The best feature of Thrive Themes is its ease to use and this is only possible because of The Thrive Architect Page Builder. Earlier it was known as 'content builder' but was updated and made to the ultimate compatible with not all Thrive Themes but the WordPress themes. 
Its click and drag page builder is known to have 40 various elements which can offer you the chance to have control over everything while designing. This also includes changing height, background, text, etc. within a few clicks. Plus you can edit as well as delete the elements as well as sections.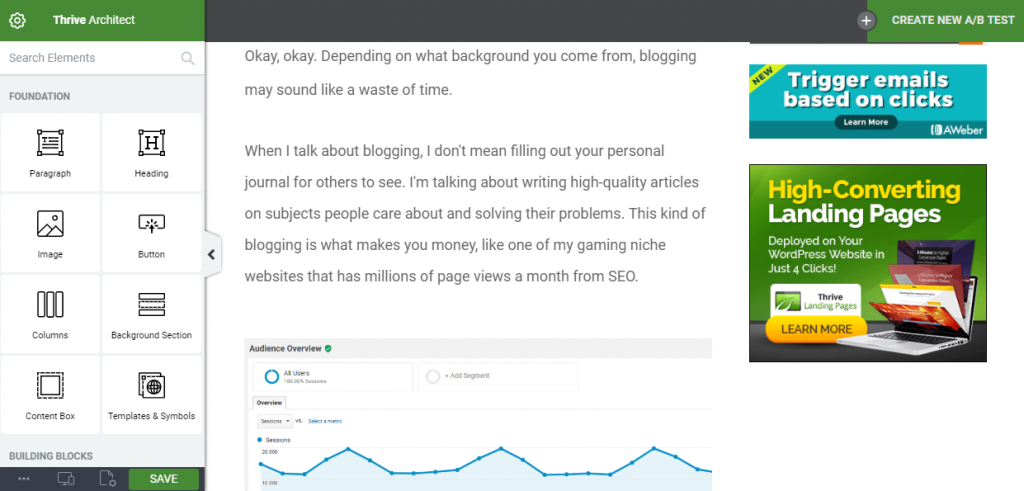 Other important things to know 
Get a live preview so that you can know how it is looking on other devices to customize the user experience. 
Being able to hide as well as enable elements according to the users whether they are visiting through mobile, desktop, or tablet. 
Fixing the width or padding without entering size or manually editing the settings. 
Thrive Architect allows you to deactivate the deactivate Thrive Architect plugin. Plus, the HTML content remains the same which allows you to change anything in case you switch platforms. Therefore, CSS modifications might not be great but they will not be lost. 
Other available Thrive plugins 
You can get 8 Thrive WordPress plugins and all of them are created with optimization as well as conversion tactics including Thrive Architect, Thrive Leads, Thrive Clever Widgets, Thrive comments, Thrive Ultimatum, Thrive Quiz Builder, etc. 
The Thrive Leads is a plugin that was liked by us the most. It is somehow the same as Opt-In Monster but is known to have better features and there is no compulsion of getting a monthly plan. You can select the pages you want to display, split test results, as well as show various forms depending on the new visitors, current subscribers, etc. 
Moreover, there are various forms that are meant to maximize conversions. You can get prevised targeting features, time-based trigger options as well as exit popups. It is only because of professionally designed templates.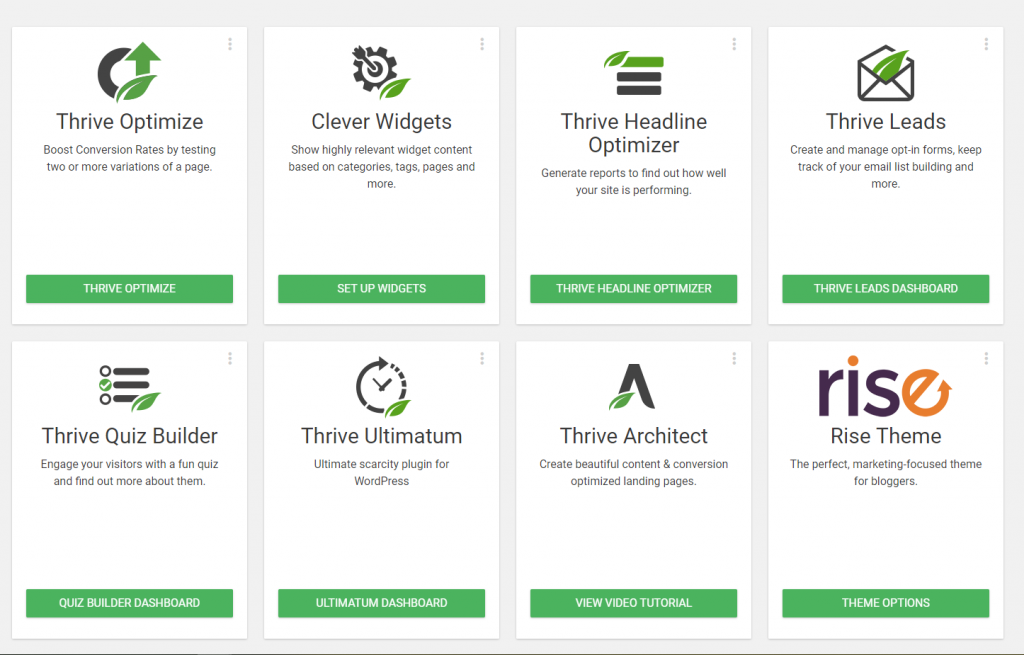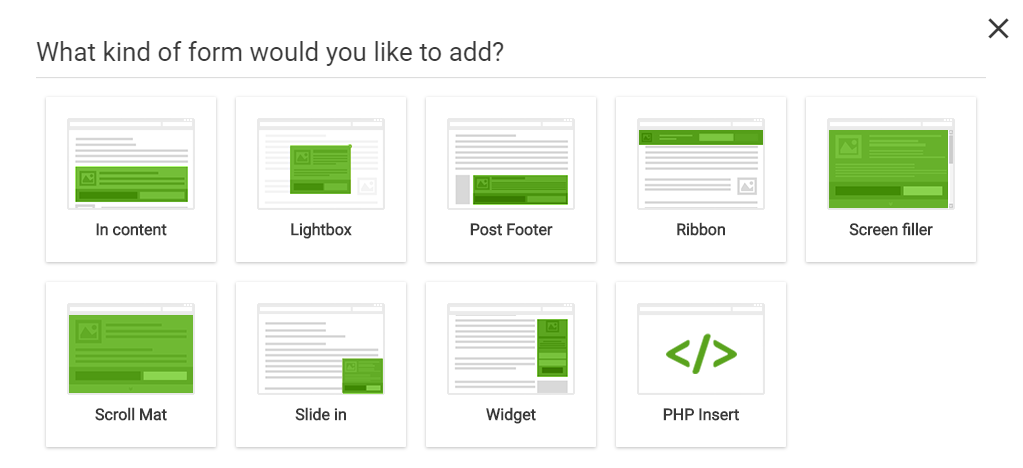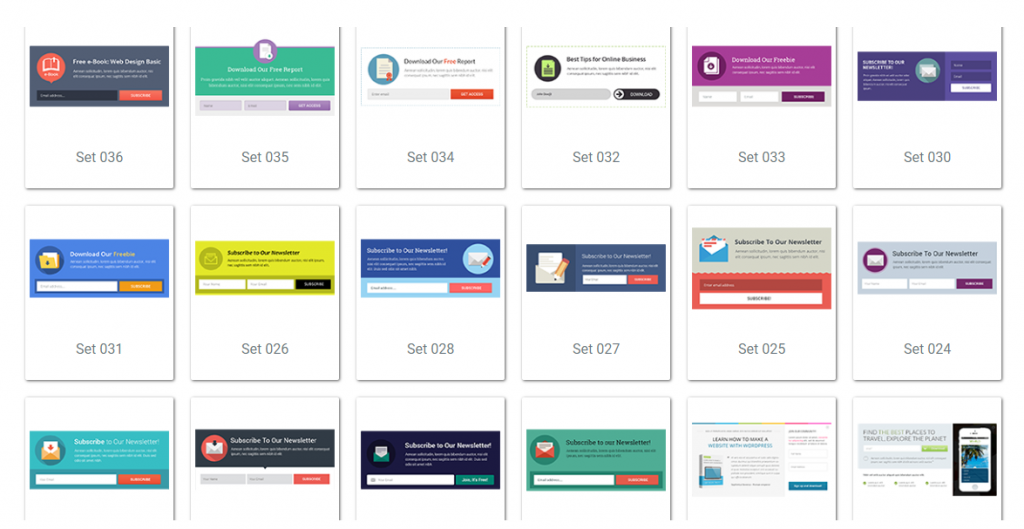 Landing page optimized templates 
You get to choose from more than 220 full templates that are designed to create amazing landing pages. We choose the Rise theme but used individual landing pages for certain funnels as well as targeted campaigns.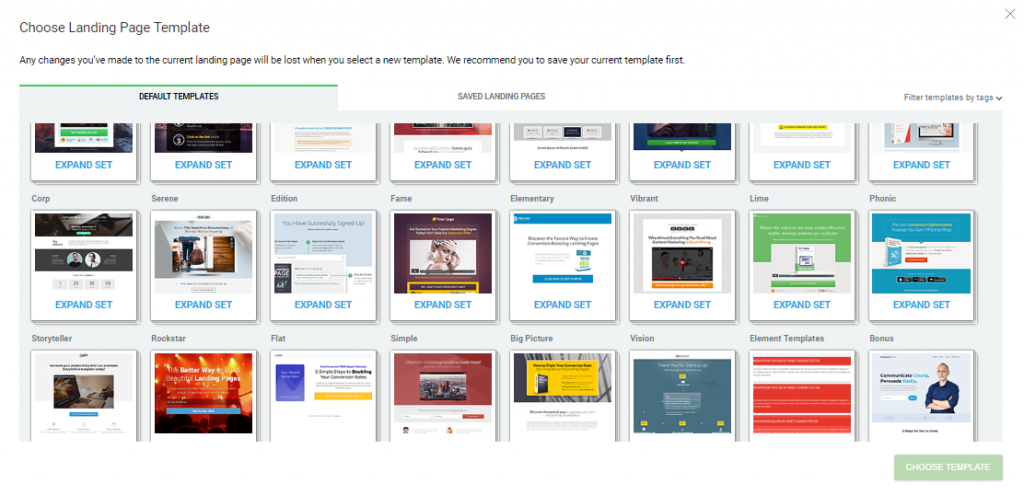 Pricing plans of Thrive Themes
Thrive Themes is not only famous for optimizing the website but they optimize the plans too. At the price of $67, you can get a single license that can be used for almost 5 websites but you still need Thrive Leas and Thrive Architect which is similar to full membership. 
Thrive membership is $19 per month (annually) and $25 per month (quarterly)
You can use all the plugins as well as themes with agency membership which is for $49 per month (annually) and $59 per month (quarterly). 
However, it is essential to know if you are using any individual plugin now but want to become a member at some point then the individual licenses will not be credited when you get the membership. 
Cons of Thrive Themes
Thrive lacks its custom design like a magazine theme that is specific to your niche but there is also an option to customize it. Also, it can be a slightly expensive theme if you are under budget constraints. There is no option to change the custom color of the header, footer, as well as sidebar except for 6 options without any copying of a custom code.
Its sidebar is responsive but there is no option to control the size. Also, their support forum requires some improvement in the search function so that users can categorize it correctly.
Endnote 
Overall Thrive Themes offer the best conversion-focused websites which are great for internet entrepreneurs. It is expensive as compared to the 'Theme Forest template' but is excellent value for money. You can save immensely by not buying extra plugins or hiring developers. Also, there is an option of a 30-day money-back guarantee.