Wix's drag-and-drop editor makes everything easy for creating a professional site. It has hundreds of templates as well as tools that allow to build as well as sell via the site.
Pros of Wix 
Simple to use editor
Amazing features
Automatic site backup
Cons of Wix 
No option to switch the template after the site gets live
Might need to spend on third-party apps
Wix – The overview 
This platform is used by more than 100 million people in around 190 countries. It is affordable, and simple to use to create a new site within a few minutes. It is best suitable for:
Small businesses
Cafes and restaurants
Hotels and hospitality
Musicians
Photographers
Graphic designers
Since its launch in 2006, Wix has become the leading website builder and there is no use of coding to create a good website. It is a classic template site builder but an AI platform is known to be rolled into one. It offers the choice to use more than 500 industry-specific templates.
Is it safe? 
It is safe and is a publicly-traded company that works globally with legal, privacy, payments, as well as product standards.
Is it free? 
It has a free plan if you are using its subdomain where you have limited functionality as well as display Wix ads. Also, to use a custom domain and get the functionality, there is an additional payment of the premium plan.
Pricing plans of Wix 
It offers a free plan if you don't want any site address structured. However, their paid plans are not that good but are competitive for various businesses. The plan offers the site to get up swiftly with no issue of technicalities. Also, the tiers are reason and are available at discounts.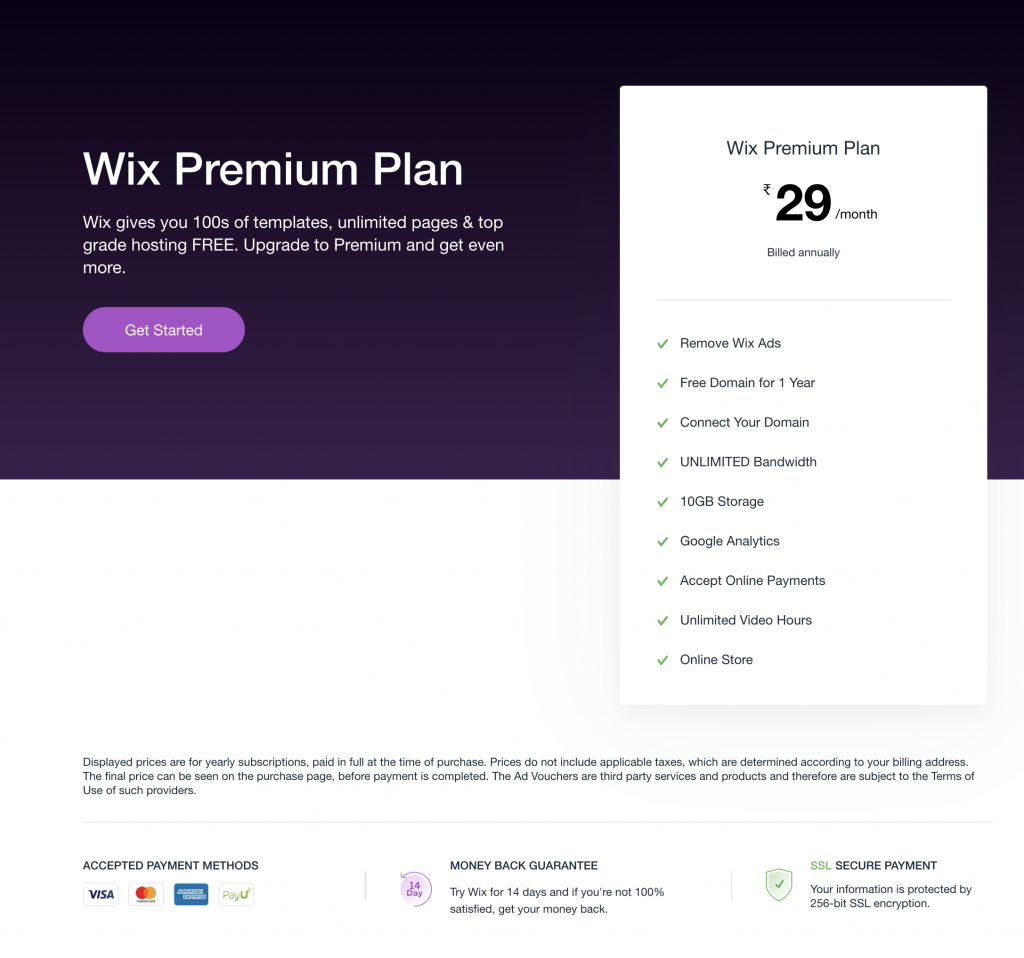 Combo plan 
This plan is billed for 'personal use'. It deducts the brand advertising from the site. The plan offers you to connect the domain with the site and offers free domain registration for the initial year. It offers 3GB storage as well as 2GB bandwidth. Plus, you get 30 video minutes which is a beneficial feature. This plan is for $13/month.
Unlimited plan 
This is the same as the basic functionality of the combo one. The plan offers $300 of 'Ad vouchers'. It provides the access to the site booster app which is a third-party app. The plan offers 10GB storage, unlimited bandwidth, as well as one hour of video minutes and is priced at $17/month.
Pro plan 
This plan offers more storage as well as video hours and allows you to use logo-making tools, and customize social icons, and calendar tools, and is priced at $22/month.
VIP plan 
This plan is similar to the Pro plan and offers user support. It is priced at $39/month.
Business basic 
This is a cheap plan which facilitates e-commerce. It is similar to the 'Unlimited plan' when it comes to features but offers more storage and video hours. It is priced at $23/month.
Business Unlimited 
This plan is similar to the 'Business basic' but has logo-making tools, social icon tools, more storage as well as video hours. It is only $27/month.
Business VIP 
This plan is described as 'the complete suite' as it has 50GB storage and unlimited video hours and offers priority support. It is for $35/month.
Enterprise 
This plan costs around $500/month and offers functionality the same as the $49 VIP plan but is an enterprise-grade solution.
Customer satisfaction 
It is highly recommended by 88% of people and has got some amazing scores:
24% higher than Weebly's
20% higher than Squarespace's
12% higher than GoDaddy's.
People loved how quickly they can create a website online without involving in critical ways. The platform has so much to offer like templates, features, as well as customization options.
Wix templates 
It has more than 500 templates and the templates are free of cost. They look professional and appealing plus help create an impact when used with HD photos. Wix also offers professionally shot images that are free of cost and every template is organized into intuitive categories like fashion and clothing, music, etc.
Wix also offers nice sample text, pictures, as well as layouts. However, the drawback is that if you are into the main version of Wix then finding the right template and sticking with it essentially as the templates cannot be changed later.
Animations 
Wix allows adding functions such as animations, parallax scrolling, etc. to the sites. These functions get automatically disabled on the phone to improve performance.
Design Customization 
The templates by Wix are ready-made sites and you can keep the dummy content and it makes very few changes to it. You can upload content from other platforms and get more creative. The animation button is great and it has various additional features which can be added by dragging them to the template. Plus you can blog, menus, contact forms, etc. After adding additional features, some of them can be customized by changing the size or effects, etc.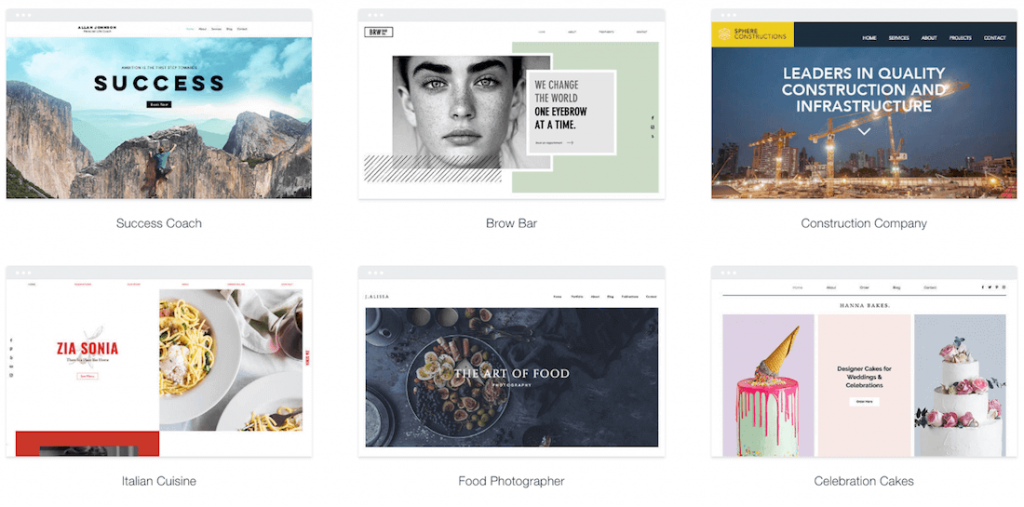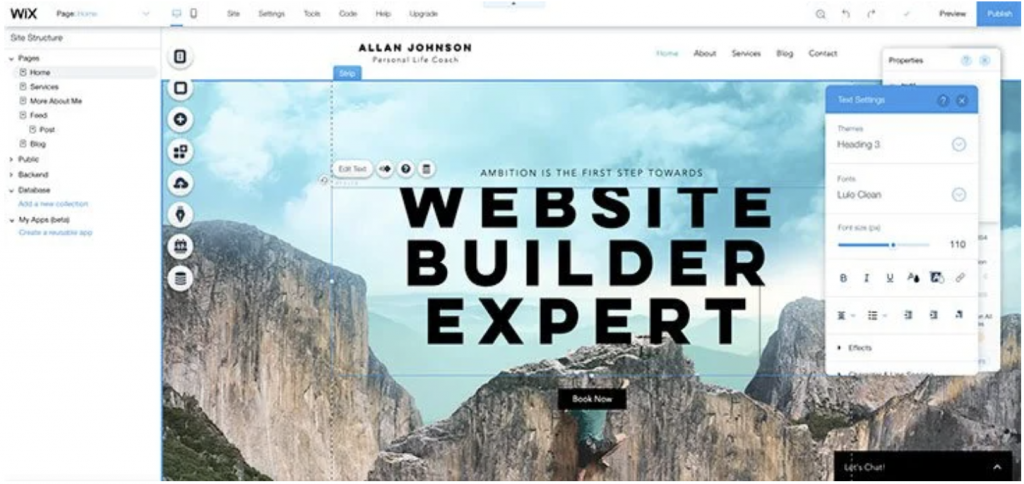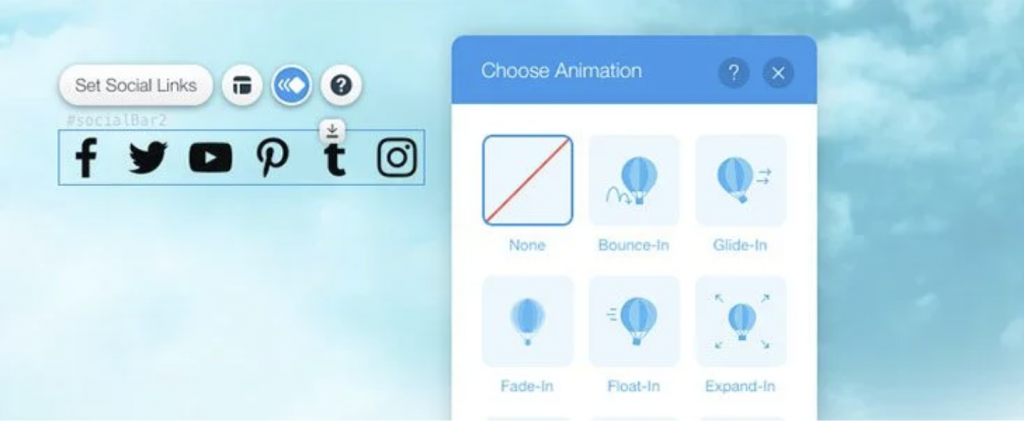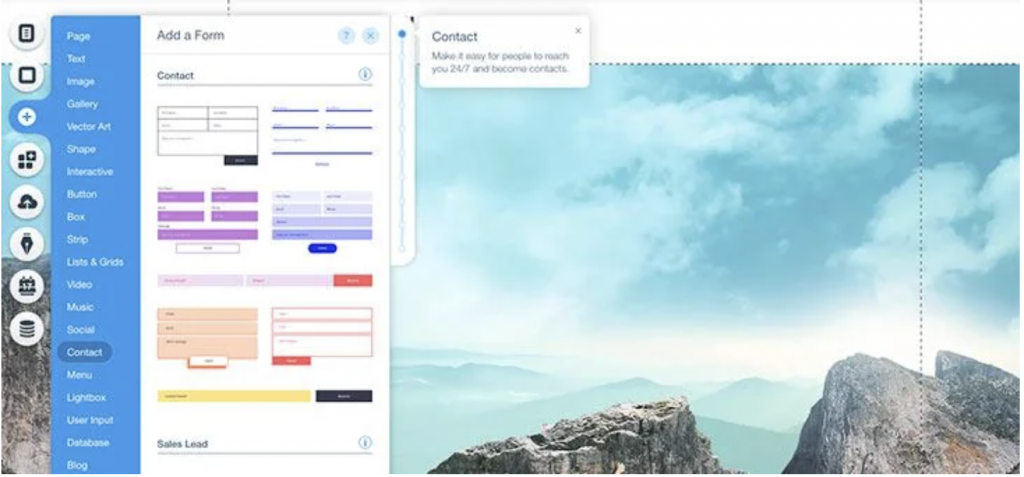 Tools and features of Wi      x 
Wix editor 
You can start from the beginning or can choose from 500 plus designer-made templates.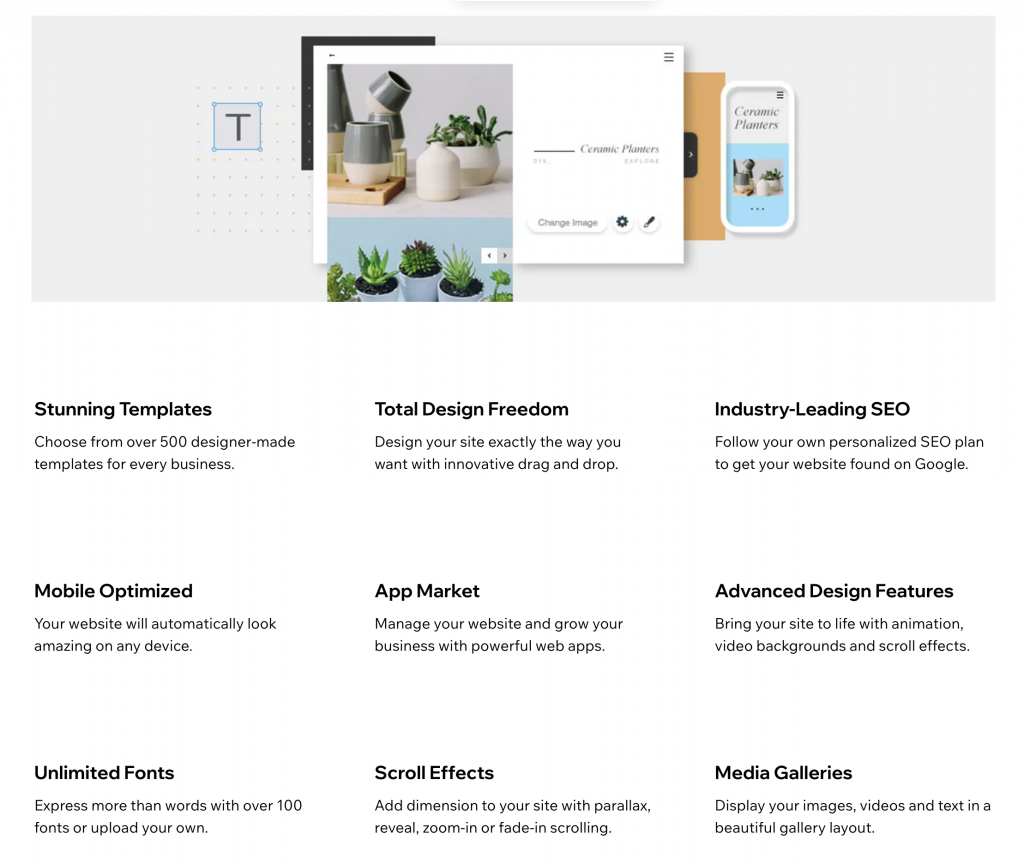 Wix ADI 
After answering some basic questions Wix ADI will design the best website for you.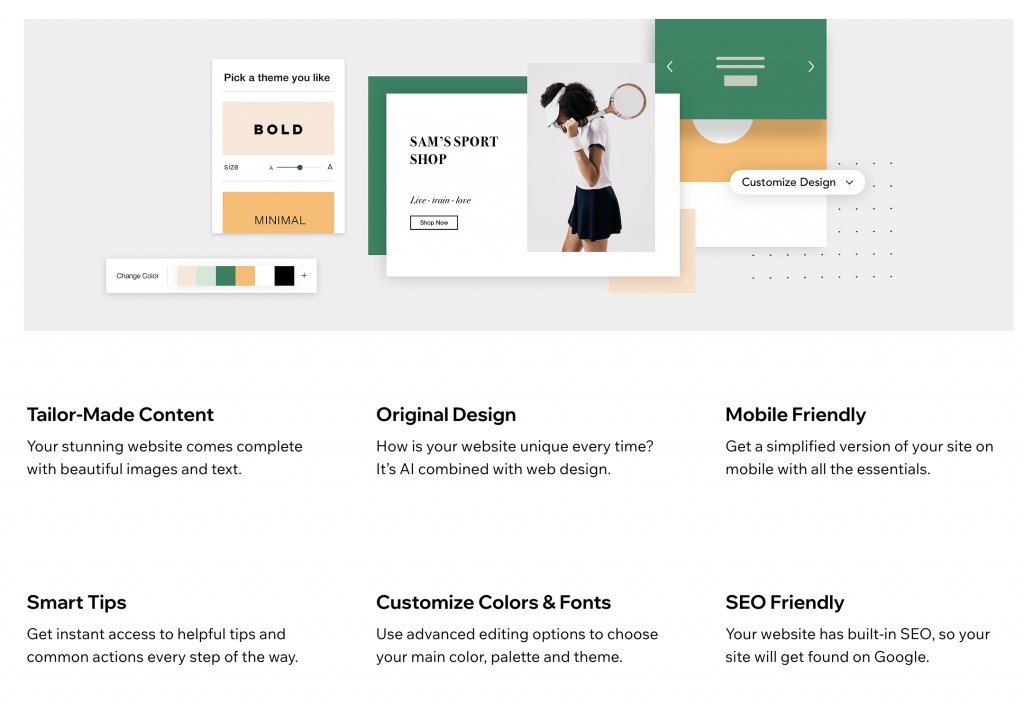 Corvid 
This is an open development platform where you can build advanced web applications. You can get serverless computing, free coding, and easily create, manage, as well as develop a new project.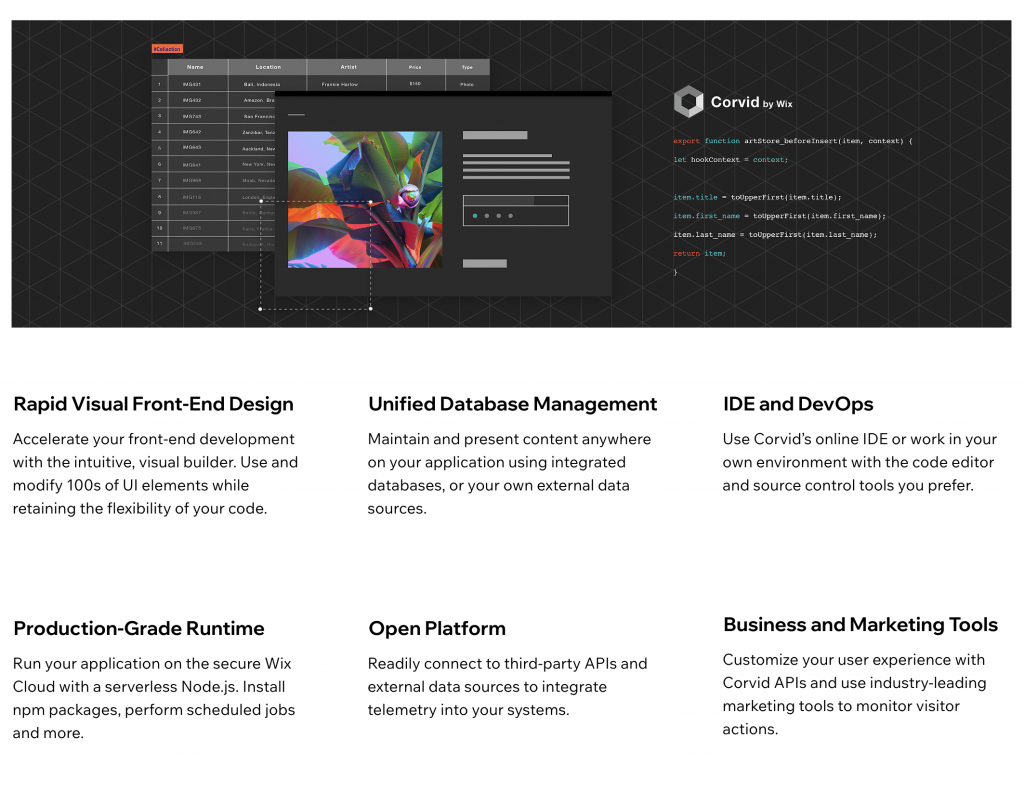 Professional features offered by Wix 
Custom domain name
Analytics
Wix chat
Professional Mailbox
Contact management
Social tools
Free hosting
Member login
SSL Certified
Wix – SEO and analytics 
Wix allows performing SEO tasks like
adding alt text
adding meta descriptions
editing page URLs
creating 301 redirects
In case you have a premium plan then it will help to register your website of yours with Google Search Console. It also creates separate views of the site for computers and mobile. Wix offers a responsive design which is a benefit. However, there is a lack of support for Accelerated mobile pages.
Analytics and conversion tracking 
The platform offers support for analytics tools offering built-in integrations for:
Google Analytics
Google AdWords
Google Tag Manager
Facebook Pixel
YandexMetrica
Wix support 
With Wix, phone support is always available for English language users whereas, for French, Spanish, Italian, Russian, as well as Portuguese speakers, the support is available from Monday-Friday. There is also an option for an email ticket. If you are paying for VIP support then you can get better support than others.
Conclusion 
This is a simple site-building platform that offers everything you want. It offers online storage for the media and a proper interface. Also, the additional features offer robust, modern as well as dynamic site creation.