Every WordPress website user looks for a perfect theme to amplify design, performance, functionalities, and style. A theme selection plays a vital role in making any WordPress website. And, ThemeForest is the most popular online place to get your hands on the most popular and stunning WordPress themes.
However, it's quite a task to get your hands on the best themes on ThemeForest. It's impossible to go through every single theme due to the time crunch. Hence, here is the complete guide to picking and buying a perfect theme on ThemeForest.
About ThemeForest
ThemeForest is the most popular WordPress themes online marketplace where one can find a stunning range of themes. It was started in 2008 with a vision to bring together all the creative WordPress theme creators for theme buyers. Every WordPress developer earns a good amount of money via creating themes and plugins for the website builder.
Here, the developers can create a theme, upload it to the marketplace, and right after getting the approval can easily sell it to it's buyers. They can either sell it exclusively via ThemeForest and earn over 87% of their sales.
How to Find a Perfect Theme At ThemeForest?
It's quite a daunting task to find a perfect theme on ThemeForest. The marketplace has a vast number of themes by various developers. Hence, here is a guide to get the best theme as per your requirement.
To simplify your task:
Take the help of a number of features that you can find out in the result-proven Search function. Here you can find out a theme as per your choice with the help of keywords.
Secondly, themes are categorized in over 14 categories, including corporate, blogging, e-commerce, etc. You can easily select a perfect theme as per the category of your choice.
Thirdly, one can make use of the Sort option that offers 5 criteria, including, best sellers, newest, trending, price, and best rated.
Fourthly, there is another filtering process where one can filter via category, tag, price, sales, overall rating, date added, software version, compatibility, etc.
How to Review a Theme Before Buying?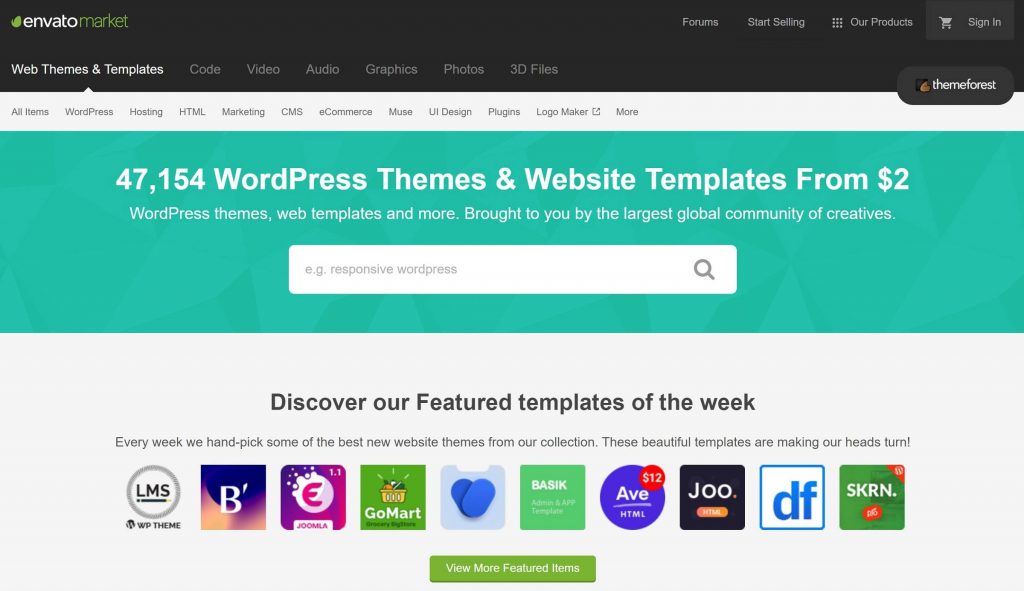 After selecting your preferred criteria and category, you come across your type of theme. However, to pick the best one, you have to review it's features, etc. So, what to check in a theme before buying it?
Every WordPress theme on ThemeForest comes with a live preview. It helps users or buyers to check an actual view of the theme, or in action. Here, you can check it's functionalities and features in a live preview mode. Also, you can check different layouts and backgrounds. Make sure to evaluate the theme and open it on a mobile phone to check the mobile version.
Check small details in the sidebar
Every theme comes with a sidebar wherein you can check out a listing page offering some important information such as the number of sales,  last updated,  comments, buyers' ratings, etc
In the description section, you can find out features, bonuses, premium plugins that are coming with the price, compatibility information, plugin compatibility, etc.
Most themes on ThemeForest come with 6 months of support right from the developer. However, buyers also get an option to extend the support by 1 year by paying an additional fee. Hence, it's important to check the support offered on a particular theme.
What's the easiest way to get the best theme?
If you don't want to make efforts or are still confused after applying all the filters, then it's better to pick the Best-selling Themes without thinking twice. The best-selling themes are already popular among buyers because of the features, capabilities, design, functions, support, etc. The best part is that most best-selling themes are multipurpose themes. Hence, you can use them for multiple purposes.
What's the alternative to ThemeForest?
No doubt, there are multiple WordPress theme providers and marketplaces online offering various themes. However, it's difficult to trust any marketplace. Apart from ThemeForest, one can rely on Elegant Themes, Themify, StudioPress, and ThemeIsle. These marketplaces are reputed and trustworthy WordPress theme sellers.
Final Thoughts
If you are in a search of amazing and multipurpose themes then you can blindly follow ThemeForest. No marketplace or platform is perfect. ThemeForest also has some minor issues. But overall it offers incredibly powerful and quality-driven WordPress themes that are hard to get anywhere else. It offers over 12,000 WordPress themes to choose from.