If you look at the BBB, Trust Pilot or any online review site, you'll find many poor Alibaba reviews on the Internet.
"Alibaba trade Assurance doesn't work"
"Got scammed on Alibaba for $3000"
"Alibaba suppliers are unprofessional and unethical"
Out of the 18k reviews on TrustPilot, over 11% of the reviews are 3 stars or less! But does that mean you should avoid buying from Alibaba?
Is Alibaba safe and legit to buy from?
This post will provide you with the facts behind the bad Alibaba reviews and how to buy from Alibaba without getting scammed.
Get My Free Mini Course On How To Start A Successful Ecommerce Store
If you are interested in starting an ecommerce business, I put together a comprehensive package of resources that will help you launch your own online store from complete scratch. Be sure to grab it before you leave!
What Is Alibaba?
Alibaba is one of the largest ecommerce companies in the world that connects buyers and sellers together. Instead of owning any inventory, Alibaba acts as a middleman by facilitating the exchange of goods and services.
Alibaba is split into 4 core businesses.
Alibaba.com – Alibaba.com is a supplier directory that connects manufacturers to businesses. You can find factories to build your products that you can private label under your own brand.
AliExpress – AliExpress is a marketplace that allows small businesses to sell individual products directly to consumers worldwide. AliExpress is considered the Ebay of China.
Taobao – Similar to AliExpress, Taobao is a business to consumer marketplace. However, Taobao mainly caters to Chinese citizens.
TMall – TMall is an ecommerce platform that caters to large brands like Nike, Apple and the Gap. TMall is a business to consumer marketplace that is similar to Amazon but mainly serves Chinese residents.
The Truth About Bad Alibaba Reviews
Because Alibaba acts as a middleman and does NOT carry any of their own products, all bad Alibaba reviews should be taken with a grain of salt.
First off, practically ANYONE can sell on Alibaba. Alibaba.com has over 150,000 active suppliers on the platform and over 10 million sellers on AliExpress, Taobao and TMall combined.
With that many sellers, there are bound to be some good suppliers and some bad ones and it's impossible for Alibaba to sort through them all.
However, Alibaba has many security measures in place to combat fraud. Buying from Alibaba isn't risky, you just have to be careful and understand how to sort the good suppliers from the bad.
Below are the most common types of Alibaba reviews that you'll find on the Internet and how you can avoid having a negative experience.
Alibaba Review #1: Trade Assurance Doesn't Protect The Buyer
Trade assurance is Alibaba's escrow service which ensures that your order is protected from fraud. If a transaction goes wrong, Alibaba will guarantee your money back if the supplier does not obey the agreed upon terms.
Trade assurance sounds great on paper but in reality, there are many different shades of grey when it comes to determining which party is at fault.
In general, when you pay with Alibaba Trade Assurance, your order is protected.
If you don't receive your goods or if the supplier does not deliver the quality you expect, Alibaba will open up a dispute with your supplier and mediate on your behalf.
While the process does eventually work, it can take a very long time, often several months or more. When you buy from Alibaba, Trade Assurance should be your LAST resort when it comes to dispute resolution.
Because the process takes so long, you are better off taking your own safety measures such as…
Hiring an inspector – Pay a company like Qima to inspect your goods as they come off the assembly line for defects BEFORE they are shipped.
Have an agreement in place – Clearly specify a defect ratio threshold into your buyer/seller agreement where the supplier agrees to a refund when certain conditions are met.
Create a quality control document – Clearly specify every last detail of the product you are ordering so there are no misunderstandings about specifications and quality.
Alibaba Review #2: Alibaba Sold Me Counterfeit Goods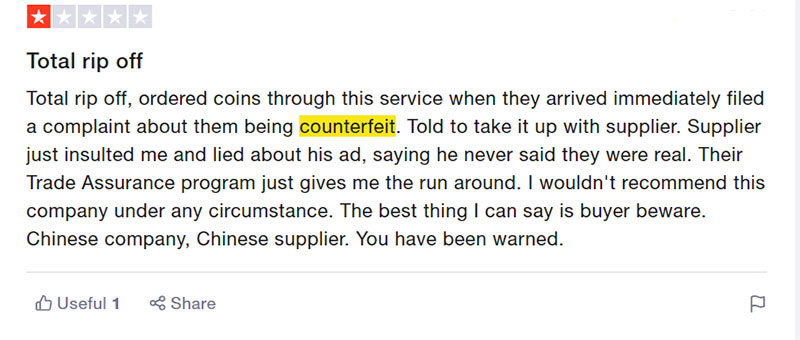 Several years ago, Alibaba was suspended from the International Anti-Counterfeiting Coalition for offering fake goods on their marketplace.
But since then, Alibaba has made great strides in fighting the counterfeits. In fact, Alibaba recently announced a 70 percent year over year drop in removed listings due to fake merchandise.
The best way to combat counterfeits is to perform due diligence on your suppliers and use common sense.
First off, if any Alibaba supplier tries to sell you name brand merchandise from Nike, Louis Vuitton, Gucci etc…, it's 100% fake. Never believe that ANY supplier is selling you authentic branded goods.
Here are the steps to avoid buying counterfeit merchandise.
Use Only Verified Suppliers – Verified suppliers on Alibaba pay a significant premium to Alibaba in order to qualify. In addition, Alibaba uses an independent 3rd party to inspect the company and its facilities.All verified Alibaba suppliers must pass a detailed on site check. As a result, the likelihood of a verified supplier selling counterfeit merchandise is low compared to a regular Alibaba supplier.
Check The Supplier's Reviews And Ratings – All Alibaba verified suppliers have a detailed company profile where you can view their company metrics.
Always Purchase A Sample – Don't be enticed to purchase in bulk until you've obtained a golden sample. You must verify the quality and authenticity of your product before you place a large order.
Use Trade Assurance – Trade assurance is the best way to protect yourself from fraud should counterfeit goods be shipped to you.
Test Your Samples – When you request a sample, have the product tested by an independent facility for material content. Never trust what the supplier tells you.
Here's what you should look for in your wholesale supplier
The company has been doing business for at least 5 years.
The company has a strong track record of selling to your country.
The company has a decent sized staff that speaks your language.
The company is a manufacturer and not a trading company.
Alibaba Review #3: Alibaba Sold Me Poor Quality Goods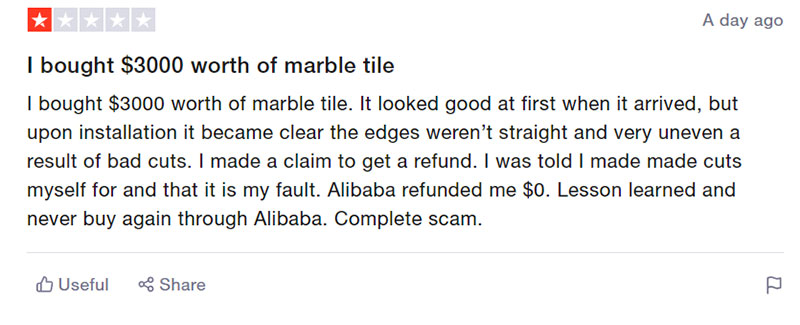 Receiving poor quality goods is by far the biggest reason people leave poor Alibaba reviews. However, most quality issues can be easily prevented with a small $300 investment.
Always pay for an on site inspection BEFORE your goods are shipped.
Because the cost of labor is so low in China, a company like Qima will send an inspector to your factory and inspect the goods as they are being produced for $300.
The poor Alibaba review displayed above could EASILY have been prevented with an on site inspection.
However, before you hire an inspector, make sure you create a detailed document of EXACTLY what you expect to receive from your supplier.
If you do not spell out on paper what you want, you will never receive what you want. After all, your supplier can not read your mind.
Uneven edges for marble tile could have been quickly detected by an inspection and saved this customer a ton of heart ache. In addition, this buyer did not use Trade Assurance which made him ineligible for a refund.
Alibaba Review #4: Alibaba Was Late Producing And Shipping My Products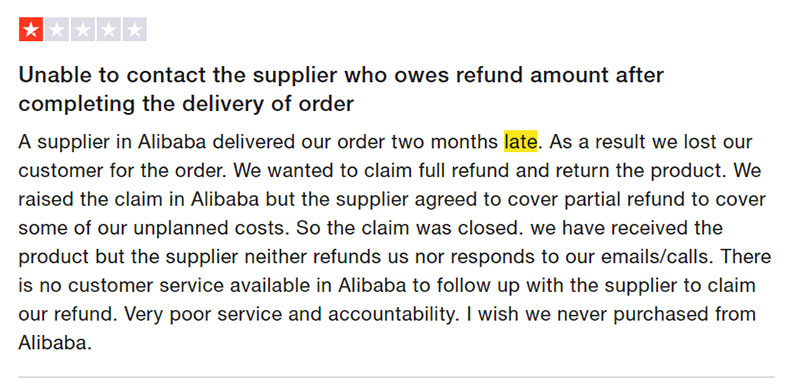 When working with China wholesale suppliers, you should go in with the proper expectations. A typical production run…
Requires 1-4 months to make the product.
Requires up to a month or more to ship by sea.
Requires a week or more to clear customs.
All told, a bulk order from Alibaba can take 6 months or more!
If you place an order on Alibaba with the expectation of meeting a specific deadline, make sure you draft an agreement along with a contingency plan in case of delays.
For example, we recently placed an order for napkins that we needed to arrive before the holiday season. In our agreement, we stated that if the shipment was more than 2 weeks late, the supplier would refund the undelivered amount in full.
When you order in bulk from China, you must realize that there are many factors outside of your supplier's control such as supply chain issues, shipping delays, storms, power outages etc…
Alibaba Review #5: My Alibaba Products Arrived Damaged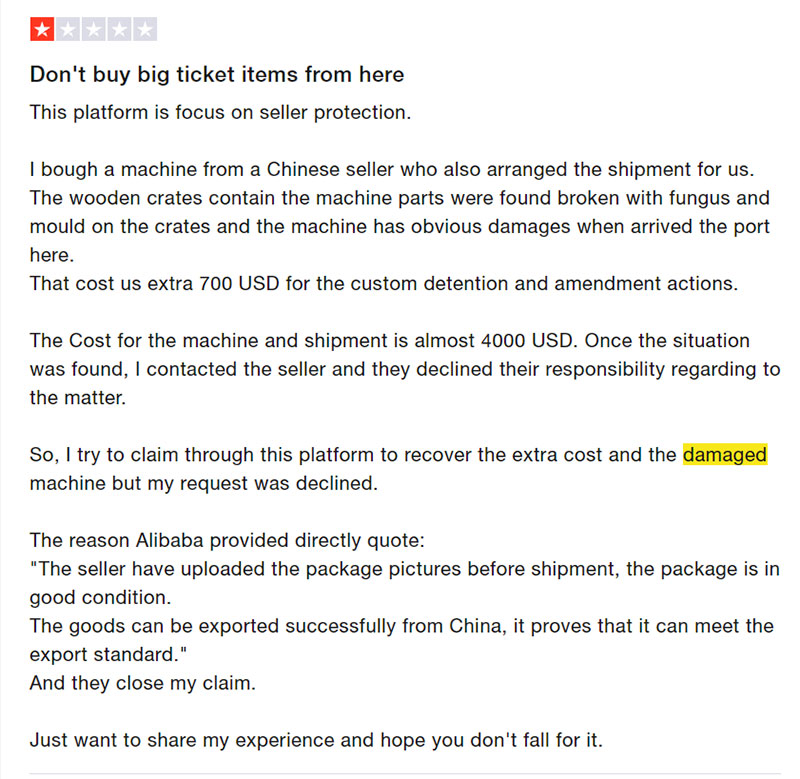 In certain rare cases, your products could get damaged during transit by sea or air.
And when this happens, Alibaba will not refund you your money if the items were shipped in good condition regardless of whether you have trade assurance or not.
To avoid the probability of your goods being damaged in transit, it is your responsibility to contact your supplier and review the way they are packing your order.
For example, one time we had a shipment of hankies arrive at our warehouse covered in mold. And the reason this occurred was because the supplier did not include a desiccant in the packaging.
Was this the supplier's fault or my fault? It was both of our faults.
The supplier should have known to include the desiccant but it was my fault for not double checking. In order to buy from Alibaba safely, you have to be super detail oriented and do your own due diligence.
Review all of the packaging with your supplier and outline terms in your purchase agreement for as many contingencies as you can think of.
You should also ALWAYS purchase freight insurance. In many cases, the shipping company will bear the cost of goods damaged in transit.
Should You Listen To The Alibaba Reviews?
As with everything you find on the Internet, you should take all Alibaba reviews with a grain of salt.
If you follow the proper guidelines and precautions, buying from Alibaba is extremely safe and reliable.
Below is a summary of the action steps you must take to ensure a satisfactory transaction.
To prevent getting sold counterfeit goods, only work with verified suppliers that have a solid track record of 5 years or more. Test every sample you receive with an independent laboratory to ensure authenticity.
To prevent getting shipped poor quality goods, always hire an inspector. Specify every last detail of what you expect and create a quality control checklist.
To prevent delays in production, have the proper expectations and build in some margin for the delivery of your products. Work with your supplier to create contingency plans in case of a late shipment.
To prevent damage during shipment, review the packaging with your supplier to ensure that your products are packed properly for shipment. Always purchase freight insurance.
To protect yourself from fraud, always pay using Alibaba Trade Assurance. The dispute process may take a long time to resolve, but you'll eventually get your money back