Find all you'll need to know about MakeMyTrip — a travel deals company — that claims to provide a one-stop shop for touring India. Are they legit? Keep reading for our scoop.
Looking for a good travel booking app to sort your travel plans in India? While there are so many booking platforms to help you with it, MakeMyTrip stands out for a good reason.
Let me put it this way. You land in an airport, take a cab to the hotel, depart the next day to another location by bus, depart from there the day after by train, and go on like that using multiple modes of transport and staying at different hotels.
Wouldn't it be simpler if all of the above, or most of them, can be sorted using a single app? What if an app can "Make my trip"?
We've previously reviewed travel deals services like Scott's Cheap Flights or Dollar Flights Club, but if you're traveling to India, there's another service to consider.
MakeMyTrip promises to offer you an integrative service that provides you deals all along your travels. But, is it as easy as it sounds?
Keep reading to find out!

What is MakeMyTrip?
Started in 2000 by Deep Kalra, MakeMyTrip.com (MMT) is an Indian travel booking company that provides a variety of online booking services for travelers. It identifies itself as a "one-stop-travel-shop" both for locals and foreigners touring in India. Their name, Make my trip, pretty much gives away all the features of the app.
What does MakeMyTrip Do?
With Make My Trip, you can book anything from international flights to local train tickets to hotels with the ability to make revisions and cancellations.
MMT initially started its operations in the U.S with the aim of helping Indians manage their tours to India effectively. In 2005, the company set foot in the Indian OTA market and eventually expanded to U.A.E as well.
At present, most of the travel products and services available on the site are for travelers in India. You can either use the MakeMyTrip app or website to place and manage your bookings.
The mobile app is available in both Android and iOS versions.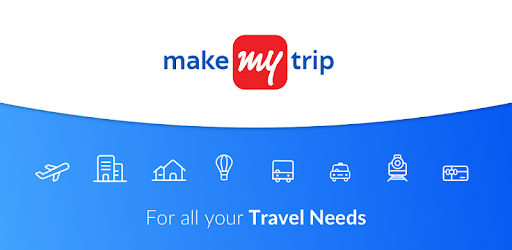 What are MakeMyTrip's features?
Book train tickets online
You can book your train rides in India via MakeMyTrip with the facility of checking the train schedules, seat availability, and booking status of your ticket. As the official partner of IRCTC, it also offers many other services like the ability to book 'Taktal" (last-minute) and special tickets.
makemytrip.com (MMT) offers both domestic and international hotel booking facilities. You will also come across great deals and discounts on hotel bookings here. Recently, MMT also introduced a selection of hotels handpicked by them, with guaranteed quality and reliability.
MakeMyTrip has partnered with bus operators in India to provide e-booking services. You can check seat availability, book bus tickets online, and receive real-time updates of its location.
MakeMyTrip lets you compare flight fares of different operators and book the best deal for your destinations. Flight booking is available for both local and international destinations, with discounted fares offered from time to time.
On a second note, if you can't find cheap flights here, we recommend you try alternatives, like Scott's Cheap Flights.
Book holiday packages and events
In addition to sorting your accommodation and transportation needs, MMT also provides holiday packages to different local and international destinations. You can also book tours to attend special events and festivals.
Foreign currency exchange
Foreign currency exchange is another popular facility offered by MMT via Fxcart. You can compare the exchange rates between different licensed dealers and select the best offer.

What we liked about MakeMyTrip.
Instead of using multiple apps or websites, you can use MMT to sort everything from your flights to hotels to other transportation needs. It covers both public and private transportation modes in India. You can track and manage all your bookings from a single mobile app, which is pretty great!
You can easily find cheap flights, hotel booking offers, and discounted holiday packages on MMT. Although the number of deals available depends on your destination, many users have managed to bag some great deals, even on last-minute bookings. Users might also receive discount coupons that they can use for their future bookings. For thrifty travelers, we think this is a good service to consider.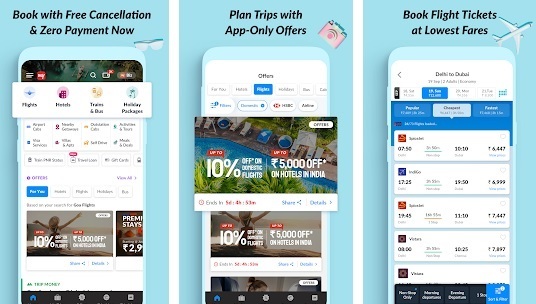 What we thought MakeMyTrip could do better.
Booking and refund issues
We came across a lot of bad reviews of MMT that highlighted numerous issues users encountered with regards to booking. In many cases, the bookings were not registered with the service provider, although the user had placed them via the website.
Some of the locations of hotels shown in MMT are also inaccurate. From what we gathered, their cancellation and refund process is also unreliable, and it takes ages for users to get their money back. Issues like these can easily frustrate anyone as the primary purpose of apps like MMT is to eliminate them.
Another main drawback of using MMT is their unreliable customer service, although customers are promised a 24/7 support team. The contact numbers are unresponsive most of the time, and they take a long time to reply to emails. Many negative customer reviews highlighted this issue. So, the chances are that it would be difficult for you to sort an issue regarding booking or refund through them.
Is MakeMyTrip Worth It?
In short, if you'd like to find great deals and don't mind their customer service, give it a try! Some users haven't encountered any issues when booking via MMT. In fact, it is a legit service that has a significant customer base. It's India's largest travel portal at present that provides an aggregate of transport booking services.
That being said, it is infamous for its lackluster customer service. So, we recommend you consider it before choosing MMT for your requirements. Also, there are many other travel apps that you can compare with MMT before reaching a conclusion.
A close alternative is Trip Hobo, and you can read its review here.
Our Rating: 3.1/5
Pros:
Convenient to use
Full-cycle deals service
Great discounts
Cons:
Poor customer service
Issues with bookings
Issues with refunds