Have you ever heard about the AppSumo app? AppSumo is a niche online retailer that is known to deliver massively discounted prices on software geared towards graphic designers, developers, web designers, etc. In other words, former Facebook, Mint, as well as Google employees, launched AppSumo and they define it as 'it promotes amazing products to help you kick ass at your work or job'.
This is an Austin, Texas-based company and is known to have more than 700, 000 followers. AppSumo's team ensures that they select the software products carefully that are created by flourishing entrepreneurs.
Complete overview of AppSumo 
PROS
It offers amazing deals on top-notch products
They use as well as test every tool before selling it
There is an option of 100% money-back guarantee within 60 days
It gets in partnership with new developers to promote as well as sell products
There is no spam mail
CONS
The deals are available for some period and sell out in no time
The approval process is highly stringent
Key Features
The deals range from 50-90% off
You can get amazing deals for lifetime sign-ups but only on digital tools
There are massive discounts on web-related as well as other courses
It is owned as well as run by etch experts
If you sign up for its newsletter then you can get access to its new deals
It is featured in Lifehacker, TechCrunch, and many more
What To Expect from AppSumo Deals?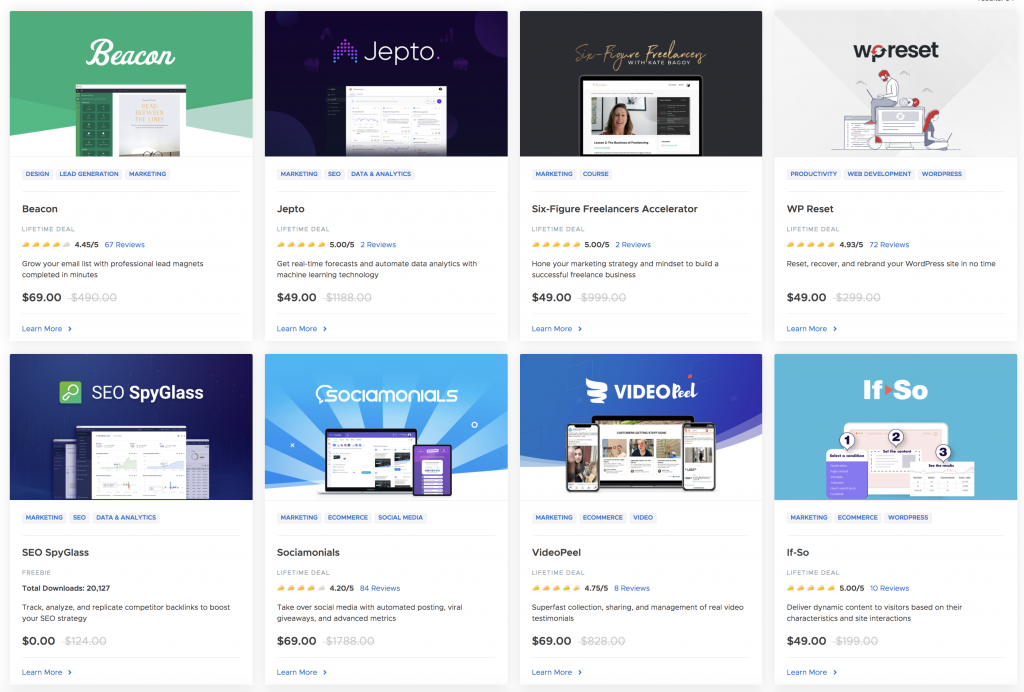 Here are some of the deals that will offer you an idea about its offerings:
Webinar Ninja: $49 for lifetime signup
Landingi landing page designer: $49 for lifetime signup
ClickMinded SEO training course: $149
Serpstat SEO platform: $39 for lifetime signup
KernestKonstellations premium font packages: $125
Know about AppSumo Plus as well as AppSumo briefcase 
Talking about AppSumo Plus, for $99 every year you can get 10% off on every deal plus you get early access to the latest deals, training on featured applications, as well as a Pro license to its KingSumo giveaway products.
However, we feel that AppSumo is not satisfactory as KingSumo has previous deals, and to make the money back on $99 every year one needs to buy a minimum of 2 AppSumo deals every month. For some people who are just building their software stack, this can be good but if AppSumo includes any deal on its new email marketing platform SendFox then it would have been better.
If we talk about AppSumo Briefcase then it is better than Plus as one has to pay $49 every month to get access to the best apps so that growth hack of the business can be done easily. In this everything is covered like video creation, productivity, social media marketing, etc.
Conclusion 
AppSumo allows you to be confident to do business with Sumos. In case you want to feature your company on AppSumo then it is better to get used to traffic plus one has to 70% fee to AppSumo to get upfront into the startup.