I remember my first introduction to dyson like it was yesterday. It was roughly 15 years ago when my parents asked me to go to bed bath & beyond with them to snag what was then a very fancy vacuum, something my mom could hardly contain her excitement over. Fast forward to today, and here i am, my mother's daughter, genuinely jazzed about vacuums.
A lot has changed since dyson launched its first ball vacuum, a machine specially designed to maneuver around corners, in 2005. Now, in addition to new iterations of the iconic design, the brand also has cord-free vacuums that have earned endless accolades. In fact, it was the dyson v11 animal, which came out in 2019, that first grasped my undivided attention. Ahead of my move to my first solo apartment, i added the cordless vacuum to my arsenal of cleaning products and tools largely in an attempt to keep my pup, cash's, stray fur at bay (given that it's specifically designed to target pet hair)—and quickly fell in love. For two years, i swooned to every dog owner i knew about just how much they needed the dyson v11 animal in their home, thanks to its suction, runtime, and lightweight silhouette.
But then the top-seller got nixed from dyson's lineup. And thus began my research into the brand's other vacuums to find the most worthy recommendation for pet owners hoping to live in a tidier home. At the end of the day, it came down to three top-selling products: the dyson ball animal 3 extra, dyson outsize absolute, and dyson v12 detect slim. Spoiler alert: the dyson outsize absolute was the top contender. But remember, each vacuum cleaner has different capacities and capabilities; keep reading to find which might work best for you and your four-legged-friendly home.
Dyson Vacuums for Pet Hair at a Glance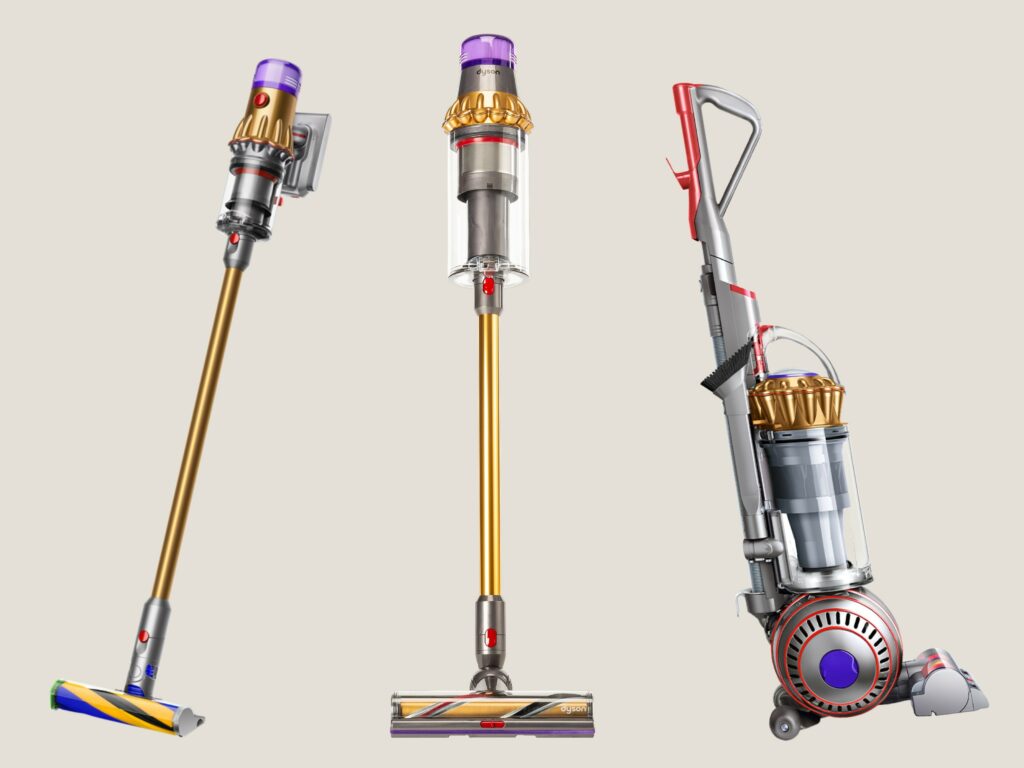 Dyson ball animal 3 extra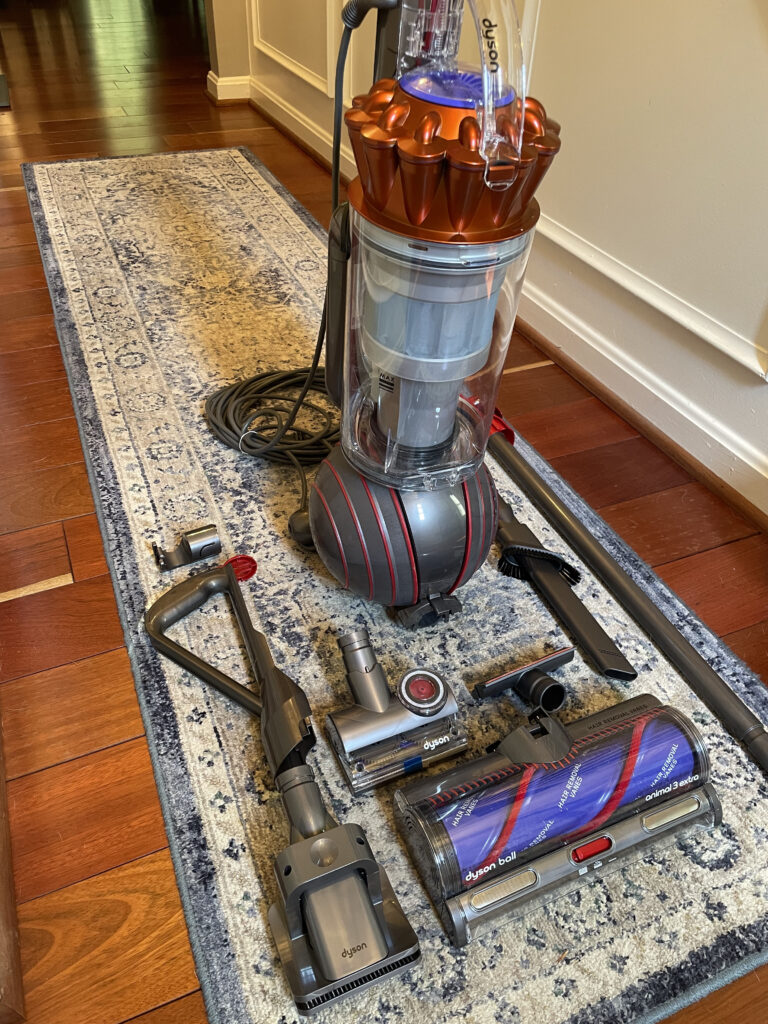 Pros:
It's efficient on all floor types, including carpet, rugs, hardwood, and tile.
It comes with an attachment to groom your dog (not just clean up after them).
You don't ever have to worry about the battery dying, since it's a plug-in.
It has a 35-foot cord.
It features Dyson's new hair detangling technology.
Great suction power
Cons:
It only includes four attachments.
The 15-foot hose recoils on itself a bit.
It weighs a bit more than 17 pounds, which can be heavy to carry up and down stairs.
Dyson outsize absolute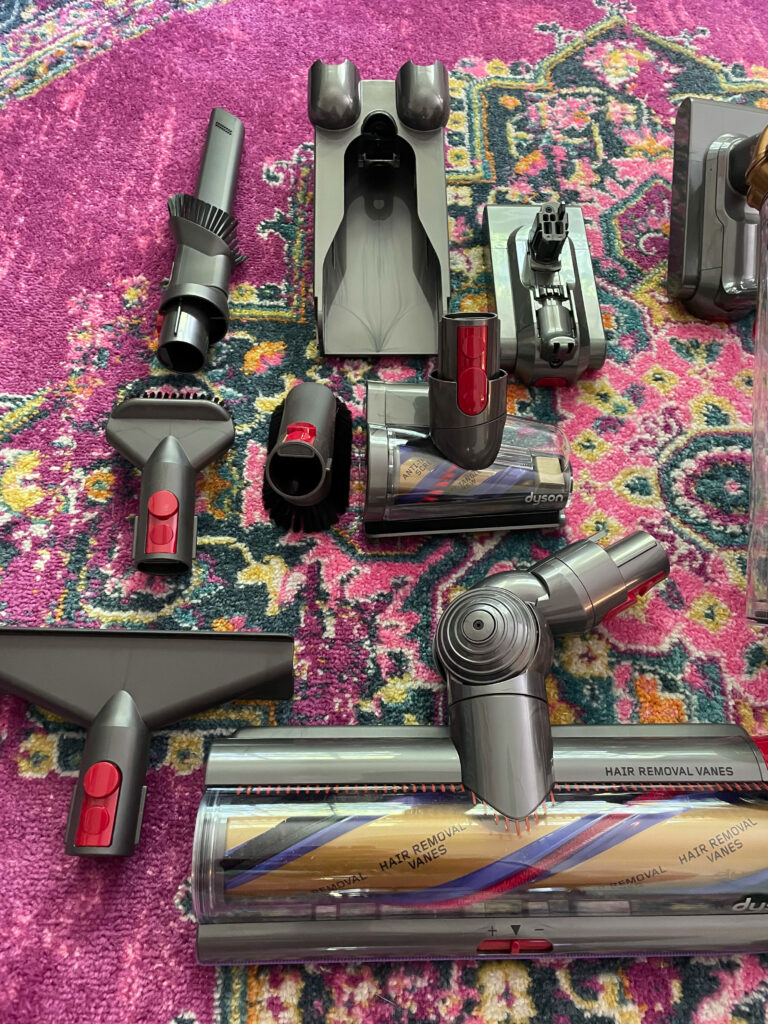 Pros:
It comes with eight attachments, as well as a wand clip, docking station, charger, and additional battery.
It has the largest canister of any dyson cordless stick vacuum.
It features dyson's new hair detangling technology.
It features laser technology to pinpoint dust particles for more effective cleaning.
Cons:
It has up to 120 minutes of run time, but you have to swap out the rechargeable battery to capitalize on it.
Weighing about eight pounds, it's heavier than the average stick vacuum.
It takes 4.5 hours to charge, so you have to remember to plug in before you intend to clean.
Only sold at Dyson
Dyson v12 detect slim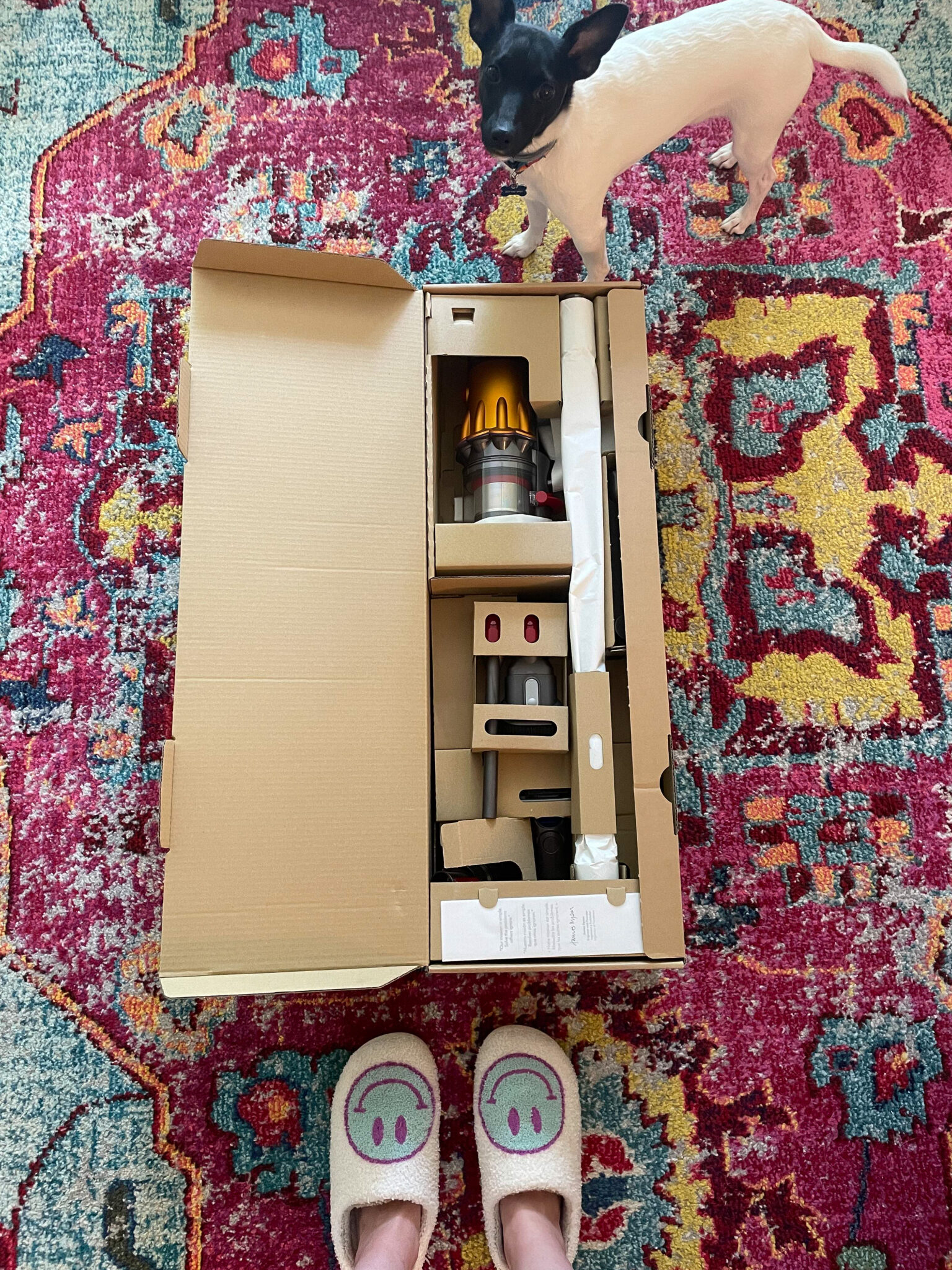 It comes with five attachments, as well as a wand clip, docking station, and charger.
It's incredibly lightweight but features powerful suction.
It features dyson's new hair detangling and laser technology for more efficient and effective cleaning.
Cons:
It turns on differently than traditional Dyson stick vacuums, which takes a beat to get used to.
It only has up to 60 minutes of run time.
It has a notably smaller bin, so it's best used for quick tidying sessions, not deep cleans.
Vacuum Type
Believe it or not, cordless stick vacuums, ubiquitous as they seem, have only been around for the past 10 years. Meanwhile, the classic upright vacuum has been around since the late 1920s. In both cases, the two silhouettes have evolved over the years—and dyson is largely to thank for it. The brand's stick vacuums and upright vacuums have set the precedent for non-robotic vacuums and, quite simply, they're tough to beat. Hence why i've been so determined to find a product to replace the now discontinued v11 animal.
The dyson ball animal 3 extra is an upright vacuum with an innovative ball head to make maneuvering around corners less of a challenge (in comparison to traditional uprights).
The dyson outsize absolute and the dyson v12 detect slim are both cordless stick vacuums with notably different sizes and capacities.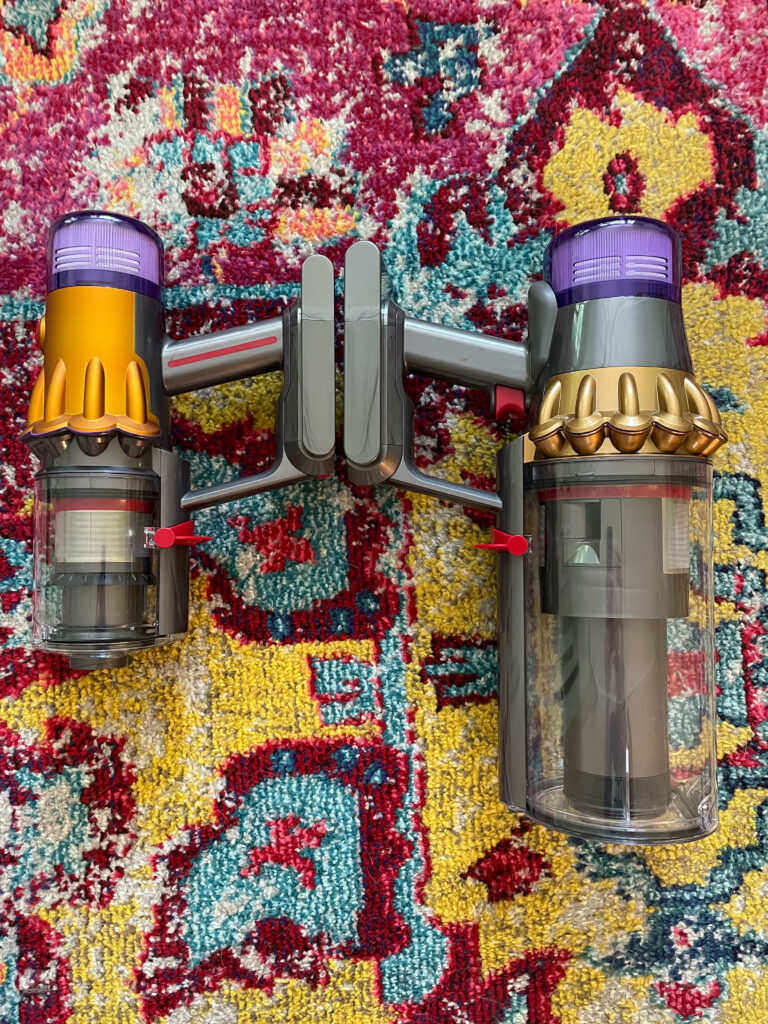 Generally speaking, upright vacuums offer the most suction, so much so that stick vacuums often pale in comparison. That's not the case with the outsize absolute,, though. Although the v12 detect slim has great suction given its size, the outsize absolute shines. Equipped with 220 aw suction (fyi: aw stands for air watts—the higher the watts, the stronger the suction), the outsize absolute sits squarely between the ball animal 3's 290 aw and v12 detect slim's 150 aw. In that way, it's a very powerful and effective cordless stick vacuum that's a great option for quick and deep cleans alike.
Capacity
Upright vacuums are also generally known to have the highest capacity. That's part of what makes the outsize absolute such a stunner of a vacuum.
The ball animal 3 extra has a 1.7-liter bin.
The outsize absolute has a whopping 1.9-liter bin, making it even more capable of a deep clean.
The v12 detect slim features a 0.45-liter bin, which is why i think it's best suited for quick cleanups (more on that later).
Capacity aside, all of the dyson vacuums are easy to empty. Simply press the obvious red button/handle, and the bin will easily dispense, so you don't have to get your hands dirty trying to release dirt and debris.