Two of india's biggest travel companies with one over 11 m+ views monthly and other with over 20 m+. These companies has not only defined as how today we indians travel but also has how hassle free travel could be. Yatra and make my trip both have started their company in the last decade and now they both are multi million dollar companies.
A little overview of both the companies
Make my trip
It was founded by deep kalra in 2000. Make my trip is headquartered in gurugram, haryana. According to companies website make my trip provides online travel services including flight tickets, domestic and international holiday packages, hotel reservation, rail and bus tickets. Make my trip has merged with ibibo giving make my trip 60% shares and ibibo 40% shares in the merger.
Yatra
Yatra was founded in 2006. It was founded by dhruv shringi, manish amin and sabina chopra in 2006. Yatra is india's 2nd largest online travel company with over 30% share in indian market.
Comparison between make my trip or yatra?
While a direct comparison between 2 websites is pretty impossible, but as both offers pretty similar business and are in top 2 so we had to do a comparison. For comparison i have categorized in different headings. I felt below given 4 topics would cover most of the things. Headings are:
Website look and feel
Information shown on first page
Comparison of popular package
Customer support
Make my trip or yatra: website look and feel
Well, both of these websites are pretty similar in menus and options but i have done a detailed overview over both of them. I have compared homepage of both websites so as to be fair.
Makemytrip.Com website
The first has different menus from flight booking, hotel booking, villa, trains, buses, and even cabs too.
Homepage has big flight search bar. From here you can search and book flights both domestic and international as well.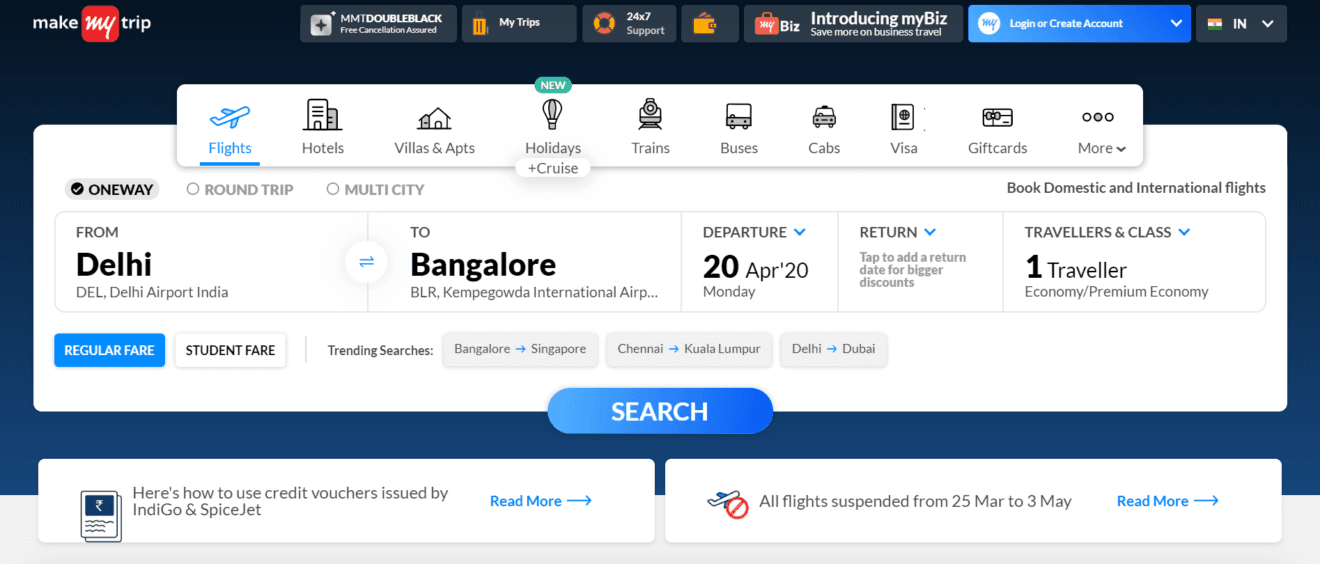 Yatra.Com website
Yatra first page was also very similar. Instead of big flight checker card yatra provided flight checker card on the left side of screen. Menus available were flights, hotels, holiday packages, bus, and cruises.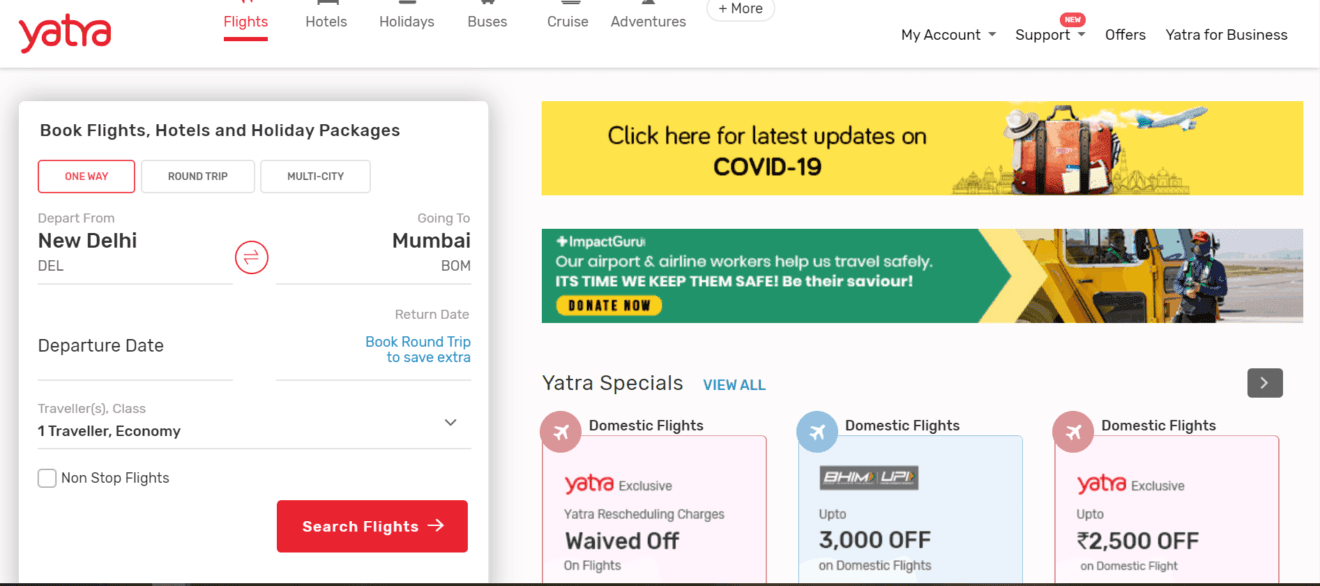 Make my trip or yatra: information shown on first page
Makemytrip.Com
I can see how hard is make my trip pushing for flight tickets rather than tour packages. The first page was showing offers on flight and hotels. Home page of make my trip also had buttons to book flight for india's most popular locations like mumbai, delhi, agra, kolkata, chennai etc.
First page had a blog post also. This blog page is updated frequently and not only you will find travel blogs here but also other categories blogs too.
Yatra.Com
Yatra also showed options to book flights and avail discounts.
The first page also had packages of some of the most famous tourist destinations. Yatra was pretty transparent in showing the prices in the first page only. Yatra showed the prices of flights and tour packages on the first page but as soon as you change date according to your needs the price changes and usually it goes up.
Make my trip or yatra: comparison of popular packages
Both of these travel companies offers thousands of packages and that's why no direct comparable pacakges could come up. But i tried to find similar package and i found a package for himachal.
Filters i used to search these packages
Hotel : 2star+
Stay : 5n 6d
Places : shimla, manali
Time of visit: september 2020
Package of make my trip
So after applying all these filters i got a pretty decent package on make my trip. The package was showing 3n in manali and 2n in shimla.
In this package your start location is chandigarh so you will have to arrange your transport upto chandigarh. Good thing was from chandigarh you will be travelling to manali in a sedan. For all 7 days this sedan will be with you while you roam around and explore city.
Hotel: hotel shown on website was hotel vintage which was a 3 star hotel. I checked the profile of hotel it has got good reviews. The hotel was rated 4.2/5.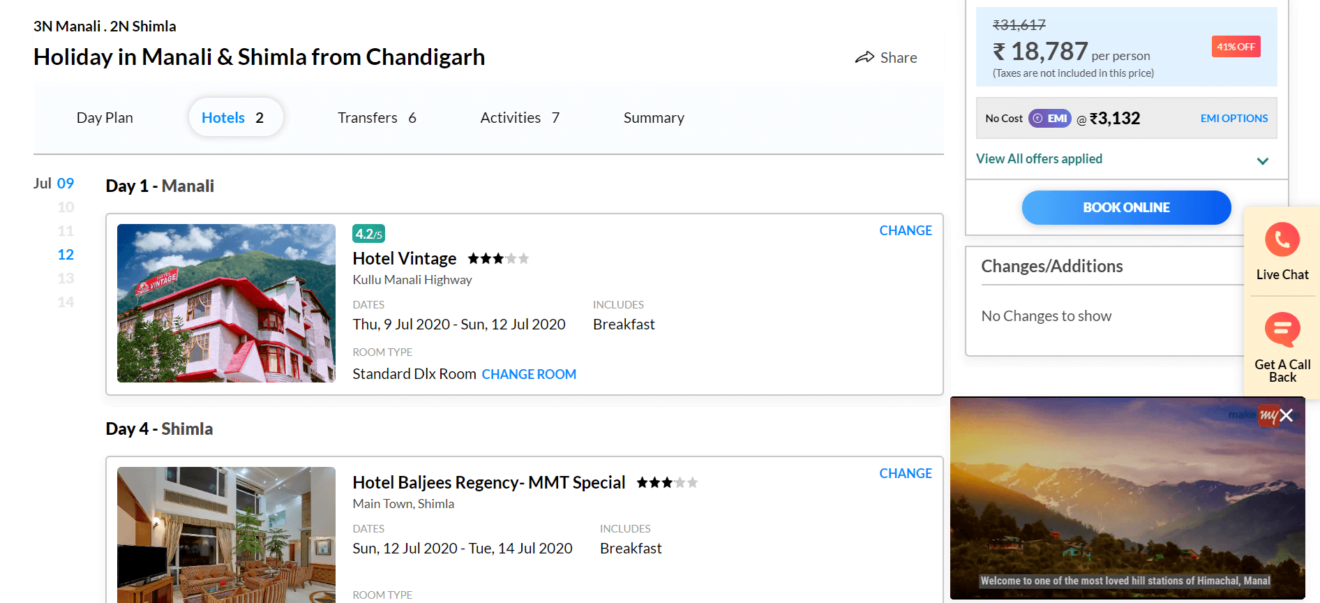 Food: this package only includes your breakfast. It was suprising to see that dinner was not mentioned in the package.
Activities: the intersting part was the activities which they were providing. So itinerary is like this
On day 1: arrive manali and sightseeing in mall raod
Day 2: second day you will explore
– hadimba temple
– tibetan monastery
-vashisht kund
On day 3 : you will explore solang valley on day 3
Day 4: you will travel to shimla and then first see pandoh dam
On day 5: you will be sightseeing in shimla
– kufri
-shimla church
-scandal point
-gaiety theatre
-townhall
-viceregal lodge
-mall road
Day 6: on day 6 you will be sightseeing rock garden and sukhna lake
The package cost around 20000 rupees

Package of yatra
So after applying all these filters i got a package on yatra too. The package was showing 3n in manali and 2n in shimla.
In this package your start location is delhi.
While in make my trip you were given a sedan whereas here you will be given a ticket of volvo ac bus from delhi to manali. And you will be picked up from the bus station and will be dropped at bus station on the last day.
Hotel: hotels shown on yatra were 2 diffrent hotels. In manali their will be a 3 star hotel by the name hotel shmbhala and in shimla you will be in hotel king palace which is a 2.5 star hotel.
Rating of hotel shambhala was good as it was rated 4.5/5 on tripadvisor whereas there was no rating available for hotel king palace.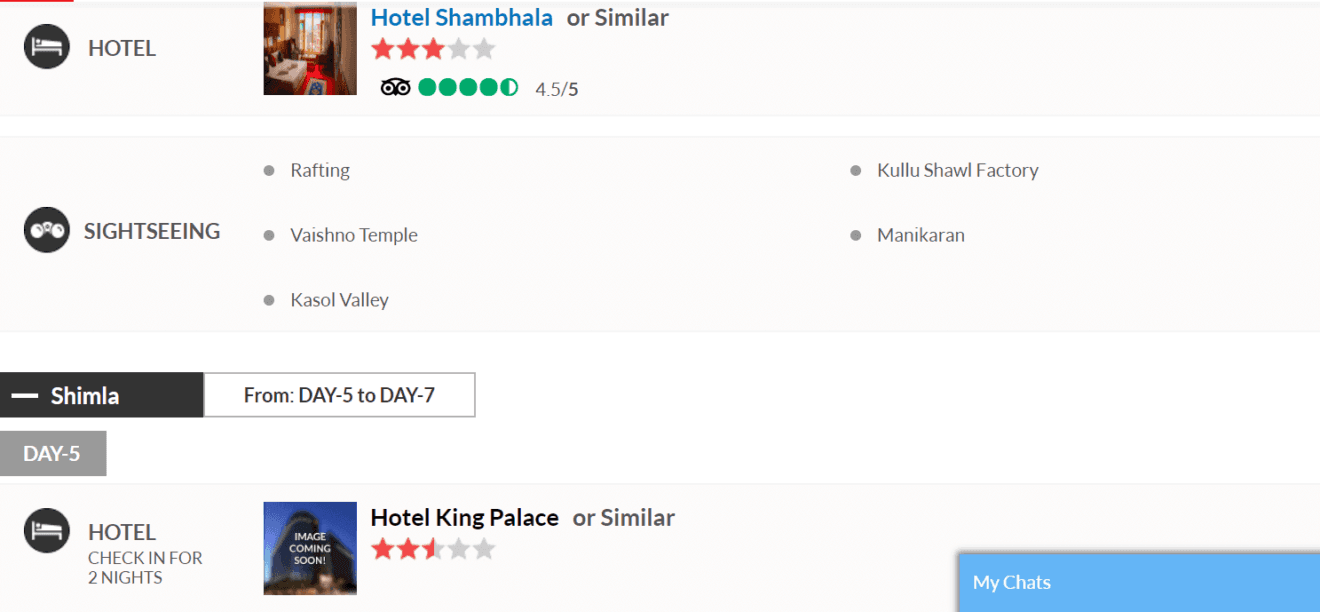 Food: this package does include your breakfast as well as dinner. It was good to see that dinner was also included here.
Activities: the itinerary provided by yatra is
Day 1: reach manali and visit
Tibetan market
Hadimba temple
Beas kund
Beas river
Vashisht spring
Vashisht temple
Mall road
Van vihar
On day 2: on day second you will visit solang valley like the package provided by make my trip
Day 3: yatra provides a very interesting package as on day 3 you will be doing rafting, visiting vaishno devi temple, and kasol valley
On day 4: you will reach shimla by bus (volvo ac ticket provided by yatra) and will do a bit sightseeing.
Day 5: on day 5 you will visit
Jakhoo temple
Botanical gardern
Mall road
Ridge
Goddess durga temple
Viceregal lodge
Christ church
This package starts from 9,999 rupees

Make my trip or yatra: customer support
Make my trip offers customer support via email as you will have to log in through your email and then you can contact them.
Yatra offers you customer support via mail, phone and chat also. It was good to see direct phone no's of concerned authorities were given on the website contact page.
Make my trip or yatra: our rating
| | | |
| --- | --- | --- |
| PARAMETERS | MAKE MY TRIP RATING | YATRA RATING |
| WEBSITE LOOK AND FEEL | ♥♥♥♥♥ | ♥♥♥♥♥ |
| INFORMATION SHOWN ON FIRST PAGE | ♥♥♥♥♥ | ♥♥♥♥♥ |
| COMPARISON OF POPULAR PACKAGE | ♥♥♥ | ♥♥♥♥ |
| CUSTOMER SUPPORT | ♥♥♥ | ♥♥♥♥ |
| TRANSPORT | ♥♥♥♥♥ | ♥♥♥ |
| PRICE | ♥♥♥ | ♥♥♥♥ |
| RESULT | 4 | 4.4 |
Make my trip rating
★★★★
Our rating for make my trip is 4/5
Yatra.Com rating
★★★★★
Our rating for yatra is 4.4/5
Final verdict: make my trip or yatra
Even though makemytrip provide you a luxury sedan but overall package of yatra is better. There are more places to visit on yatra's package and also their is a vast difference in price too.