If you're looking for ways to save on your cell phone bill, you may be considering Boost Mobile.
In this article, I'll take a close look at Boost Mobile's plans and pricing, how to get started and what to expect from Boost Mobile's service.
I tested Boost Mobile for 30 days to try out the service for myself. I've also compared more than 70 different available phone plans to see how Boost Mobile stacks up.
What To Know Before Signing Up for Boost Mobile
Boost Mobile is a mobile virtual network operator (MVNO) that offers a variety of prepaid plans ranging from one month to a year. The service provider operates on T-Mobile and AT&T's cellular networks. Which network your service will be on depends on your location, device and plan.
Boost Mobile offers some of the cheapest plans available including an annual plan that works out to just $8.33 per month. However, these cheaper plans won't work on every phone. And if you decide to bring your own phone, know that there is a one-time $25 activation fee that isn't advertised online.
Before you buy a new device or order a SIM card, I strongly recommend that you visit a Boost Mobile store first to make sure that your phone is compatible with the plan you'd like to purchase. In fact, I don't recommend ordering a Boost SIM card online at all. This article includes details below on my experience and why I recommend starting service in-store only.
I tested out Boost Mobile for 30 days to explore its coverage, call and text performance, customer service and more.
Below, you'll find more information about Boost Mobile including what plans are available, how reliable the service is and whether or not you should consider it as your mobile carrier.
Plans and Pricing
Boost Mobile offers 10 different prepaid plans, but prices vary depending on the length of the plan. While you can purchase a plan for one month at a time through Boost Mobile, you can also choose to pay for three or 12 months in advance. 
Below, you'll see the current Boost Mobile plans that you can choose from with the monthly price and data allotments. You'll also see the plan length and total due at each billing cycle.
Note: The "Total Due" column in the table above does not reflect a $25 one-time activation fee for bringing your own phone.
Taxes and fees may apply, but when I signed up, the only extra charge I incurred was the activation fee.
All of Boost Mobile's plans include unlimited talk, text and the ability to share your data via mobile hotspot. However, your mobile hotspot usage comes out of your overall monthly data allotment. If you get an unlimited plan, speeds will slow once you've used a certain amount of data, which depends on which plan you buy (see table above).
International features aren't included with Boost Mobile plans, but they're available for an additional fee. Boost Mobile's international add-ons include International Minute Packs that allow you to call and text to a designated country for $3 as well as a message-only option for 10 cents per message.
Roaming add-ons include "Todo Mexico Plus" for $5 per month and "International Connect Plus" for $10 per month. You can check out all of Boost Mobile international services on the company's website.
You can combine and stack Boost Mobile's prepaid plans to create a multi-line family account. Each additional line added to a primary customer's account on the $50 or $60 unlimited plan is discounted by $20 per line. Additionally, Boost Mobile offers a "3 for 100" plan, which drops to $30 per line after the first month.
Compared to other MVNOs, Boost Mobile offers good prices on several plans. However, know that if you're looking at a cheaper plan, 5G phones may or may not support it. When I tested Boost Mobile, I wanted to try the $15 monthly 2GB plan, but the cheapest monthly plan that was compatible with my Motorola moto e phone was the $25 5GB plan. In the store, a Boost Mobile representative showed me out a brand new Boost Mobile phone that worked only with $50+ monthly unlimited plans.
For this reason, if you're bringing your own phone to the network, instead of ordering a SIM card online, be sure to visit your nearest Boost Mobile store to figure out which plan will work with your device.
Activation Process
I've been testing various MVNOs over the past year, and until Boost Mobile, I had been able to sign up for each service online without any problems. Unfortunately, I did not have the same experience with Boost Mobile.
In fact, if you do decide to move forward with switching to Boost Mobile, I highly recommend activating your phone in person at a Boost Mobile store; do not order a SIM card online.
I originally tried to order a Boost Mobile SIM card online, and while it seemed like the process was going smoothly at first, below are the top reasons I warn against it now.
1. I was never prompted to check my phone's eligibility online before getting to the checkout screen. 
If you're purchasing a new phone through Boost Mobile, this isn't a big deal. However, if you're bringing your own device, it's important to check your phone's compatibility before switching.
Once I chose the Boost Mobile plan I wanted to purchase, I was immediately directed to the checkout page to enter my payment information. I quickly realized I hadn't been prompted to check my phone's compatibility with Boost Mobile, so I opened a new tab to do this.
You can make sure your phone is compatible with Boost Mobile's network by visiting the company's website and entering your phone's device ID (IMEI).
You can find your phone's IMEI by dialing *#06#. Once you enter your phone's IMEI on Boost Mobile's website, click "continue." When I did this, I learned that my phone was compatible with Boost's network.
2. Even if your phone is eligible for Boost Mobile's network, it may not work with the plan you purchase online.
Once I verified that my phone was compatible, I returned to the checkout screen and entered my billing and account information including an email address and existing phone number. I also had the option here to port my existing number or get a new number.
But when I tried to place my order, I got this error message:
I called Boost Mobile's customer service phone line, but the representative was unable to help me order a new SIM card without an existing Boost Mobile account. Instead, the rep recommended that I visit my nearest Boost Mobile store to order a SIM card that way.
Once I got to the store, I learned that my device wasn't compatible with the $15 2GB monthly plan, so I wasn't actually able to order the SIM card online.
Since Boost Mobile's online system doesn't ask you to enter any device details before you get to the checkout page, I can see how someone could easily order a SIM card for a plan that ends up not working with their phone.
In fact, that's one of the reasons I list my next point.
3. Customer reviews indicate a bad experience with ordering phones and SIM cards online through Boost Mobile.
After my experience with trying to order a Boost Mobile SIM card, I wanted to see how it compared to that of other customers. I read through dozens of recent customer reviews and found similar experiences on the following websites:
Better Business Bureau — 1.11/5 stars from 174 reviews
Trustpilot — 1.3/5 stars from 139 reviews
SiteJabber — 1.44/5 stars from 482 reviews
Influenster — 3.1/5 stars from 208 reviews
Consumer Affairs — 3.7/5 stars from 1214 reviews
While I can't ensure that every review is verified, it's clear that customers are generally unsatisfied with Boost Mobile. After reading through the reviews, I found several recent complaints about issues with online orders, SIM cards not working, problems with the activation process and customer service in general.
The Alternative: Visiting a Boost Mobile Store
Instead of ordering your SIM card online, I highly recommend visiting a Boost Mobile store in person to prevent any issues with compatibility or service activation.
You can find your nearest Boost Mobile store online by entering your city and state or ZIP code.
After I got to my nearest Boost Mobile store, the representative set up my phone in about 30 minutes.
I discovered that the cheapest plan I was eligible to purchase, given that I was bringing my own phone, was the $25 per month 5GB plan. When it was time to pay for the first month, I also discovered an additional one-time $25 activation fee for bringing my own device, which brought the total to $50 for 30 days.
While I was in the store, the representative did verify that I had working mobile phone service; unfortunately, the rep did not also test my cellular data, When I got home, I discovered that the data didn't work, but I'd gotten a text message that included a link to finish the activation process and enable mobile data.
While there were step-by-step instructions on how to complete the process online, I was at a loss. I found the whole thing to be confusing, and I was required to modify settings on my phone that I hadn't had to modify for any other MVNO.
Following the process took approximately 20 minutes, and I was ultimately unsuccessful.
I took my phone back to the Boost Mobile store where a representative, after a little trial and error, was able to get the cellular data working. The rep recommended I take a picture of the document below so that I could re-enter the correct information if my cellular data stopped working throughout the month. Fortunately, it did not.
Call and Text Performance
Once my service was activated, I didn't have any issues with the service itself. Over the course of 30 days, I tried out Boost Mobile's service by making and receiving calls as well as sending and receiving text messages.
During the month that I tested Boost Mobile service, I had reliable, clear service with no dropped calls or undelivered text messages. However, as is the case with all cell providers, the quality of service can vary greatly from one area to the next.
Boost Mobile provides access to both T-Mobile and AT&T's networks. To see if you'll have coverage in your area, check out Boost Mobile's coverage map online.
If you visit Boost Mobile's website, you can enter your address to see if you'll have service in your area.
Data Speeds
Boost Mobile offers access to T-Mobile and AT&T's 4G/LTE and 5G networks. Based on my experience as well as Boost Mobile's coverage map, it's likely that you'll have access to cellular service and data with this MVNO. Speeds can vary by location even if you're in the service area.
If you have access to high-speed data in your area, you'll likely experience reliable download speeds. When I tried out Boost Mobile myself, I checked the data speeds using speedtest.net by Ookla. See the results below.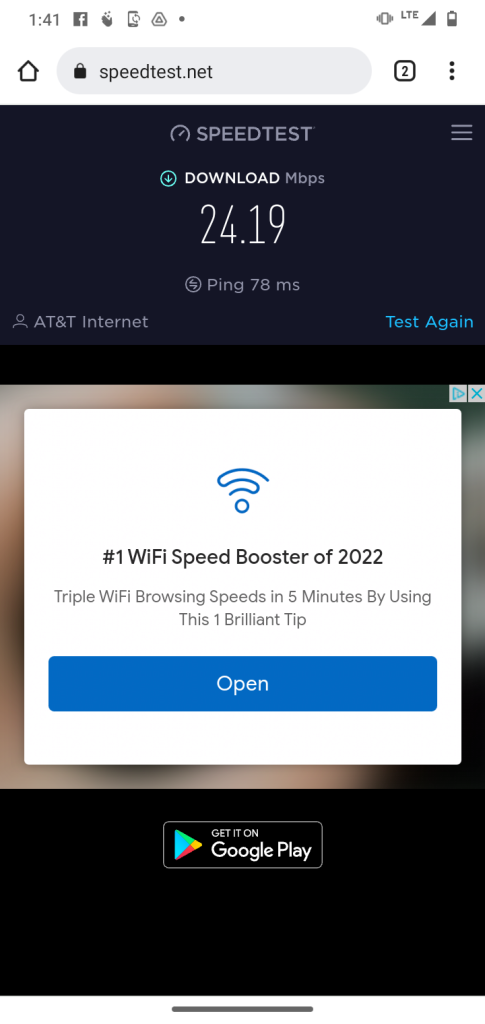 I experienced an average download speed of around 24Mpbs. The fastest download speed I saw was 33.4Mbps, and the slowest download speed I saw was 12.17Mbps.
According to Consumer Reports, 18 Mbps is the minimum speed necessary for streaming 4K movies and TV shows. Netflix recommends a download speed of 25 Mbps for streaming 4K. Amazon says you'll need a download speed of at least 8 Mbps for SD video and 40 Mbps for HD video on Prime.
While this isn't the fastest download speed I've seen with an MVNO, Boost Mobile's high-speed data should be fast enough to do most things online, including streaming standard video based on these numbers.
Boost Mobile plans also include hotspot data, which lets you share your mobile data with other devices. Throughout the month, I connected my laptop to my Boost Mobile hotspot to test the speeds on Ookla. Below, I've posted a screenshot of what I found.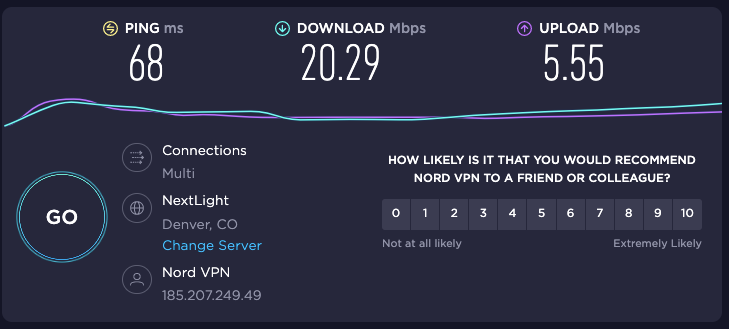 The download speed via hotspot was slightly slower on average at around 20Mbps. The fastest download speed I saw was 27Mbps, while the slowest download speed I saw was 15Mbps.
The plan I tried came with 5GB of data monthly. I found a page on the Boost Mobile app designed to track my data use, but the feature never actually worked for me.
After you've exceeded your monthly data limit, you'll have to wait until your next billing cycle to continue using mobile data. However, if you have an unlimited plan, data speeds will simply slow after 35GB of high-speed data.
Customer Service
Good customer service is important in a phone carrier. Whenever it's extended wait times or unhelpful representatives, dealing with customer service with phone service providers can be a pain. Unfortunately, Boost Mobile was no exception.
To see how long I'd have to wait for service and what type of service I'd get, I contacted Boost Mobile both via phone and online chat.
To contact Boost Mobile, you can visit the website or mobile app to chat or call Boost Mobile at 833-502-6678 any weekday from 7 a.m. to 11 p.m. EST or on weekends from 7 a.m. to 10 p.m. You can also visit a nearby Boost Mobile store in person for faster, more thorough assistance.
When I tried to reach out to Boost Mobile, I couldn't get the chat feature to connect to a live representative, and the automated phone system kept leading me in circles and disconnecting. I ended up having to place five separate calls and navigated the automated system for a total of 12 minutes before I got connected to a person. Once I got through the automated system, though, I didn't have to wait on hold to talk to someone.
However, both times that I needed assistance from Boost Mobile, I ended up having to go to the physical store, as the representatives over the phone weren't able to help with ordering a SIM card or activating my mobile data.
Based on reviews on websites including BBB and Trustpilot, customer service is an area in which Boost Mobile does not perform well. In fact, poor customer service is mentioned in most of the ratings I read online.
Methodology
Before I began testing phone plans, I highlighted the key factors that I would be exploring. This way, I would be able to accurately compare phone plans and get a full overview of what to expect from the service.
Here are the key factors I focused on while trying out each phone plan: 
Length of Time. I tested each phone plan for 30 days to observe the network's reliability and gather feedback from friends and family regarding service.
Signing Up. I signed up for each phone plan myself to document the process of getting started, testing phone compatibility or bringing your own device, how long it takes to receive the SIM card and the activation process.
Reliability. I used my personal AT&T line as a base to see how often the tested phone plan had service and noted any dropped calls/undelivered text messages.
Service. During the month, I made/received at least 15 calls and sent/received at least 15 text messages. I also tested the phone's data speed and hotspot speed using speedtest.net.
Customer Support. During my time testing out each phone service, I contacted customer support in all available ways to determine which method is best, how long it took to reach a person and how helpful the experience was.
Final Thoughts
Ultimately, I had a good experience with Boost Mobile after the activation process. However, the activation process was time-consuming and a little stressful. Also, I was not expecting the $25 activation fee for bringing my own device.
I can see how someone could unknowingly buy an incompatible SIM card online, which could end up costing hundreds of prepaid dollars (depending on the plan).
For these reasons, I recommend going to a Boost Mobile store in person to purchase and activate your new service. That being said, if you're buying a new phone through Boost Mobile or if your current device will work with the plan that you'd like to purchase, you may be able to save on your monthly phone bill with Boost.
If you are still thinking about switching to Boost Mobile, ask yourself these questions first: 
Will you have coverage in your area? You can check Boost Mobile's coverage map online to see if you'll have service in your area. You can also enter your ZIP code and email address to see which plans are available to you here.
Can you get by with limited data? Boost Mobile offers phone plans ranging from 1GB to 35GB of high-speed data per month with its unlimited data plan. While the unlimited plans do include unlimited 2G speeds, none of Boost Mobile's plans include truly high-speed data. Plus, the speeds I experienced on Boost Mobile's 5GB plan were usually not fast enough to stream HD video.
Are you shopping for a new phone or is your current device compatible with Boost Mobile? This is the biggest issue with Boost Mobile for me. Not all plans will work with all phones, which means you may (like me) have your eye on a cheaper plan only to find out you aren't eligible. Make sure you know which plans will work with your current phone or with a new phone from Boost Mobile before you buy it. Plus, expect a $25 activation fee if you bring your own phone.
Do you have a Boost Mobile store nearby? In my experience, Boost Mobile's online and phone customer support systems were not helpful, and I had to travel to the store to activate my service and have an issue resolved during the month I was using Boost. Based on recent customer reviews online, this isn't an uncommon experience. Before you switch to Boost Mobile, make sure you have a store nearby that you can get to if you have issues with service.
If you can answer "yes" to each of these questions, then Boost Mobile may be worth considering. However, I do recommend this MVNO with caution for the reasons detailed above.
For more options, be sure to read our guide on the best cell phone plans and deals available now. Once you've decided on a new phone plan and you're ready to make the switch, check out this guide that we put together to take you step-by-step through the process.