Nowadays, building an online store has become so easy that anyone without technical expertise can do it quickly. Thanks to Shopify which has made the process of building an online store so seamless and hassle-free for everyone. Not only professionals but beginners can also build an online store with the help of Shopify. However, the theme of any online store creates a lot of impact on conversions and overall look. The first impression of your store is very crucial and it must look very enticing. Hence, Debutify is the best place to design your online store with stunning themes as compared to Shopify or other online store builders.
About Debutify
Debutify is the only place where one can find out a wide range of stunning themes to design and create an impressive and unique online store to sell products and services. To look different from others you have to do things differently. By picking Debutify you can make your online store look different altogether.
Almost every theme offers a lot of customization and user-friendly features. It offers free as well as paid themes with various subscription plans, including a lot of enticing features.
In fact, one can pick amazing themes for their Shopify stores, including a lot of features such as Pages for Category, cart, products,  checkout page, etc. Moreover, it's free themes clearly outshine the themes offered by Shopify.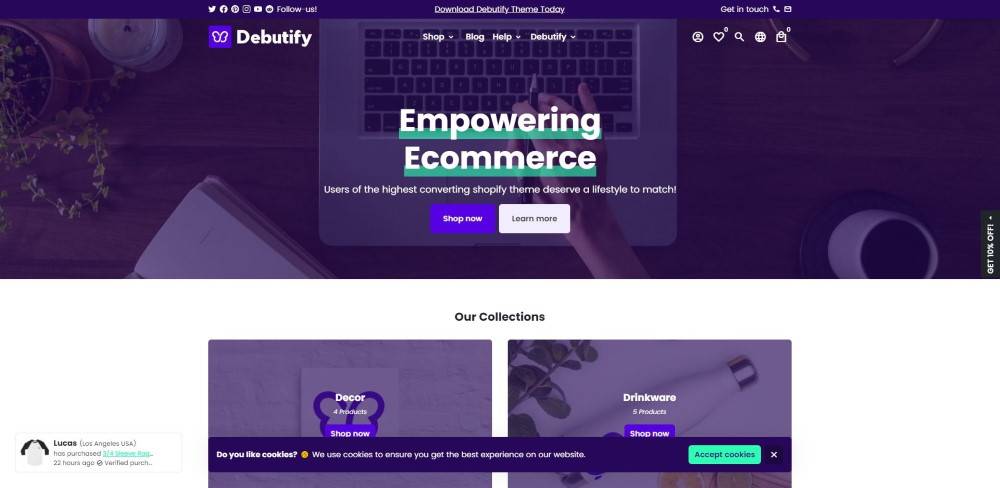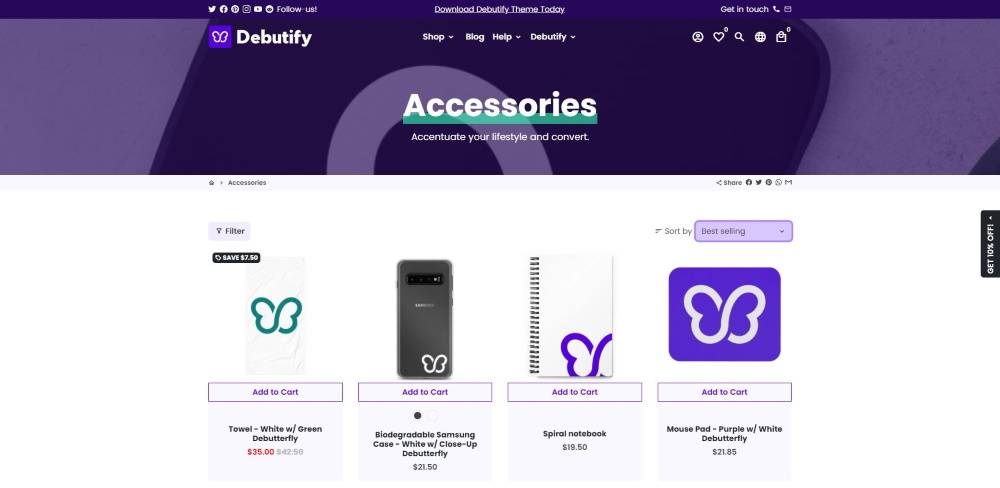 Debutify Plans & Pricing
It broadly offers 4 plans, including:
Free: It comes with 1 store license, private Facebook group access, and basic support
Starter: It comes with 1 store license, private Facebook group access, full support, any 5 sales add-ons, a bronze product vault, 1-click integration
Hustler: it comes with 1 store license, full support, 1-click integrations, any 30 sales add-ons, private Facebook group access, etc
Master: This is the most premium plan that includes priority full support, 3 store license, Gold product vault, 1-on-1 mentoring weekly call, access to tested marketing strategies courses, all 46 sales add-ons, etc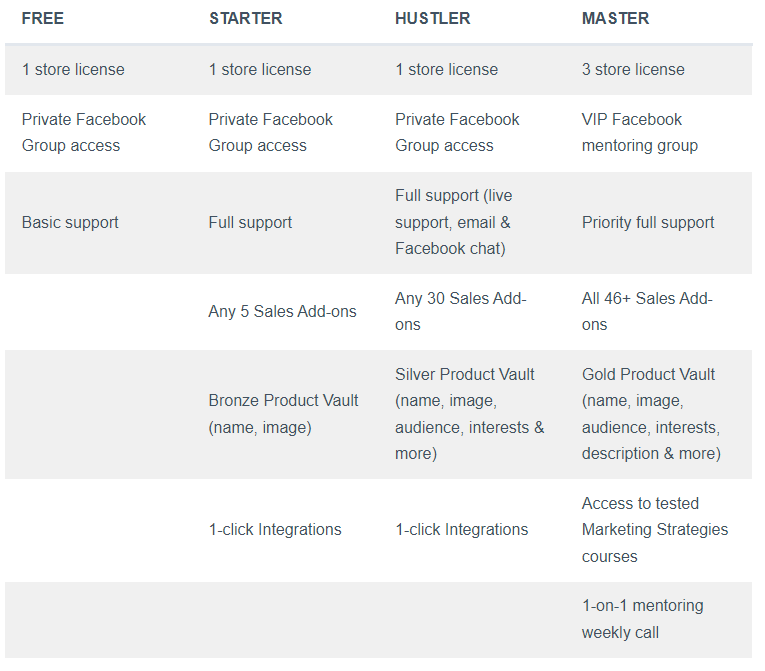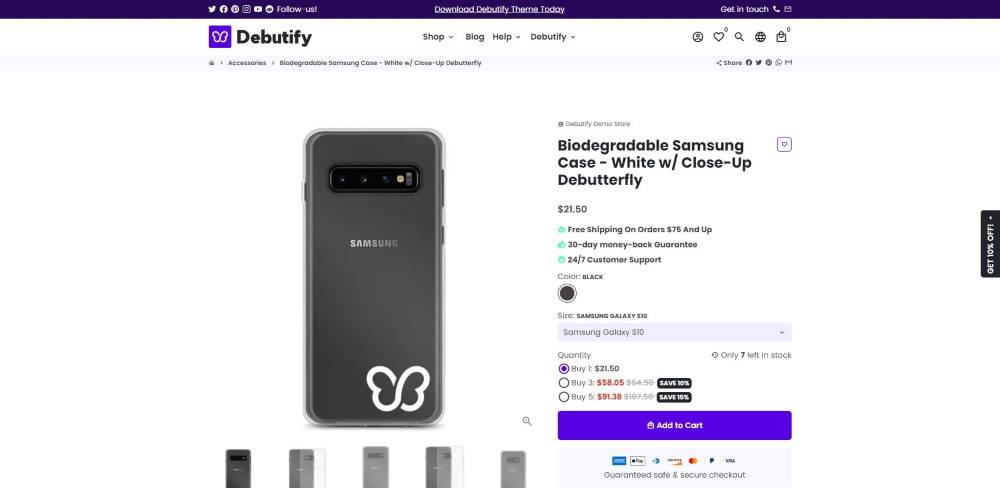 Features of Debutify
Debutify comes with amazing features, including:
It supports multi-currency for the convenience of store runners. It automatically detects the location and switches the prices as per the country's currency.
Debutify supports various languages. Precisely it supports over 20 global languages.
One can easily design an enticing header or footer with a lot of customizations
To showcase your products in an enticing way one can use a slider or slideshow with cool animations and effects.

Relate products
Many customers want to find the related item to one product in order to compare and pick. Hence, Debutify offers an option of Related Products across all product pages.
We all know that positive reviews amplify the sales of any brand. Hence, it offers a special testimonial slider along with images and icons to help customers leave their feedback.
Add-ons Offered By Debutify
Along with the above basic features, Debutify also offers some amazing add-ons to amplify performance, conversion, and sales.
One can also add Upsell Products to the cart page to encourage customers to purchase more products.
Customers can pick and add the product to the wishlist anytime during the store visit to purchase it in the future.
It's simply a comparison table that helps customers to compare prices before picking any product.
When people buy clothes they want the perfect size. Hence, this feature is very essential for online stores dealing in clothing products.
It shows an estimated delivery time for every product to help customers make the decision to buy products
Once the product is shipped, this feature takes customers to the order tracking page where they can track the product.
Final Thoughts
If you want to create a stunning and interesting online store with amazing themes and features then Debutify is surely meant for you. In fact, it is also optimized for other e-commerce stores such as Shopify.
If you are not sure about it then you can try it for 14 days by taking it's trial version. The only drawback of Debutify is that it's pricing is higher than Shopify. Also, it's quite tricky to set up add-ons.
Start Successful Store Today