Every online store longs for sales and profits. Boosting sales with every passing day is the only aim for online stores. And to catch everyone's attention online, they leave no stone unturned to make the online store incredibly exclusive and special with an unmatched theme, features, functionalities, etc. We all know that online shopping largely depends upon the first impression. If the first impression of any online store is not good then we don't go further to explore it.
Hence, it's really important to pay attention to the design, overall look, and feel of your online store to attract online users. Also, it should be user-friendly, have a smooth interface, and justify your brand in a true sense. Debutify helps you to give a productive, powerful, and conversion-friendly look to your online store.
What is Debutify?
We all know that how easy it has become to start a Shopify store. But it's really important to create a successful and conversion-friendly online store. Debutify helps you build such a store effortlessly to achieve an optimum level of success and profits.
Unlike other paid and free themes, Debutify offers sales-boosting features and add-ons. In fact, beginners can also achieve success as a dropshipper. There is no need for coding, technical knowledge, or marketing knowledge.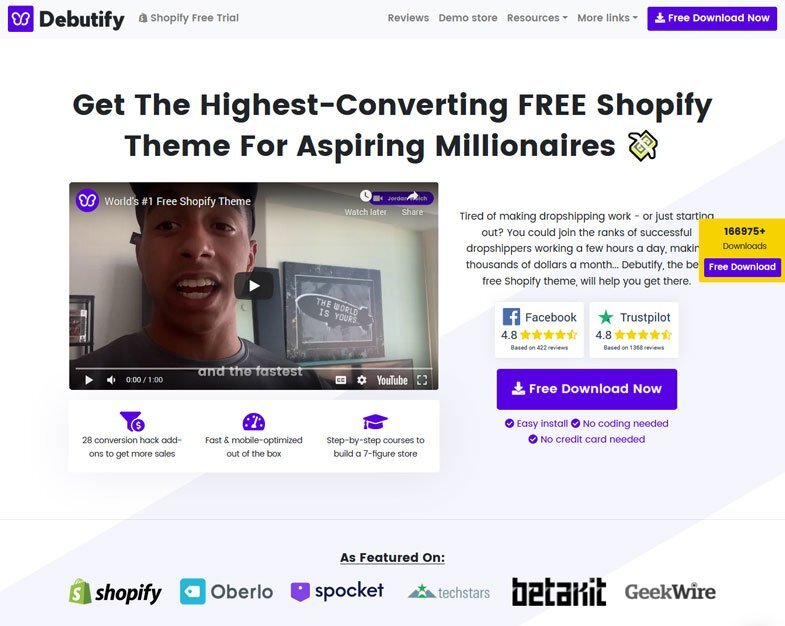 Debutify Stunning Features
It offers a lot of customizable layouts to meet everyone's requirements. It has over 29 different color palettes that one can easily edit right from the dashboard.
It automatically converts currency as per the location and country. It supports the auto-translation of over 20 languages across the world.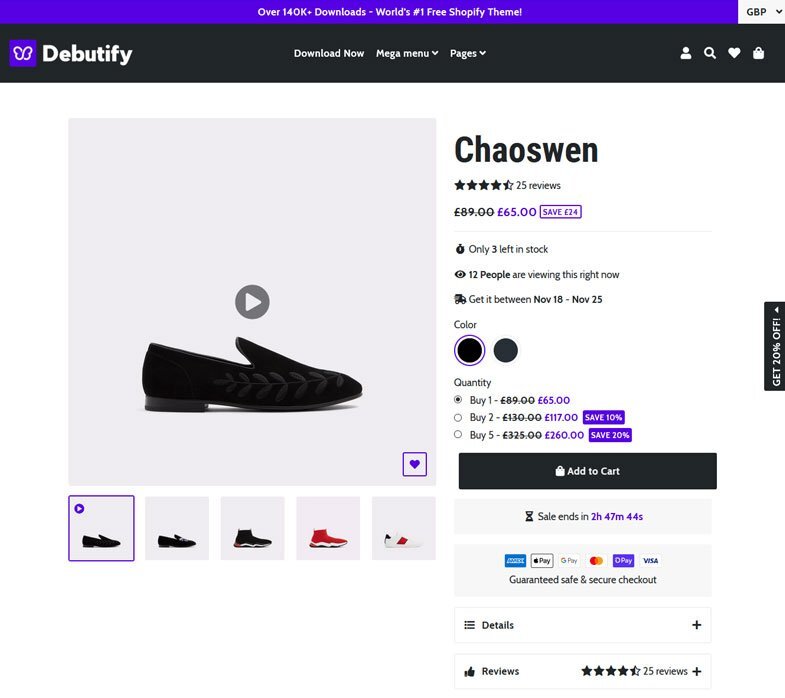 Product slider
It showcases featured products on the website helping customers to move to the desired page without beating around the bush. With the help of a product slider, one can easily pick the products to showcase.
Product display along with descriptions
One can easily display products in various layouts and sliding options. In fact, one can also pick different modes to display images.
Nothing is better than reviews and testimonials to promote your store and products. Hence, Debutify offers unique and enticing product testimonials along with the options of adding images, icons, and features.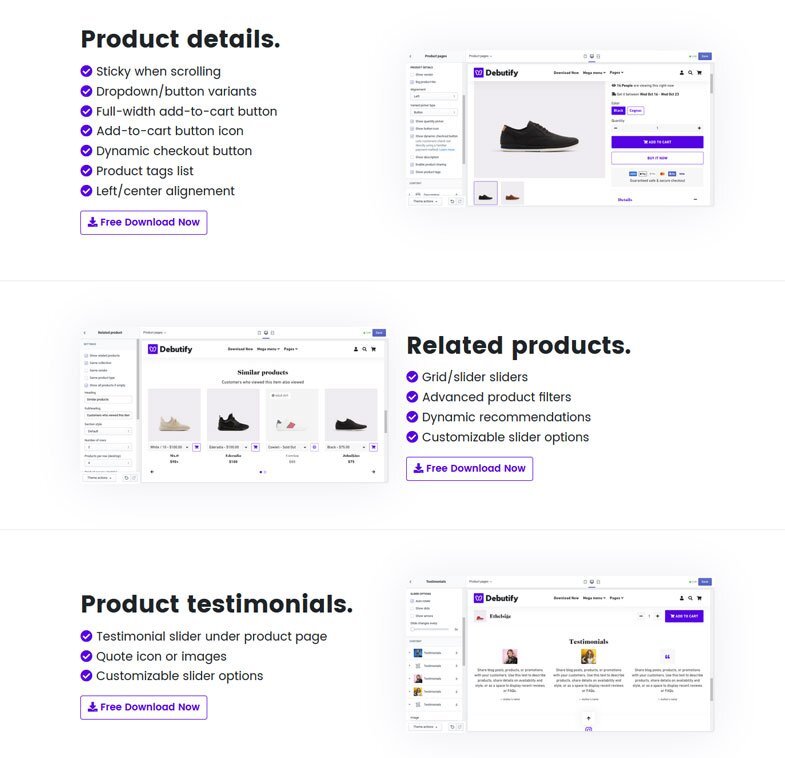 What Add-ons Does Debutify Offer?
Unlike traditional shopping cart, Debutify offers a modernized cart with so many functionalities, including cart discount, cart countdown, cart goal, animation, quick view, skip cart, etc
The live chat box option is also available with a Debutify theme and customizable features. It's easier to chat than type a mail or call customer support.
Debutify also offers a Wish list option to encourage shoppers to shop more without beating around the bush. They can add their favorite products to the wishlist and buy them anytime without losing or forgetting them.
Online store owners can also encourage customers to click on the promotional messages on every page to buy certain products. One can promote the selling of specific products by Upsell products feature.
Users can easily compare the pricing of various tables with this feature.
To encourage and engage customers, online store owners can also add a video to the product pages.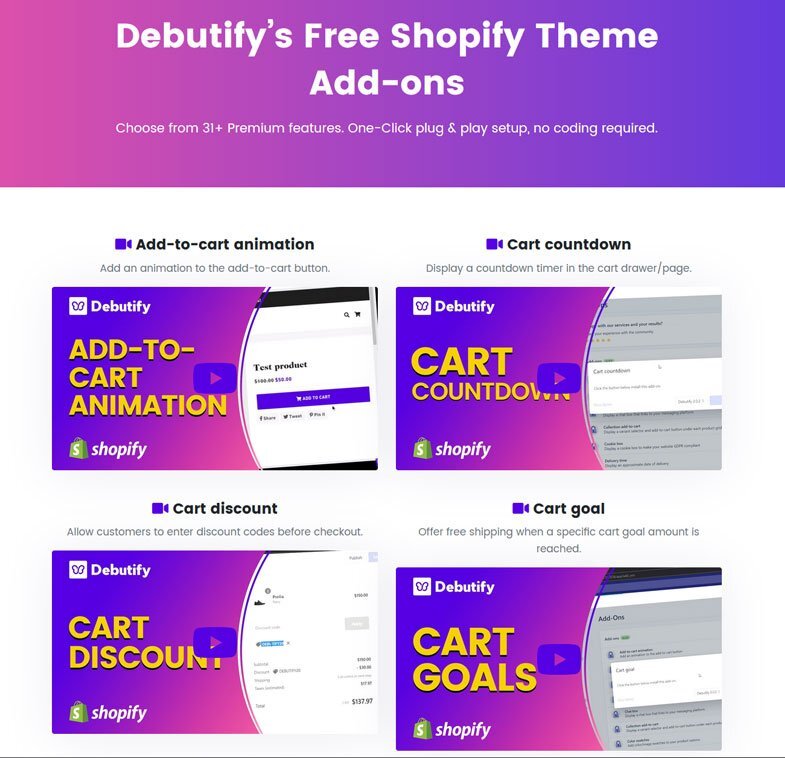 Debutify Integrations
Debutify offers 3rd party integrations. One can easily connect with various applications and tools such as:
–              Klaviyo
–              Afterpay
–              Loox reviews
–              Ali reviews App
Pricing and Plans
It precisely offers 4 plans, including:
–              Free: Here one gets 1 store license, core features, and support for Facebook
–              Starter: It costs $19 per month and offers 1 store license, 3 add-ons, customer support to email and live chat, and Facebook.
–              Hustler: It costs $47 per month and offers all the starter features along with 28 add-ons and integrations.
–              Guru: It costs $97 and offers all the Hustler features and functions. Along with that, it offers all the add-ons, integrations, and access to the research tool.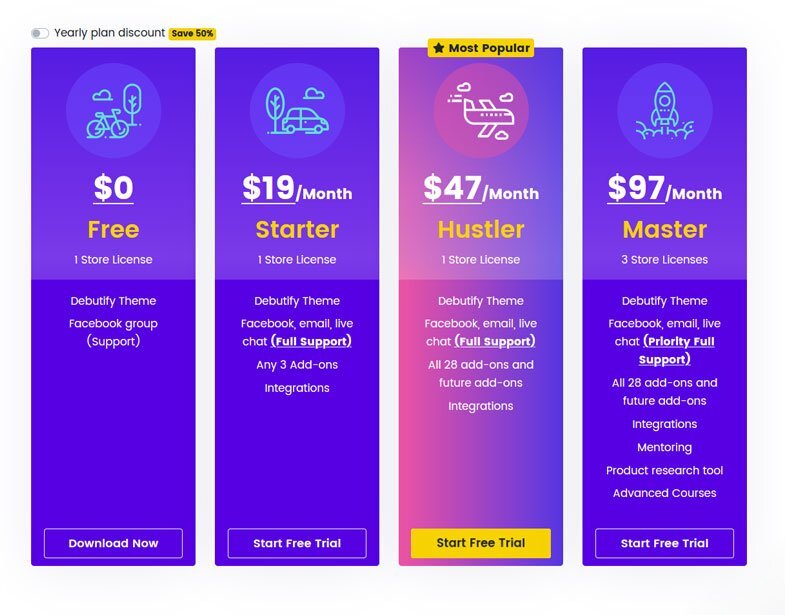 Why Should One Pick Debutify?
In a nutshell, Debutify is the best theme to transform your Shopify store into a sales-generating venture. It offers multiple add-ons, functionalities, features, and 3rd party integrations to make your store look like a technology-driven e-commerce store.
It's quite fast, responsive, loaded with features, easy to set up and use, and highly trustworthy. On top of that, it offers a good customer support service along with multiple customizations, and plans.
Start Successful Store Today