Depositphotos is a royalty-free stock image website that has over 100 million images, vectors, and videos, in its archives.
These digital products can be used to create logos, to improve the look of blog posts, to create professional flyers and brochures, and more.
If you use the internet regularly, you have probably seen content being used that originated from Depositphotos; be it a banner for an eCommerce store or stock footage in a YouTube video.
Let's take a closer look at what Depositphotos offers.
What Do Depositphotos Offer?
Founded by Dmitry Sergeev in 2009, Depositphotos is headquarted in Floria and has offices around the world in places like New York, Milan, an Moscow.
Within just a few months of its launch the service reached the milestone of hosting one million files. In just three years that total had grown over ten million files and the following year that figure doubled.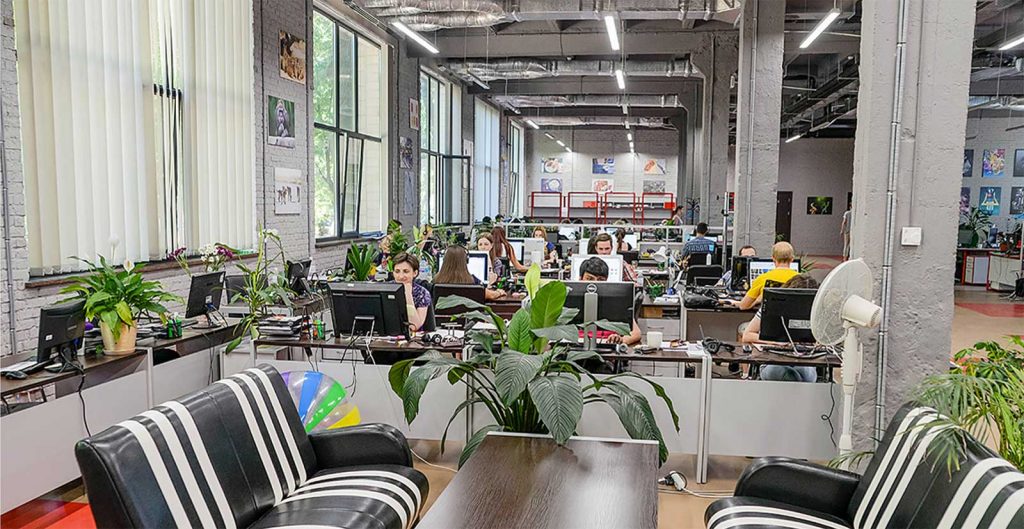 Depositphotos offers royalty-free images, vectors, and videos.
Just to clarify, royalty-free does not mean content is free to download. It means that when you do purchase an item, you are not charged every time you use it. You pay once and can use it as many times as you wish.
The quality on offer is extremely high with most pictures being available in resolutions that are several thousand pixels in width and height. You can, of course, download images and vectors at a lower resolution.
Videos are available in 240p, 480p, 720p, 1080p, and 4K. Higher resolutions, such as 1080p and 4K, are more expensive to purchase than 240p and 480p.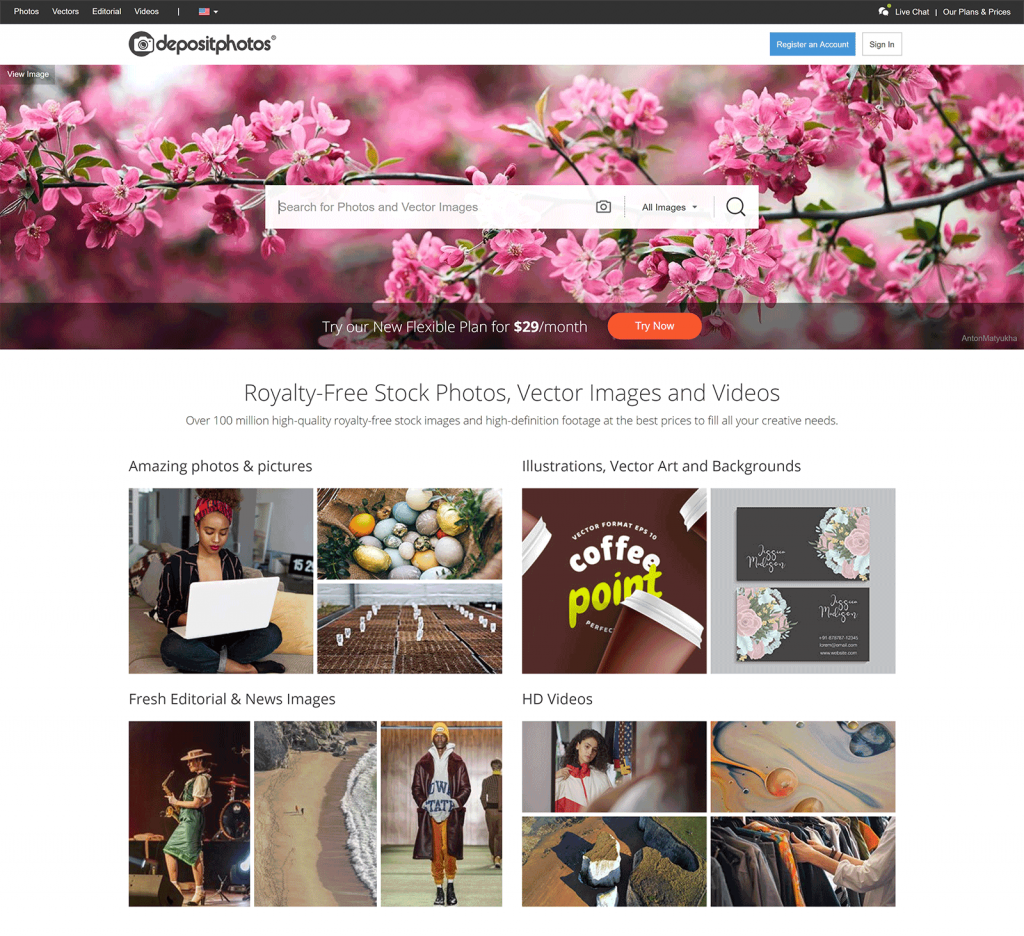 The selection of vectors is incredible too. There are icons, logos, backgrounds, illustrations, infographics, brochure templates, and more.
Finding Your Perfect Image or Video
Depositphotos has simplified the process of finding the right image or video. All you have to do is enter your keywords into the search bar on the home page or in your account area (if signed in).
If you wish, you can filter results to only show images, vectors, or videos.

The search results page is superb.
At the top of the page is a list of related keywords and search terms. This is useful as it helps you narrow your search down to a more specific term. It may also give you some ideas for other images and videos you had not considered.
The main content area shows search results. These can be sorted by best match, popular, newest, and undiscovered. The newest and undiscovered options can be utilised if you are searching for an item that has not been used by many others.
Down the left-hand side of the page is a list of filters to allow you to be more specific about what you want. The level of detail in this area is unbelievable. You can specify whether an image or video should be indoors, outdoors, isolated, what orientation it should be, what category, and what image size.
Keywords can be excluded too and you can define the colour you want to search for. What stood out for me was the people filter. You can set how many people should be in an image or video, whether their face is shown, what age they should be, their gender, and their ethenticity.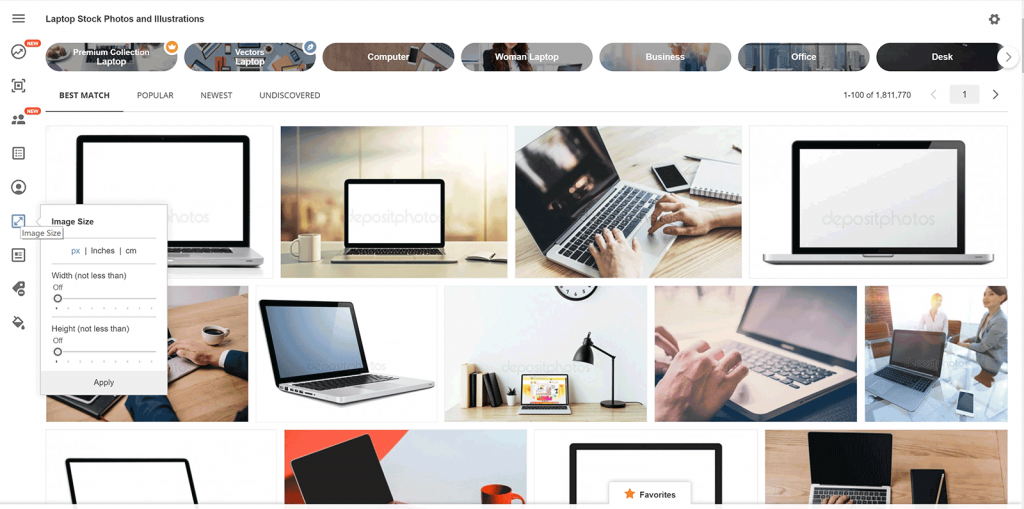 The filter menu on the left-hand side page can be expanded. This is a more practical way to use filters as it shows all filtering options at once.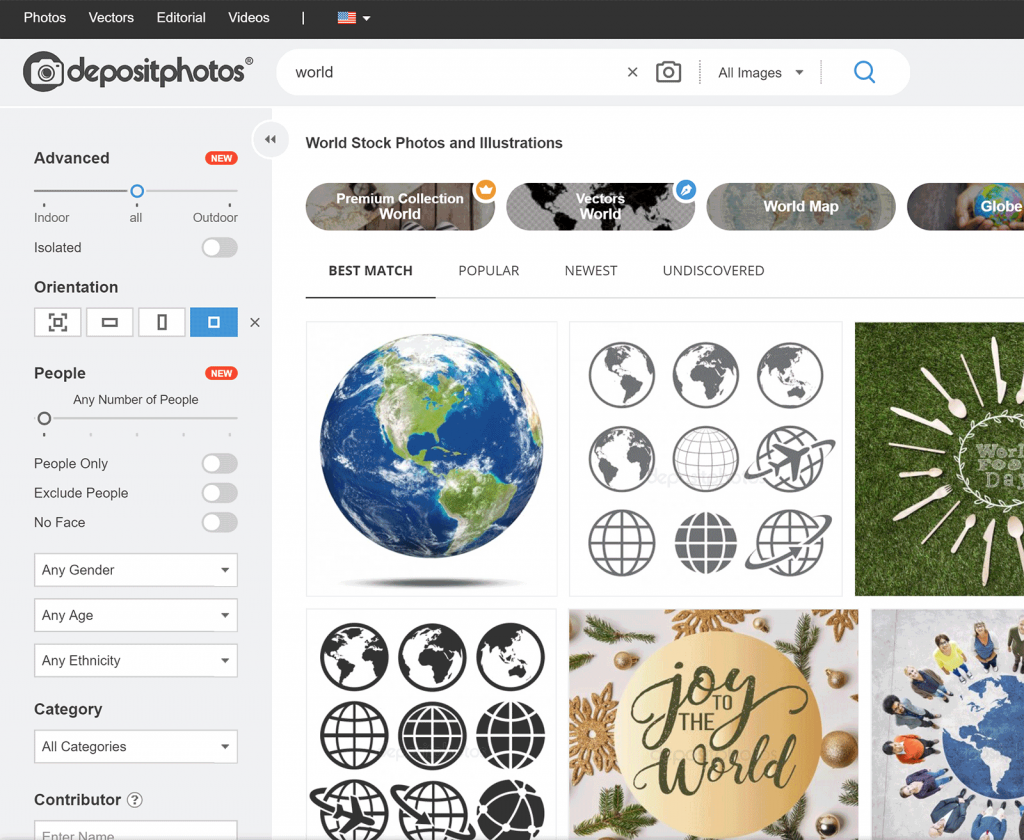 When you click on an item, a pop up will appear that displays more information about it. A list of the available resolution and sizes is shown.
Navigation buttons at the left and right of the box allow you to skip to other items. At the bottom of the box you will also see similar items and items from the same series.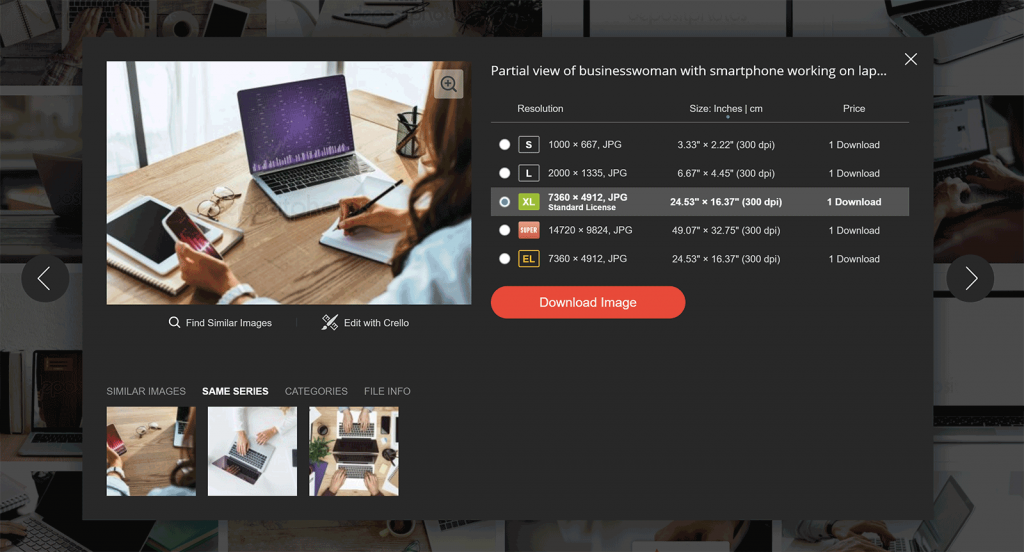 When you select a video, you will be shown the available resolutions and the frame rate which the video uses.
Make sure you check the resolution and frame rate of each item so that it works with the video you are creating; since some older videos are not available in 1080p or 4K.
Thankfully, if you are searching for a particular quality of video, you can do so easily. In the filter menu at the left-hand side of the page there is an option to search all videos or to search 720p, 1080p, and 4K videos.
Alternatively, you can amend your search term. For example, if I wanted a 4K video of the world which was recorded at 60 frames per second, you could use "World 4K 60 fps".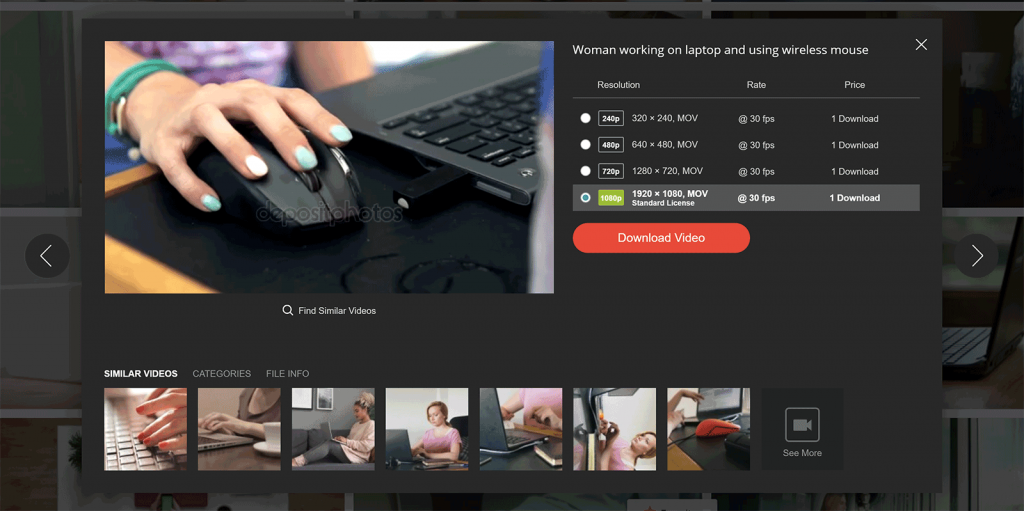 When you choose to download any item, you will be prompted to sign up to Depositphotos. This only takes a few seconds to do.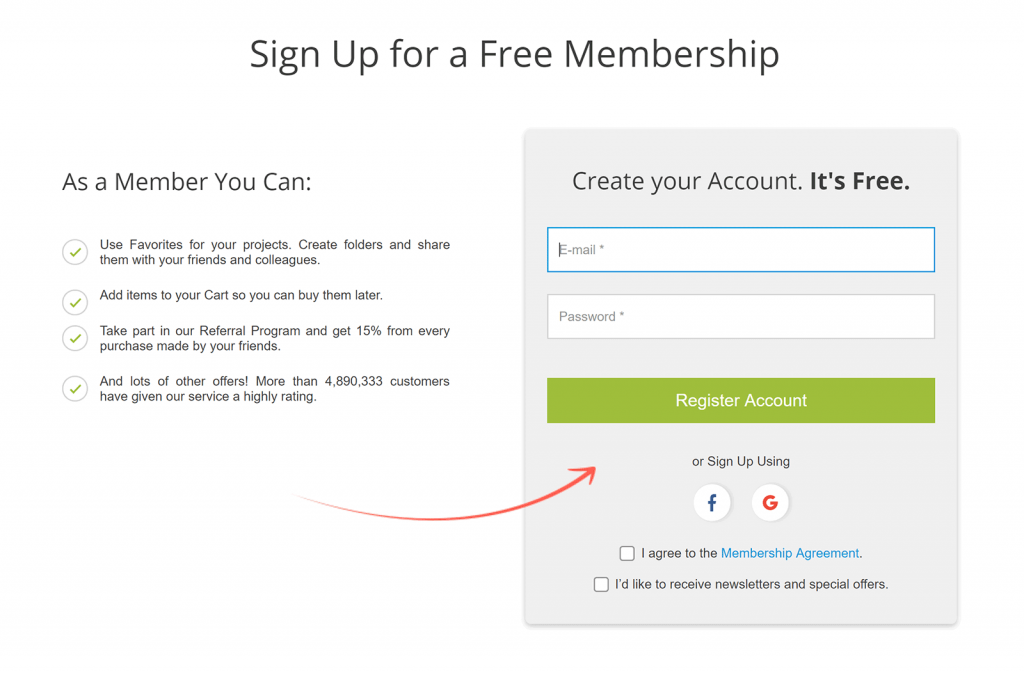 Once you are logged in, your shopping cart will list any images, vectors, or videos, that you requested to download.
You can continue searching within the account area too.

I found the whole experience of searching for images and videos to be simple.
I do encourage you, however, to take advantage or the filtering system. With over 100 million files on offer, the sheer volume of items is overwhelming.
If you keep narrowing your search down, you are more likely to find exactly what you want.
Browsing With Your Phone
A mobile app is available for Depositphotos on iOS and Android.
If you are browsing for content using your phone or tablet, you will probably find the process of searching for items more enjoyable with the app.
The Cost of Using Depositphotos
When you are logged in you will see pricing boxes that state that you can download images from €0.16 per image and videos from €11.39 per video.
I found it bizarre for prices to be stated in euros here as the main subscription page states prices in dollars. Even when I changed my location and timezone to the USA, euros were still displayed. It even promotes plans in dollars directly underneath the part where it quotes euros.
I believe this is a quirk of their location detection script as on the main subscription page, I can only change to euros or pounds when signed in.

The prices stated in the account area are an effective price as you can only purchase items individually if you are purchasing an extended license for an image or video. You instead need to sign up for one of their subscription plans.
For images and vectors, you have three different pricing options available to you. Photos of any size can be downloaded in each plan.
The first option is a monthly subscription. You can get 75 images per month for $69, 150 images for $99, and 750 images for $199. The yearly price for these plans are $699, $999, and $1,999, respectively. Therefore, paying yearly drops the effective monthly price down to $58.25, $83.25, and $166.58. In other words, if you pay yearly you get two months free.
The flexible plan is available for $29 per month or $299 per year. The yearly option drops the effective monthly price down to $24.92. You can download up to 30 images per month under this plan. Any additional images are charged at $1 each.
The last option is to download on demand. You are not tied into a subscription when you pay this way and can download images at any time within the year. It costs $49 for 10 images, $99 for 25 images, and $299 for 100 images.
For images or print runs over 500,000, you should buy the extended license. This costs $89 for 10 images, $359 for 25 images, and $1,599 for 100 images.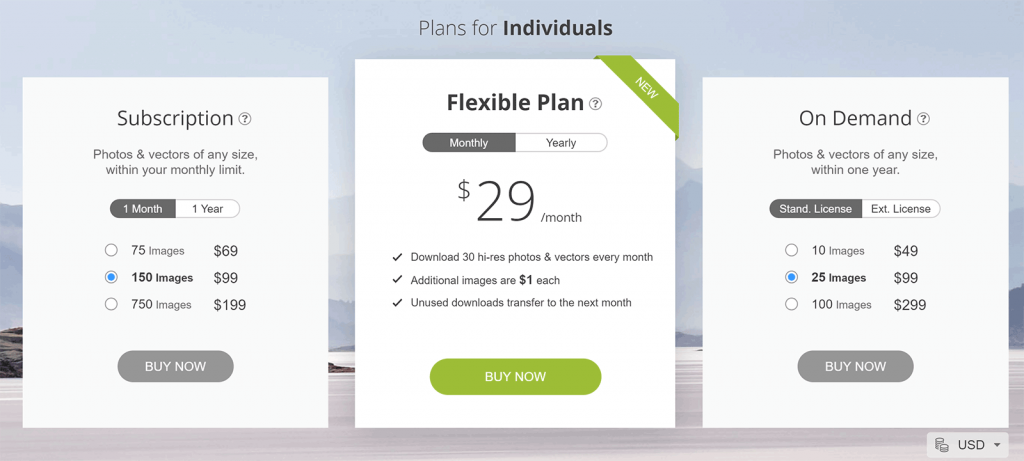 Unfortunately, there are no monthly plans for video content. This could be a little frustrating for some people as pricing is based on video quality; which may not suit those of you who are looking for videos of variable quality for different videos.
For one video it costs $19 for a 240p video, $39 for 480p, $59 for 720p, $69 for 1080p, and $169. The effective price of each video goes down when you buy a package of five or twenty-five videos.
Should you wish to earn money from Depositphotos, you may want to consider their referral program to get a 15% commission; however their affiliate program pays significantly more so I would recommend signing up for that instead.
Final Thoughts
From a usability point of view, Depositphotos is a joy to use. It is easy to navigate and the filtering options help you refine your search further.
I was also impressed with the quality of images and videos. Each photo and vector is available in high resolutions so you never need to accept any limitations for designs and articles.
HD and 4K videos are available in abundance too, however I am not sure why 240p and 480p videos are even offered in 2019. They should really make 720p the minimum video resolution and/or drop the prices of older SD videos.

As always, price is subjective.
From an image and vector point of view, I believe pricing is fair. At $29, the flexible plan is a great option for bloggers as it works out just less than $1 an image, however you can always pay on demand if you wish.
Videos cost more. Some of you may be curious as to why anyone would pay $69 for a 1080p video and $169 for a 4K video, however to busiensses these videos could save them a ton of money. For example, a business may have to spend thousands of dollars to hire someone to record the footage they need for a promotion, tutorial, or ad campaign. By buying a pre-made video they can save time and money.
Of course, you always have to review what you need and what you can afford to pay.
If you are looking for a cheap alternative to Depositphotos, check out the company's other service Crello. It is a front-end design tool that makes creating unique designs and videos simple. Be sure to read my full review for a better understanding of what Crello can do.
Thanks for reading.