If you want incredibly managed WordPress hosting then GetFlyWheel is meant for you. It offers amazing speeds, performance, and features to amplify the productivity of WordPress websites. With excellent uptime and plans, it is one of the best-managed WordPress hosting providers that one must look up to.
Managed WordPress hosting is a boon for all those who don't want to get into technical aspects to maintain their websites. It manages everything for you without giving you any trouble. One doesn't need to make any effort. However, it's more expensive than other hosting plans and packages. The reason is that it's managing everything for you while offering incredible performance, speeds, and features.
One can also find out a number of plugins and updates, enhanced security, and swift page loading. Hence, it completely justifies it's higher price than other shared hosting plans available in the market.
How Fast Is It?
After testing it's speed, uptime, and performance, GetFlyWheel easily managed to come in the top 3 cloud hosting providers in the world.
GetFlyWheel Plans & Prices
The brand offers incredible features across all it's plans. In fact, it's one of the best hosting services for web design companies and freelance web designers. It offers additional features in all it's plans such as a staging site, local development environment, free demo site, free migration, round-the-clock support, etc.
Let's quickly take a look at it's plans.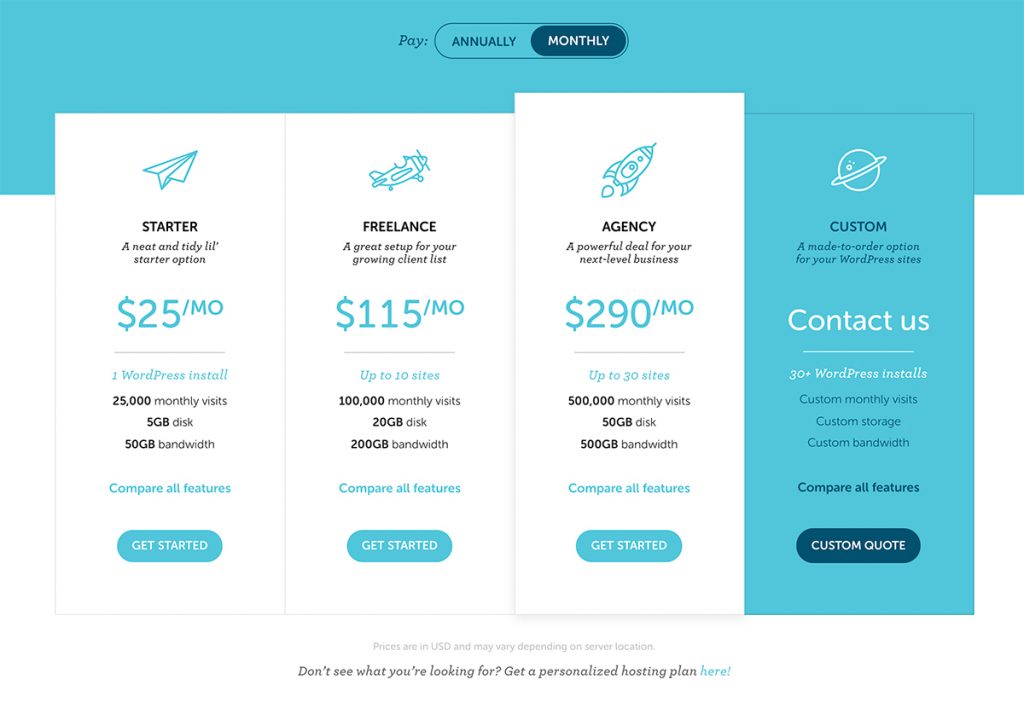 Starter
It is the first and the cheapest plan offered by the brand. One can host 1 website, get 5GB storage, 50GB bandwidth, SSL certificate, site cloning, etc.
It is meant for startups and professional freelancers. It can host over 10 websites and extra sites at the price of $20/site/month. It comes with 20GB storage, 200GB bandwidth, and all the features provided in the Starter plan.
Agency
As the name suggests, it's designed for big agencies as well as freelancers who are working on a big scale. It comes with regular maintenance and updates for all your clients. One can easily host over 30 sites, and many more at the cost of $20/month.
The plan offers 50G storage, 500 bandwidth, and all the features included in freelance and Starter plans. However, the plan also gives you access to phone support and a committed account manager.
It is the last plan which can be customized as per the user's requirements. It is meant for big companies, startups, and agencies who have already been doing well in their business and getting views in millions.
Since it's a custom-based plan, one needs to get in touch with the customer care team to get the plan of their choice.
What About It's Uptime

During 60 days testing period, it is concluded that it was down just for 14 minutes. Hence, it goes down for a second in a day. The overall uptime was 99.99% that's quite impressive.
What About It's Speed

We all know that page loading is directly related to conversion rate. No customer wants to compromise on speeds as it can negatively impact the business and customers.
However, its server response time is about 0.6 seconds, page load time is over 1.18 seconds respectively.
GetFlyWheel Customer Support
The brand offers round-the-clock support to customers. The regular support includes channels such as chat, FAQs, and self-help blogs. However, Agency and Custom plan takers can also get an option for phone support.
GetFlyWheel Pricing
The Starter plan costs $25/month. However, if you will take an annual package then it will cost you $23/month.
The Freelance plan costs $115/month and $105/month if paid yearly.
The Agency plan costs $290/month and $266/month if paid yearly.
Endnote
GetFlyWheel is no doubt offering value for money managed WordPress hosting plans. In every plan, one is getting amazing features, speeds, performance, and uptime. In fact, it offers some additional features also without charging extra.
The only drawback is that the phone support is available on Agency and Custom plans. It should have been available across all the plans, considering the cost.