The working of Etsy 
If you want to start your business on Etsy then it is very simple and straightforward. You can consider Etsy as a platform that helps you to register as a merchant. Moreover, you can leverage around 45.7 million buyers of Etsy.
This is an online marketplace that helps individual vendors to connect with buyers who are looking for handmade, crafty as well as unique items. After registering yourself as a seller, you can easily publish your listing on Etsy. Plus, Etsy will encourage the listings to the shoppers.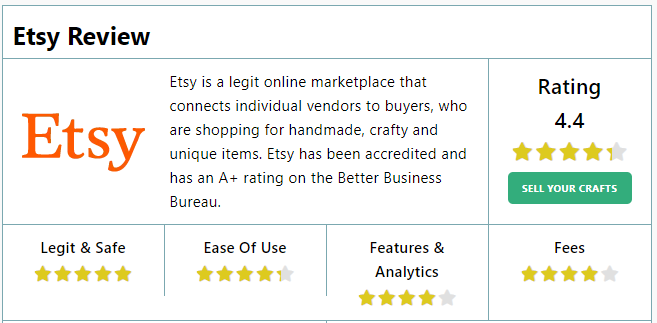 Is it legit? 
It is a legit marketplace that is in existence since 2005 and has around 45.7 million active buyers as well as 2.5 million active sellers. This is accredited as well as has an A+ rating on Better Business Bureau.
The fees of Etsy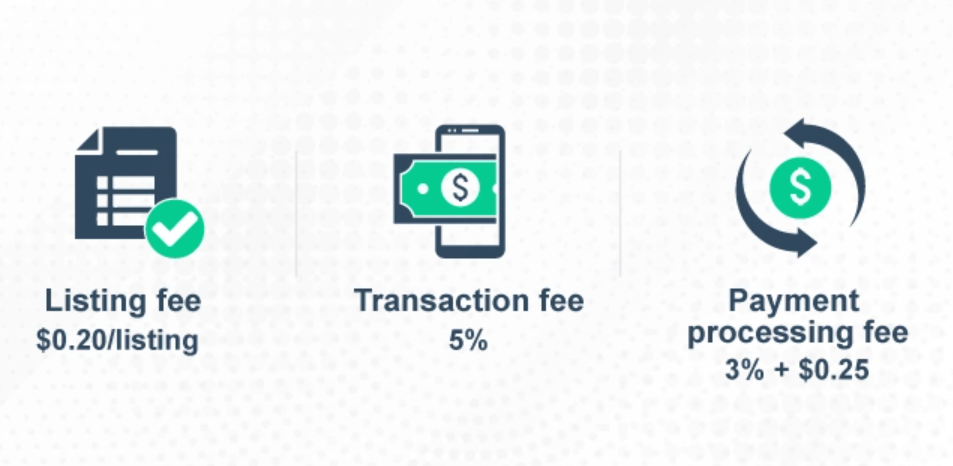 When you sell your products on Etsy, there are 3 types of fees you'll be charged.
There are three types of Etsy fees:
Listing fee – $0.20 per listing -This is applied to every listing you are publishing on Etsy. Also, the listings expire after 4months and it is important to renew them.
Transaction fee – 5% – The platform keeps around 5% of the total sale amount.
Payment processing fee – 3% plus $0.25/transaction – This is charged when you receive any order.
Things that can be sold on Etsy 
There are three types of products on Etsy like handmade, vintage as well as craft supplies.
The main categories on Etsy: 
Jewelry and accessories
Clothing, shoes, bags, and other fashion accessories
Wedding and party essentials, decor, etc.
Home and living – decor or everyday home essentials
Toys and entertainment
Art and collectibles
Craft supplies and tools
Gifts and gift cards
Printables – planners, calendars, etc.
The right way to start selling with the platform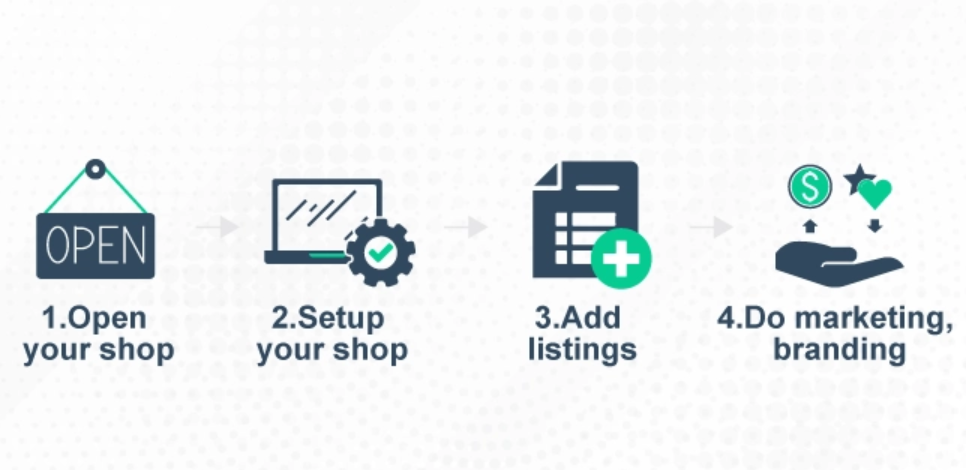 This is a step-by-step guide to opening your shop on Etsy:

Create the account on Etsy initially by entering your email address and creating a password. After logging into the account, you can open your shop.

To open the shop on Etsy-

Tap on the 'Sell on Etsy' option which you can see in the right corner.
Click on 'Open Etsy shop.'
Choose the shop language, country, as well as currency. Later, click on the 'save and continue' button.
Now add the shop name and tap on the 'save and continue' option.

This can be done on a desktop web browser and after the shop is live you can manage everything through Etsy app on a mobile phone.

After signing up and creating the shop name, there are some more steps to complete.

To finalize the shop setup, follow these sections:

Shop logo/banner – You need to create and add clear, HD photos that show your type and style of product.
Announcement – Try to create a message to welcome the shoppers.
Related to sections – This section will help you share the story behind the products, how you create the brand, its vision, etc. You can even add photos or videos.
Shop members – Try to introduce the partners/members of the shop.
Shop policies – Try to set up the shop policies related to payment, shipping, returns, and other things.

In case you are a US seller then go for USPS shipping labels after setting up the store on Etsy. You can save around 30% if you do this.

Now you need to add products to the shop.

The way to add listings to the shop:

Open Etsy.com and check the 'your account' option and tap on shop manager.
Tap on shop
Click on the 'add a listing' option.

Guide to adding products to the store:

Add photos/videos – Try uploading HD pictures of the products from various angles. Whereas, the video can be of 5-15 seconds but without any sound.
Thumbnail image – It catches the attention of buyers. The first picture of the listing becomes the thumbnail and you can drag and drop images to change them later.
Add listing details – Add some titles and choose the product category to make it easy for the shoppers to search for them.
Listing description – Describe everything in detail for a better understanding of shoppers.
Add inventory/pricing – Add the price as well as quantity of everything and if there is something more than one variation then indicate that as well.
Shipping – In this section, you can set up the shipping profile or provide free shipping.
Save the listing – After completing the sections of the listing, review it and publish it or save it as a draft.

Marketing, branding, and promotion

Here are some of the tips to ace these:

Optimize the shop for the search. Select a proper category of the listing and add correct keywords in the title as well as description. Plus, you can add a location.
Link the social media to the shop and for the promotion add daily posts.
Offer exciting discounts for the shoppers.
Try paid ads. Etsy offers a chance to advertise the products with its ads costing $1 daily.
Join the community of Etsy to network with Etsy sellers as well as shoppers.

 
What Are the Etsy Pros & Cons?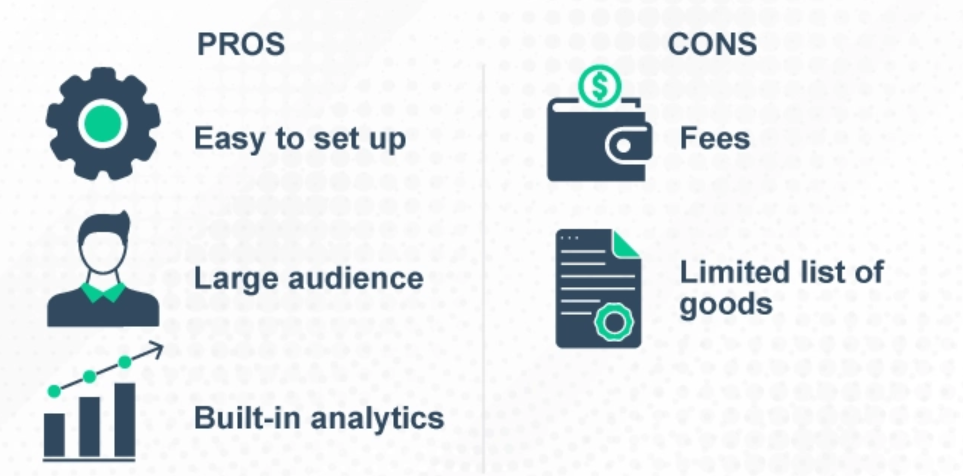 Pros and cons of Etsy
Pros
Simple to set up as well as maintain
Market to a massive audience
Has built-in analytics that is beneficial in analyzing the performance as well as making data-driven decisions.
Cons
It has three types of fees
There is only an option to sell handmade, unique, as well as vintage items.
I
Is it worth it? 
It is simply worth selling your crafty business items on Etsy. This can be lucrative if you have the right products for the right audience. However, it can take some time for your profile to reach some profitable level on Etsy.
Alternatives of Etsy 
Amazon handmade
This is an amazing alternative to Etsy. It focuses on handmade items but is not effective to find unique items. Whereas, Etsy is famous for selling only handmade items and is visited by many shoppers to want unique and handmade stuff.
Big Cartel
The platform focuses on artistic and smaller stores. But there is very less room to increase the business here. This reason that most people on Big Cartel later move to Etsy.
Etsy vs Shopify

While both Etsy and Shopify are easy-to-use online sales channels, these platforms represent 2 radically different ways to reach buyers. Etsy is an online marketplace that has millions of active shoppers. On the other hand, using Shopify you have to build your own shop and put a lot of marketing efforts to reach and attract potential buyers.
Etsy vs Big Cartel
Big Cartel is another good alternative to Etsy because it focuses on smaller, artistic stores. However, there's not much room for scaling up your business. That's why people who start with Big Cartel usually move to Etsy once they are ready to upscale.