GreenGeeks is known to be founded in the year 2008 by Trey Gardener and till now they have hosted more than 300, 000 websites. Trey is known to be worked in eight various web hosting companies like Hostpapa, Lunarpages, Globat, Startlogic, iPowerweb, and a lot more
There are two bold claims made by GreenGeeks on its website:
99.9% uptime
100% customer satisfaction
Here is a complete review of GreenGeeks that will help you know about it better.
General Info & Hosting Information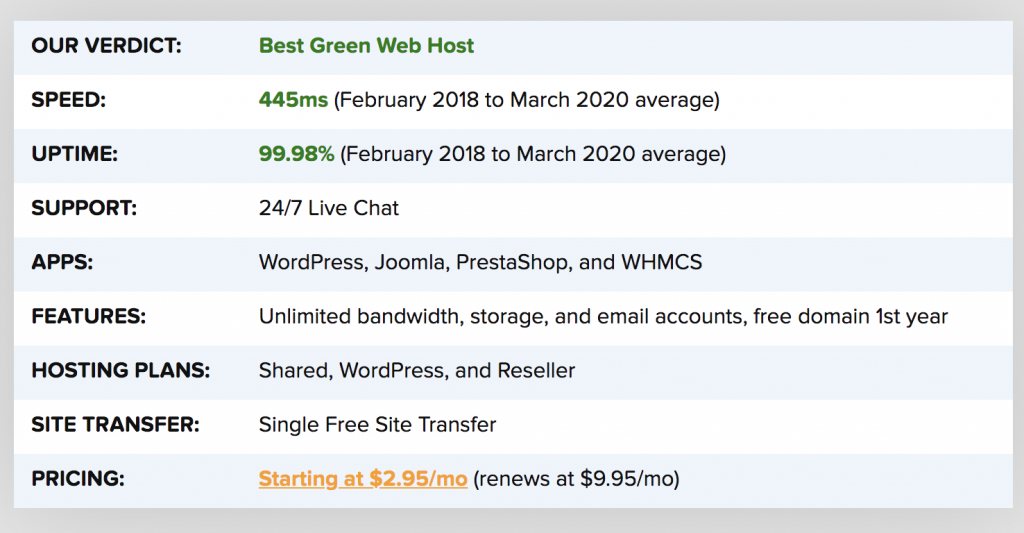 PROS
GreenGeeks has a lot of good things going for them. This includes solid uptime, support, and important mission-driven service. Here are the details:
1. Above Average Uptime
Above average uptime – GreenGeeks claims to have guaranteed 99.90% uptime. As per our research during the 24 months, it does keep the uptime between 99.98 – 100%. This is the average uptime during 2019-20:
January 2020 average uptime: 100%
December 2019 average uptime: 99.99%
November 2019 average uptime: 99.99%
October 2019 average uptime: 99.98%
September 2019 average uptime: 99.98%
August 2019 average uptime: 100%
July 2019 average uptime: 100%
June 2019 average uptime: 100%
May 2019 average uptime: 99.99%
April 2019 average uptime: 99.94%
March 2019 average uptime: 99.98%
February 2019 average uptime: 100%

2. Excellent Page Loading Time
The speed of GreenGeeks is better compared to the industry average which is 445ms and it is one of the top 10 fastest hosts.
3. Efficient Support
Customer support plays a huge role and GreenGeeks's customer support is satisfactory. They are responsive 24/7 and have a complete knowledge base. Also, they have various article categories as well as subcategories to get complete information related to various issues.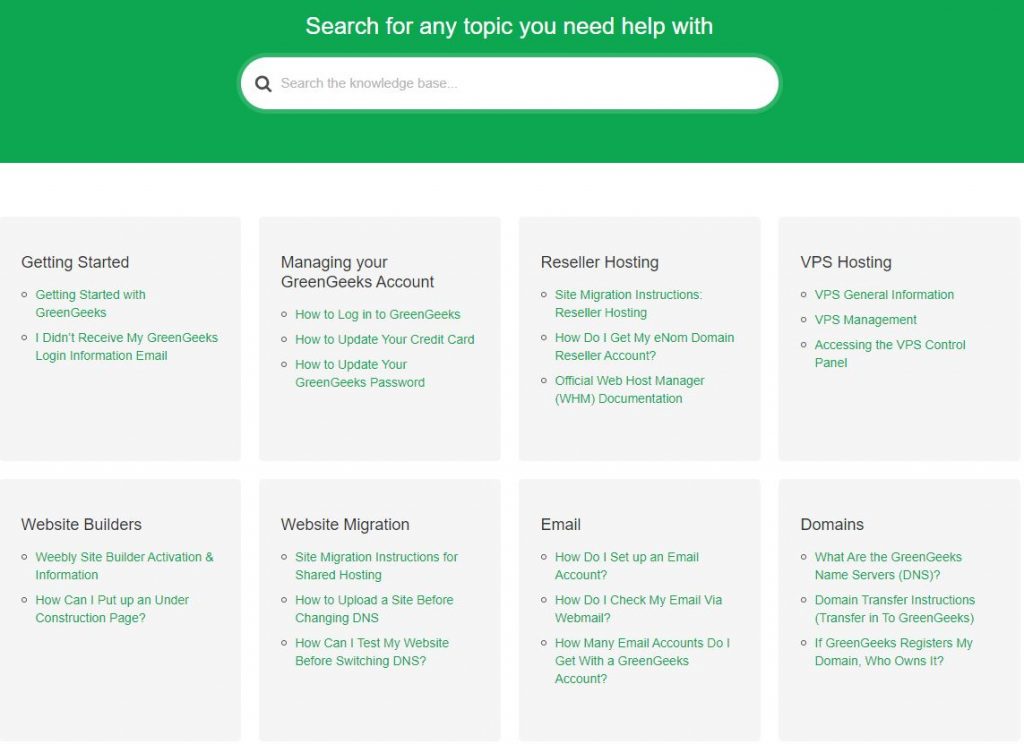 4. Free Domain Name & Website Transfer
It offers free domain name registration as well as transfer. Also, it is completely free if you are using their services till the time
5. 30-Day Money-Back Guarantee
GreenGeeks offers 30-day money-back guarantee with no questions asked on most of the hosting plans.
6. Nightly Backups
The platform offers free nightly backups including SSH access. This way your data remains safe. Also, GreenGeeks offers real-time security scanning, Spam assassin protection, SSL secure server, and a lot more.
7. Top-notch Server Locations
The platform offers data centers mainly in four locations which are Chicago, US, Phoenix, US, Montreal, CA, and Amsterdam, NL. Selecting the right server location can be beneficial to the site's SEO. Also, GreenGeeks promises to keep the servers updated every time with specifications like never oversold, Gigabit connectivity, SSD acceleration, no desktop hardware, etc. Plus, other features like SAS 70 Type 1 certified, automatic climate control as well as temperature system, and a lot more.
8. Free CDN
GreenGeeks offers CDN to the users that are connected by Cloudflare. This is beneficial for site optimization and is completely free.
CONS
Industry-standard pricing manipulation – The price of this is $2.95 but only if you sign up three years in advance. In another case, you need to pay the monthly price which is $9.95.
Doubtful refund policy – GreenGeeks offers a free domain when signing up but if you are requesting for money-back guarantee then the free domain price which you took will be deducted by $24.95. Therefore, the free domain is not completely free and there are some strings attached to it.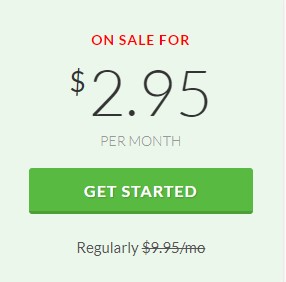 What about the Pricing & Hosting Plans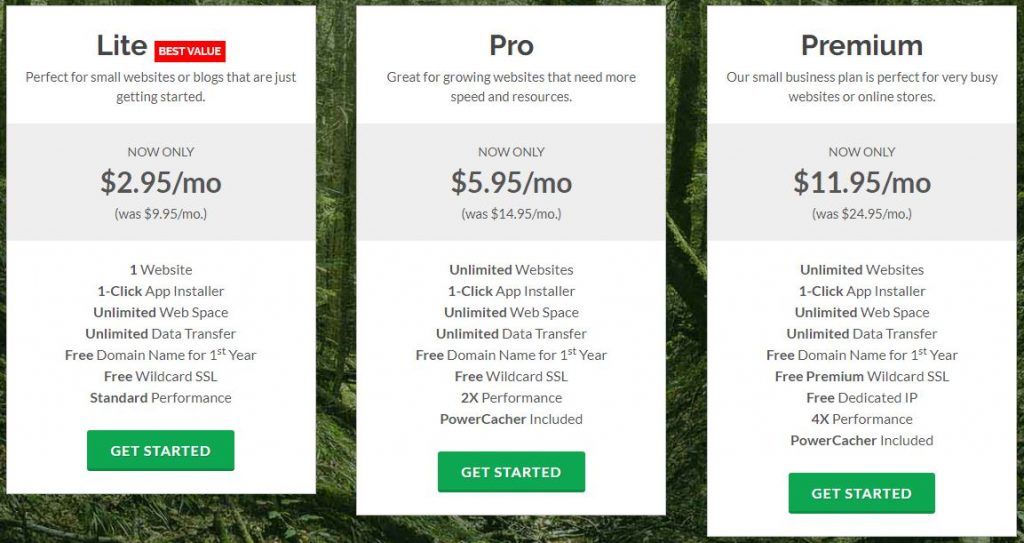 Shared Hosting – GreenGeeks is known to have only one shared hosting plan. The cost of the plan is $2.95 only if you are in advance for 3 years but the actual cost is $9.95. It offers unlimited web space, unlimited data transfer, unlimited domain name, unlimited email accounts, as well as MySQL databases. It also offers free domain names as well as free nightly backups and has RAID-10 SSD storage.
WordPress Hosting: It is the same as the shared hosting plan but is enhanced for WordPress.  It has a free domain, and an easy signup process and the offered payment methods are credit card and PayPal.
However, if talking about the hidden fee and clauses then the account cannot use more than 100% of 1 CPU core or 1GB memory or 20 concurrent connection, as well as 75,0000 files otherwise the account will be suspended. In case your dues are not paid within the time span of four days then the account will be suspended and you need to pay %15 for the reactivation of accounts.
There are no upsells, a quick account activation process, cPanel is there, and there is a one-click install tool to install amazing apps as well as CMSs.

Is GreenGeeks right for you? 
GreenGeeks is not just about offering web hosting but is a lot more than that. They offer amazing speed, uptime, as well as good customer support. However, you need to sign up for the long term if you are keen on paying a low price.