About malaysia airlines reviews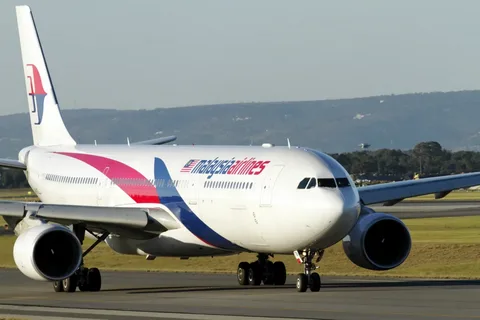 Malaysia Airlines is Malaysia's national flag carrier. It was first created as Malayan Airways in the 1930s, based in Singapore, and indeed the airline shares its early history with Singapore Airlines. From 1966 to 1972 it was branded as Malaysia-Singapore Airlines, before eventually being spilt into what we know today as Malaysia Airlines and Singapore Airlines. Even to this day, travellers may notice some similarities between the Business Class experiences of both airlines.
Following years of financial struggles and unprofitability, Malaysia Airlines was renationalised in 2015. It is part of the Malaysia Aviation Group, which also includes regional airlines Firefly and MASwings.
Malaysia Airlines is headquartered at Kuala Lumpur International Airport and operates a busy roster of domestic and global flights, including Asia, Australia / New Zealand, the Middle East, and Europe. The company currently operates approximately 80 aircraft – Boeing 737-800, Airbus A330-200, A330-300, and Airbus A350-900.
Malaysia Airlines' logo is based on a traditional Malaysian wau bulan or moon kite. These kites are typically decorated with floral patterns and, when flown, recall a rising crescent moon. The aircraft livery is inspired by the Malaysian flag (known as 'The Stripes of Glory') and features bold red and blue stripes with a crescent moon and a 14-point star (the Bintang Persekutuan) in yellow.
The airlines' frequent-flyer program is called Enrich and enables passengers to accumulate Enrich Points on both Malaysia Airlines and its partners. Malaysia Airlines is a member of the oneworld airline alliance, which connects 1,000 destinations in more than 170 territories, and has access to over 650 airport lounges worldwide.
Malaysia Airlines offers Business Class on all its flights, but also offers a product branded as Business Suite on flights operated by A350 aircraft. This is essentially the former Malaysia Airlines First Class product which has been rebranded. Business Suite still offers an experience that is akin to First Class and should not be confused with Malaysia Airlines Business Class.
Overview of malaysia airlines

Kuala Lumpur International Airport, often referred to as KLIA, is Malaysia's main international airport and one of Southeast Asia's biggest aviation hubs. It is located in the Sepang district of Selangor, approximately 45 kilometres south of Kuala Lumpur.
There are two main terminals: the Satellite Building, for international arrivals and departures, and the Main Terminal Building for primarily domestic flights. The Aerotrain, an 'automated people mover' – three large carriages, no driver – provides transport between the two main terminals and can service 3,000 passengers an hour.
One notable feature of Kuala Lumpur International Airport is the Jungle Boardwalk, a glass-domed forest with more than 3,500 trees in the Central Hub of the Satellite Building. A wander along the duckboards surrounded by lush foliage provides a welcome escape from the traditional airport environment. It was designed by Japanese architect Kisho Kurokawa, who described his concept as 'the airport in the forest, and the forest in the airport'. French architect Paul Andreu was similarly inspired when creating his 'garden within the airport' at Jakarta's Soekarno–Hatta International Airport (see our review of Garuda Indonesia
Malaysia Airlines has three 'Golden Lounges' at KLIA, each with stylish design features, excellent facilities, and mouth-watering Malaysian cuisine. Business Class passengers receive complimentary access, while other passengers can buy a single-entry pass.
The International Golden Lounge is on the Mezzanine Floor on Level 2 of the Satellite Building and has views of several runways.
There is a Regional Golden Lounge on Level 4 of the Main Terminal Building, near Contact Pier, and a Domestic Golden Lounge on Level 3 of the Domestic Terminal A.
The International Golden Lounge features family and nursing rooms, nap rooms, Muslim prayer rooms and restrooms with showers (suitable for mobility-impaired travellers). Most of the seating features built-in universal and USB points and complimentary Wi-Fi, although performance can vary. It's a large and welcoming space but can get busy (Kuala Lumpur is the world's 23rd busiest airport).
The International Lounge features a range of local and international a la carte fine dining options; all served with white table linen. There's a live cooking station with suitably attired chefs at work and a Laksa bar. Laksa is a Malaysian noodle dish which comes in a variety of forms. The bar was introduced to provide for Malaysian travellers but has proved a big hit with all travellers. Drinks-wise, there's a cocktail bar – with additional soft drinks, coffee, and tea.
Malaysia Airlines also operates Golden Lounges in Kuching and Kota Kinabalu. In other cities, Business Class passengers can access contract lounges before boarding their flight, many of which are affiliated with Malaysia Airlines' oneworld partners.
Cabin & Seat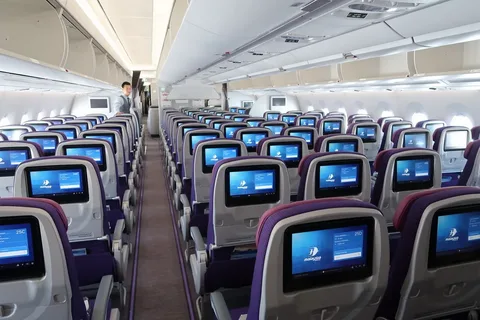 The Malaysia Airlines flagship Airbus A350-900 features four fully enclosed Business Suites and 35 Business Class seats, while the Airbus A330-300 features 27 Business Class seats. The layout of the Business Class cabin on both aircraft types can appear confusing as rows alternate between a 1-2-1 and a 1-2-2 configuration. For solo travellers, the prized "throne seats" on the right side of the cabin provide the most space and privacy, while couples may prefer two seats placed together. The variety of seating options provide a choice for passengers with different preferences, but make sure to check the seat map carefully when selecting a seat
The seat is 22 inches wide, has a pitch of 44 inches and a full-flat bed length of 78 inches. You can adjust the seat's firmness, and there's a retractable armrest for passengers with reduced mobility. Each seat comes with a work surface, mood lighting, personal stowage with mirror, phone and bottle holder and coat hook. There is a 115v AC PED power supply and USB 2.0 port.
Malaysia Airlines also operates a handful of ex-Air Berlin Airbus A330-200 aircraft that each feature 19 full-flat Business Class seats arranged in a more common 1-2-1 configuration retained from the previous operator. These aircraft are primarily used on regional routes.
The flight search on BusinessClass.com features images, videos and seat maps for most airlines and aircraft. Search results also highlight details including seat pitch, width and recline. You can visualise the seat and cabin configuration of the flight in which you are interested before making your choice.
Cuisine
Malaysia Airlines is one of few airlines in the world that lets Business Class passengers pre-select their meals from an extended menu before travelling. The airline's Chef-on-Call programme is available for pre-ordering from 30 days up to 24 hours before departure, and features Malaysian and western favourites, healthy choices, and various chef recommendations.
Inflight dining options vary according to the route, but may include choices such as Malaysia's national dish, nasi lemak with prawn sambal, featuring coconut pandan rice served with sweet-spicy shrimp sambal, egg, fried anchovies, and crunchy peanuts. There may be a breakfast of scrambled eggs with beef steak and chicken sausage, with vine-ripened tomatoes, button mushrooms, asparagus, and fluffy potato souffle. And Malaysian classic red snapper curry served with steamed rice and a side of sauteed spicy baby okra and eggplant, poppadom roll, mango chutney and cucumber raita.
The main meal on long-haul flights is served directly on linen-lined tables rather than using trays, lending a more restaurant-style experience to the service. Main courses are plated onboard, improving the presentation. On flights that offer an additional meal service, the second meal may be served on a linen-linen tray.
Any review of the dining options on Malaysia Airlines would not be complete without special mention of the airline's signature satay sticks (beef or chicken), which compares very favourably with authentic Malaysian street food. Served on most long-haul routes, the satay sticks with chunky peanut sauce are a passenger favourite that have been served on board ever since 1973. On busy days, Malaysia Airlines uplifts up to 17,000 sticks of satay, all of which are chargrilled by hand at the airlines´ catering facility in Kuala Lumpur.
All meals served on board all Malaysia Airlines operated flights are prepared in accordance with Malaysia and International Halal standards. Malaysia Airlines offers a special menu to meet various religious, medical, and dietary needs. Special dietary meals are offered on selected flights only and must be ordered 24 hours before departure. A kosher meal is only available on London and Australian routes. Child and baby meals are available.
Beverages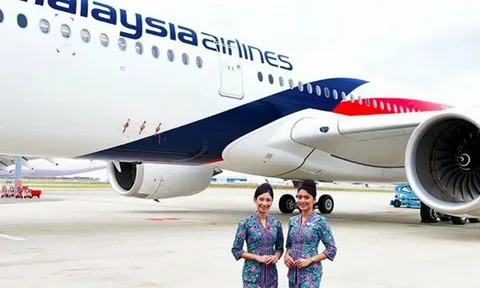 Since early 2016, Malaysia Airlines follows a policy on alcohol that may be confusing to passengers, in particular when connecting from a long-haul flight to a regional flight. Wine, beer, and spirits are available to Business Class passengers on Malaysia Airlines flights over three hours (including during Ramadan), but on shorter flights the carrier is a dry airline.
Pre-departure beverages are offered to Business Class passengers, but do not be surprised if the offering is water, juice or a signature drink which resembles a virgin mojito made with pandan syrup, a Malaysian speciality. From most departure airports, cabin crew are however happy to oblige if you request Champagne.
Malaysia Airlines Business Class passengers enjoy a choice of two high-quality Champagnes – Bruno Paillard Première Cuvée Extra Brut and Bruno Paillard Rosé Première Cuvée Extra Brut. The family-run Champagne house takes great pride in the fact that both of these non-vintage wines include a mix of 25 vintages going back to 1985. Bruno Paillard is a young Champagne house, established in 1981 and based in Reims, with a house style known for distinct berry flavours. As expected in Business Class, Champagne is poured at the seat.
The wine selection on long-haul routes includes three white wines, three red wines and a sweet dessert wine. Other alcoholic beverages include a selection of beers, aperitifs, cider, liqueurs, and spirits. Non-alcoholic beverages include juices, soft drinks, and mineral waters.
Malaysia Airlines offers a relatively standard selection of coffee and tea, but for a local experience, make sure to try "Teh Tarik" – the national drink of Malaysia. The name is derived from the preparation process, which involves "pulling" the drink during preparation. It is made from strong black tea and condensed milk which is repeatedly poured back and forth between two cups from a height, giving it a thick frothy top.
The flight search on BusinessClass.com includes information on which Champagne is served in Business Class and First Class on many airlines. We do our best to keep track of any changes, but feel free to let us know if there is something we missed.
Service

Upon boarding, Malaysia Airlines' passengers are treated to traditional Malaysian music featuring instruments including the gamelan and sitar. The boarding music has been exclusively composed for the airline to offer "a taste of Malaysia through a beautiful harmony that reflects the country's score of diverse cultures".
The female cabin crew all wear sarong kebaya depicting local flowers like jasmine and hibiscus. It has been a signature of the airline since 1972 and is rightly regarded as one of the world's most fetching cabin crew uniforms, in line with the sarong kabaya worn by Singapore Airlines cabin crew.
Malaysia Airlines has a deserved reputation for high service levels, and the cabin crew are personable and attentive, but with a welcome lightness of touch. As with most airlines, there is however some inconsistency in inflight service.
Entertainment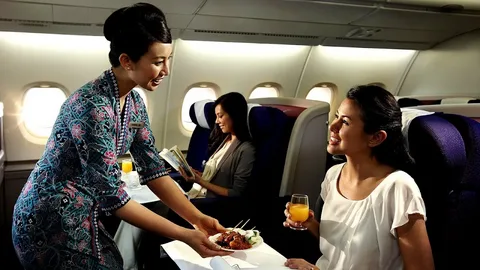 Malaysia Airlines Business Class seats offer individual 16-inch high definition touchscreens that can also be controlled by a touchpad handset. The system is responsive and includes a wide range of popular movies (including recent Malaysian, Chinese, Japanese and Hindi films), more than 300 television shows and games (including plenty to entertain the kids) and 500 music and spoken word albums.
Wi-Fi – branded as MHconnect – is available on all A350 aircraft with a range of data plans to suit usage. The airline is progressively expanding the service to the A330 aircraft as well.
The flight search on BusinessClass.com includes information on Wi-Fi and inflight entertainment.
Amenities & Facilities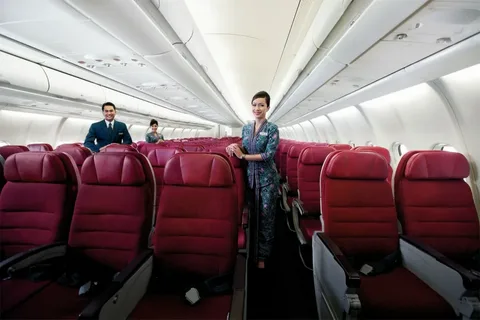 The Malaysia Airlines Amenity Kit is by luxury leather goods brand Aspinal of London. It is available to Business Class passengers on flights between Kuala Lumpur and London and destinations in Australia and East Asia. The navy Aspinal wash bag contains PAYOT's skin and body range (Lip Balm and the luxe Hand and Body Lotion), an eye mask, comb, a pair of earplugs, and socks.
Business Class and passengers receive a cosy blanket, fluffy pillow, and mattress cover. Slippers are also provided.
Short & Medium Haul


Malaysia Airlines provides a large number of regional routes from its Kuala Lumpur hub, including 16 domestic routes. Most flights are operated by Boeing 737-800 aircraft, with some high-demand routes supported by wide-body aircraft. On the Boeing 737-800 workhorses, 16 Business Class recliner seats are fitted in a comfortable 2-2 configuration. Seats are 21 inches wide and have a generous pitch of 42 inches. They offer a leg rest, foot bar and a personal 10.6-inch monitor, and passengers receive a pillow and blanket.
Even short flights offer a hot meal, if on the small side, accompanied by a selection of non-alcoholic beverages. Medium haul flights offer a more elaborate three-course meal service that includes the signature satay, and if the flight is over three hours the bar is also open.
Sustainability

In response to passengers' increased demands for environmentally sustainable business practices, in April 2021, Malaysia Aviation Group launched its MAG Sustainability Blueprint, which includes the aim of achieving net-zero carbon emissions by 2050. The airline has engaged in carbon offsetting initiatives since 2016 and is working on emission reduction and fuel conservation targets (the more fuel-efficient Airbus A350 is helping with this). Other eco-ambitions include using 50% of biodegradable materials for in-flight operations and recycling and upcycling 50% of the ground and in-flight waste by 2025.
The flight search on BusinessClass.com includes information on CO2 emissions for each flight. Our quality algorithms also give a higher score to flights operated by the most modern and environmentally-friendly aircraft
What We Love
The Laksa Bar in the Golden Lounge at KLIA – simply delicious!
Malaysia Airlines' Chef-on-Call – giving you the option of pre-selecting meals
The charcoal-grilled signature satay sticks – arguably the best in the air
searches hundreds of travel sites at once to help you find the best premium travel offers for both flights and the finest hotels. Find
the best price for Malaysia Airlines by making a search