About QVC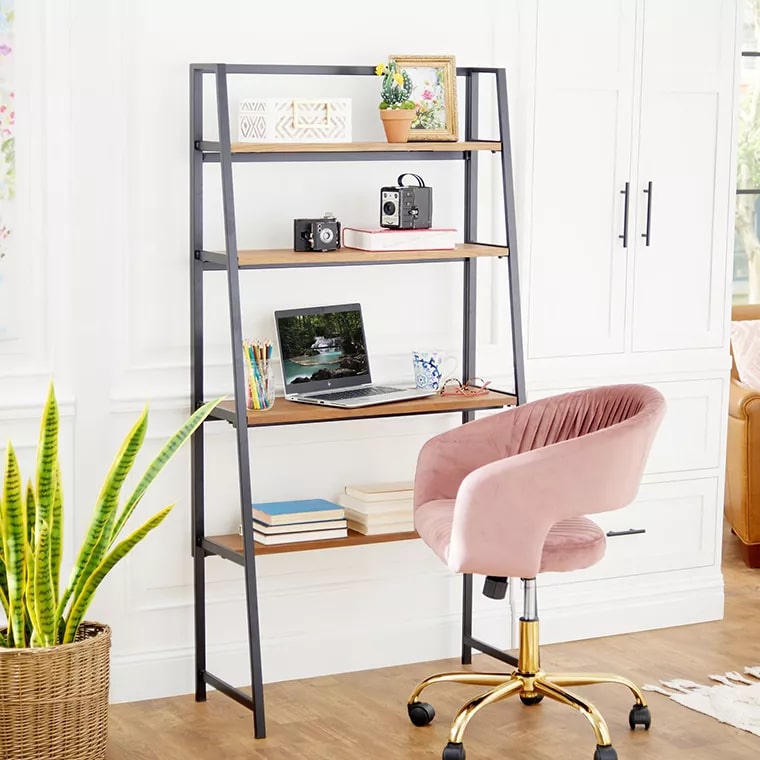 As a shopping network, QVC broadcasts to an average of 350 million households around the world. Millions of shoppers click over to the channel daily to find new and exciting products from enthralling brands.
Working to bring on high-quality, exceptional companies with stories to tell, QVC often partners directly with designers to bring you house-brand products with extraordinary flair.
For many who shop through the network, shopping with QVC is like combing the mall with a best friend. Customers can call in, ask questions, and see the details of a particular product before they buy.
Overviews of QVC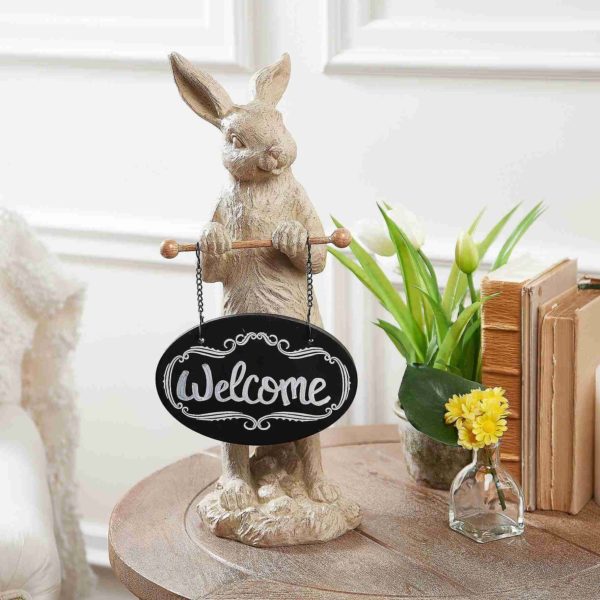 Founded in 1986 by Joe Siegel, QVC was originally an alternative to the Home Shopping Network. With lovable hosts who build relationships with callers and highlight product features through live demos, the network (which stands for Quality, Value, and Convenience) delivers big time on reliable, authentic experiences.
If you're a fan of virtual browsing, QVC offers curated collections directly through qvc.com. Check out daily deals, or stream any of its channels live, right from your computer. A hub of hundreds of your favorite brands, and then some, QVC has an impressive home decor selection with big names like Valerie Parr Hill, Berkshire, and Nearly Natural.
Whether you want as many plants as possible, love a retro look, or just need a few simple accents for your space, we have it all for you here with the 12 best QVC home decor products.
12 Best QVC Home Decor Products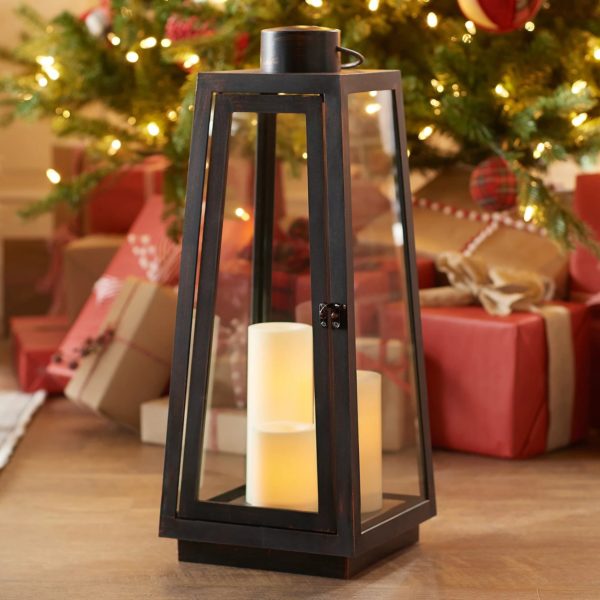 Candle Impressions 23″ Indoor/Outdoor Tapered Lantern
Winning the Home Safety Council Award for product innovation for consumer safety, this smart, fuss-free candle is loved for its long battery life and rustic charm. The Candle Impressions 23" Indoor/Outdoor Tapered Lantern features a weather-friendly resin design with glass panels and a swinging hinged door.
Great for welcoming guests into your home, weddings, and late-night ambiance, it's safe for outdoor spots like your front steps, patio furniture, and even grass. Fill it with greenery and flowers for a beautiful touch and don't worry about lighting them on fire.
The lantern measures 23.4" in height and 9.4" in both width and length. Accompanied by 3 flameless pillar candles of different heights (4", 6", and 8"), the lantern has an old word look and up to 900 hours of glow time. Right now, you can get the set on sale for $50, it's usually $64.
Highlights
3 flames candles
Safe for indoors and outdoors
Worry-free ambiance
900 hours of glow time
On sale
Vegtrug Cedar Wood Deluxe Raised Garden Planter with Shelf
Connecting you with nature, gardening is one of the most therapeutic activities on this earth. With your fingers in the soil, you can watch life grow, and even enjoy the fruits of your labor.
The Vegtrug Cedar Wood Deluxe Raised Garden Planter with Shelf is ideal for urban gardeners or those who don't want to constantly bend over to tend to their crops. Raised up 31" off the ground, it has a 116-qt capacity and provides space for herbs, tomatoes, or even peppers.
Put this plater out on your balcony, outside your kitchen window, or on the patio for summer fun with children. Thoughtfully made to care for your plants, it has a deep bed to accommodate deep-rooted plants and a fabric lining for drainage. On the bottom, there's a lower shelf for storage of seedlings to be planted or tools.
Enjoy the look of quality and durability from cedar wood in one of 4 breezy colors like natural, white, or blue. Normally, the planter is $145, but you can get it for $132 until 5/27. If you catch it between 4/23-5/4, it'll be discounted down to $126.
Highlights
Weighs 17 lbs
Raised bed for easy planting
Fabric allows for drainage
Can accommodate deep-rooted plants
Ideal for small spaces
On sale
Faux Fiddle Leaf Tree in Starter Pot by Valerie
Fiddle leaf trees are one of the most popular indoor plants loved for their dramatic, large green leaves. Even though that's so, they can be expensive and not all of us have a green thumb. That's where the brilliance of the Faux Fiddle Leaf Tree in Start Pot by Valerie comes in.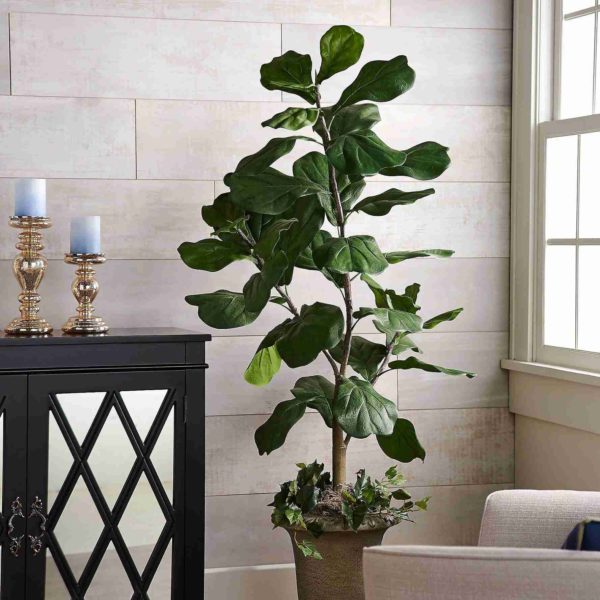 Known for her realistic selection of indoor plants, Valerie Parr Hill has been designing with QVC for years, and she even has her own show. Her faux fiddle leaf comes in 4', 5', 6', and 7' options, bringing the confidence of the most skilled gardener to your favorite spaces. With the natural beauty of the fiddle leaf, this one will stay green forever.
Securely "planted" into a weighted starter pot, you can get one for $35-$110 right now, normally they're $58-$184.
Highlights
4 size options
Easy to care for
Weighted base
Realistic look
On sale
Convert-A-Bench Gen II XL Designer Series Bench-To-Table
You know when you come across products that just make sense? The Convert-A-Bench Gen II XL Designer Series Bench-To-Table is one of those. What looks like a simple, sturdy bench transforms into a table with a seat. So cool.
apartment patios, it's a family-friendly bench that makes outdoor entertaining and living a little easier. Though it looks like wood, it's actually made from vinyl and resin and can be left outdoors 24/7. Pick from 5 attractive colors like mocha/driftwood and white birch/grey.
Holding up to 1,400 lbs in bench mode, it's sturdy and wind-proof at 34 lbs. normally, the table bench-to-table is $206, but you can get it right now for $187.36. On 6/17, it'll be on sale for $178.24.
Highlights
5 natural colorways
Accommodated up to 1,400 lbs
Weighs 34 lbs
Weather-proof
5-year warranty
Made in the USA
Northern Nights Two Tone Rayon made from Bamboo Sheet Set
There's nothing quite like the feeling of crawling into bed — unless you have a lumpy mattress and scratchy sheets. While you can hit up any of QVC's mattress collections for affordable, dream-inducing comfort, Northern Nights has things covered in the sheets department.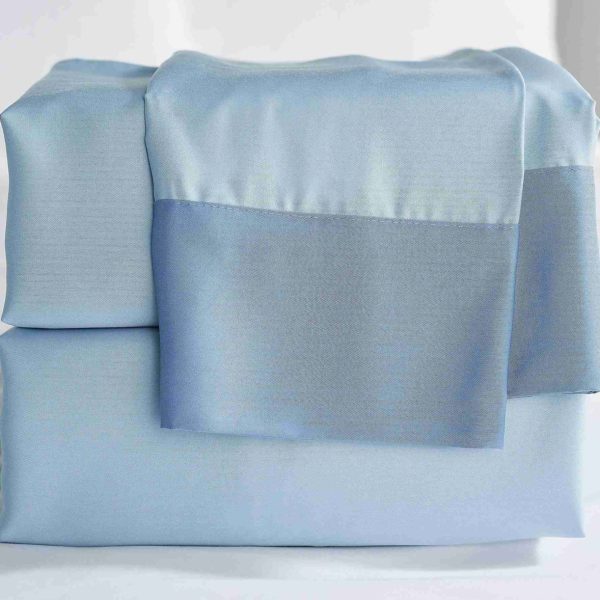 Made from bamboo rayon, the Northern Nights Two Tone Rayon made from Bamboo Sheet Set is eco-friendly and naturally soft, not to mention cooling, and incredibly comfortable with a 300 thread count. Available in 9 calming two-tone fabrics like coral, grey, and rose, the set comes with one fitted sheet, one flat sheet, and two pillowcases (just one for twin sets).
A dream to sleep on and care for, they machine wash and tumble dry like a pro. Made just for QVC, you can get the Northern Nights sheet set in all sizes Twin to California King for $86, a normal retail value of $99. Starting May 5, you can grab a set for $66.
Highlights
300 thread count
Made from bamboo
Eco-friendly & breathable
Machine-washable
Great value
DayDream Oversized 60×80″ Throw from Berkshire
What's a comfy couch without a snuggly blanket? The DayDream Oversized 60×80" Throw from Berkshire makes all your cold-weather dreams a reality with its supremely soft fabric. Press play on your favorite now and grab the popcorn. Since it's 5-feet by 6.5-feet in length, cold toes are no longer a thing.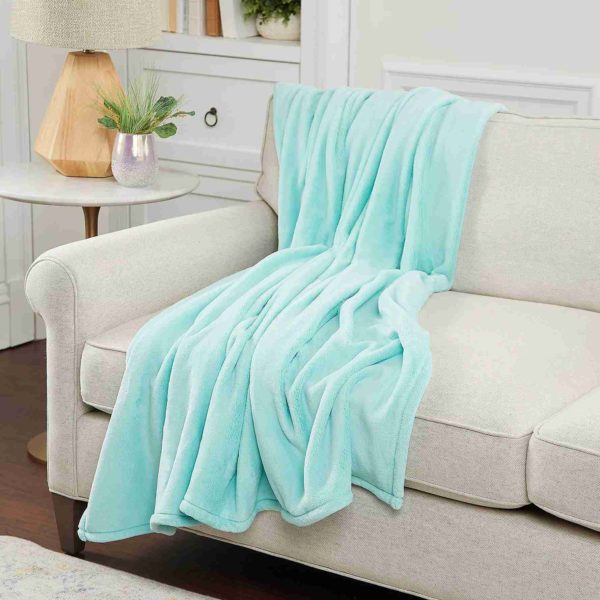 When spills happen (because they're bound to), toss your blanket in the washing machine and tumble it dry. It's non-fussy but pours on luxury softness in 8 dreamy colors and patterns like sea glass, rose, and lilac paisley.
Brought to you by Berkshire Blanket, a company that's known for its supremely soft throws and bedding, it's on clearance right now for just $20, normally it costs $32.
Highlights
Oversized
Incredibly soft
Machine washable
8 color options
On sale
82″ Olive Artificial Tree by Nearly Natural
Plants bring a special touch to the home. It's scientifically proven that being around nature makes us happier, so why bring that nature indoors? The 82" Olive Artificial Tree by Nearly Natural makes the perfect finishing touch to dull rooms.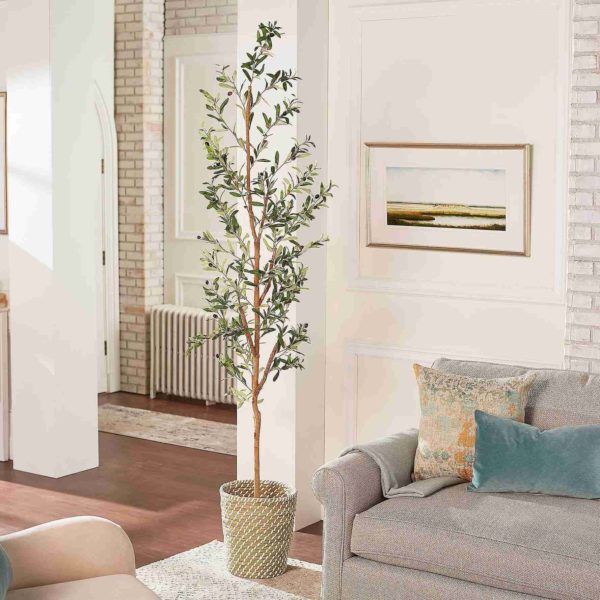 Lending a calming sense to any space, it has a lifelike look with its large green leaves and realistic brown stem. Since it's actually an artificial tree, it only weighs 9.1 lbs and is super easy to move around your home.
From Nearly Natural's gorgeous collection of indoor plants, this impressive olive tree is on sale right now for $105 from $120 and ships for free until 4/30.
Highlights
82" tall
Lifelike look
Requires no care
Lightweight & easy to move
On sale
Ships for free
Aura 10.1″ Carver Luxe HD Wi-Fi Digital Photo Frame
Pictures take us back to the best of times, and yet, the majority of the photos we take go unseen for most of the year. The Aura 10.1 Carver Luxe HC Wi-Fi Digital Photo Frame helps you see your photos daily. To use, all you need to do is download the app, sync, and add photos.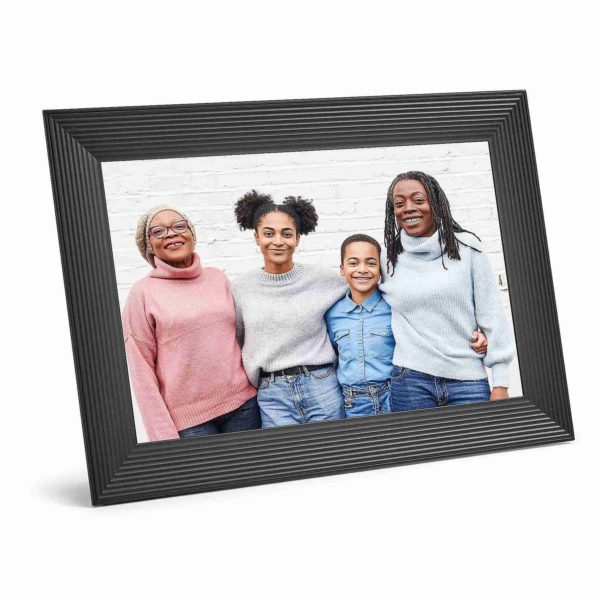 Since the frame has unlimited storage, you can add as many as you like, whenever you like — and so can your family and friends. The frame will automatically crop the photos to fit the display and flip through the pictures you add. With 1920 x 1200, 224 PPI pixel resolution, your frame will auto-dim and brighten to the room's light.
Available in gravel and sea salt colors, add a meaningful touch to your home with this frame for $160 plus free shipping and handling until 5/8. Normally, it costs $180.
Highlights
Easy to use
Unlimited memory
Smart features
Touch-screen display
224 PPI pixel resolution
On sale
Free shipping and handling
S/2 Faux Leather Fold-Up Storage Ottomans with Tray by Valerie
One of today's struggles is never having enough space. Whether it's for your family or guests, using sofa arms as seats is commonplace for small households. The S/2 Faux Leather Fold-Up Storage Ottomans with Tray by Valerie are versatile and convenient, serving greater purposes than providing a place to rest your feet.
With hollow insides, the ottomans are a great place to pile in the bits and bobs that hang around your living room tables and floor, like toys, the 10 remotes to who knows what, or even games. Lounging on the couch? Remove their tops, flip, and use them as trays for snacks or drinks.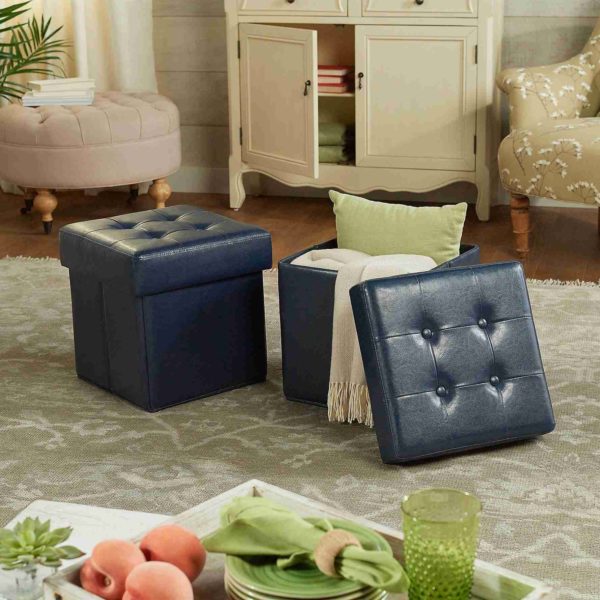 When you need the extra space for living room workouts or playtime, just collapse them down and store them out of sight. Although, since they're made with attractive faux leather and have a tufted, 4-button design, you may find they add a hint of luxury to your space.
Supporting up to 250 lbs each, this life-approved set comes in 7 different colors to fit your room's aesthetic, like olive, grey, and cream. Measuring 15″H x 15″L x 15″W, you can get the pair for $63.43 right now, they're normally $70.
Highlights
Folds up for easy storage
Interior storage
7 cool colors
Faux-leather fabric
Tray option
Supports up to 250 lbs
Honey Can Do Entryway Coat & Shoe Rack Combo
An entryway without an organizer can be chaotic. Shoes are thrown anywhere, coats end up on the couch, and keys…well, you know how easy it is to lose those. The Honey Can Do Entryway Coat & Shoe Rack Combo is a convenient hub for all your going-out essentials.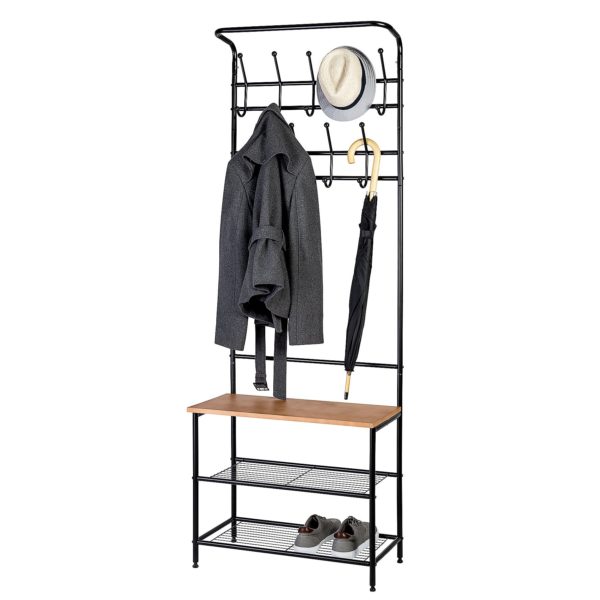 Made from sturdy steel and rich wood, the coat and shoe rack features 9 hooks for coats, hats, and dog leashes. It also has two racks for shoes and a wood storage bench for dog toys, umbrellas, and any other frequently-used items.
Measuring 26″L x 12″W x 70″H, the Entryway Coat & Shoe Rack Combo comes with a limited lifetime warranty and is $123 at QVC.
Highlights
Keeps you organized
Storage bench
9 hooks and 2 shoe racks
Made from steel & wood
Lifetime warranty
Luminara S/3 Flameless 4.5″, 6.5″ or 8.5″ Pillars w/ Gift Box
Real candles are beautiful, but lighting one up often comes with a little stress. What if I forget to blow it out? How about the cat? Flameless candles take the nerves out of setting the mood and allow you to keep the flame alive even when lit up outdoors.
Take your choice of 8 soothing colors like wisteria purple and sage green for these home and weather-sage candles. The Luminara S/3 Flameless 4.5", 6.5" or 8.5" Pillars w/ Gift Box comes in three different sizes, but all of them are packed in a gorgeous gift box and make a beautiful present for all occasions.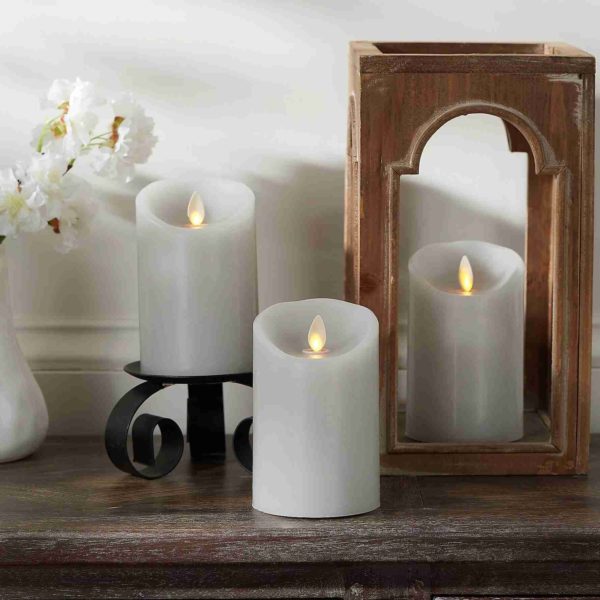 With realistic flame movement, these candles flutter in the light but you never have to worry about them going out. Built with pre-set timers, once you turn them on, they'll stay on for 5-10 hours and automatically shut off, coming alive again in 14-19 hours.
If you bought all of the pieces separately, the set would cost $100-$152.49. At QVC, you can get them for $73-$97.
Highlights
600 hours of battery life
4 size options
Home & pet-safe
Great for indoor & outdoor use
Pre-set timer options
8 color choices
Set of 2 Faceted Glass Crystal Pedestals by Valerie
With a totally glamorous look, the Set of 2 Faceted Glass Crystal Pedestals adds a simple touch of elegance to your space. Designed to hold your favorite pillar candles, they're made from glistening glass and finished with gold or silver accents to match your home.
From the Valerie Parr Hill line, these twin crystal pedestals are perfect for your entryway table, mantle, or fancy dinner parties atop your dining room table. Each one can hold a candle up to 3 ¾", and each one measures 6" in height and 4 ½" in diameter. Right now, you can get the set for $40, normally, they cost $44.
Highlights
6" in height
Beautiful glass construction
Gold or silver options
On sale
FAQ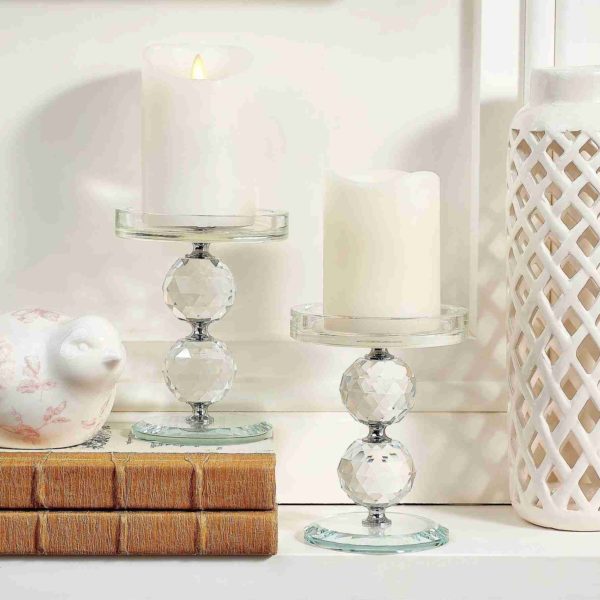 What is QVC's Shipping Policy?
One of the cool things about QVC is that on each product page, you can see shipping estimates of how much your order will cost to deliver with standard shipping. Some items ship for free whereas some brands always offer free shipping. Once you get to the checkout counter, you'll have additional checkout options.
Standard: 7-10 business days
Express: 2 business days
Premium: 1 business day
If you choose standard shipping, your order will take a few days to process before it's sent out. When it's shipped out, you'll receive a confirmation email with a tracking link. You can use this link to keep an eye on where your package is on its journey.
What is QVC's Return Policy?
Thinking ahead, just in case? If you find that you ever need to return your order to QVC, you can, but you'll need to make sure it's eligible first.
Not all items qualify (ie. clearance and perishable goods), but if yours do, you'll have 30 days from the date of purchase to start the process. Follow these steps to make a return:
Create an email to
In the subject line, write "QVC Return"
In the body of the message, write your order numbers, item numbers, item descriptions, and prices of each one you want to return
Let QVC know if you'd like to return or exchange your products
You'll be sent a prepaid return label. Print it off and stick it to the outside of your package
Drop your package off at a post office
Return shipping for exchanges is free of cost. Those who wish to get a refund will have the cost of the return label deducted from their refund total.