Review of Glossier
Glossier is a popular beauty and skincare brand that has gained a significant following for its minimalist approach to makeup and skincare products. Founded by Emily Weiss in 2014, Glossier has positioned itself as a brand that celebrates natural beauty and focuses on enhancing one's features rather than masking them. Here's a review that covers some of the key aspects of Glossier:
Product Range: Glossier offers a range of products, including skincare, makeup, body care, and fragrance. Their products are known for their simple yet effective formulations, often targeting a youthful, dewy, and "no-makeup" makeup look. Some of their standout products include the Boy Brow, Cloud Paint, Stretch Concealer, Milky Jelly Cleanser, and Balm Dotcom.
Packaging and Aesthetic: Glossier is renowned for its clean, minimalist, and Instagram-friendly packaging. The pastel hues and sleek designs of their products contribute to a cohesive brand aesthetic that appeals to a younger demographic. The packaging often reflects the simplicity and transparency of their formulations.
Philosophy: Glossier's philosophy centers around skincare-first beauty. They emphasize the importance of healthy skin as the foundation for any makeup routine. This philosophy aligns with the current trend towards embracing natural beauty and self-care.
Community Engagement: One of Glossier's strengths is its ability to foster a strong community. Through their online platform and social media presence, they encourage customer engagement, feedback, and testimonials. This has contributed to a sense of belonging and loyalty among their customer base.
Online-First Approach: Glossier primarily operates online, with a limited number of physical stores in select locations. This approach has allowed them to connect directly with customers and gather valuable insights through online interactions.
Inclusivity: Glossier has made efforts to be inclusive in their product offerings, with a range of shades that cater to various skin tones. However, there has been ongoing discussion about the extent of their inclusivity, with some customers feeling that there is still room for improvement.
Effectiveness of Products: Glossier's products often receive praise for their lightweight feel and subtle enhancements. However, the efficacy of certain products may vary from person to person, as with any beauty brand. Some individuals with specific skin concerns may find that Glossier's minimalist approach doesn't fully address their needs.
Price Point: Glossier's products are generally considered to be in the mid-range to slightly higher price point. While they are not as affordable as some drugstore brands, many customers are willing to invest due to the brand's aesthetic, philosophy, and perceived quality.
Sustainability: As of my last knowledge update in September 2021, Glossier had taken steps towards sustainability, such as offering refills for certain products and using eco-friendly packaging materials. It's worth checking their latest initiatives for updates on their sustainability practices.
Review of Glossier Fat Water Pore-Refining Toner Serum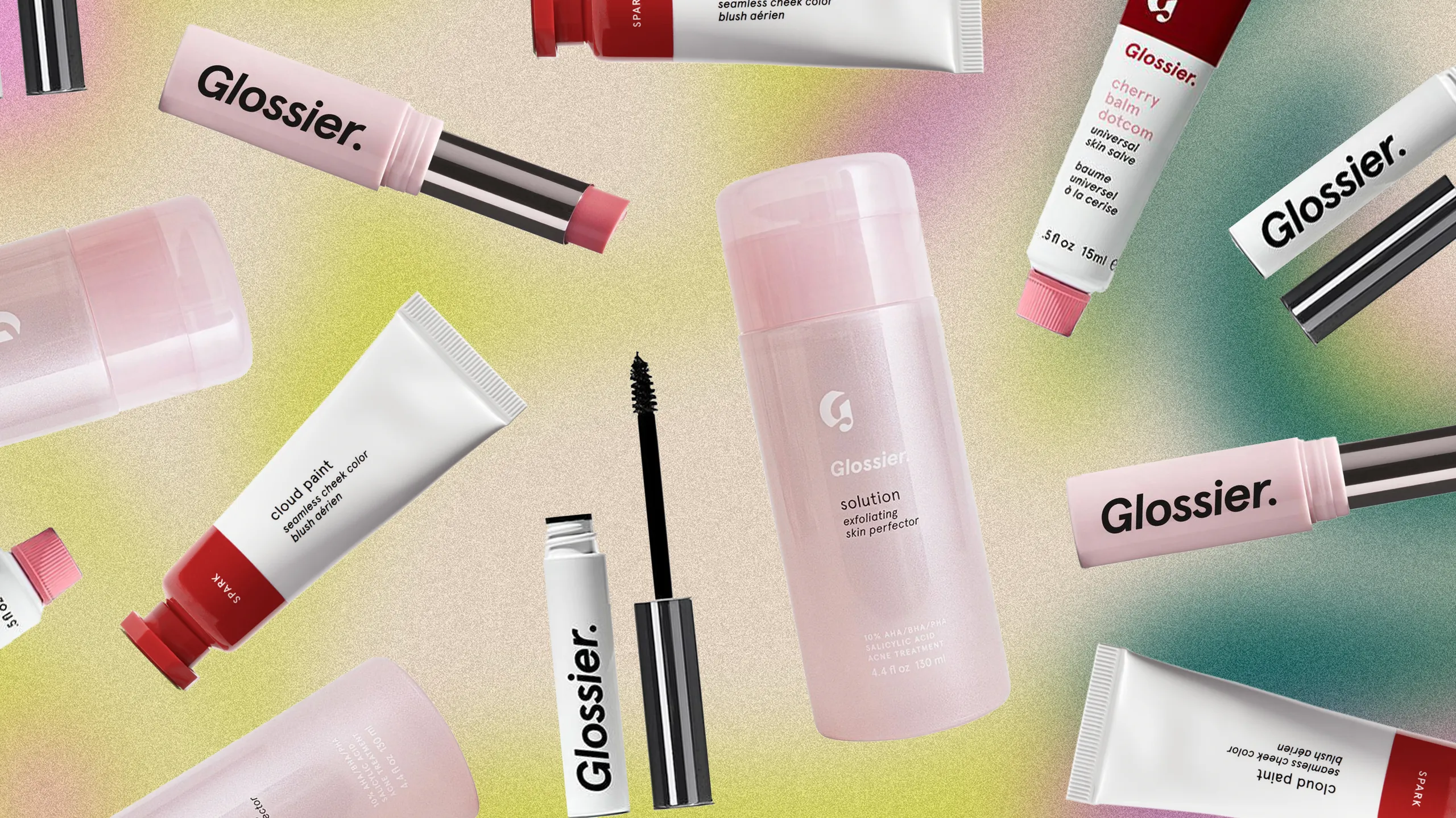 Product Claims:
Glossier claims that the Fat Water Pore-Refining Toner Serum is formulated to visibly reduce the appearance of pores and provide hydration while balancing the skin's natural oil production. It's marketed as a 2-in-1 product that simplifies skincare routines.
Texture and Application:
The product is described as having a watery-gel texture that is easy to apply. It's intended to be used after cleansing and before moisturizing. Users typically apply it by dispensing a small amount onto a cotton pad or directly onto their hands and then patting or swiping it onto the skin.
Pore-Refining and Balancing:
Many users appreciate that this product combines the benefits of both a toner and a serum. It contains niacinamide, which is a well-known ingredient for its potential to help reduce the appearance of pores and regulate oil production. Niacinamide can also help improve the overall texture of the skin.
Hydration:
Glossier often focuses on providing lightweight hydration in their products, and the Fat Water is no exception. Users find that it adds a touch of moisture to the skin without feeling heavy or greasy.
Gentle Exfoliation:
The formula reportedly contains a blend of exfoliating acids, such as salicylic acid and lactic acid. These ingredients can help gently exfoliate the skin, promoting a smoother complexion. However, individuals with sensitive skin might want to do a patch test first, as excessive exfoliation can lead to irritation.
Scent and Sensitivity:
Glossier products are generally known for being lightly scented or fragrance-free. This can be appealing to individuals with sensitive skin who prefer products without strong fragrances.
Packaging:
The product comes in a plastic bottle with a twist-off cap. Some users prefer pump dispensers for easier application, but the cap design is generally practical and prevents spills.
Results and Suitability:
The effectiveness of the product can vary depending on individual skin types and concerns. Users with oily or combination skin that's prone to enlarged pores might see more noticeable benefits in terms of pore refinement and oil control. Those with dry or sensitive skin might want to assess whether the exfoliating ingredients are suitable for their skin's needs.
Simplicity and Brand Aesthetic:
The Fat Water aligns with Glossier's minimalist and simple approach to skincare. This can be appealing to those who prefer a streamlined routine with effective products.
Final Thoughts:
Glossier's Fat Water Pore-Refining Toner Serum is generally well-regarded for its potential to help with pore refinement, oil balance, and lightweight hydration. However, as with any skincare product, individual experiences can vary. It's recommended to patch test the product and assess how it interacts with your skin before incorporating it into your regular routine.
Glossier A One-Stop Shop for All Your Beauty Needs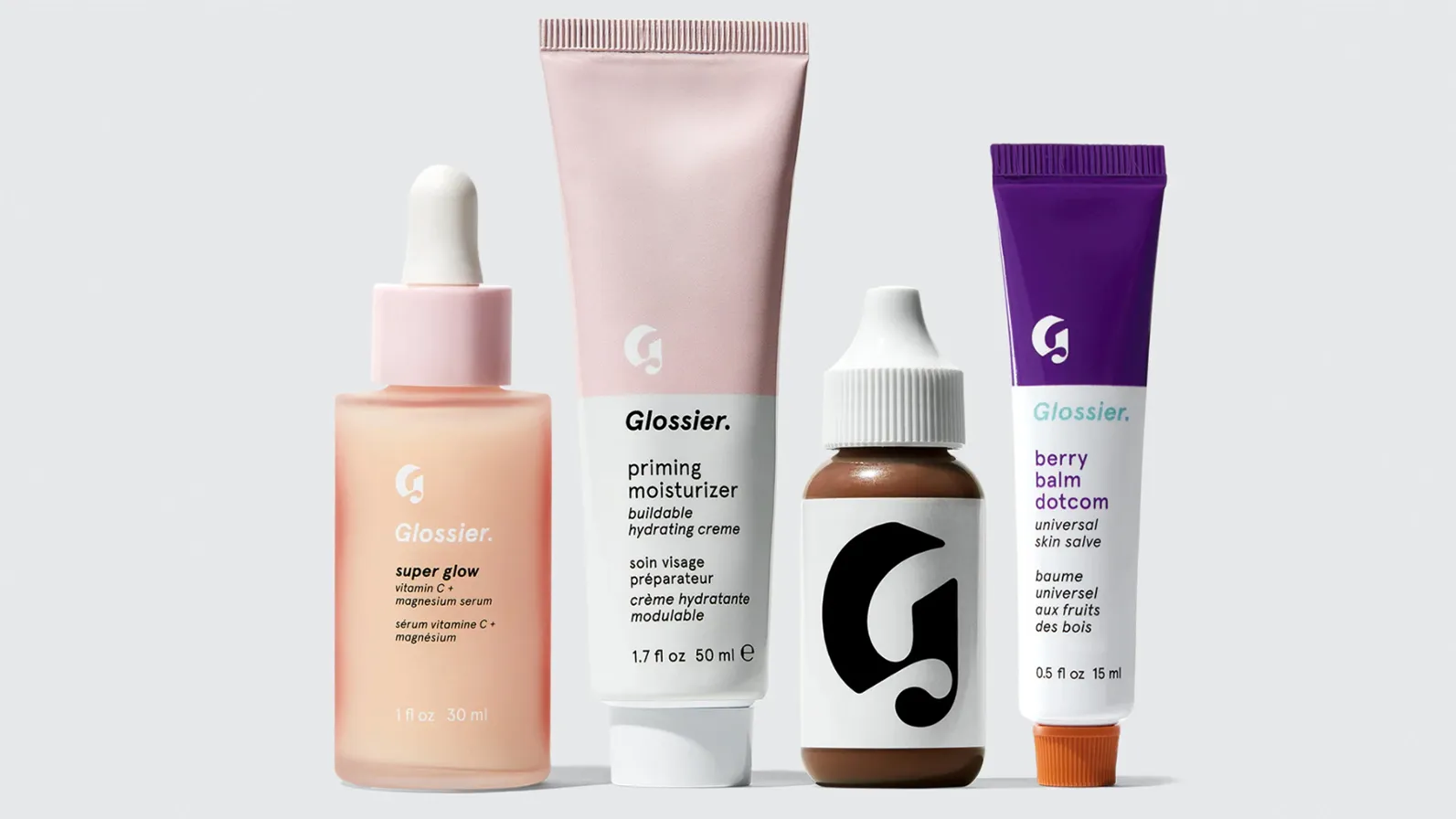 Glossier offers a range of beauty products, including skincare items like cleansers, moisturizers, serums, and masks, as well as makeup products like tinted moisturizers, blushes, lip products, and more. The website focuses on a clean and user-friendly design, often featuring customer reviews and user-generated content to showcase the real-world application and results of their products.
Top Must-Have Products from Glossier
Boy Brow: A cult-favorite eyebrow pomade that helps groom, shape, and thicken eyebrows for a natural look.
Cloud Paint: A gel-cream blush that comes in various shades to provide a soft, buildable flush of color to the cheeks.
Balm Dotcom: A multipurpose skin and lip balm available in different flavors, offering hydration and a subtle tint.
Milky Jelly Cleanser: A gentle cleanser suitable for removing makeup and cleansing the skin without stripping it of moisture.
Stretch Concealer: A creamy concealer that provides a dewy, natural finish, helping to cover imperfections while maintaining a lightweight feel.
Glossier You: A fragrance designed to adapt to the wearer's skin, creating a unique and subtle scent that's personal and inviting.
Haloscope: A highlighter stick that combines a dewy highlight with skincare benefits, providing a natural, lit-from-within glow.
Futuredew: An oil-serum hybrid designed to give the skin an instant dewy glow while providing long-term skincare benefits.
Lash Slick: A mascara that aims to create lengthened and defined lashes without clumping or smudging.
Priming Moisturizer: A lightweight moisturizer that can be used as a base before makeup application, providing hydration and a smooth canvas.
Shop Like a Pro: Tips for Navigating Glossier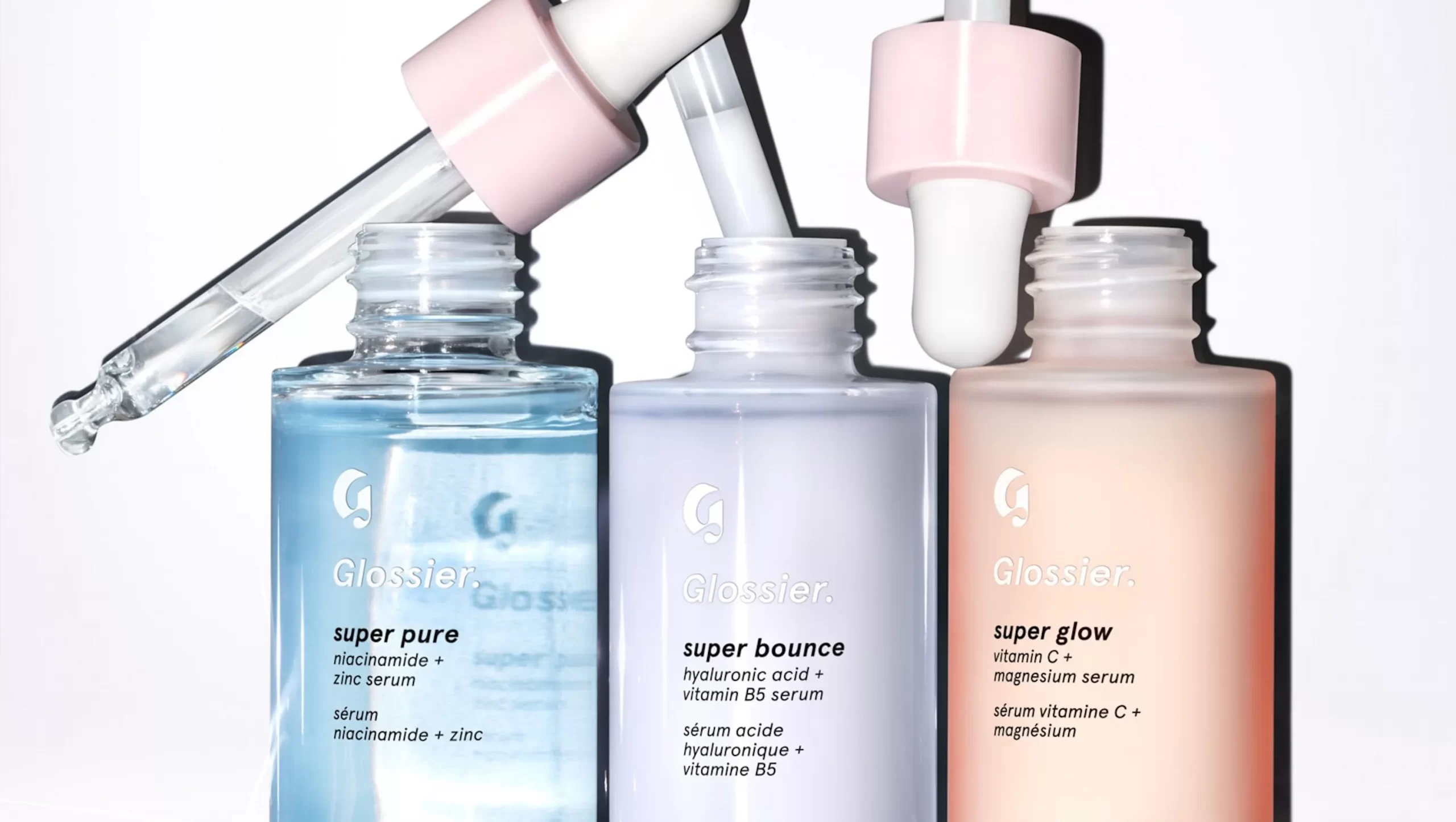 Create an Account: Setting up an account on Glossier.com can streamline your shopping experience. It allows you to save your favorite products, track orders, and receive personalized recommendations.
Browse by Categories: Glossier's website is organized into different categories, such as skincare, makeup, body care, and fragrance. Use these categories to narrow down your search and find products that suit your needs.
Read Product Descriptions and Reviews: Each product page provides detailed descriptions and usage instructions. Additionally, customer reviews and ratings can give you insights into real-world experiences with the products.
Take Advantage of Sets and Kits: Glossier often offers curated sets and kits that include a combination of products at a discounted price. These can be a great way to try multiple items that complement each other.
Use the Shade Finder: For products like foundation, concealer, and blush, Glossier offers shade finder tools to help you choose the best match for your skin tone.
Build Your Bag: As you find products you're interested in, you can add them to your shopping bag. This allows you to review your selections before making a final purchase decision.
Check for Promotions: Glossier occasionally runs promotions, discounts, and limited-time offers. Keep an eye out for these to potentially save money on your purchases.
Read the FAQs: Glossier's Frequently Asked Questions section can provide information on topics like shipping, returns, and product details.
Sign Up for Email Updates: Subscribing to Glossier's email newsletter can keep you informed about new product launches, promotions, and other updates.
Follow Glossier on Social Media: Glossier often shares beauty tips, customer testimonials, and behind-the-scenes content on social media platforms. This can help you stay connected and informed.
Check for Availability: Some Glossier products may have limited availability due to high demand. If a product you want is out of stock, you can sign up to receive an email notification when it's back in stock.
Explore Glossier's Blog and Lookbooks: Glossier's blog and lookbooks can provide inspiration for different makeup looks and skincare routines using their products.
Unlocking the Secrets of Glossier's Skincare Line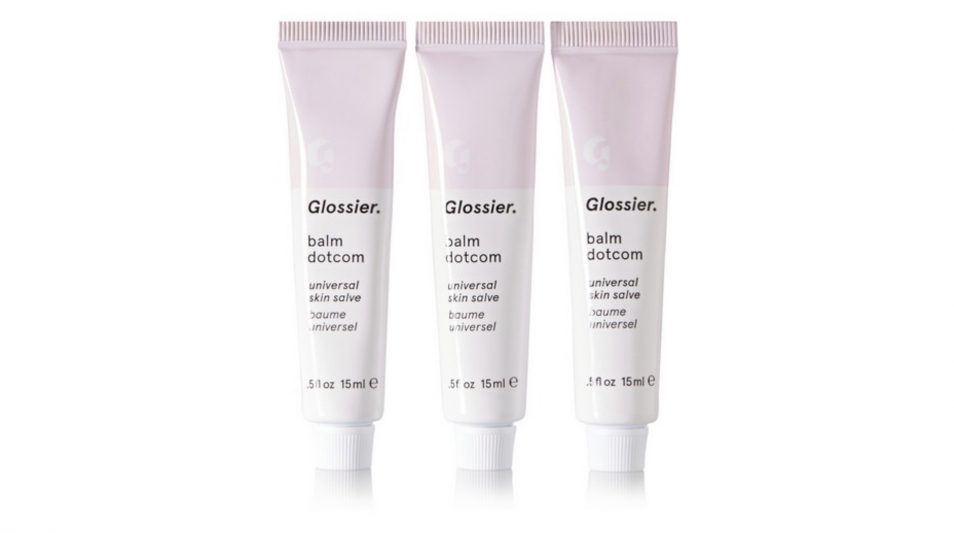 Glossier's skincare line has gained attention for its minimalist and effective approach to skincare. Here are some key points to consider when exploring Glossier's skincare products:
Simple Formulations: Glossier's skincare products often feature simple formulations with a focus on key ingredients. The brand tends to avoid overly complex formulas, which can be beneficial for individuals with sensitive skin.
Hydration Focus: Many of Glossier's skincare products emphasize hydration. Proper hydration is essential for maintaining healthy skin, and Glossier offers products like moisturizers, serums, and masks designed to keep the skin well-hydrated.
Layering Strategy: Glossier encourages a skincare layering strategy where you can customize your routine based on your skin's needs. This might involve using a combination of products like cleansers, serums, moisturizers, and sunscreen.
Balancing Act: Glossier's approach is about achieving balance rather than tackling aggressive treatments. Their products are designed to enhance your natural beauty and maintain the skin's health without overwhelming it.
Skin Concerns: Glossier's skincare line targets common skin concerns like dryness, dullness, and uneven texture. Products like the Milky Jelly Cleanser, Priming Moisturizer, and Super Serums are formulated to address these concerns.
Gentle Cleansing: The Milky Jelly Cleanser is a standout product known for its gentle cleansing properties. It's suitable for removing makeup and impurities without stripping the skin.
Serums for Specific Needs: Glossier's Super Serums come in three variations: Super Bounce (for hydration), Super Pure (for addressing breakouts and redness), and Super Glow (for brightening). These serums can be used individually or layered based on your skin's requirements.
Moisturizing Primers: The Priming Moisturizer comes in two versions: original and Rich. The original version is a lightweight moisturizer that can double as a primer under makeup. The Rich version is more intensive for dry skin types.
SPF Inclusion: Glossier's skincare range includes a sunscreen product called "Invisible Shield," which offers sun protection while remaining lightweight and transparent on the skin.
Masks for Pampering: Glossier's masks, like the Moisturizing Moon Mask and the Mega Greens Galaxy Pack, provide options for pampering your skin. These masks can be used to add extra hydration or to purify and balance the skin.
Customizable Sets: Glossier offers sets that bundle their skincare products, making it easy to start or expand your skincare routine. These sets are designed to work together for specific outcomes.
FAQs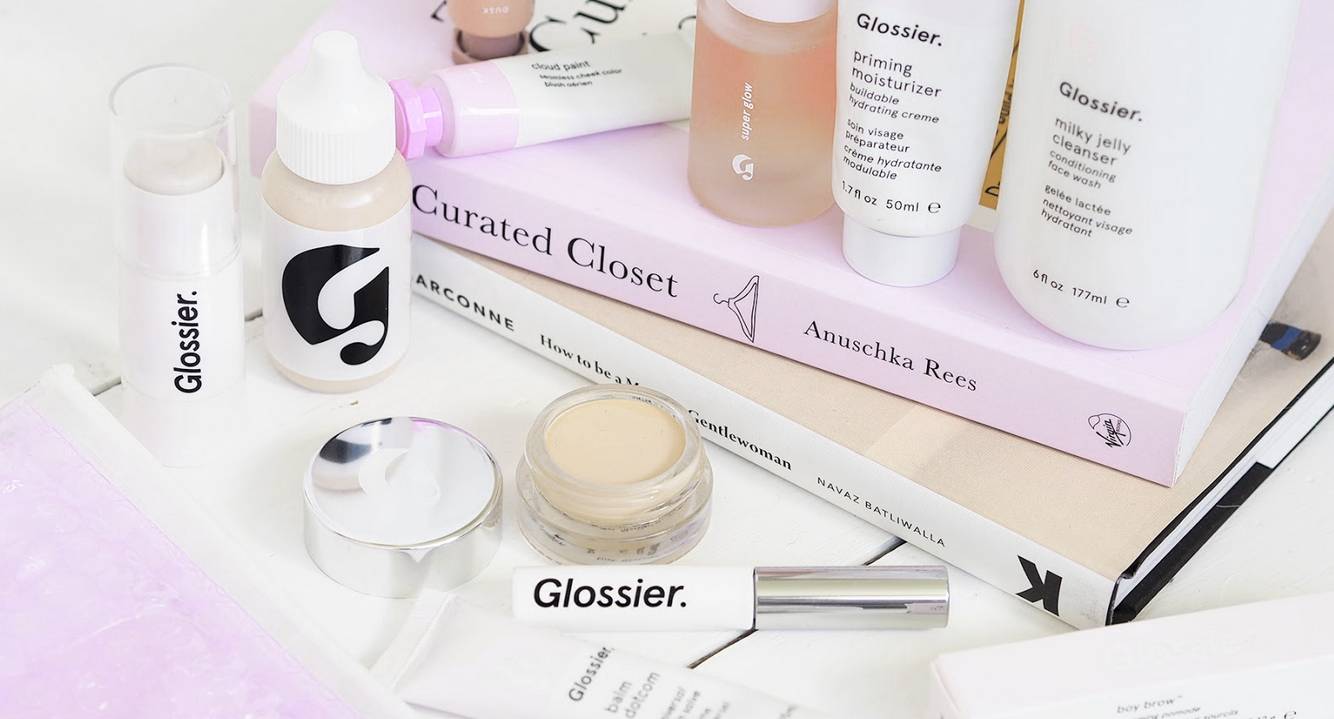 1. What is Glossier?
Glossier is a beauty and skincare brand known for its minimalist approach to makeup and skincare products. It was founded in 2014 with a focus on celebrating natural beauty and enhancing individual features.
2. What are Glossier's most popular products?
Glossier's most popular products often include the Boy Brow, Cloud Paint blushes, Milky Jelly Cleanser, Balm Dotcom lip balm, and the Glossier You fragrance.
3. Is Glossier cruelty-free and vegan?
As of my last knowledge update in September 2021, Glossier is cruelty-free and does not test its products on animals. However, not all Glossier products are vegan, so it's advisable to check their product labels or website for specific information about vegan options.
4. How do I choose the right shade of Glossier products?
Glossier offers a range of shades for its products, and they often provide swatches and descriptions on their website to help customers choose the right shade. You can also refer to customer reviews and look for shade-matching guides.
5. Does Glossier offer international shipping?
Yes, Glossier does offer international shipping to several countries. Shipping options and costs may vary depending on your location.
6. Can I return Glossier products if I'm not satisfied?
Glossier has a return policy that allows you to return products within a specified time frame if you're not satisfied with your purchase. The details of their return policy, including conditions and procedures, should be available on their website.
7. Does Glossier have physical stores?
Yes, Glossier has opened physical stores in select locations. These stores often provide a unique and interactive shopping experience where customers can test and purchase products.
8. What is the Glossier Play line?
Glossier Play is a sub-brand of Glossier that offers more experimental and vibrant makeup products, catering to those who enjoy bolder and unconventional looks.