About Shopify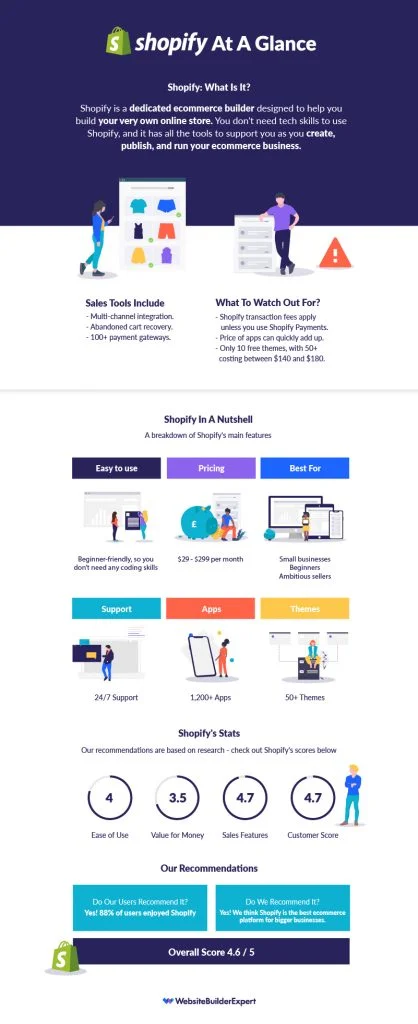 Try Shopify Free
Shopify is nothing short of the e-commerce solution software in the market today. It helps large and small businesses to scale up their online store like never before. With multiple in-built features and apps, the platform helps one to create an online store and sell products on the website, social media, and various marketplaces without facing any difficulty.
The best part of Shopify is that one doesn't need to have any technical skills or knowledge to design or create an online store. With it's pre-designed templates and themes, one can pick any of their choices to build a stunning online store. It offers various sales, payments, marketing, catalog, and pricing features to help you with everything.
PROS
A perfect platform for large businesses
It has an impressive and solid backend editor and inventory system to manage large-scale businesses
Multi-platform selling possible
One can sell on multiple platforms including social media, websites, and marketplaces
Impressive and exclusive design
It offers a number of free and paid templates and themes to choose from. Every template or theme is exclusive to offer you the best theme for your store.
Shopify has its own App Store where one can find out over 3000 applications to download.
Comprehensive payment options
Shopify also offers over 100 payment options along with their gateway and payments.
CONS
A little complicated in nature
The Shopify Editor is a little complicated and takes time to understand
A transaction fee is quite high
Shopify charges a lot of transaction fees on other payment gateways and methods.
Overall, it's more expensive than other e-commerce solutions
No doubt, Shopify offers amazing quality and features but it's overall more expensive than BigCommerce and other e-commerce solutions.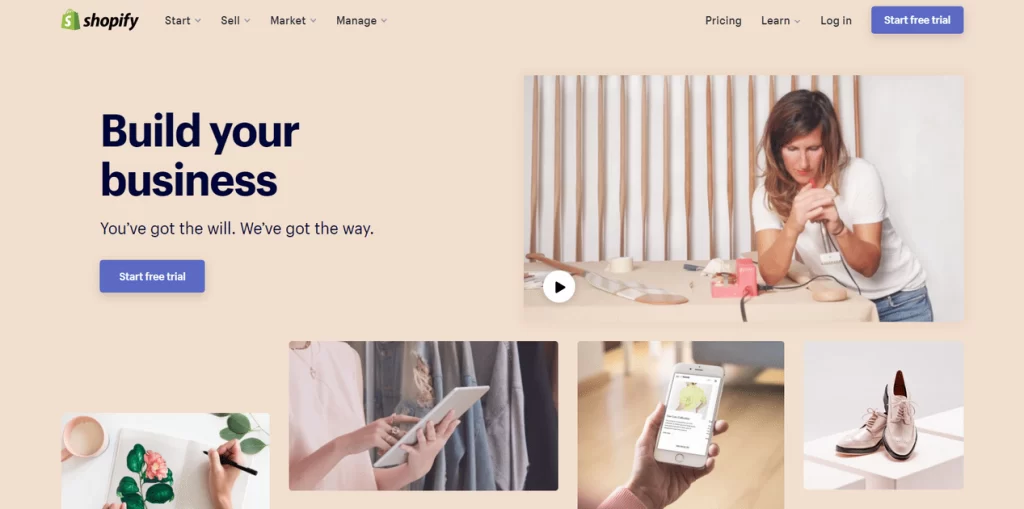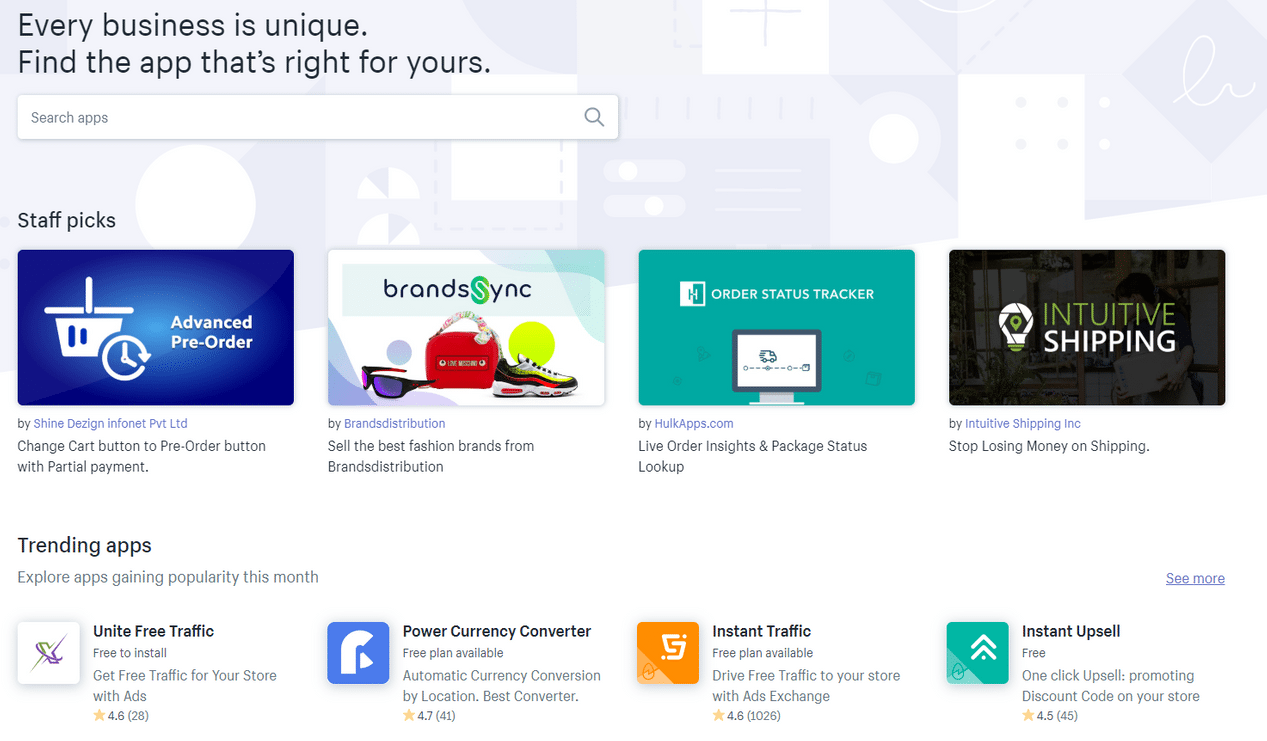 Is Shopify Easy To Use?
Most e-commerce solution software struggles to bring ease of use and performance to the table. However, Shopify does it where it's required. It offers a clean, clear, and simple interface that setups your store within a few minutes. That's why it's users' favorite. However, when it comes to ease of usage then it comes at the fourth spot after Squarespace, Wix, Big Cartel, and Square.
Shopify Pricing and Plans
Shopify offers 5 plans
–              Shopify Lite costs $9/month. It allows you to add e-commerce to social media, and charges 2% transaction fees
–              Basic Shopify costs $29 per month and offers all the indispensable features required by an online store. It also takes 2% transaction fees excluding Shopify Payments.
–              Shopify plan comes at a price of $79 per month and is meant for growing businesses. Here, one can also make a gift card.
–              Advanced Shopify costs $299 a month and comes with 0.5% transaction fees, advanced reports and analytics, 3rd party shipping rate calculation feature, and many more features.
–              Shopify Plus:   it is a custom plan with custom pricing. Users can request a custom quote to get the features as per their requirements.

How About Shopify Themes?
Almost every Shopify theme is mobile responsive, professionally designed, stylish, clean, and packed with great features to create a high-performing and impressive online store.
Every Shopify theme comes with:
–              SEO
–              Customizable content sections
–              Drop-down navigation feature
–              Free updates
–              Mobile-friendly designs and features
–              Social media buttons
–              Different styles and color palettes in every theme
–              Access to free stock photos by Burst

How Effective Are Shopify Sales Features?
Every online store longs for sales and revenue. If it's not coming then there's no point in features and themes. According to recent reports, Shopify stands at the second spot when it comes to sales features and tools. It earned a score of 4.6 out of 5 due to it's impressive sales features. It offers multi-channel sales, different payments integration, amazing marketing features, and a lot more to amplify sales of any store.
How Easy Is It To Move Your Store To Shopify?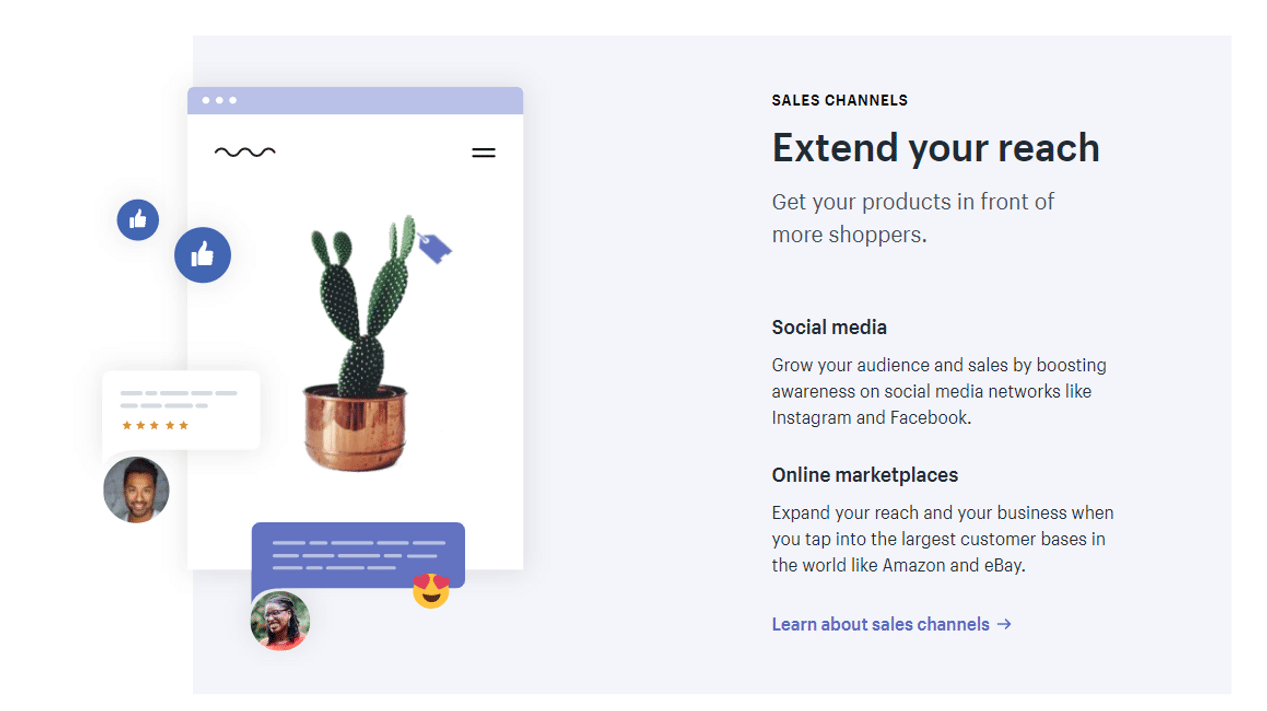 Moving your store to Shopify will definitely take some effort and time. However, Shopify makes it convenient with it's effective and seamless options.
–              One can manually transfer different elements of their site to Shopify.
–              One can copy and paste content with the help of CSV files
–              One can also use a migration app such as Store Importer to do it effortlessly
–              One can also hire a Shopify expert who can do it on your behalf
What about Shopify's Security & Support?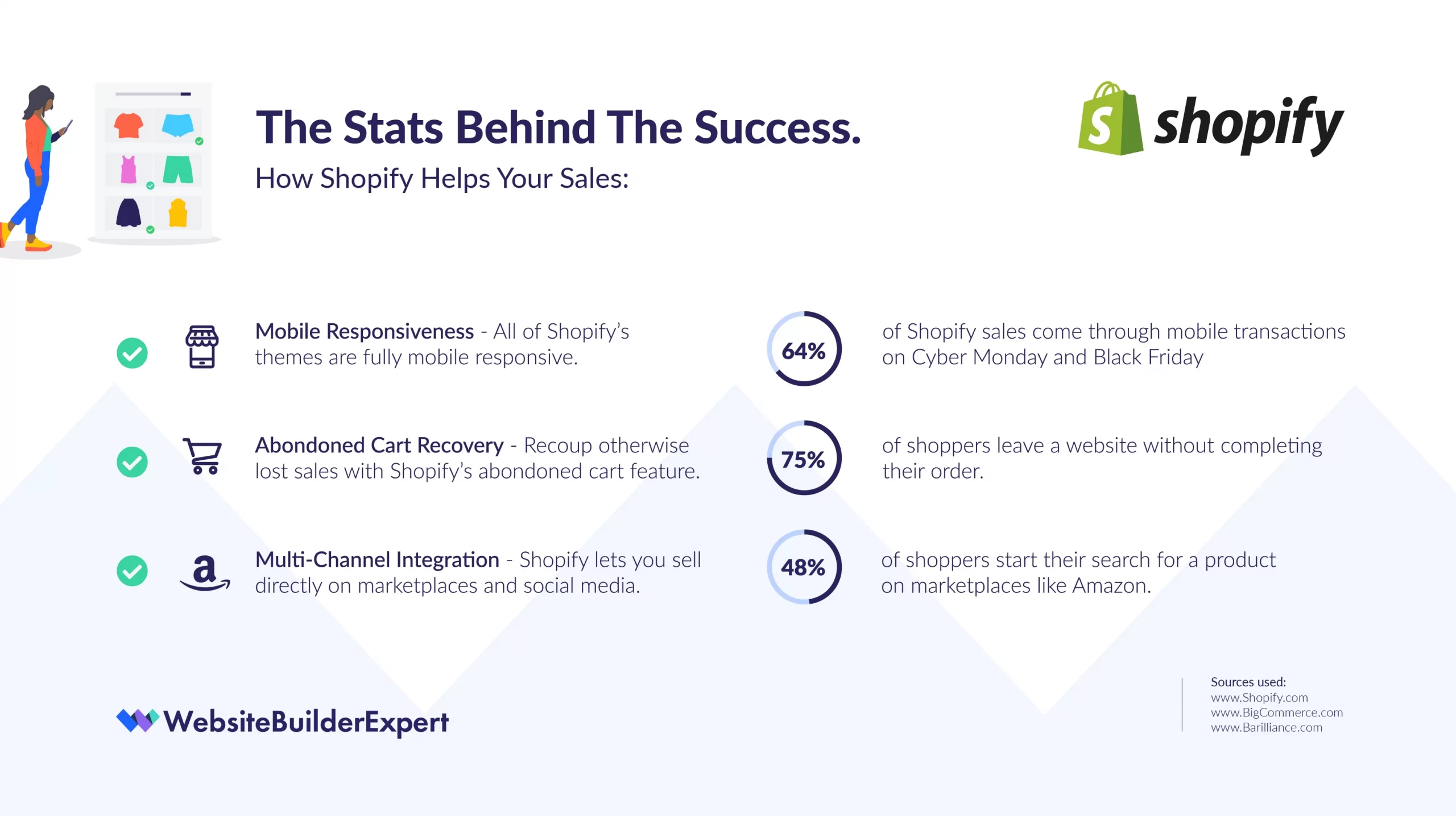 Support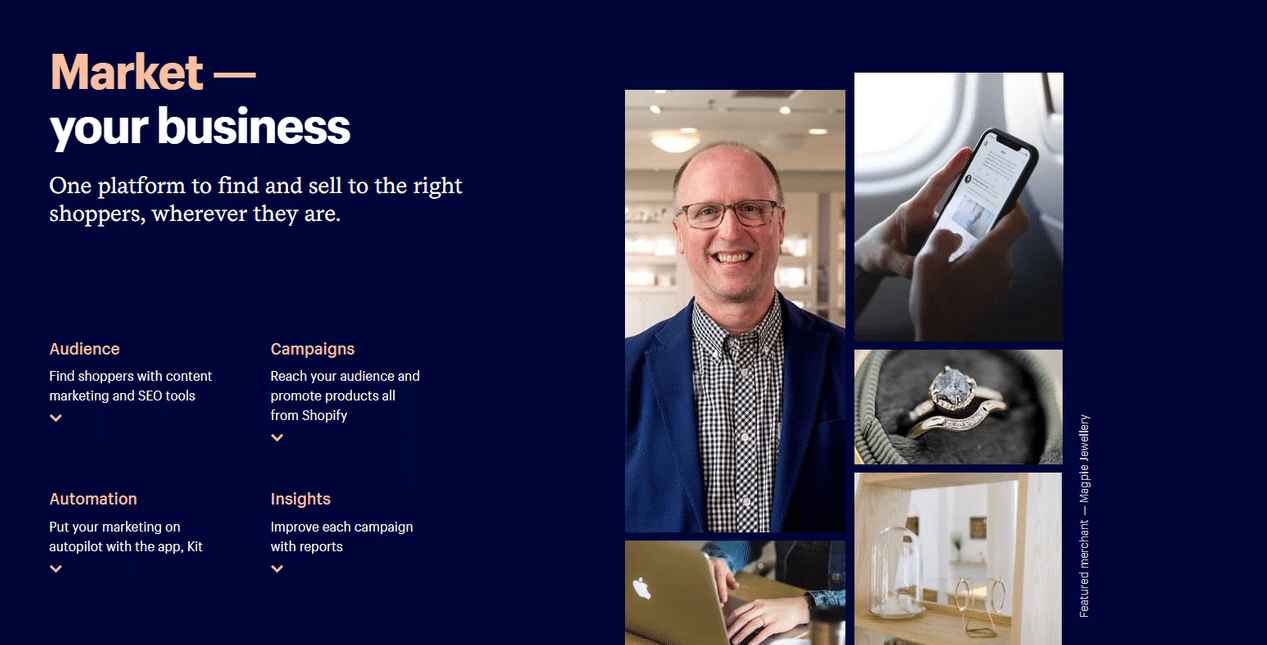 Shopify leaves no stone unturned to offer incredible security to its online stores. It gives complete protection against hackers, and cyber threats via it's stringent security policy and SSL security encryption.
It is also compliant with Level 1 PCI DSS which regulates security standards to process credit and debit card details online.
When it comes to customer support, then users can reach out to the customer team via different channels, including:
–              Round-the-clock phone support
–              Social media support
–              Round-the-clock live chat support
–              Email support
–              Community forum
Know It's Alternatives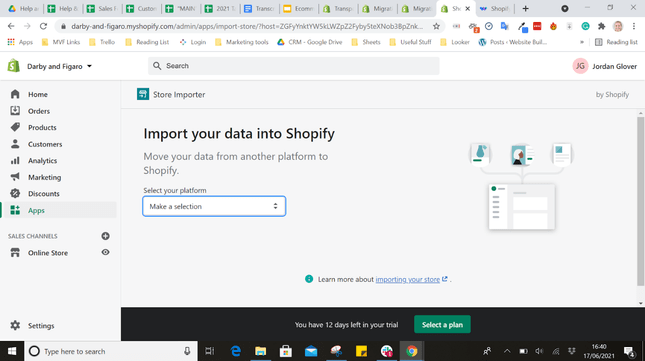 We know that each business is different, so if Shopify isn't ticking your boxes, we've put together a list of the best Shopify alternatives for you to explore. Take a look at the image below for an at a glance look at the top alternatives, or check out the list below for more details.
1. Wix eCommerce
Every business, product, service, and software has it's competitors in the market. Similarly, Shopify also has some competitors, including:
–              Squarespace
–              Square online
–              BigCommerce
–              Wix eCommerce
However, every competitor has different features, pricing, and set up to offer. Hence, it's better to pay attention to your store's requirements while picking any of the e-commerce platforms in the market.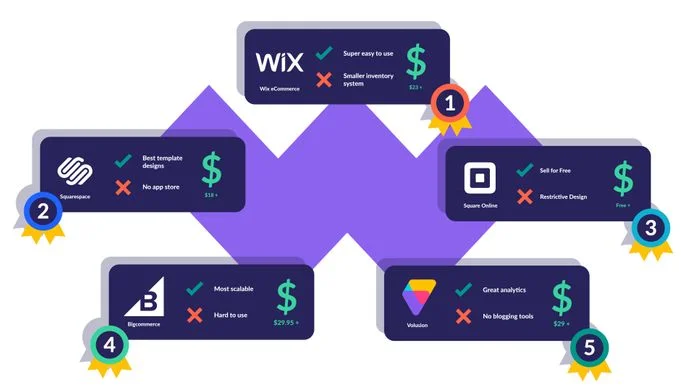 Final Thoughts
Undoubtedly, Shopify stands tall as the most followed and popular e-commerce store builder in the market. It has numerous in-built features and applications that make any online store shine like a star. It doesn't compromise on quality, features, and ease of usage for users.  It gives you all the essential features and tools that are required to design or create a modern online store. On top of it, it has good customer support to take care of users round the clock.