If you want to make money through an ecommerce business then having a technology-driven online store is simply indispensable. An online store with the latest e-commerce features, tools, and excellent customer support will take your online business to new heights. However, it's quite a task to find the best and most user-friendly e-commerce store in the market. But, Shopify does it for you in a very excellent way. The brand is quite a popular online store builder in the market. One can easily create a store with it's user-friendly drag-and-drop builder within a few clicks.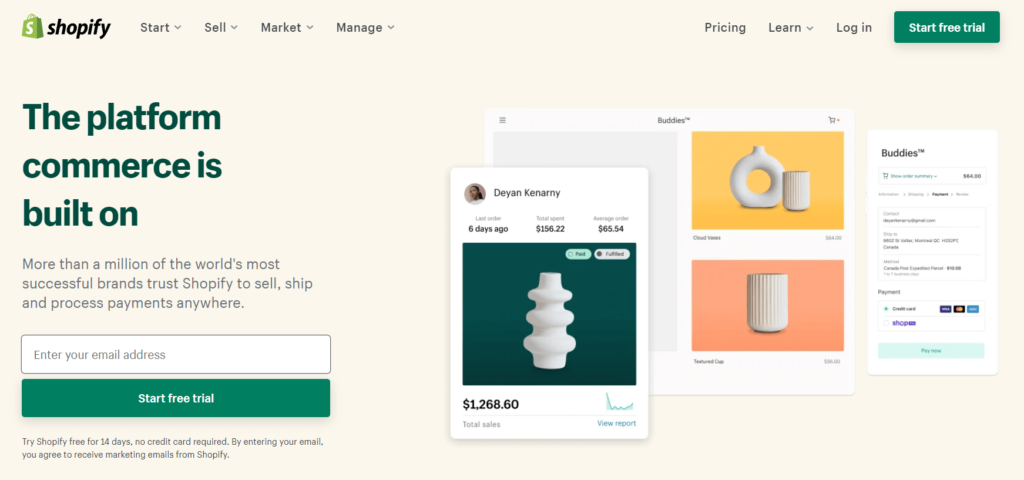 How Shopify Outshines Other Ecommerce Website Builders?
After going through multiple ecommerce website builders available in the market, we have realized that Shopify outshines them in many ways, including
It's beginners' friendly
It offers smooth and quick customer support round the clock
One can contact the customer support team via four different channels
It offers extensive knowledge resources for self-help purposes.
It offers many features that one can't get in other ecommerce website creators
What's Good About Shopify?
To make an impact on customers, Shopify users can attract customers with stunning discounts. They can promote particular products, offer automated discounts, run special coupon codes, etc to help in gaining customers and maximize conversion rate. In fact, store owners can also set up a percentage of a particular product's price while making a manual discount. Moreover, users can also modify the discount code on various variables.

Shopify also has a special feature called Sales Channels that allows users to download various sales channels to sell products such as Instagram, Facebook, Messenger, Amazon, etc. With the help of this feature, one can use 3rd party channels to sell products. One can easily integrate these channels via Shopify's app store. Along with that, one can also sell at storefront locations via Shopify's Point-of-Sale feature.
Every customer wants helpful and quick customer support to get instant solutions to their product-related problems. Shopify walked the extra mile to offer an additional support systems via call, chat support, email, and Twitter. It also offers in-depth knowledge resources, an FAQ page, and a help forum for self-help.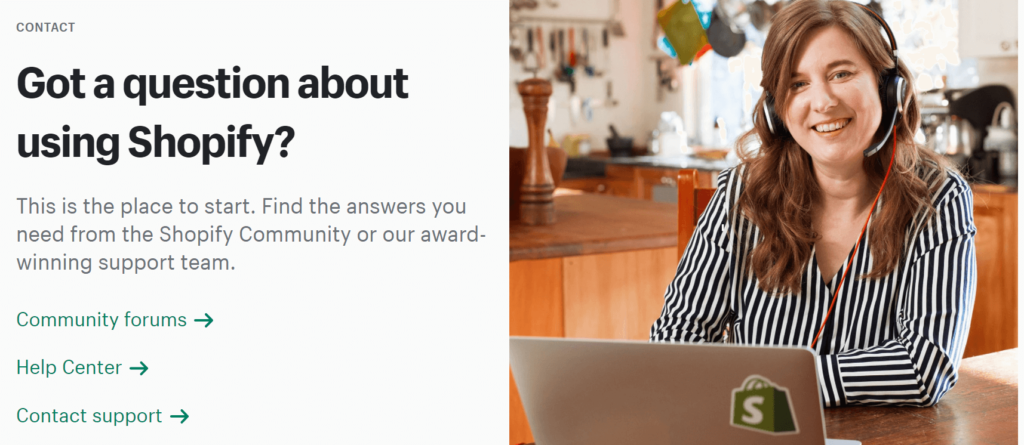 Shopify offers different product types and channels for offline as well as online markets. Store owners can easily manage shipping, set up drop shipping stores, etc.
Every customer wants multiple payment options to feel free to buy without worrying a little about acceptable payment methods. Hence, it accepts payments via credit cards, debit cards, Apple Pay, Amazon Pay, PayPal, and cryptocurrencies. Moreover, it also accepts 3rd party store payment providers.
Users can easily monitor or analyze their progress and sales through it's in-built analytical and reporting tools. They are designed to give users in-depth critical insights, into customers' preferences, recent activities, top keywords, etc.
What's Bad About Shopify?
The total monthly price makes it very expensive
Shopify doesn't charge much for it's monthly plans. However, if someone wants to add some add-ons or a 3rd party payment processor then the total cost shoots up.
If someone is planning to move to a new platform for an online store then it's quite a daunting task. The platform removes online store data permanently upon the account closure. Hence, switching to a new platform is quite hard.
No scope of content marketing
The blogging feature available in Shopify is so basic that one can't grow their online store via social media channels, or boost natural traffic.
Pricing and Plans

Shopify offers 5 plans, including:

It's meant for all newbies who have just started an e-commerce store. It comes with one ecommerce website and blog wherein users can sell any number of products. It also comes with sales channels, Locations feature, discounted shipping rates, discount codes, free SSL certificates,  manual order creation, gift cards, etc. It costs $29 per month
It's meant for growing businesses and offers one retail store, all the features of Basic Shopify, and a feature of deciding the prices as per the country. It costs $79 per month
If you have two or more retail stores then it's meant for you. It offers all the features of Shopify Plus and Shopify features. Along with that, one will also get a nominal fee for third-party payment processing, automatic shipping rates across all products, an advanced reporting tool, etc. It will cost you $299 per month.
If you want an enterprise solution for your big business then it's meant for you. It offers over 60% faster checkout times, over 18% higher conversion rates, modern technologies, reports systems, and many more advanced features.
If you want to sell products in-person then this plan is meant for you. It offers free marketing tips, podcast features, round-the-clock customer support, financial reporting, customer profiles, order management, email carts, in-store inventory, gift cards, etc. It costs only $9 per month.
If you have a physical store then it's meant for you. It offers users/store owners a card reader, cash drawers, a mobile barcode scanner, a receipt printer, and a mobile app to connect their current location with an online store. The lite version is free and included in every plan. However, the POS Pro plan comes at $89 per month.
Final Thoughts
To create a stunning and user-friendly online store, Shopify is the best choice. It comes with a set of amazing features and round clock customer support via different channels. However, if your aim is to pay attention to content marketing then it's not meant for you.