Bluehost doesn't need an introduction. It's one of the most sought-after hosting providers in the market today. It offers a lot of WordPress hosting plans and services that are beginner-friendly.  However, for every website operator, speed, performance, and customer support are the main aspects.
Hence, we are going to review Bluehost on all these parameters along with a couple of more to help you picking it up for your website.
PROS
It offers an SSL certificate
It offers free domain
It has managed WordPress hosting plans
For small businesses, it offers e-commerce plans along with hassle-free marketing services
CONS
It doesn't have reseller plans
There is no assurance of regular backup
How's Bluehost Uptime?
Downtime for any website can become a big loss. It actually frustrates a visitor and affect the conversion rate in a very bad manner. When it comes to Bluehost, its downtime is quite less and the performance stable. However, one can face slight change slowdown and downtime followed by storage failure. It doesn't use SSD storage, in fact, it has traditional spinning hard drives that are quite troublesome.
However, most shared hosting providers have downtime issues. Hence, Bluehost is not an exception.
What About It's Pricing?
Bluehost is one of the most popular web hosting providers because of it's affordable pricing. The cheapest plan costs $2.95 per month for an initial year. However, it will cost $7.99 per month from the second year.
Here is the pricing across all the plans for the first year
Shared hosting costs $2.95 per month
Shared WordPres hosting costs $2.95 per month
WooCommerce hosting costs $6.95 per month
VPS Hosting costs $18.99 per month
Managed WordPress hositng costs $19.95 per month
Dedicated hosting costs $79.99 per month
For the second year onwards, every plan gets  pricier by 40%.
What's The Value For Money Plan?
Bluehost's shared and shared WordPress hositng plans are worth buying and value for money. Despite being the cheapest, one can find out a good number of features to take their website forward.
What's The Cancellation Cost Of Any Plan?
Bluehost offers a 30 days money back assurance. There is no refund or cancellation as such.
Bluehost Security Features
Bluehost surprises everyone with it's amazing security features. It broadly offers:
Antispam tools such as Apache Scam Assasin, Spam Experts, and Spam Hammer
It offers hotlink protection
One can create filters for their email accounts and users
There is also a password-protect directories
It offers digital certificates
Bluehost offers CloudFlare to enhance the security and performance
Bluehost Site Builder
Bluehost also has comprehensive site building tools such as Weebly's website builder along with drag-and-drop functionality. Along with that, one can also visit Mojo Marketplace to download many more content management systems as well as site builders.
Bluehost Support
Bluehost offers a round the clock customer support system via live chat and phone. The brand also has a team of WordPress experts to give quick solution to WordPress related issues. Along with that, Bluehost offers a comprehensive knowledge base, including articles, blogs, FAQs for self-help.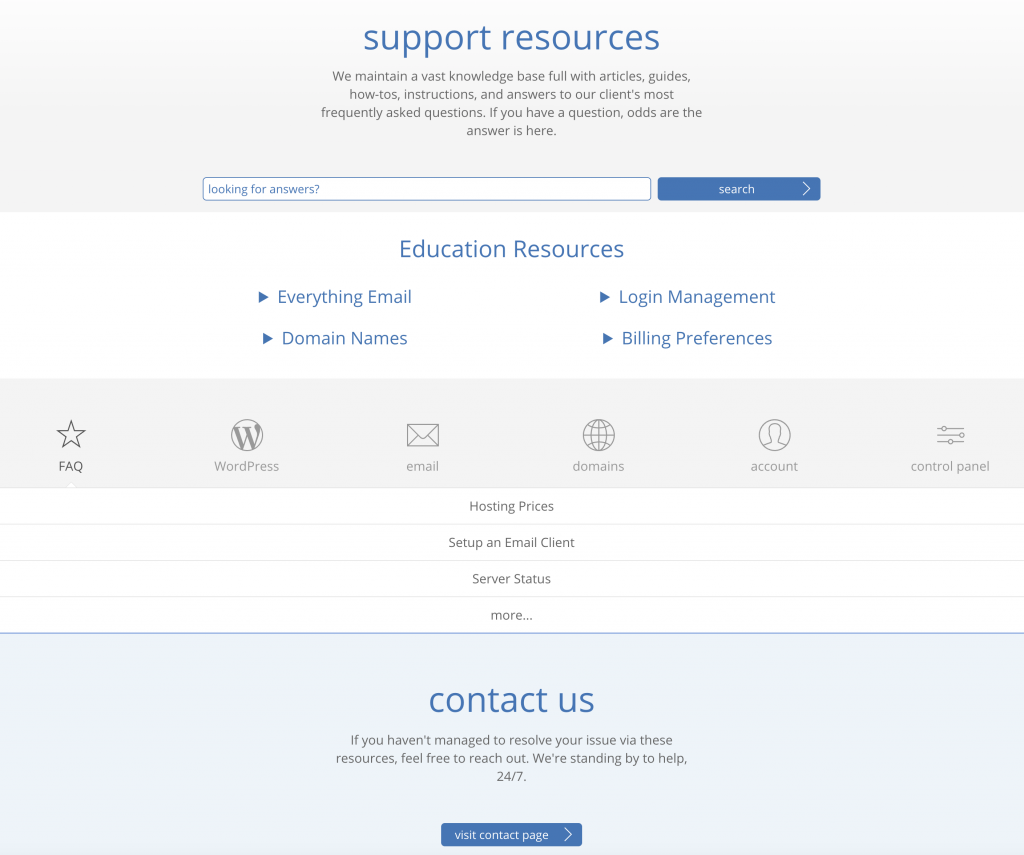 Final Thoughts
Bluehost is highly recommended for all small businesses who want to grow without putting a dent in their pockets. It offers a range of affordable hosting plans without compromising on quality, performance, and support.