TunnelBear was known to be founded in the year 2011 in Toronto, Canada. It has a no-logging policy meaning that it doesn't have any data to pass over. Currently, it is known to have servers in 23 countries across the globe and has strong internet speed.
Also, it has a good reputation and is a user-friendly VPN. However, in case you switch it to a new location then the tiny bear tunnels to the desired screen but the best part is that TunnelBear makes everything less technical and is easy to use VPN.
Pros and Cons of TunnelBear 
Pros
Affordable
Amazing privacy policies
Annual independent audits
Friendly and approachable design
Browser extensions, including stand-alone ad blocker
Fantastic speed test results
Bears
Cons
Slow speeds
Based in Canada (Five Eyes)
No cryptocurrency or PayPal payments
No refunds
Small server network
Not a good choice for torrenting or Netflix
Limited support
Know about a VPN 
When the VPN is active then the web traffic travel via an encrypted tunnel to the servers which are managed by the VPN service. It helps in keeping the information safe from any data thieves and protects from ISPs that sell anonymous metadata on the web habits. If you have traffic on the web via a VPN server then the IP address appears on the server's location, it helps to protect your real identity of yours on the web when browsing.
TunnelBear – Plans and pricing
Free plan – This plan is known to be limited and has all the features. It offers 500MB of data every month which is not enough for anyone and is not a good torrenting VPN.
Unlimited plan – This plan is for $3.33/month along with a three-year subscription. However, the annual plan is for $4.99/month but if you want to pay monthly then it will be $9.99/month. It has unlimited data and in case you go for a three-year plan then you have access to the RememBear password manager.
Teams subscription – This is meant for small businesses and costs $5.57/user per month. It has various VPN management tools.
It is essential to know that TunneBear doesn't offer any money-back guarantee.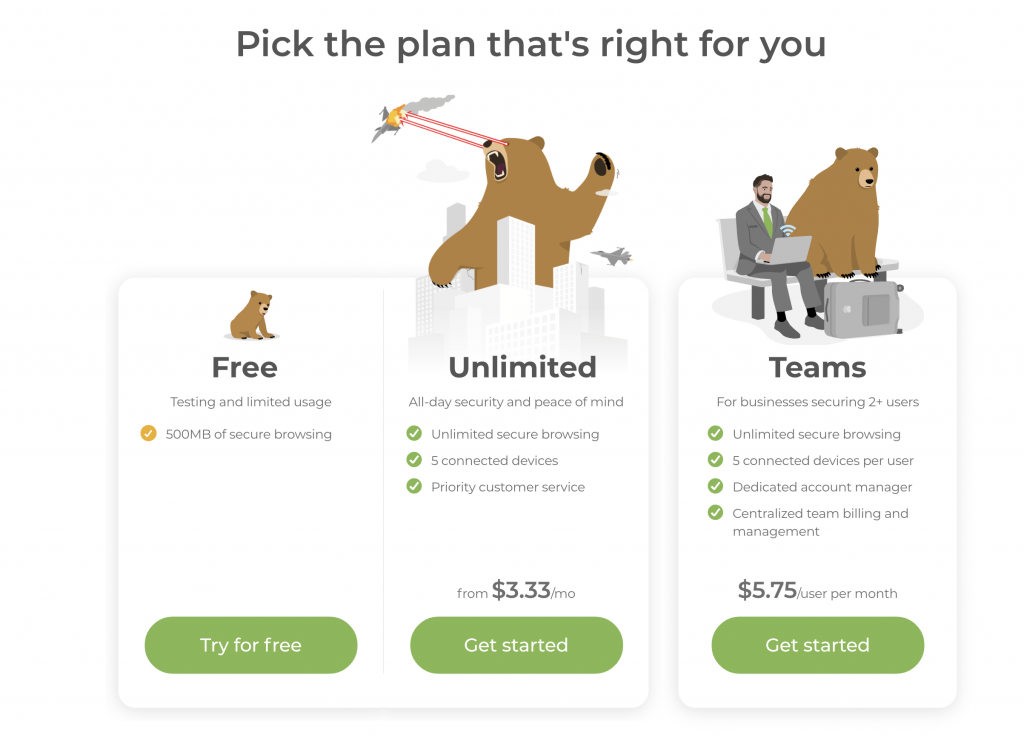 Features of TunnelBear 
It VigilantBear allows to set up an internet kill switch which is a great feature. Also, there is a GhostBear setting which is beneficial in disguising the idea of using a VPN and you can even change from OpenVPN TCP to UDP connections. TunnelBear also supports torrenting in every location.
However, this VPN is not a good choice to get access to a geo-blocked plan even if you are getting a complete plan. But it is very transparent with its security as well as logging policies. Plus, it is audited annually with the help of Cure53.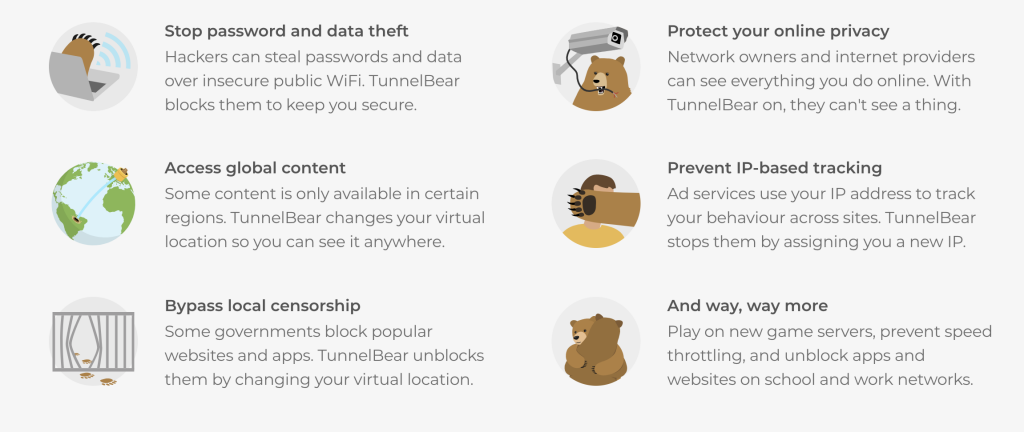 Protocols of TunnelBear
It uses OpenVPN/IKEv2 on Windows, and OpenVPN on macOS as well as Android whereas IPSec/IKev2 on iOS.
TunnelBear VPN Browser extensions 
This is a lightweight encrypted proxy that can be controlled from the browser windows. TunnelBear offers below-mentioned browser extensions:
Its speed test 
TunnelBear performed well on Mac as compared to Windows computer as it had a 45% decrease on the Mac and a 53% decrease on the computer. However, for upload speed, it slowed the speed on the Thinkpad as compared to Macbook Pro. Also, it increased latency by 182% on Windows, and ping by 467% on Mac. This means that it performed better on Mac as compared to the ordinary computer.
Privacy, anonymity, as well as trust 
The VPN doesn't say that it has a zero-logging policy but its service policy clears that it collects the version of the operating system as well as the TunnelBear app. Also, it logs the number of the current sessions used every month plus the data usage of every month.
It doesn't collect the IP address but it asks for an email address when you log in and can also collect your Twitter account for promotions. The payment options offered by them are Bitcoin, PayPal as well as credit cards.
Support offered by TunnelBear 
Users can get email support as well as a self-help knowledge base. You can also get in touch with the support team through the contact page and the team will respond within a few hours.
Conclusion 
TunnelBear is not that robust VPN but is a nice option for beginners with limited technical knowledge. It is clear about its security audits and has good features. However, there is an inability to get geo-blocked streaming services, as well as their support, is not that satisfactory. Overall, it is simple to use and a secure VPN.