There is great relevance to landing pages. In today's digital world, many marketers design amazing and eye-catching landing pages to get more conversions and amplify sales. So, if you are struggling with your sales, then you must focus on building enticing landing pages for your online business. Unbounce is one of the most popular landing page builders in the digital marketing industry.
About Unbounce
The brand has been in the business since 2009 and earned a reputation for being a solid landing page builder. However, it's now become more than a landing page builder. It has started offering a versatile range of tools to optimize engagement and enhance conversion. It has been consistently building new functionalities and features to meet all the requirements of users as per the changing marketing trends.
Due to it's amazing tools, features, functionalities, and user-centric capabilities, it has generated over 10,000 customers. Let's now quickly unveil it's features and plans with pricing.
Unbounce Features
User-friendly landing page builder
Unbounce brings a perfect amalgamation of simplicity and features. It comes with drag-and-drop functionality and a versatile range of features to help users to create stunning landing pages effortlessly.
It has multiple templates that are customizable. One can also put a lot of elements and change the entire look. One can also make separate mobile-friendly landing pages.
To optimize them for a higher conversion rate one can also add video widgets, parallax scrolling, etc.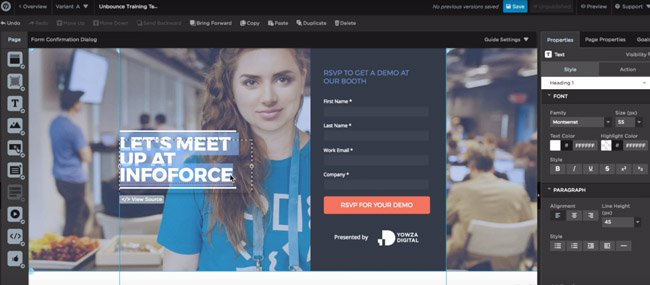 Effective conversion tools
Unbounce offers amazing conversion tools such as pop-ups, sticky bars, etc to enhance the conversion and attract visitors to your website and special offers. The smart system lets you set rules to trigger pop-ups and sticky bars on the basis of activity, referring URL, location, and cookies.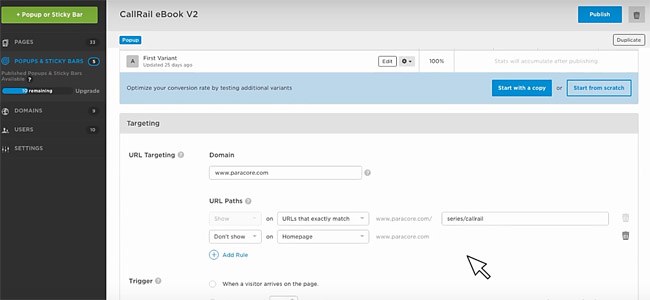 Landing page analyzer
Unbounce recently brought a brand new feature called landing page analyzer. It helps users to figure out important problems and take a good look at a landing page before creating an elaborative report. The report will give you a good insight into the problems and comparison to the industry standards. It will help you to improve the performance, overall speed, and loading times of a landing page.
Along with that, Unbounce also offers:
–              Full-screen backgrounds
–              Videos
–              Widgets
–              Confirmation pages
–              Mobile responsive templates
–              Account transferring
–              P filters
–              Fast page loading
–              Blank pages
–              Third-party integrations
Unbounce Pricing & Plans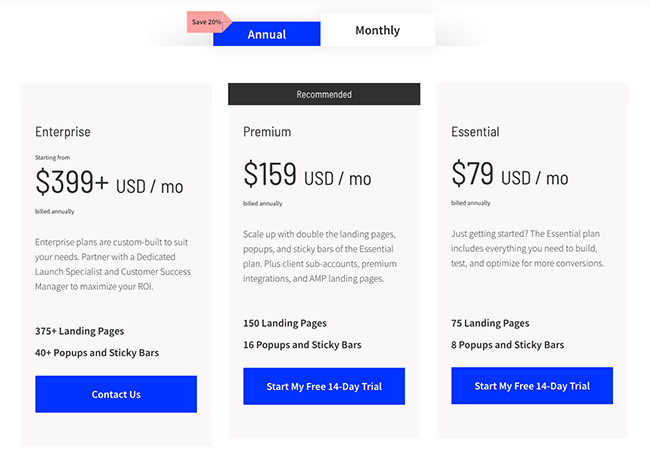 First of all, Unbounce offers a free trial. Apart from that, it offers 3 plans, including:
Essential: It costs $99 per month and $79 per month in a yearly plan. It comes with Infusionsoft integration, high-converting templates, drag and drop builder, Hubspot integration, popups, sticky bars, SSL certification, 75 published landing pages, unlimited users, Zapier integration, etc.
Premium: It costs $199 per month. And if you will take a yearly subscription then it costs $159 per month. The plan gives you access to high-converting templates, sticky bars, popups, drag-and-drop builder, Marketo integration, 5 client sub-accounts, 150 published landing pages, etc.
Enterprise: It costs $499 per month and $399 per month in a yearly plan. It comes with high-converting templates, drag and drop builder, audit logs, full feature access, over 15 client sub-accounts, over 375 published landing pages, and all premium features.
Final Thoughts
If you want to grow and amplify the conversion rate of landing pages then Unbounce is meant for you. It offers incredible page-building features and marketing capabilities to elevate the conversion rate tenfold. However, it's largely meant for experienced digital marketers who have years of experience.