The main motive of landing pages is to boost conversions as well as generate better leads as well as customers for the business. However, there is nothing better than Unbounce. This review will help you understand why this landing page software is considered the best in the industry.
Know About Unbounce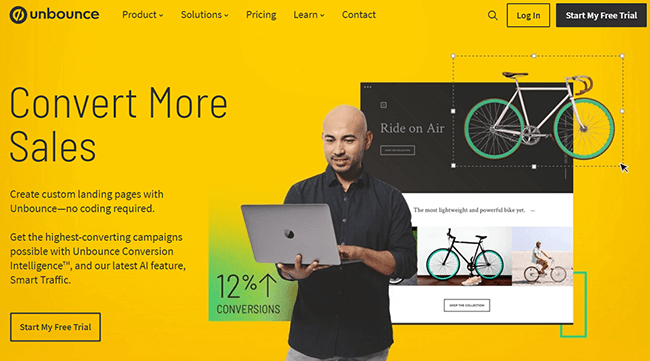 Know about Unbounce 
The CEO of Unbounce Rick Perreault believed in the power of landing pages and knew that it was going to be the best thing in marketing. They had a team working in a 500-square-foot room in Vancouver. However, this platform is behind a half billion conversions of more than 15000 customers.
Features of Unbounce 
Landing pages – It has simple to use landing page builder. You can use various landing page templates, set the filter, and manage the landing pages depending on the name, age, etc. However, by default, the training template is selected. You can even choose the elements and later drag and drop them to the point where you want them to appear. Plus, you can edit the properties of the elements by clicking on them. You can even add an external conversion tracking code to check the conversion rate of your website.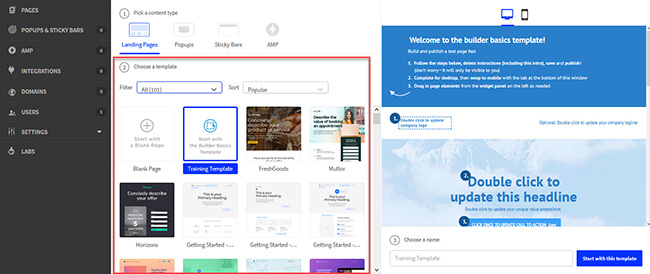 There are also features like using dynamic text replacement where you can increase conversion rate by personalization. You can even go for paid ads on your landing pages. This can be done by going to the Page Properties tab editing the title to set the default text, and later clicking on the 'dynamic text'. Next, add the text you want to change. However, you can also go for dynamic text on the page copy. Later, this dynamic text can be used to boost CTR.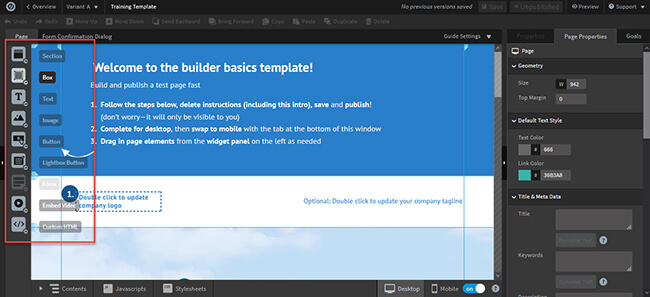 There is also an option to publish a page which is done by saving the page first and then visiting the Overview page. You can even change the displayed URL. You can even change the domain from unbouncepages.com. There is an option to choose between a new custom domain and a WordPress domain. You can even run A/B tests and use smart traffic.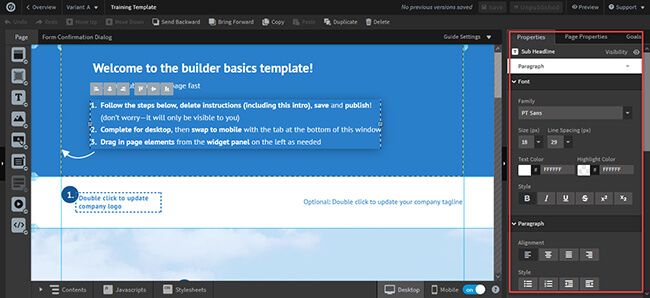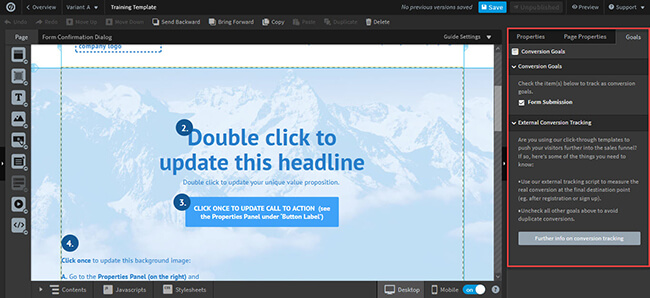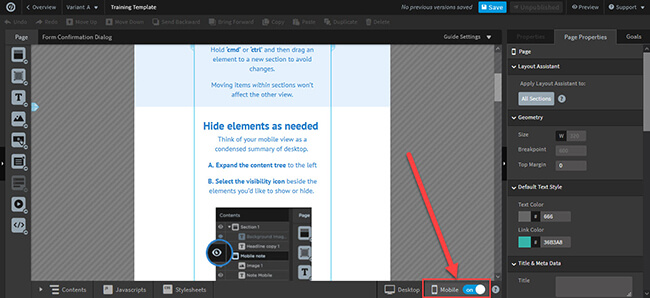 Dynamic text replacement
The most promising way to enhance conversion rates is personalization. Just add the name of a visitor right in the page's copy to allow them to land on your form or click the button. Hence, this way one can easily run paid ads while showing the exact word the user enters on natural search on landing pages.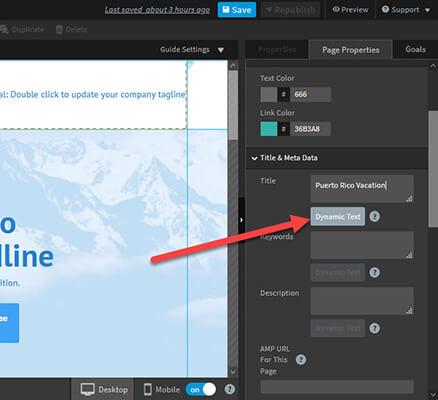 Smart Traffic Tool
Unbounce offers a smart and effective tool Smart Traffic to increase traffic to the best landing pages in terms of conversion. It automatically diverts visitors to the highest converting page as per the data collected by the tool.
Popups as well as sticky bars – To get the audience into leads you can set up popup forms or sticky bars on the site. Choose between the two by entering the domain on the Sneek Peek section. After that, build them by choosing various templates to avoid building them from the beginning. You can edit either of them by using Unbounce's drag and drop builder. Now add new elements or edit the previous ones. After that assign them to the site or web page. You can even decide its appearance by managing the triggers, frequency, etc. In the end, copy and paste the code.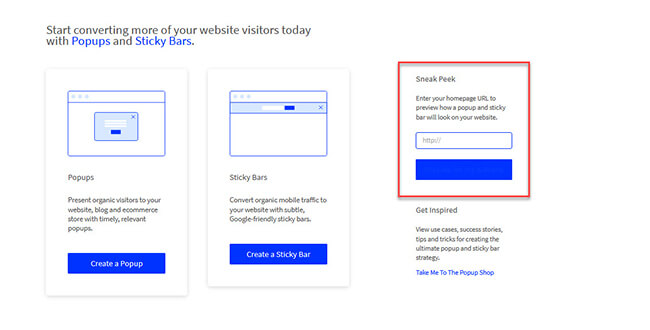 Integrations – Using third-party tools for a newbie is essential. You can place them in the list and automatically send the emails from the drip campaigns. The platform is aware of this and because of this, there are native integrations. However, Unbounce easily accommodates Zapier integrations which opens up to many app integrations.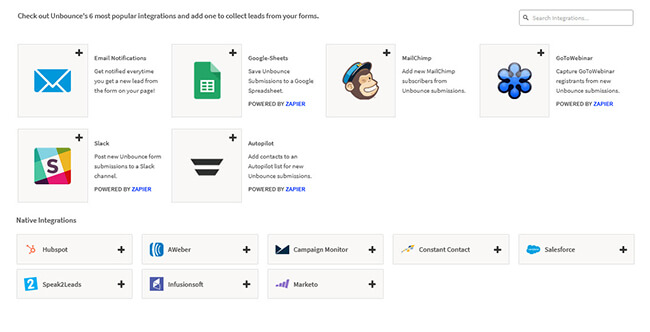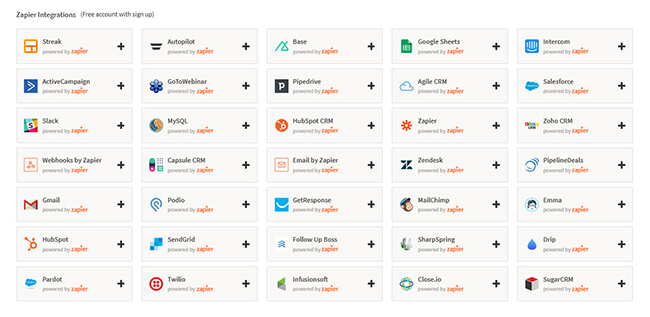 Pricing of Unbounce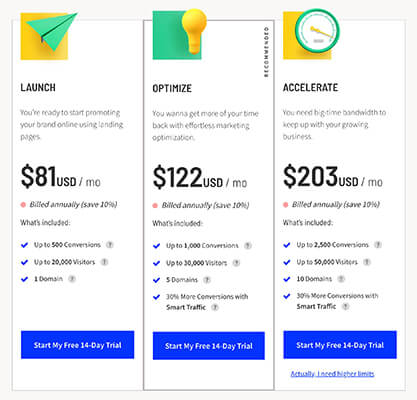 Launch – This plan costs $90/month and $81/month if paid annually. It is suitable for small owners and it offers 500 conversions, 20, 000 visitors, and around one connected domain.
Optimize – This plan costs $135/month and $122/month if paid annually and it has A/B testing as well as conversion intelligence features. This is best suitable for marketing teams and offers 1000 conversions, 30, 000 visitors, and around 5 connected domains.
Accelerate – It has everything that is included in the Optimize plan along with the creation of AMP versions of landing pages as well as advance targeting. It costs $225/month and $203/month if paid annually. The plan offers 2500 conversions, 50,000 visitors, as well as up to 10 connected domains.
Pros of Unbounce 
Customizable dynamic text replacement is beneficial in increasing the ROI on ads.
Simple to use drag and drop editor which is beneficial in creating landing pages without any design experience.
Smart Traffic avoids the guesswork
You can easily conduct an A/B test by producing variants within a few clicks.
Expand the lead generation methods so that conversion rates can be increased with the help of popups as well as sticky bars.
Cons of Unbounce 
Conclusion 
Unbounce is beneficial in creating landing pages that easily convert. It is a no-frills software that allows creating landing pages easily while using a simple to use drag and drop editor as well as other beautiful templates. If you are interested to convert your visitors to leads/clients then Unbounce is the best option for you.