The Norton 360 security suite is known to be the best antivirus program. It has the best malware detection rates, good real-time protection as well as other feature.

Pros 
100% protection
Secure VPN and password manager included
Mobile app
Parental control features
Cons 
Not cheap and doesn't have a free version
Open additional tabs
Is it safe? 
It is safe and has a great history of excellent virus detection results. This security suite has caught 100% of zero-day malware, affected less on the computer speed, no false positives, etc. Also, according to independent experts, it never stopped functioning after delet9ng the files, unloading drivers, or closing the app processes.

Security features of Norton 360 
Real-time threat protection – It uses AI as well as machine learning to check online threats and protects the device. The software comes with the choice to install Norton toolbar along with the Norton safe web. After installation, you will get to know how safe it is. If it is green then it is safe to click, grey means unknown URL, yellow means potential risk, and red means risky site. It works well with Twitter, Facebook, etc., and has Isolation Mode which is great as it opens supported financial sites in this mode.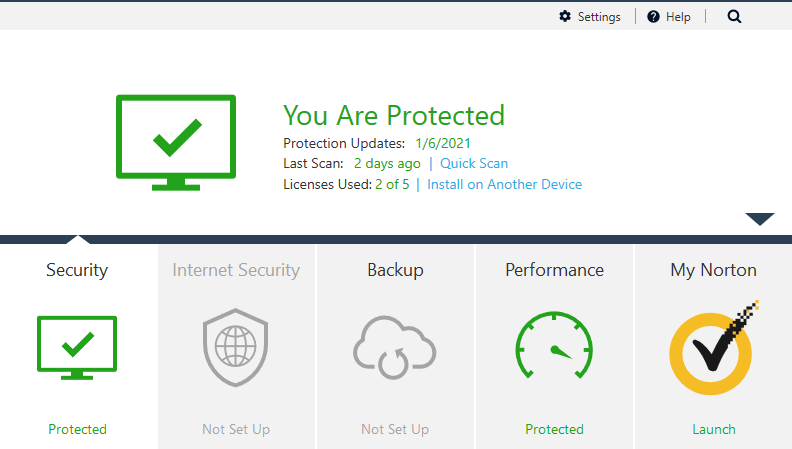 Advanced firewall – This is a two-way silent firewall that monitors the network traffic and offers intrusion protection. It also offers a vulnerability assessment feature that monitors everything and warns you.
Norton VPN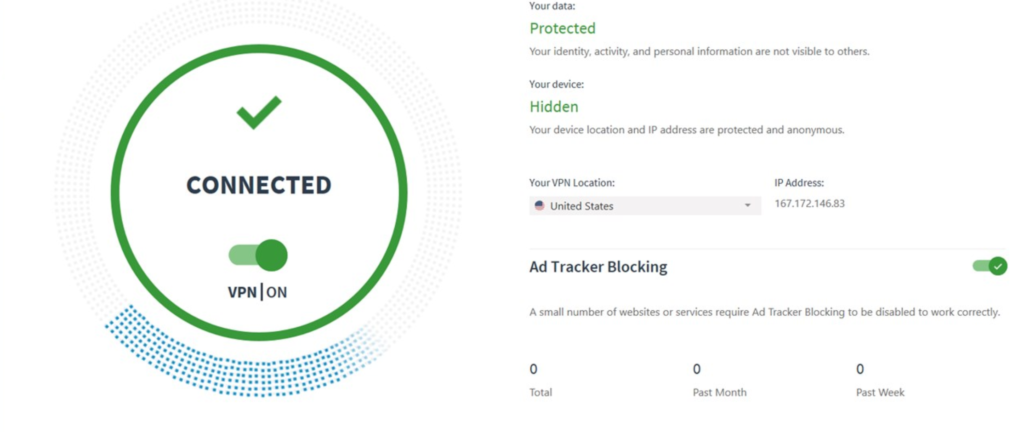 Norton VPN – Using its VPN is simple and is completely integrated with Norton's security software. Thus, there is no need to download any other app. After turning it on, it connected to the fast server automatically and allows to access the geo-restricted content on Netflix.
Norton password manager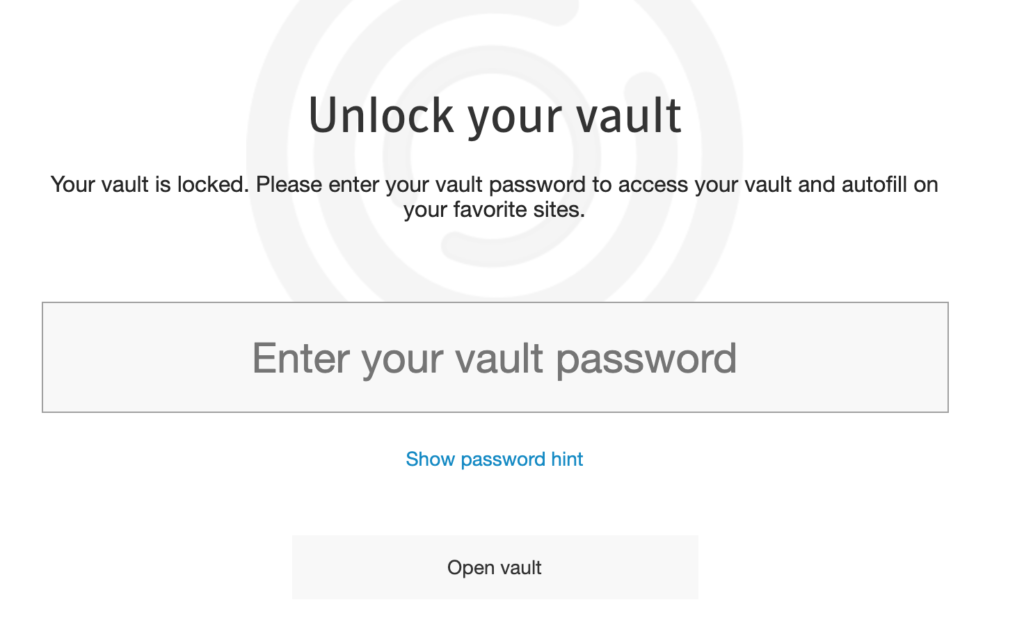 Password manager by Norton 
This is the best non-dedicated password manager as it performs all tasks like password replay, and password and syncs well with all the devices. It easily accesses the password strength. Plus, it is simple to set it and you can add it to other devices via QR code.
Cloud backup by Norton 

The cloud backup by Norton is simple as it is convenient to access the files on various devices. Also, it keeps your machine safe and keeps the sensitive files and data safe from any ransomware. However, while setting up this, Norton offers the chance to select the files that you want to back up. Plus, backups can be done on a weekly and monthly basis.
SafeCam for PC
The SafeCam protection feature by Norton blocks the authorized access to the PC webcam. It alerts you about untrusted apps. And by default it allows safe apps to access the camera.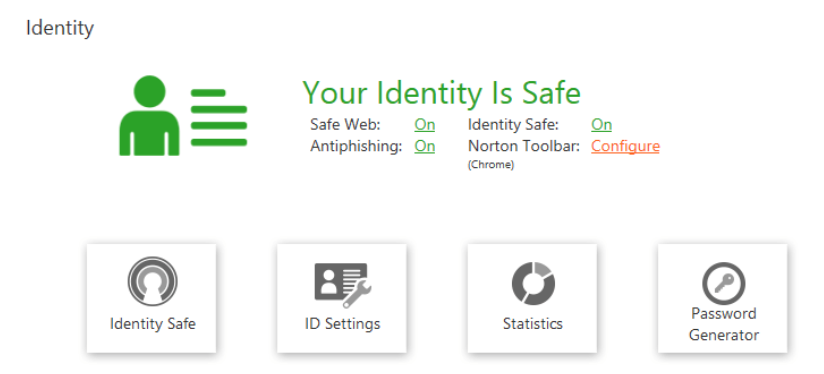 Parental Control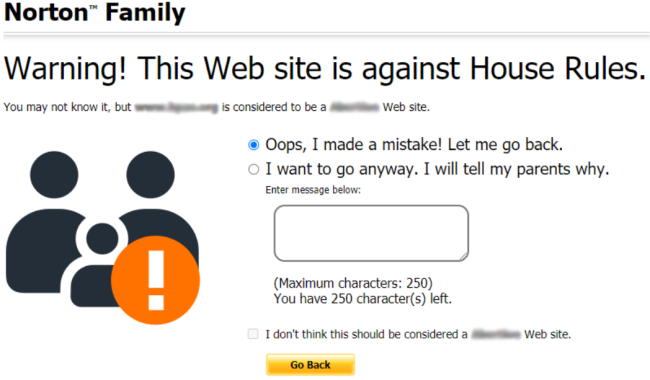 This feature comes if you are buying Norton 360 Deluxe or Premium and comes as a spate app known as Norton Family. It allows selecting the devices that you want to set the rules. Plus, it offers restriction levels on various age groups. It also has a feature called Shool-time which limits the online activity at specific hours. The feature also blocks adult images in Google image results. However, it is not completely compatible with Norton's VPN.
Dark Web Monitoring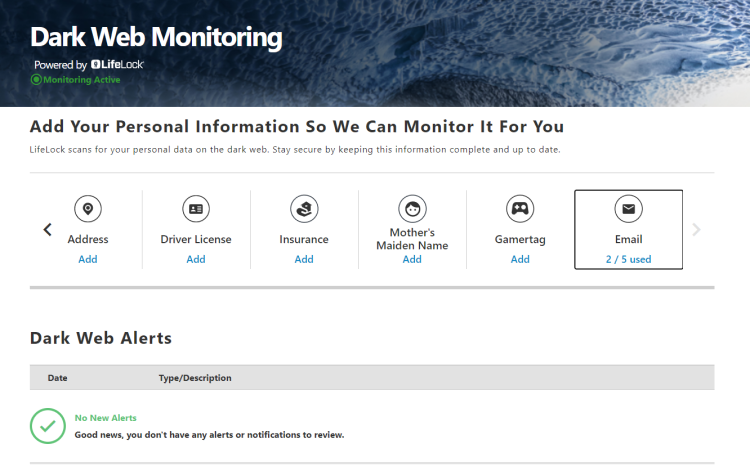 With Norton's Deluxe and Premium accounts you can sign into the dark web monitoring. It allows you to see if your credentials are compromised on such sites or forums since the year 2008.
Norton Crypto
This is a new PC feature that allows the device to be added to the crypto-mining pool and safely mine the cryptocurrencies when the computer is idle. It allows to mine Ethereum (ETH) and transfer it to the Norton Crypto wallet. However, a 15% mining fee is deducted from the earned crypto. This feature is supported by Windows 7, 8, 10 as well as 11.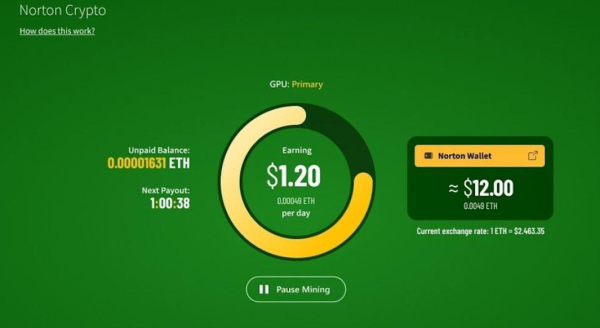 Norton's plans and pricing 
Norton Antivirus plan – This is a basic plan which is for one device only and starts at $19.99 for one year. The plan offers features like a password manager, smart firewall, cloud backup of around 2GB, etc.
Norton 360 standard plan – This plan costs $39.99 for one year and can be used on one device and offer features like secure VPN, dark web monitoring, password manager, complete virus protection, firewall for PC and Mac, etc.
Norton 360 deluxe plan – This plan costs $49.99 and offers amazing flexibility as well as protects around 5 devices. It offers features like parental control and other security features.
Norton 360 Premium plan – This plan is $10 costlier than the deluxe plan and protects around 10 devices. The plan offers 75GB along with PC cloud backup and is a complete value for money.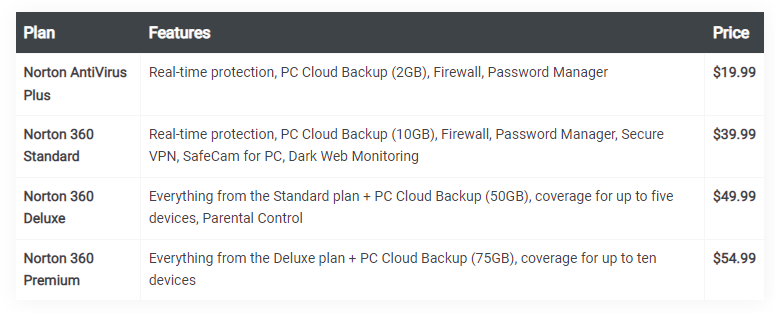 The mobile app 
Norton 360 is also available on the mobile app but there is no free version of it. If you go for the deluxe or premium plan then you can get sign into the account on the app and set the device. However, if you want protection via a mobile device then you can go for the standard plan. It is simple to use as well as set up and has a beautiful interface with the features available on the homepage. But its Android app has more features compared to the iOS app. The features offered by this security app are:
Web protection
Wi-Fi security
System advisor
Safe Search
Privacy Report
Anti-malware
App advisor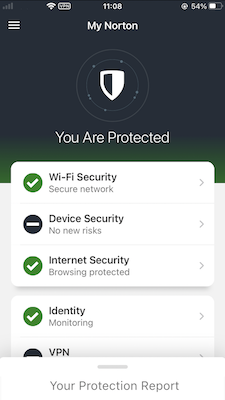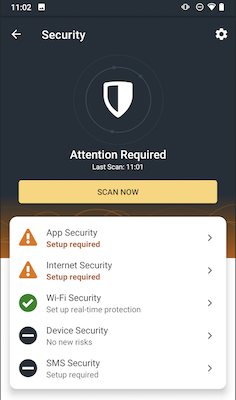 Customer support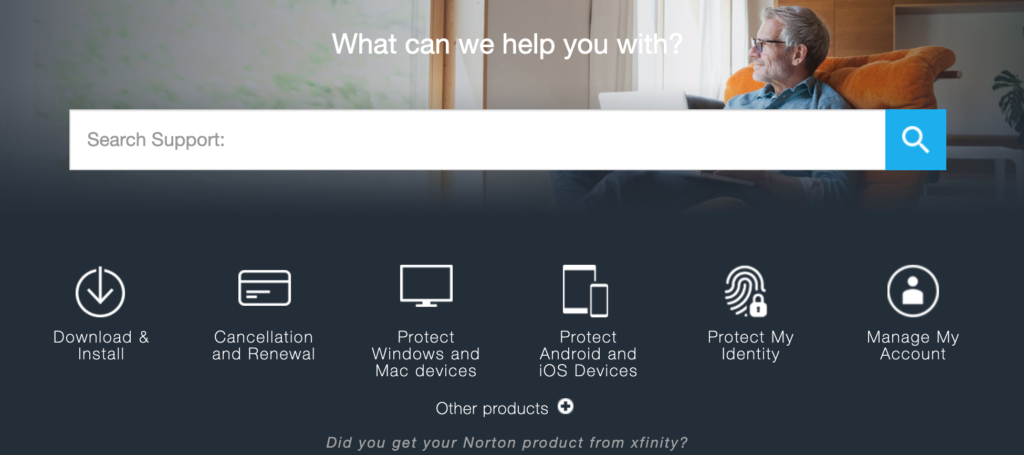 The customer support offered by Norton 360
There are many customer support options offered by Norton 360. It offers various helpful links on the customer support page and you can also check the FAQs. However, if you want to speak then there is a live chat option as well as a 24/7 helpline. There is no option for email support.
Is Norton 360 worth it? 
It is the best antivirus software available in the market and offers robust online security as well as protects the devices. Norton 360 offers amazing features along with some extras like Norton Secure VPN, and password manager. It offers 100% malware protection, cloud backup, parental controls, etc.
FAQs 
The deluxe and premium plans of Norton 360 have dark web monitoring which is powered by Lifelock. This scans personal data on the dark web and protects sensitive information.
Is there any free version?
There is no free version but you can download its free 7-day trial.
Does Norton 360 slow down the computer?
It depends. However, Norton uses it between 2-10% of the CPU which doesn't offer any slowdowns. But it can affect the performance of the computer during some heavy tasks.